SNR Research Seminars - Fall 2012
Beyond Adaptive Management: How Uncertainty Shapes Ecologists' Contribution to Management
Speaker: Andrew Tyre
Associate Professor, SNR | UNL
Date: 9/5/2012
Time: 3:30:00 PM
Location: 107 Hardin Hall
Abstract
Making decisions about resource use in the face of uncertainty about the responses of threatened species to that use is hard. And controversial. And it absolutely needs good science, but so often that science is ignored. Making decisions under uncertainty is a core component of Adaptive management under all definitions. However, not all forms of uncertainty, or as I'll call it, indeterminism, are amenable to reduction by the application of the scientific method. Irreducible uncertainty is here to stay. Moreover, the presence of some forms of uncertainty constrains when science can make policy recommendations that stick. We outline a roadmap for determining when science can stick, and describe what to do when it won't.
Speaker's Bio
Dr. Tyre is Associate Professor of Wildlife Ecology and Human Dimensions. His main area of interest revolves around helping people to make good wildlife management decisions, especially when very little is known about the wildlife population. People often know particularly little about threatened and endangered species, and yet must make many decisions about such species. Drew frames these problems to identify "robust" decisions that ensure good outcomes even when we use inaccurate information. Currently, he is using "prototype" models of habitat and population dynamics to guide decisions about habitat management for Interior Least Terns, Piping Plovers, and other threatened and endangered species. He builds these models together with small groups of managers and stakeholders to directly incorporate their objectives into the modeling process. By involving the decision makers in the process of predicting the consequences of their decisions, they accept the recommendations emerging from the decision support process much more readily.
Sensing our Multicolored World - Plant Pigments as Functional Indicators
Speaker: John Gamon
Professor, Departments of Earth & Atmospheric Sciences & Biological Sciences, University of Alberta, Canada
Date: 9/12/2012
Time: 3:30:00 PM
Location: 107 Hardin Hall
Abstract
Plant pigments serve multiple functions, including attraction, light capture, and photoprotection. The primary focus will be on the balance between light capture and photoprotection in the context of photosynthetic carbon uptake. There will also be a brief review on the roles of plant pigments, and a discussion about the advantages and challenges of a remote sensing approach to assessing pigment content and function.
Speaker's Bio
John Gamon received his Ph.D. in Botany at UC Davis. He received his postdoctoral training at Carnegie Institution of Washington, Department of Plant Biology (Stanford California), where he conducted the first experiments on the detection of the photoprotective xanthophyll cycle activity from remote sensing. Following his postdoc, he taught Biology at California State University Los Angeles for 18 years, and now holds a joint appointment in Earth and Atmospheric Sciences and Biological Science at the University of Alberta (Edmonton), where he conducts ecophysiological and remote sensing research on a variety of terrestrial ecosystems. Gamon co-founded SpecNet (Spectral Network), a collaboration of scientists and sites conducting optical and remote sensing measurements in conjunction with ecosystem carbon flux studies.
Balancing Freshwater Needs of Humans and Ecosystems in East Africa
Speaker: Dr. Elizabeth Anderson
Deputy Director of the Global Water for Sustainability (GLOWS) program, USAID, Department of Earth & Environment, Florida International University, Miami
Date: 9/19/2012
Time: 3:30:00 PM
Location: 107 Hardin Hall
Abstract
The East Africa region is a well-known global center of biodiversity, home to the Mara-Serengeti eco-region's spectacular wildlife, the fish species flocks of the African Great Lakes, and the remarkable richness of the Eastern Arc Mountains. The long-term survival of each of these ecosystems is tightly linked to adequate quantity and quality of freshwater, as is the wellbeing of the region's human populations. The realities that influence management of freshwater resources in East Africa reflect those of the larger continent-seasonal rainfall, rapid human population growth, expansion of irrigated agriculture, a need for protection of ecosystems, and a changing climate. Studies from two river basins in Kenya and Tanzania illustrate the challenges of satisfying human demands for water now and into the future, without compromising the freshwater needs of unique ecosystems, and the ways these countries are attempting to meet these challenges. Over the past decade, both countries have revised water-related legislation, establishing ecosystems as second priority in decision-making for water allocations, behind water for basic human needs. Environmental flow assessments, conducted in the trans-boundary Mara River Basin and Tanzania's Wami-Ruvu Basin, have been one of the first attempts to implement this legislation, and effectively allocate water to ecosystems. In this talk, I will discuss the use of environmental flow assessments in water resources management in these two basins, and the applicability of this tool in other contexts.
This seminar is co-sponsored by

Speaker's Bio
Elizabeth Anderson is a freshwater ecologist in the Department of Earth and Environment at Florida International University. She currently serves as Program Executive Officer for the Global Water for Sustainability Program, overseeing initiatives in East Africa and South America.
Remote Sensing, Water Stress, and Things that Go Bump in the Night
Speaker: Arthur I. Zygielbaum
Adjunct Associate Professor, SNR | UNL
Other Speaker(s): ElizabethWalter-Shea, Professor, SNR | UNL; and Timothy Arkebauer, Professsor, Department of Agronomy and Horticulture, UNL
Date: 9/26/2012
Time: 3:30:00 PM
Location: 107 Hardin Hall (Confirmed 9/25/2012 4:00 PM)
Abstract
During his dissertation research, Art Zygielbaum observed increasing visible spectrum reflectance from plant leaves as they became water stressed. He found that this effect, which can be seen in charts from published papers for at least the past three decades, was oftentimes dismissed as instrument error or some attribute of decreasing leaf turgor. Further, Art showed that the reflectance varied as the ambient light environment changed and that visible light reflectance and middle infrared reflectance were highly correlated. Visible light (photosynthetically active radiation - PAR) reflectance is controlled by absorption by pigments - particularly chlorophyll. Middle infrared (MIR) reflectance is controlled primarily by absorption by water molecules. Decreasing water levels would explain the increase in the MIR. But in comparison to pigment absorption, water does not significantly absorb PAR light.
There was also very little change in the amount of chlorophyll, as determined by chemical extraction, during the experiments. So a conundrum existed - no good explanation for why PAR and MIR reflectance were so highly related as the amount of water in the plant decreased. Art, Tim Arkebauer, and Betty Walter-Shea collaborated in the investigation of this phenomenon. Their conclusion points to plant cellular components - chloroplasts - that really do go "bump in the night." Potential outcomes of their work include remote sensing of plant stress levels and implications for climate change modeling.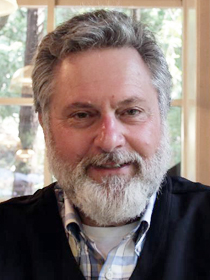 Speaker's Bio
Arthur Zygielbaum
Dr. Zygielbaum is an Adjunct Associate Professor in Geography (Remote Sensing) in the School of Natural Resources. He is a member of the Center for Advanced Land Management Information Technologies (CALMIT). His research interest is the remote sensing of crop stress status. He currently teaches the Overview of Geographic Information Technologies undergraduate course in the spring. Dr. Zygielbaum received a B.S. in Physics from the University of California at Los Angeles, a M.S. in Electrical Engineering from the University of Southern California, and a Ph.D. in Geography (Remote Sensing specialty) from the University of Nebraska-Lincoln. Prior to coming to UNL he spent 30 years as an engineer and manager at the NASA/Caltech Jet Propulsion Laboratory in Pasadena, CA.
Timothy Arkebauer
Dr. Arkebauer is a Professor and crop environmental physiologist in the Department of Agronomy and Horticulture at the University of Nebraska in Lincoln. He currently teaches a graduate course in plant-water relations. He has a B.S. in Botany with Honors from Michigan State University, an M.S. in Horticulture from the University of Florida and a PhD in Agronomy from the University of Nebraska-Lincoln. His research interests include field measurements of plant and canopy gas exchange, soil surface trace gas emissions, and water, carbon and energy fluxes in natural and managed ecosystems. He is currently a member of the UNL Carbon Sequestration Project team.
Elizabeth Walter-Shea
Dr. Walter-Shea is a Professor of Applied Climate Science in the School of Natural Resources. Her main interest is Microclimate. Her research interest is in light interactions with vegetation, particularly relationships between remotely-sensed spectral properties of vegetated surfaces and biophysical properties. She is teaching courses in applied climate science, microclimate and solar radiation interactions. She received B.S. in Geography from the University of Central Arkansas, an M.S. in Geography from Texas A&M University and a Ph.D. in Agronomy with emphasis in micrometeorology from the University of Nebraska-Lincoln.
Future- Planning for Nebraska's Fish, Wildlife and Parkland Resources
Speaker: Jim Douglas
Director, Nebraska Game and Parks Commission
Date: 10/3/2012
Time: 3:30:00 PM
Location: 107 Hardin Hall
Abstract
Note that we will have an open faculty discussion with representatives from NGPC will precede the seminar at 1:30 pm
Speaker's Bio
James N. Douglas, a 38-year career veteran with the Nebraska Game and Parks Commission (NGPC), assumed the mantle of agency director in April 2012. Prior to his post, he held several key positions with NGPC, including serving as Chief of the Resource Services Division, Administrator of the Wildlife Division and most recently as Deputy Director of the agency.
Douglas has held a number of leadership positions with non-government conservation organizations as well, and has served as chairman of several key boards, including the Nebraska Partnership for All Bird Conservation, the Playa Lakes Joint Venture Management Board and the Great Plains Landscape Conservation Cooperative. Douglas has also served on the boards for the Nebraska Land Trust, the Center for Grassland Studies at the University of Nebraska-Lincoln, the Cooperative Fish and Wildlife Research Unit at the University of Nebraska-Lincoln and the Nebraska Invasive Species Council.
Douglas received a Bachelor of Science degree in Wildlife Biology from the University of Montana in 1973 and a Master of Arts in Management from Bellevue University in 2000.
Ecohydrological Change in Mesic Grasslands in the Dawn of the Anthropocene
Speaker: Jesse Nippert
Assistant Professor, Department of Biology, Kansas State University
Date: 10/10/2012
Time: 3:30:00 PM
Location: 107 Hardin Hall
Abstract
In North American tallgrass prairie, precipitation typically exceeds evapotranspiration, and yet the dynamics of carbon flux reflect landscape gradients in soil water availability and temporal variability in rainfall patterns. Climate change is altering water availability, with subsequent impacts on species physiology and ecosystem dynamics. A majority of research in my lab focuses on the physiological and growth responses of tallgrass prairie plant species to changes in water availability on the Konza Prairie, over a broad range of spatial and temporal scales. Across topographic gradients, annual carbon flux is greater in deeper-soil lowland versus upland locations reflecting differences in soil moisture availability, but responses vary with the frequency of prescribed fires, as well as with intra- and inter-annual climate dynamics. Isotopic measurement of different potential sources of plant-available water and water extracted from growing plants reveals heterogeneous temporal responses by forb species, but a predominant reliance on shallow soil moisture by the C4 grasses irrespective of changes in overall soil water availability. We have shown that the deep-rooted, dominant grasses in this ecosystem persist through drought via physiological mechanisms and morphological adaptations rather than by drought avoidance. In addition, we have been investigating the role of soil water availability as a driver of shrub encroachment in mesic grasslands. Shrub encroachment is a transformative ecological process in which native woody species increase in cover and frequency and replace the herbaceous community. Isotopic source-water analysis showed that Cornus drummondii (the dominant shrub) relies primarily on deeper groundwater, in direct contrast to the grasses that are being displaced. Groundwater reliance by Cornus may buffer this species from forecast increases in climate variability, and reduce susceptibility to future droughts compared to herbaceous species. Our results show that more accurate predictions of carbon exchange and plant growth across spatial and temporal scales requires a fully integrated understanding of grassland ecohydrology and water flux - one that links plant physiology to changes in soil water availability, uptake, and eventual transpirative flux.
Speaker's Bio
Jesse Nippert, a biology professor and director of the Stable Isotope Mass Spectrometry Laboratory at Kansas State University, focuses his research on the physiological responses of plants to environmental variability and resource availability. He uses experimental and observational studies to examine the shifting roles of water and temperature as drivers of water-use patterns, gas exchange, water stress, and primary productivity. Currently, most of his work focuses on scaling the fluxes of CO2 and H2O vapor spatially, temporally, and from leaf to whole plant to ecosystem. His goal is to improve our characterization of how changes in resource variability impact plant eco-physiology, to improve predictions of ecological responses to global change.
An EU-funded Project for Demonstrating Concepts and Technologies of Precision Agriculture
Speaker: Dr. Stamatis Stamatiadis
Director, Soil Ecology & Biotechnology Lab, Gaia Education and Research Center, Athens, Greece
Date: 10/17/2012
Time: 3:30:00 PM
Location: 107 Hardin Hall
Abstract
The HydroSense project employed principals of precision agriculture for integrated crop management through combined and spatially-variable inputs of irrigation water, fertilizers and herbicides.
Crop stress due to water shortage, N deficiency and weed pressure was monitored by remote sensors in predefined management zones within five cotton fields of the Thessaly Plain in central Greece.
Significant savings in irrigation water and chemical inputs were obtained when compared to those of the conventional management practices in adjacent parts of the fields. The improvement of environmental performance indicators, the potential of adoption of these technologies, the up-scaling of in-field data to a GIS regional database and their connection to foreseen water pricing policies are discussed.
Speaker's Bio
Stamatis Stamatiadis is director of the Soil Ecology & Biotechnology Laboratory at the Gaia Environmental Research and Education Center in Athens, Greece, and adjunct professor at the Department of Agronomy and Horticulture at UNL. He has coordinated a number of national and international projects in environmental and agronomic research. His research interests include nitrogen management of soil-crop systems, spectral reflectance and stable isotopes as indicators of crop stress and recycling of organic byproducts to agricultural land.
GeoComputational Intelligence and High-performance Geospatial Computing
Speaker: Qingfeng (Gene) Guan
Assistant Professor, SNR | UNL
Date: 10/31/2012
Time: 3:30:00 PM
Location: 107 Hardin Hall
Abstract
"Big Data" refers to collections of data sets so large and complex that they become difficult, sometimes even impossible to store, manage, and process using desktop personal computers and conventional data management and analysis tools. In geospatial sciences (e.g., geography, environmental sciences, natural resources sciences, and geosciences), the lack of applicable and/or feasible tools for handling fast growing data has become one of the major bottlenecks for large-scale interdisciplinary studies. Furthermore, the complexities of analytical and modeling algorithms are rapidly increasing, which makes some geospatial processing unfeasibly computationally intensive. This presentation focuses on two possible solutions for these problems: computational intelligence (CI) and high-performance computing (HPC).
Geospatial analytical and modeling techniques, e.g., cellular automata (CA), agent-based modeling (ABM), are capable of representing complex, collective spatio-temporal dynamics using simple, individual interactions and behaviors, and generating highly visible results. CI methods, such as artificial neural network (ANN), provide adaptive approaches to solving complex problems to which traditional statistical methods may not be applicable, and can be used to identify, measure, and simulate the relationships and interactions between the factors involved in spatio-temporal dynamics. Also, HPC utilizes multiple interconnected computing units (e.g., CPU cores, GPU cores, and PCs) to work on a common task in parallel so as to greatly reduce the computing time and generate results in timely fashion.
Some examples will be given in this presentation, including an ANN-based biofuel cropland change model, a general-purpose land dynamics model (LDM), a parallel urban land-use change model, a GPU-based game of life model, and a parallel areal interpolation algorithm.
Speaker's Bio
Qingfeng "Gene" Guan is an assistant professor in the School of Natural Resources, specializing in Geographic Information Science (GIScience). He is also associated with the Center for Advanced Land Management Information Technologies (CALMIT).
Dr. Guan's research interests include GIScience, GeoComputation, and human-environment relationships and interactions. He is particularly interested in the analysis and modeling of large-scale geospatial and environmental dynamic processes (e.g., land-use and land-cover changes) using methods of Computational Science, Geostatistics, Geo-Cyberinfrastructure, and High-Performance Geospatial Computing. His work is based on the premise that the new era of computational geography offers exciting solutions to problems that were previously unsolvable. His research focuses on approaches to tackle the modeling complexity and computational burden for geospatial computing and environmental modeling without simplifying assumptions or resorting to less-satisfying alternatives.
Exploring the Importance and Measurement of 21st Century Professional Competencies in Undergraduate Students
Speaker: David C. Gosselin
Professor and Director of Environmental Studies Program and the Nebraska Earth Systems Education Network, SNR | UNL
Date: 11/7/2012
Time: 3:30:00 PM
Location: 107 Hardin Hall
Abstract
One of the biggest challenges for higher education is preparing today's students to meet future workforce demands. In preparing students to be successful in our environmental future, it is important that they engage in the process of 21st century teaching and learning, which is a blend of content knowledge, specific skills, expertise and literacies. Business leaders and educational organizations are calling for new education policies that target the development of broad, transferable skills and knowledge. The extent to which students have acquired these skills through their undergraduate programs on their way to being successful environmental and sustainability professionals has been virtually unstudied. This presentation will explore data on the development of 21st century competencies for undergraduate environmental studies majors at the University of Nebraska-Lincoln, United States.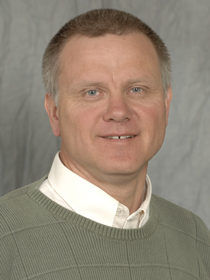 Speaker's Bio
David Gosselin is the Director of Environmental Studies and a Professor in the School of Natural Resources at the University of Nebraska-Lincoln. His research focuses on Earth and environmental education, ground water quality and quantity issues and the application of geochemistry to understand water systems. Examples include assessing: the behavior of arsenic and uranium in groundwater and public water supplies; the physical and chemical hydrogeology of groundwater resources; the potential impact of environmental change on Sand Hills environments; and developing groundwater management strategies. Since its inception in January 1993, he has served as the Director of the Nebraska Earth Systems Education Network (NESEN) and is committed to create professional development opportunities that include distance- delivered, graduate-level courses. In October 1999, he was recognized by the Nebraska Association of Teachers of Science with their Catalyst Award for leadership, dedication and service to science education. In his capacity as the Director of the Environmental Studies program, he currently serves on the executive committee of the Council of Environmental Deans and Directors, a program of the National Council for Science and the Environment. He has authored or co-authored 125 publications that include refereed journal articles, non-refereed abstracts, and contract reports.
Characterizing Fire-on-Fire Interactions in Three Large Wilderness Areas Using the Monitoring Trends in Burn Severity (MTBS) Fire Perimeter Data
Speaker: LLoyd Queen
Professor and Director of the National Center for Landscape Fire Analysis, College of Forestry and Conservation, University of Montana
Date: 11/14/2012
Time: 3:30:00 PM
Location: 107 Hardin Hall
Abstract
Fire-on-fire interactions are quantified in three large wilderness areas in Montana and Idaho from 1984-present using fire perimeter data from the Monitoring Trends in Burn Severity (MTBS) dataset. There is much speculation (and anecdotal evidence) behind the idea that scars from older fires inhibit the spread of new fires. However, no studies have systematically addressed the phenomenon of fire-on-fire interactions across large land areas. In this study, fire perimeters from the MTBS dataset were analyzed to quantify reburns in terms of frequency, size, and time-since-previous-fire (TSPF). Current rates of burning were compared to existing estimates using the natural fire rotation (NFR) to determine whether recent fire activity fell within established historical ranges. Actual fires were also compared to simulated fires to establish whether the frequency and size of reburns differed from chance. Finally, shared fire edges were systematically classified as fire-stopping or breached to quantify the effect of previous fires on subsequent fire spread. In total, more than half of the Frank Church, one-quarter of the Bob Marshall, and fifteen percent of the Selway-Bitterroot has burned since 1984. Area burned within each of the study areas yielded NFRs that are consistent with results derived from fire atlas and tree-ring research studies, indicating that recent fire activity has not been atypical for what is "natural" in terms of frequency or area burned. In the Bob Marshall, for every 100-ha burned, 4-ha reburned; the rate of reburning was 7-ha per 100 in the Selway-Bitterroot, and 13-ha per 100 in the Frank Church. The data show that reburn occurs less frequently than chance in the Frank Church, perhaps less frequently in the Bob Marshall, and the same as chance in the Selway-Bitterroot. In each of the study areas, the total amount of edge where a fire met another fire was less than three percent of the total available perimeter. However, 80% of the total edge encountered was breached, resulting in fire spreading onto previously burned landscapes and reburning more than 40-ha. Year-to-year variability in reburn occurrence was high, and the size of reburns was typically small, implying a general resistance to reburning. There was a systematic decrease in the frequency of small to medium sized reburns (40- to 405-ha) as TSPF increased in all three wilderness areas. The frequency of large reburns increased with TSPF in the Frank Church, but this trend was not apparent in the other wilderness areas.
Speaker's Bio
LLoyd Queen is a professor of remote sensing in the Department of Forest Management at the University of Montana. He teaches courses, workshops, and field camps in remote sensing, GIS, and fire management. His research focuses on assessments of landscape dynamics at regional scales. Current sponsored research includes estimation of forest fuels using laser and optical image data, characterization of forest stand dynamics and change monitoring, and burn severity assessments. Since May 2000 he has served as the Director of the National Center for Landscape Fire Analysis, and he was the Chair of the Forest Management Department in 2011/12. He received his Ph.D. degree from the University of Nebraska, and worked as a post-doctoral scientist at the University of Minnesota before coming to the University of Montana in 1995.