SNR Research Series - Fall 2013
Delivering useful and usable climate information products
Speaker: Martha Shulski
Director and Assistant Professor, High Plains Regional Climate Center, School of Natural Resources
Date: 9/4/2013
Time: 3:30:00 PM
Location: 107 Hardin Hall (Auditorium)
Abstract
The High Plains Regional Climate Center (HPRCC) is one of NOAA's six Regional Climate Centers in the U.S. and we have called the University of Nebraska-Lincoln home since our inception in 1987. Our mission is to provide climatological data and information to stakeholders across the region and country. We achieve this through data collection and monitoring, applied climate research, outreach and education, and provision of climate services to our customers. Recently, there has been a trend in the U.S. toward the establishment of federally-funded climate centers, primarily climate change focused. What makes the HPRCC unique and who are the customers we serve? What is the focus of our applied research projects? In what sorts of educational outreach activities do we engage? These questions and more will be answered in this seminar presentation.
Speaker's Bio
Conserving Nebraska's Biodiversity: Challenges and Opportunities on Private Lands
Speaker: Larkin Powell
Professor, School of Natural Resources
Date: 9/11/2013
Time: 3:30:00 PM
Location: 107 Hardin Hall (Auditorium)
Abstract
The Applied Ecology group in the School of Natural Resources is comprised of more than 20 faculty and approximately 70 graduate students. Its research is a vibrant mix of theoretical and applied work in ecological sciences, and its role is to provide data to private land managers, a spectrum of state and federal agencies and NGOs to support decisions that affect the landscapes of Nebraska, the Great Plains and the world.
Ninety-eight percent of the Nebraska landscape is privately owned. Land and water resources, therefore, have been critical to the development of Nebraska's agricultural and non-agricultural economy. How have Nebraska's landscapes changed through time? How has the human-landscape interaction been modified? How have these changes affected our water quality, fisheries, wildlife populations, forests and grasslands? What is the role of research in decisions made on Nebraska landscapes? We will explore current challenges to maintenance of resilient landscapes, paradigms used to value landscapes and models to frame the economic importance of functional landscapes for the citizens of Nebraska.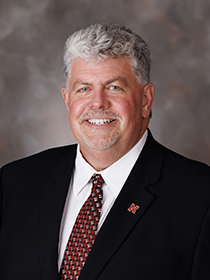 Speaker's Bio
Larkin Powell received his B.S. degree in biology from Graceland University and his M.S. in ecology and evolutionary biology from Iowa State University. He received is Ph.D in ecology from the University of Georgia.
The Applied Climate Science in SNR: Past, Current, and Future
Speaker: Don Wilhite
Professor, School of Natural Resources
Date: 9/25/2013
Time: 3:30:00 PM
Location: 107 Hardin Hall (Auditorium)
Abstract
The Applied Climate Science program at UNL began in the early 1960s with the hiring of Norman Rosenberg. The original focus of this program was on agricultural meteorology/micrometeorology, with a heavy emphasis on field research in Nebraska and elsewhere, in addition to a focus on graduate education. Since that time, the program has diversified with a greater emphasis on climate variability and climate change, natural hazard mitigation, climate services, climate monitoring and climate science education. This change has been the result of changing national research, funding priorities and local, state and regional needs. The program maintains a significant international focus and, with the recent approval of the new major in Applied Climate Science, the emphasis on undergraduate education will usher in a new era for this highly successful program.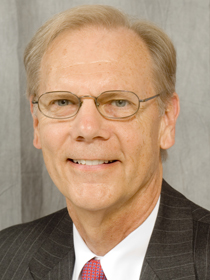 Speaker's Bio
Dr. Wilhite has been a faculty member at the University of Nebraska-Lincoln since 1977. He joined the Center for Agricultural Meteorology and Climatology when it was formed in 1979. Dr. Wilhite founded the International Drought Information Center at UNL in 1989 and was the founding director of the National Drought Mitigation Center in 1995, a position he held until 2007 when he was appointed director of the School of Natural Resources. He rejoined the faculty in 2012 to continue his research and outreach efforts on national and international projects related to drought monitoring, mitigation, planning and policy.
From Lewellen to Delhi: Drought Risk Management for the World
Speaker: Michael Hayes
Director and Professor, National Drought Mitigation Center, School of Natural Resources
Other Speaker(s): Mark Svoboda, Cody Knutson, Tsegaye Tadesse, Brian Fuchs
Date: 10/2/2013
Time: 3:30:00 PM
Location: 107 Hardin Hall (Auditorium)
Abstract
The National Drought Mitigation Center (NDMC) was established in 1995 around the drought risk management program built by Dr. Don Wilhite. The mission of the NDMC is to reduce societal vulnerability to drought by promoting planning and the adoption of appropriate risk management techniques. This seminar presentation will be made by several NDMC faculty who will highlight the wide variety of research and outreach activities taking place at the Center.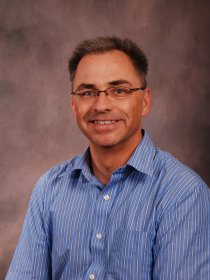 Speaker's Bio
Good Water: A story of Great Plains water quality
Speaker: Dan Snow
Research Associate Professor, School of Natural Resources
Date: 10/9/2013
Time: 3:30:00 PM
Location: 107 Hardin Hall (Auditorium)
Abstract
The productivity of the Great Plains is in many ways linked to its abundant and unevenly distributed surface and ground water. The composition of Great Plains water is generally suitable for multiple uses though in some locations particularly vulnerable to changes in quality. Changes in water composition can affect intended use. "Good water" for one use may not be good for other uses. Characteristics controlling a given use may change as new methods and information about its suitability become available. Management of water resources for multiple and sometimes competing uses is a growing challenge globally. Examples of research conducted at the University of Nebraska have helped measure changes in Great Plains water quality and understand the processes affecting intended use. This collective effort can lead to improved management of water quality for current and future intended uses in the Great Plains and beyond.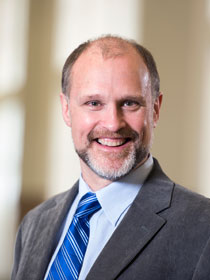 Speaker's Bio
Dr. Snow received a B.S. in geology from Missouri State University and an M.S. in geochemistry from Louisiana State University. He earned his PhD from the University of Nebraska-Lincoln where he studied geochemistry of uranium isotopes and agrichemical contamination of surface and ground water.
Speaker: Arthur Zygielbaum
Research Associate Professor, Center for Advanced Land Management and Information Technologies, School of Natural Resources
Date: 10/16/2013
Time: 3:30:00 PM
Location: 107 Hardin Hall (Auditorium)
Announcement: Download a copy
Abstract
The eminent Yogi Berra once said that "You can observe a lot by just looking." And by looking with scientific instruments, one can observe the health of crops, the quality of water in lakes and streams, and maybe even determine how and when plants enter stress and dump excess energy as light and heat. The Center for Advanced Land Management Information Technologies (CALMIT) was established to make maps and to measure characteristics of water and vegetation using remote sensing. Throughout its 40 year history, it has pioneered ways of doing just that. The seminar will explore some of the tools and techniques used by CALMIT and observe some of the scientific results. Of course, if we don't look at where we are going, we might not know when we've gotten there. So we will also look at a future that holds new instruments, new platforms and new techniques and a promise to directly observe the level of photosynthetic activity in plants and the mechanisms plants use to protect themselves when stressed.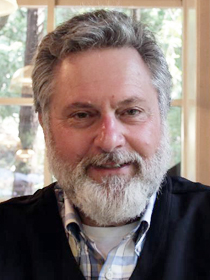 Speaker's Bio
Arthur Zygielbaum
Dr. Zygielbaum is an Adjunct Associate Professor in Geography (Remote Sensing) in the School of Natural Resources. He is a member of the Center for Advanced Land Management Information Technologies (CALMIT). His research interest is the remote sensing of crop stress status. He currently teaches the Overview of Geographic Information Technologies undergraduate course in the spring. Dr. Zygielbaum received a B.S. in Physics from the University of California at Los Angeles, a M.S. in Electrical Engineering from the University of Southern California, and a Ph.D. in Geography (Remote Sensing specialty) from the University of Nebraska-Lincoln. Prior to coming to UNL he spent 30 years as an engineer and manager at the NASA/Caltech Jet Propulsion Laboratory in Pasadena, CA.
Plant invasions and global change, lessons from biogeography
Speaker: Bethany A. Bradley
Assistant Professor, Department of Environmental Conservation University of Massachusetts-Amherst
Date: 10/23/2013
Time: 2:00:00 PM
Location: 107 Hardin Hall (Auditorium)
Abstract
Spatial models of invasive plants are often used to forecast invasion risk by correlating the geographies of species distributions with environmental conditions. But, the meaning of 'invasion risk' varies through different stages of invasion. This seminar will explore applications of biogeographical analysis for predicting invasion risk at the introduction, establishment and impact stages using examples of invasive plants in the U.S.
Speaker's Bio
Dr. Bradley received a PhD in Geological Sciences from Brown University in 2006, where she worked on satellite remote sensing of terrestrial ecosystems. From 2006-2009, she was a postdoctoral researcher at Princeton University, modeling the potential shifts of invasive plant distributions in response to climate change. Bethany is interested in how the geographical locations of species across landscapes and regions can inform risk assessments and conservation planning. Her research has a strong focus on plant invasion ecology, with a goal of understanding invasion risk in the context of anthropogenic disturbance and climate change.
Video
Frontiers in tree-ring research at the interface of archaeology, climatology and ecology
Speaker: Ulf Buentgen
Head of Dendroecology, Swiss Federal Research Institute for Forest, Snow, and Landscape
Date: 10/30/2013
Time: 3:30:00 PM
Location: 107 Hardin Hall (Auditorium)
Abstract
Annually resolved and absolutely dated tree ring-based climate reconstructions form a scientific backbone of the ongoing global change debate (i.e. dendroclimatology), and effects of climate variability on forest ecosystem productivity and functioning can be best estimated from different tree-ring parameters (e.g. ring width, wood anatomy, chemistry and density, stable isotopes), among various spatiotemporal scales (i.e. dendroecology). In this presentation, I will, however, not only exhibit the potential of modern tree-ring research that often benefits from massive sample replication, but I will also emphasize data-related and methodological-induced limitations. In this regard, I will stress drawbacks in our understanding of past climate variability at multi-centennial to millennial time-scales, with a particular emphasis on historical drought estimates. Moreover, I will advocate for interdisciplinary approaches including aspects of archaeology, climatology and ecology, which consequently should apply innovative statistical techniques and consider wood anatomical characteristics. Finally, I will provide timely examples of dendrochronological contributions beyond their traditional research foci, where information preserved in different tree-ring parameters might be able to offer additional insight into biological, epidemiological, mycological and even oceanographic forefront investigations.
Speaker's Bio
Ulf Buntgen is Head of the Dendroecology Group at the Swiss Federal Research Institute WSL, where he is employed since 2003. He studied Geography, Geology and Cartography at the University of Bonn, Germany (1999-2003), and obtained his PhD (2006) and Habilitation (2011) at the University of Bern, Switzerland. Ulf is also an Associated Research Fellow of the Oeschger Centre for Climate Change Research (OCCR) at the University of Bern, Switzerland, as well as an Associated Senior Scientist at Global Change Research Centre AS CR, Brno, Czech Republic. He published >120 scholar articles in his young career, from which 78 are ISI-listed including Nature, Science, Nature CC and GS, PNAS and Frontiers in Ecology and the Environment. In addition to his vital networking and teaching agenda, Ulf's scientific endeavors are always centered on tree-ring research with a diverse range of foci located at the interface of archaeology, biology, climatology, ecology and history. Ulf is regularly crossing disciplinary boundaries and beliefs in the inherent strength of well-replicated datasets. To provide answers to his main research questions: "How did and does climate change and how did and do ecosystems respond to such changes", he is conducting fieldwork all over the globe.
Video
My water is contaminated, now what? How UNL's Environmental Restoration Science program can help
Speaker: Steve Comfort
Professor, School of Natural Resources
Date: 11/6/2013
Time: 3:30:00 PM
Location: 107 Hardin Hall (Auditorium)
Abstract
Two of the biggest threats to groundwater quality in the U.S. are contamination from either chlorinated solvents or petroleum. Many sites currently contaminated are remnants of spills that occurred 20 to 30 years ago. Left unattended, the size and scope of the problems associated with these spills have only increased with time. When a community learns that their water has become contaminated, people want to know: What are our options? What questions should be asked?
To answer these questions, Steve will review the basics of "Remediation 101" and then present examples of some remedial technologies that have been developed to treat contaminated water. Steve will also discuss SNR's undergraduate major in environmental restoration science and explain how this program could potentially assist in mitigating future environmental contamination problems.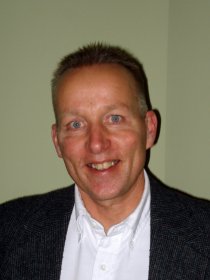 Speaker's Bio
Steve Comfort received his B.S. in Soil Science from the University of Wisconsin-Madison and his M.S. in soil science from the University of Minnesota. He earned his Ph.D. in soil science and water chemistry from the University of Wisconsin-Madison.
The Keystone Pipeline: Observations on geology, society, and the Nebraska Geological Survey
Speaker: Matt Joeckel
Professor and Geologist, School of Natural Resources, Conservation and Survey Division
Date: 11/13/2013
Time: 3:30:00 PM
Location: 107 Hardin Hall (Auditorium)
Abstract
Fact, fiction, emotion, and public interest have converged upon the proposed Keystone XL Pipeline. It is certainly the most broadly discussed environmental issue in Nebraska in recent years and it bears implications nationwide, if not globally, for many decades into the future. Although opinions about the pipeline itself are abundant and readily exchanged in various media, it appears that geologic facts relevant to the subject are in short supply and generally misconstrued, if they are not outrightly distorted. The proposed route of the Keystone XL Pipeline crosses a surprising diversity of geological, geomorphic, hydrogeological, and soil settings in Nebraska, all of which are only partially characterized. In fact, Nebraska's largely uncelebrated geology is highly significant from standpoints ranging from the local to the global. Furthermore, from the perspective of societal needs, Nebraska's most current environmental dialog actually reflects much larger and longer-term issues: (1) the public's "appreciation gap" with respect to the solid Earth and the dire need for public education and engagement in geology and the adjunct Earth sciences; and (2) the necessity of maintaining and improving objective, regional geoscience data-collection, research, and engagement in the best interests of the citizenry.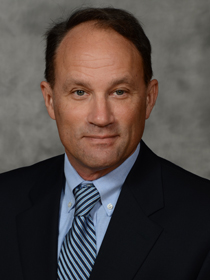 Speaker's Bio
Dr. Joeckel happily returned to his hometown of Lincoln in 2000 to work for the Conservation and Survey Division at UNL. He has a Ph.D. in geology from the University of Iowa and was also educated at UNL, the University of Kansas, the University of Florida, and Iowa State University. He was also a National Science Foundation Postdoctoral Research Fellow at the University of Tennessee and he is a Fellow of the Geological Society of America.
Satellite Imagery, Information and Insight: Response to Real-World Demands
Speaker: Stephen Wood
Imagery analytic and geospatial professional,
Date: 11/20/2013
Time: 3:30:00 PM
Location: 107 Hardin Hall (Auditorium)
Abstract
Regardless of your area of focus, geospatial insights and applications will play a role in your future. Geospatial analysis can inform and spur innovations by offering answers to critical questions across a wide array of commercial, public and governmental issues. Stephen will highlight a diverse set of historical and current case examples from the commercial imagery satellite industry to show how imagery, information and insight is already being utilized by civil agencies, defense and intelligence organizations, oil and gas exploration companies, infrastructure management and first responders.
Speaker's Bio
Stephen Wood is an imagery analytic and geospatial professional with more than 25 years experience in the U.S. Government and industry. He joined DigitalGlobe in July 2000 after nearly 14 years with the Central Intelligence Agency where he served in a wide variety of roles, including a senior intelligence officer, executive staff officer and an arms control inspector. Stephen is a graduate of the University of New Hampshire, and lives in northern Colorado with his wife and their four children (including his oldest son, Ryan, who is a sophomore at UNL).
Video
Human Dimension Activities to Encourage Sustainable Behavior
Speaker: Mark Burbach
Environmental Scientist, School of Natural Resources
Other Speaker(s): Lisa Pennisi
Date: 12/4/2013
Time: 3:30:00 PM
Location: 107 Hardin Hall (Auditorium)
Abstract
Understanding how social attitudes, processes and behaviors related to how we maintain, protect, enhance and use our natural resources is critical to addressing environmental problems. This seminar will introduce activities in the School of Natural Resources to encourage sustainable behavior. Examples from faculty research, teaching, and outreach/extension activities will be covered.
Speaker's Bio
Mark Burbach has a Ph.D. in leadership studies from UNL. He is the human dimensions of natural resource faculty area leader and teaching coordinator in the School of Natural Resources. Mark's research, teaching and extension scholarly service focus on the human dimensions of natural resource management.
Lisa Pennisi earned her Ph.D. in natural resource recreation and tourism with minors in research and evaluation methodology and forest resources and conservation from the University of Florida. Pennisi teaches environmental education, environmental communications, ecotourism and "Individual and Cultural Perspectives on the Environment." Pennisi's research interests include environmental psychology, influencing conservation behavior and outdoor recreation.