Geography/GIScience Seminars - Spring 2014
Hot Rocks and Sharp Rocks: Archaeological Remains as Proxy Signatures of Long-Term Human Environmental Interaction in Semiarid Landscapes
Speaker: Matthew Douglass
Research Assistant, Professor and Lecturer, UNL Department of Anthropology
Date: 1/24/2014
Time: 2:00:00 PM
Location: 228 Hardin Hall
Abstract
The surface archaeological record is abundant in many parts of the world's semiarid landscapes, thus offering an accessible yet enduring record of our deep human past. If analyzed with attention to spatial distribution and history of deposition, these remains can provide an important data source for understanding long-term human environmental interaction within these dynamic and often challenging lands. In this talk, I will review methodological approaches for the analysis of chipped stone artifacts (sharp rocks) and prehistoric hearth features (hot rocks) that serve as proxy signatures with which to investigate trends in human movement and population organization. Special emphasis will be placed on my own research in Australia, Africa and the North American Great Plains.
Speaker's Bio
Dr. Matthew Douglass is a research assistant professor and lecturer for the Department of Anthropology. His research interests are in prehistoric human environmental interaction, landscape archaeology and lithic technology. He has ongoing projects in Nebraska, Sub-Saharan Africa, and Outback Australia. Dr. Douglass holds a PhD from the University of Auckland, Department of Anthropology, and both BA and MA degrees from UNL.
Monitoring Irrigation Water Use at Different Scales
Speaker: Christopher Neale
Director of Research, UNL Water for Food Institute
Date: 2/7/2014
Time: 2:00:00 PM
Location: 228 Hardin Hall
Abstract
In this seminar Dr. Neale will describe two applications - one using satellite imagery over a large irrigated area and one using airborne imagery at high resolution in an urban environment.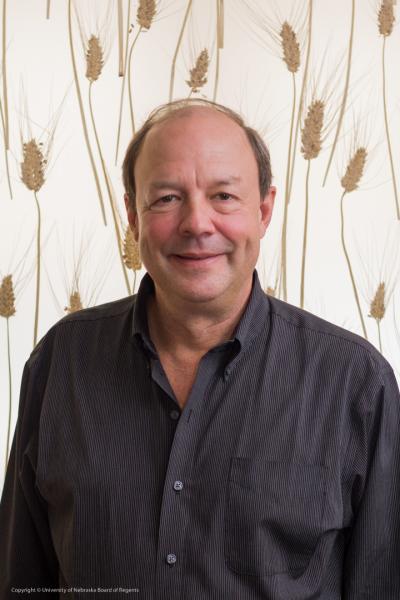 Speaker's Bio
Neale oversees the Water for Food Institute's research efforts, engaging University of Nebraska faculty in new projects and initiating other partnerships to help address the critical water for food challenges facing our world. He also holds an academic appointment in the University of Nebraska-Lincoln's Department of Biological Systems Engineering and a research appointment in the UNL School of Natural Resources Center for Advanced Land Management Information Technologies (CALMIT).
Additionally, he is president of the International Commission on Remote Sensing of the International Association of Hydrological Sciences.
Neale was previously a professor in the Irrigation Engineering Division of the Civil and Environmental Engineering Department at Utah State University, where he served as a leader in remote sensing and management of agricultural water resources since 1988. He holds a doctorate in agricultural engineering from Colorado State University.
Crime Mapping: An Overview of the Past, Present and Future
Speaker: David Grosso
MA student in Geography, UNL
Date: 2/21/2014
Time: 2:00:00 PM
Location: 228 Hardin Hall
Abstract
For almost two hundred years law enforcement and researchers have used spatial mapping as a tool to better understand the type of crimes that are occurring and how they relate to space. Crime mapping is the tool used to associate crimes and places. Since its first use in Europe during the 19th century crime mapping has changed dramatically. The advent of GIS has dramatically increased the capabilities of analysts while the advent of the Internet has greatly increased the interface and communication with the public.
Speaker's Bio
Grosso received his undergraduate degree in geography from James Madison University (JMU) in 2012. Prior to obtaining his bachelor's degree, Grosso grew up overseas predominantly in Rome, Italy. While at JMU, he worked on numerous GIS projects to include a geographic analysis of the freight industry in Virginia.
In 2013, Grosso came to the UNL to study geography at the graduate level. His current thesis work involves tracing the theft of firearms in Lincoln to their subsequent recovery location. Grosso is working on this project with the cooperation of Tom Casady of the Lincoln Department of Public Safety.
TBA (Steve Lavin Memorial lecture)
Speaker: Ezra Zeitler
Assistant Professor, Department of Geography and Anthropology, University of Wisconsin – Eau Claire
Date: 3/7/2014
Time: 2:00:00 PM
Location: 228 Hardin Hall