Special Seminars
Case Studies on the Role of Root Exuded Compounds from Bermuda Grass and Perennial Ryegrass on Lead Mobility in Military Training Ranges, and Environmental Impact Assessment of the Copper Bullet
Speaker: Dr. Afrachanna Butler
, US Army Corps of Engineers, Engineer Research and Development center, Environmental Laboratory, Vicksburg Mississippi
Other Speaker(s): Dr. Catherine Thomas
Date: 5/7/2014
Time: 3:30:00 PM
Location: 901 Hardin Hall
Abstract
Role of Root Exuded Compounds from Bermuda Grass and Perennial Ryegrass on Lead Mobility in Military Training Ranges
There are concerns about the potential environmental impacts of lead (Pb) contamination associated with military training ranges, including its transport into nearby surface water and groundwater. Plants have been considered useful for stabilizing soils contaminated with Pb and have been used as a management tool to address this mobility concern. However, phytostabilization studies at the US Army ERDC indicate that plants may enhance metal solubility, thus resulting in increased mobility. The roots of particular plant species, particularly those belonging to the Gramineae (grass) family, have been shown to exude chelating siderophore compounds (commonly called phytosiderophores) as a response to trace metal nutrient deficiencies (e.g., iron). In addition to phytosiderophores, grasses also exude a wide range of non-siderophore-based chelating compounds, such as low molecular weight organic acids, which may also interact strongly with metals. To better understand the relationship between plant root exudates and metals mobility, we are studying metal interaction with root exudates to determine if these exuded compounds are responsible for the enhanced lead mobility by complexation and chelation mechanisms.
Environmental Impact Assessment of the Copper Bullet
The recommended use of copper (Cu) projectile bullets for both military training and civilian shooting sports is increasing as the interest of our nation focuses on less hazardous technologies without compromised performance. In recent years, the Pb-free, M855A1 Cu round was approved by the Army for fielding with plans to replace the M855. In an effort to determine the environmental impact of Cu bullet fragments in geographically diverse shooting range soils, the behavior of spent copper (Cu) projectiles in multiple soils was investigated under controlled laboratory conditions of varied temperature and humidity combinations. Copper projectiles fired into sand filled lysimeter cells were retrieved for use in a corrosion study. The recovered projectiles were evaluated in four soils with different physicochemical properties. Soils used were characterized as sandy, organic clay, sandy silt, and clay. Corrosion was observed on Cu projectiles collected from sandy, organic clay, and clay soils while no corrosion of the metal occurred in the sandy silt soil. The extent to which corrosion occurred was determined using Scanning Electron Microscopy (SEM). Results from this study suggest that factors contributing to corrosion of projectiles embedded in soils included oxygen, moisture, and organic matter.
Speaker's Bio
Dr. Afrachanna D. Butler
Dr. Afrachanna D. Butler has been employed by the Environmental Laboratory, United States Army Engineer Research and Development Center (ERDC), Vicksburg, MS, since 2001. She began her career on a temporary appointment as a contract student and progressed to a full-time position in 2007 as a Research Physical Scientist, widely regarded for her research and educational accomplishments, and her service as a role model for others, particularly scientific peers in her profession.
Dr. Butler is currently working for the "Green Team" in the Engineering Branch of the Environmental Laboratory. Her research areas include the fate and transport of heavy metals (e.g., lead), the use of plants for metal and energetic (e.g., RDX and TNT) munitions constituents stabilization in military range soils, elucidation of key mechanistic processes affecting metal dissolution, and the use of plants for demonstrating sustainable remediation/management of heavy metal and energetic contaminated soils, sediments, and surface and ground waters.
Dr. Butler is currently serving as Principal Investigator for projects that are improving the Army's ability to meet increasingly challenging environmental requirements. One project, which is under the umbrella of the ERDC's Environmental Quality and Installations (EQI) program, involves investigating the role that plant root exudates play in increasing lead mobility in soils. In another project, funded by the Army Environmental Quality Technology's Green Range Management Initiative, she is developing a cost-effective treatment system using adsorptive sediment barriers to manage the migration of munitions constituents in surface water runoff, particularly an explosive (RDX).
Dr. Butler's own academic history is one that reflects her consistent desire to excel. She received a B.S. Degree in Biology from Jackson State University (JSU), Jackson, MS in 2000. In addition, she received a M.S. Degree in Biology from JSU in 2002. In August 2009, she reached an ultimate educational goal by receiving her PhD in Environmental Science from JSU. Dr. Butler has authored and co-authored peer reviewed journal articles, conference proceedings, as well as delivered platform and poster presentations at numerous professional meetings.
Dr. Catherine C. Thomas
Dr. Catherine C. Thomas is a Research Biologist at the US Army Engineer Research and Development Center in Vicksburg, MS. Her research interest include phytoremediation of munition constituents in soil and water, contaminant remediation using aquatic vegetation, and toxicity mediated physiological processes in plants. Catherine's early work investigated plant root exudates and their interaction with heavy metals in both soil and water media. Currently, Catherine's research investigates the propensity of copper metal to corrode in soil under varying conditions.
Catherine received a B.S. in Biology from Tougaloo College (Tougaloo MS), a M.S. in Biology from Alcorn State University (Lorman, MS), and a Ph.D. in Environmental Science from Jackson state University (Jackson, MS). Catherine has been working at the Engineer Research and Development Center as Research Biologist for 3 years.
Can the World Feed Nine Billion People? Implications for Nebraska
Speaker: Doug Bereuter
former Congressman,
Date: 10/19/2014
Time: 7:00:00 PM
Location: Hardin Hall auditorium (room 107)
Abstract
The lecture will address the broad question of whether the world can produce enough nutritious food to feed a population that is conservatively estimated to increase from the current seven billion people to a population of more than nine billion by 2050. It will highlight the pressing and generally under-appreciated food security challenges facing the world, including the trade and access problems of food supplies and agricultural inputs, the necessity of enhancing nutrition in the food supplies, the prospects for political turmoil and conflict caused by food shortages and price volatility, and the adaptation and mitigation initiatives required to cope with climate change and increased weather volatility. With respect to the latter in particular, Bereuter expects to consider and build upon the Sep. 25 Heuermann Lecture at UNL that presented the university's much-anticipated report, "Understanding and Assessing Climate Change: Implications for Nebraska."
Speaker's Bio
Bereuter is a fifth-generation Nebraskan who represented the state's 1st Congressional District for 26 years from 1979-2004, after which he served as president and CEO of The Asia Foundation. Since 2011, he has been president emeritus of the foundation. During his congressional career, Bereuter was deeply involved in international issues, including membership on the House International Relations Committee, where his service included the Human Rights Subcommittee and the Subcommittee on Economic Policy and Trade. Bereuter is a member of the Council on Foreign Relations and the State Department's International Security Advisory Board. He is a board member of the Nebraska Community Foundation, a past chairman of the Arbor Day Foundation and co-chair of the Chicago Council of Global Affair's Global Agricultural Development Initiative. Bereuter is a Phi Beta Kappa graduate of the University of Nebraska, and has master's degrees in city planning and public administration from Harvard University.
Video
Climate Change and National Security: People Not Polar Bears
Speaker: David Titley
professor of practice, Department of Meteorology at Penn State University
Date: 10/30/2014
Time: 3:30:00 PM
Location: Nebraska Union, 14th and R streets, UNL's City Campus
Abstract
Climate change is about people, water and change itself. It is critical to understand the rate of climate change relative to the abilities of both humans and ecosystems to adapt. Titley will describe the multiple, independent lines of evidence that the climate is changing, and that the primary cause of this change is a change in atmospheric composition caused by the burning of fossil fuels. He will cover the history of climate change as seen within the U.S. Department of Defense and U.S. Navy and how this challenge is being addressed from budgetary, policy and political angles. He will examine the greatest challenges to national security posed by climate change – particularly the associated changes in the Arctic. The seminar will assess the future challenges and opportunities regarding climate change from scientific, political and policy perspectives, and why we know enough to take significant action now. Titley will also address how to effectively talk about climate change through the use of analogies, non-jargon English and even a little humor.
Speaker's Bio
Titley is a professor of practice in the Department of Meteorology at Penn State University. He is the founding director of Penn State's Center for Solutions to Weather and Climate Risk. Titley served as a naval officer for 32 years and rose to the rank of Rear Admiral. His career included duties as oceanographer and navigator of the Navy. In 2009, he initiated and led the U.S. Navy Task Force on climate change. He also served as Deputy Secretary of Commerce for Operations, the Chief Operating Officer position of the National Oceanic and Atmospheric Administration. Titley holds a bachelor of science in meteorology from Penn State. He earned a master's degree in meteorology and physical oceanography and a Ph.D. in meteorology from the Naval Postgraduate School. In 2009, he was elected a fellow of the American Meteorological Society.
Measurements that Matter: Turning Science into Impact in Agriculture
Speaker: Adam Wolf
CEO, Arable Labs
Date: 1/29/2016
Time: 8:30:00 AM
Location: 107 Hardin Hall
Abstract
When I studied agronomy in the 90s, we learned about plants, pests, soils, water, and ANOVA. Most of the technology we use today was nowhere to be seen. Now the challenge is not that technology is so rare, but that there is such a deluge of data that distilling it to its essence is crucial for making it useful. At the heart of agricultural technology is understanding the sophistication of farming and finding ways to situate datadriven technology seamlessly into this mix to add value to the farmer.
I will talk about my path from an agronomist at UC Davis to a research scientist at Princeton, and now to the CEO of Arable. I'll present the hardware we have developed, what problems it solves, and what I think the big opportunities are in data-driven research.
Speaker's Bio
Adam Wolf is CEO of Arable Labs Inc, based in Princeton NJ and Oakland CA. He spent five years as a researcher at Princeton, largely focused on plant-water relations at leaf to regional scales. He earned his PhD in Biology at Stanford, studying with Joe Berry and Chris Field, where his dissertation addressed data assimilation of remote sensing into plant growth models. Dr. Wolf has an MS and BS from UC Davis in Agronomy.
Environmental Triggers of Past Ebola Outbreaks in Africa, 1981-2004
Speaker: Tony Nguy-Robertson
, National Geospatial-Intelligence Agency
Other Speaker(s): Rob Slavin
Date: 8/24/2016
Time: 2:00:00 PM
Location: 107 Hardin Hall
Abstract
Ebola virus, especially its most common and lethal form, Zaire Ebolavirus, has eluded scientists nearly 50 years. What is its primary host? Why does it go dormant to suddenly to reappear full force years later? What are the driving forces behind its intriguing dynamic? It has been surmised that local environmental factors (such as droughts, seasons) might be at play behind the on-and-off Ebola outbreak outbursts. However, so far, no clear lead has been demonstrated making Ebola a constant hidden lethal menace lurking in the environment for many African communities. We have analyzed long-term time-series of three environmental variables that influence the controlling factor behind the cycle of Ebola virus outbreaks: (i) vegetation health, as determined from the Normalized Difference Vegetation Index (NDVI) collected by AVHRR and MODIS satellite sensors, and the weather variables (ii) temperature and (iii) precipitation from the Climate Forecast System ver. 2. Time series data were averaged monthly and spatially over a 100 km grid around past known outbreak locations. Seasonal effects were removed from these time series before applying statistical analyses identifying causal linkages between NDVI, temperature, precipitation and Ebola outbreaks. Likewise, possible tippingpoints prior to outbreaks (i.e. early warning signals of an upcoming outbreak) were identified. Our results indicate that there is a causal dynamic link between outbreaks and the three environmental variables examined months prior to an outbreak. This was likely due to an abnormal change in the local precipitation pattern which influence NDVI values and to a lesser extent temperature. Furthermore, our results provide evidence that these factors demonstrate early warning signals of a dynamical system at a tipping-point, prior to a future outbreak. These tipping-point or early warning models may open new ways to furthermore develop forecast models of future Ebola outbreaks.
Olive tree-ring problematic dating challenges the olive-branch-based 14C dating of the Santorini Minoan eruption
Speaker: Dr. Paolo Cherubini
Senior Scientist and Leader of Research Group Dendroecology, WSL Swiss Federal Reseacrh Institute, Zurich, Switzerland
Date: 9/16/2016
Time: 2:00:00 PM
Location: 901 Hardin Hall
Abstract
The date of the volcanic eruption of Santorini has been controversial since the 1980s. Some have placed the event in the late seventeenth century BC. Others have made the case for a date of around 1500 BC. A recent contribution has been the dating of an olive tree branch preserved within the volcanic ash fall on Santorini. I'll argue that the olive tree dating is unreliable, and I'll illustrate the difficulties encountered when dating tree rings of olive on Santorini and more generally growth rings of shrubs and trees in the Mediterranean.
Lecture: 12-1:50pm - The use of tree rings to understand past ecological and climatological conditions: History, basics, and applications
The focus of this lecture will be on the history of tree-ring studies, i.e., dendrochronology, methods commonly used, main results achieved in ecology and climatology during the past century, and recent examples of the use of dendrochronological methods in ecological and geophysical research.
Speaker's Bio
Dr. Paolo Cherubini is a Senior Scientist and a Leader of the Dendroecology Research Group at the WSL Swiss Federal Institute for Forest, Snow and Landscape Research in Zurich- Switzerland. His research interests lie within the areas of dendrochronology, tree physiology, ecology, and evolution. He is interested in understanding the key processes behind tree growth, gaining a thorough understanding of the influence of environmental stress and climate variability and change on tree physiological processes, with particular focus on intraand inter-annual cambial activity and wood formation.
Climate Change: Chemistry, International Assessment and Policy
Speaker: Marsha I. Lester
Edmund J. Kahn Distinguished Professor, University of Pennsylvania, Department of Chemistry
Date: 10/20/2016
Time: 7:00:00 PM
Location: 107 Hardin Hall
Abstract
The seminar focuses on the underlying chemistry associated with climate change: sources and sinks of greenhouse gases, and how these gases trap heat in the Earth's atmosphere.
Information will be drawn from the Intergovernmental Panel on Climate Change (IPCC Fifth Assessment, Physical Science Basis), chemistry textbooks, and publicly accessible databases of greenhouse gas emissions, including a breakdown by country, and the global temperature record. Impacts on the environment to date, including melting ice caps and rising sea levels, and future predictions of climate change will be explored. The environmental and energy policies proposed by presidential and congressional candidates, along with what individuals can do to reduce their carbon footprint, will be discussed and debated.
For more information, contact Don Wilhite at 402-472-4270 or dwilhite2@unl.edu, or contact Pat Dussault at 402-472-6951 or pdussault1@unl.edu.
The lecture is sponsored by the School of Natural Resources, Department of Earth and Atmospheric Sciences and the Department of Chemistry,and Alpha of Nebraska (UNL ) Chapter of Phi Beta Kappa.
Video
Cranes, Ducks and Prairie Chickens: An evening with Conservation Biologists and Birds from the Madson Collection
Speaker: Various Speakers
,
Date: 3/7/2017
Time: 7:00:00 PM
Location: 107 Hardin Hall
Announcement: Download a copy
Abstract
The event celebrating the spring migration of birds across the Great Plains and Central flyways is co-sponsored by the School of Natural Resources at University of Nebraska-Lincoln.
Great Plains waterfowl, grouse and cranes -- all birds that migrate along the flyways over Nebraska -- will be on display, as will pieces by well-known conservation photographer Michael Forsberg. Experts will be on hand, bridging biology, conservation and art through discussion. Doors will open at 7 p.m., and "gallery" talks will begin at 7:30 p.m. Parking is free
The waterfowl and grouse galleries will feature museum mounts from the Madson collection, donated to the University of Nebraska State Museum in 2014 and permanently housed at Hardin Hall. Although fewer than 35 mounts in the collection are Great Plains species, they have not been assembled and featured separately in a single show.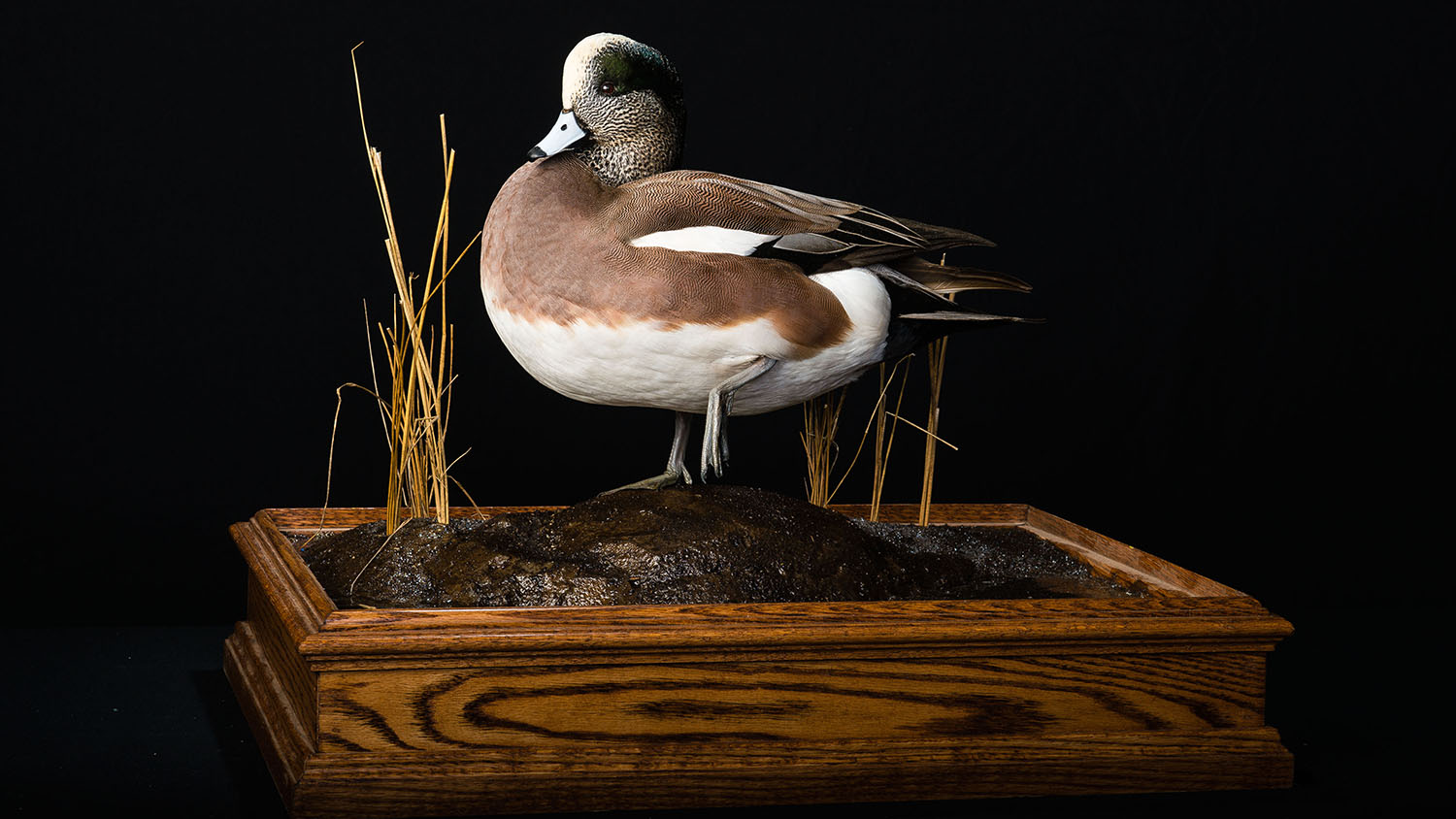 Nutrients Matter Most for Determining Spatio-Temporal Variability of Ecosystem Productivity
Speaker: Marcos Fernandez Martinez
Researcher, Center for Ecological Research and Forestry Applications with the University of Barcelona, Spain.
Date: 4/27/2017
Time: 3:00:00 PM
Location: 901 Hardin Hall
Abstract
The talk will cover how human activities are changing the global climate and how it is affecting the biogeochemical cycles of carbon, nitrogen and phosphorus.
Martinez's research examines how worldwide temperatures are increasing and precipitation regimes are changing. While ecosystems are experiencing a continuous increase in carbon dioxide and nitrogen because of fossil fuel burning, phosphorus is becoming more and more limiting for ecosystems.
Two seminars linking water quality, ecology, and health in Lake Victoria
Speaker: Amber Roegner and Jessica Corman
,
Date: 8/30/2017
Time: 12:00:00 PM
Location: Hardin Hall Auditorium (Room 107)
Abstract
Spatial-temporal health risks from cyanobacterial blooms for subsistence fishing communities in Kisumu Bay, Lake Victoria, Kenya.
Amber Roegner
NIH-Fogarty GloCal fellow
As a NIH-Fogarty GloCal fellow at UC Davis, 2015-2016, Dr. Roegner partnered with Kenya Marine Fisheries and Research Institute (KMFRI) and Kenya Medical Research Institute (KEMRI) to identify spatial -temporal health risks from cyanobacterial blooms for the 3rd largest city in Kenya, Kisumu, as well as for fishing communities around Kisumu Bay. Eleven fishing communities, six inland river sites, and eleven lake (point source, non point source and city water intake) were monitored from October 2015 through 2016 for physicochemical parameters, chlorophyll a, phytoplankton and cyanobacterial counts and diversity, total coliforms and E coli, and over 20 cyanobacterial toxins and metabolites. While city water intake only breached the WHO guideline (1 ug/L) for total microcystins during the peak bloom season, satellite fishing communities faced variable microcystins concentrations, often well above both the WHO drinking water guideline and USEPA recreational guideline (4 ug/L). These HIVendemic fishing communities face a number of health challenges and are directly dependent on lake waters for livelihood and daily use.
Water, women, and fisheries: Addressing two ecological realities in the world's largest tropical lake, Lake Victoria
Jessica Corman
University of Wisconsin-Madison
Nutrient loading from wastewater effluent and agricultural runoff can cause eutrophication and proliferation of toxin-producing cyanobacteria. Like many lakes, Lake Victoria provides food, drinking water, and a source of livelihood for dependent communities. However, these ecosystem services are impacted negatively by increased resource demands, eutrophication, and climate change. we investigate the impact of nutrient pollution and invasive species with the aim to identify local solutions to mitigate water quality challenges. Our study focuses on Kisumu Bay, which receives runoff from the third largest municipality in Kenya, and combines approaches from social science (e.g., community surveys) and ecology (e.g., manipulative experiments). Survey results point to distinct differences among communities' use of lake water for drinking, cooking, and economic benefit. For instance, 38% of households are able to access alternative water sources, although these sources may still have health risks (e.g., fish ponds). Ecological experiments suggest laboratory results of improved water quality with macrophyte growth may not scale to the lake, hence, different strategies to minimize health risks associated with communities living near and using lake water may be needed.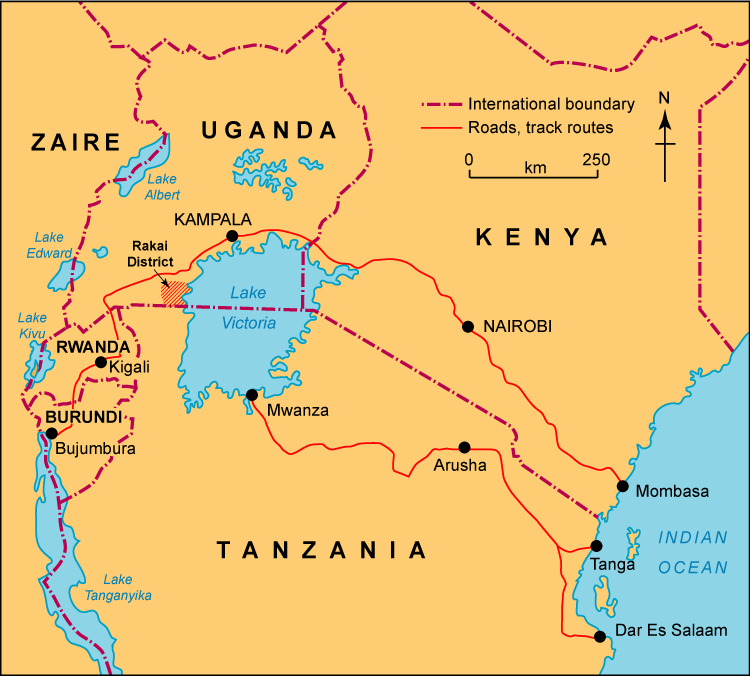 Video
One Health Initiatives in Rwanda - Linking Human, Animal and Ecosystem Health
Speaker: University of Rawanda Presenters
,
Date: 8/31/2017
Time: 7:00:00 PM
Location: Hardin Hall Auditorium (Room 107)
Announcement: Download a copy
Speaker's Bio
University of Rwanda Presenters: Etienne Rugigana, College of Medicine and Health Sciences Robert Kibuuka, College of Agriculture and Veterinary Medicine Ben Ndayambaje, College of Agriculture and Veterinary Medicine
Cheetahs and Humans, Sharing a Landscape
Speaker: Dr. Laurie Marker
Founder and Executive Director, Cheetah Conservation Fund
Date: 10/23/2017
Time: 1:30:00 PM
Location: Hardin Hall Auditorium (Room 107)
Abstract
Dr. Laurie Marker is a research scientist and conservation biologist recognized as one of the world's leading experts on the cheetah. As Founder and Executive Director of Cheetah Conservation Fund (CCF), Dr. Marker has pioneered research, established conservation models and created cooperative alliances on behalf of the cheetah that had never before existed. Under her leadership, CCF has grown into a world-class cheetah research, education and conservation institution situated near Otjiwarongo, Namibia, on a 100,000-acre, integrated wildlife and livestock private reserve.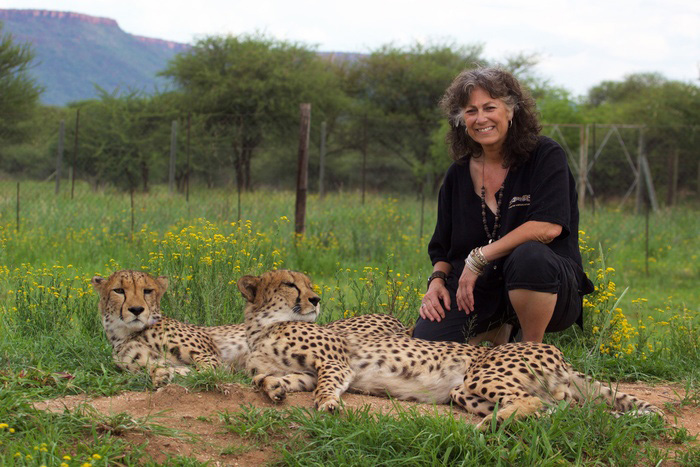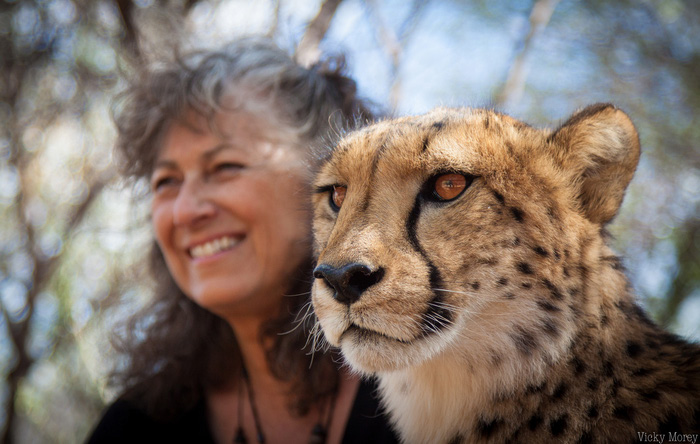 Speaker's Bio
Dr. Marker earned her DPhil in Zoology from the University of Oxford in the UK. She has published more than 80 scientific papers in peer-reviewed journals and is a regular contributor to The Huffington Post. Among many other awards and honors, she was named a Hero for the Planet by TIME Magazine and has been featured in Smithsonian, National Geographic, Discover and The New York Times, as well as on numerous television shows, including, "CNN", "The Tonight Show," "Good Morning America," "The Charlie Rose Show" and "Today."
Video