SNR Research Series - Fall 2014
Discipline-based Education Research on Teaching and Learning in Elementary Science Learning Environments
Speaker: Cory Forbes
associate professor, UNL School of Natural Resources
Date: 9/3/2014
Time: 3:30:00 PM
Location: Hardin Hall auditorium (room 107)
Abstract
To develop scientific literacy, elementary students must be supported to engage in scientific practices in the classroom to develop robust knowledge of disciplinary concepts that lay a foundation for lifelong science learning. Forbes' presentation will explore a discipline-based educational research program grounded in three externally-funded research and development projects focused on cultivating conceptually rich and epistemically engaging K-6 science learning environments. Specifically, findings are presented from empirical studies investigating a) 3rd-grade students' model-based reasoning about water systems and b) how elementary teachers' knowledge of disciplinary content influences instructional practices for science. Implications for K-12 science teaching and learning will be discussed, as well as how such work informs perspectives on discipline-based educational research.
Speaker's Bio
Forbes holds undergraduate and graduate degrees from the University of Kansas, in addition to master's and doctoral degrees from the University of Michigan. He joined UNL in September 2013 as part of an IANR hiring initiative, which aims to fill 36 new positions primarily in the areas of science literacy, stress biology, computational sciences, healthy humans and healthy systems for agricultural production and natural resources. Forbes was recently awarded the 2014 Early Career Research Award by the National Association for Research in Science Teaching.
Engineering Water Sustainability: Leveraging Sources of Predictability
Speaker: Francisco Munoz-Arriola
assistant professor of hydroinformatics and integrated hydrology, UNL Department of Biological Systems Engineering
Date: 9/10/2014
Time: 3:30:00 PM
Location: Hardin Hall auditorium (room 107)
Abstract
Water resources sustainability can be seen as the economy-serving society while maintaining water supplies to human activities and ecosystems. Considering sustainability as the ultimate goal of sustainable development, pathways to achieve water sustainability are integrated by current process-understanding and future changes. In order to achieve water sustainability in a changing climate, these diagnostic and prognostic perspectives of water states are explored. Munoz-Arriola will illustrate some experiences in diagnostic and forecast of water states in a changing climate. Using water-cycle modeling tools, the Hydroinformatics and Integrated Hydrology Research Group will explore the interplay of water-climate, agro-ecosystems and ecosystems to improve our prognostic abilities. Ultimately, Munoz-Arriola will propose a scheme to tackle some of the main challenges regarding water-state predictability.
Speaker's Bio
Munoz-Arriola is an assistant professor of hydroinformatics and integrated hydrology in UNL's Department of Biological Systems Engineering. He holds courtesy appointments in the Department of Earth and Atmospheric Sciences and the School of Natural Resources. He is also research fellow of the Daugherty Water for Food Institute and volunteer for science at the USGS's California Research Center. For more than ten years, Munoz-Arriola has worked to understand the interdependence between water and climate while both are regulated by human activities. His research focuses on model integration and development of information technologies, both aimed to improve the predictability of extreme hydrometeorological events and their effects on ecosystems and agro-ecosystems sustainability across scales. He has been a part of the research networks Climate Hydrology Academic Network for Governance and the Environment (CHANGE) and the Hydrometeorological and Climate Disasters Network (REDESCLIM) on both sides of the U.S.-Mexico border. In both cases, he aims to build tools and establish bridges of collaboration between the U.S. and other countries' research groups and agencies on water sustainability and climate.
Communicating Science: Making it Relevant to Your Audience
Speaker: Lesley-Ann L. Dupigny-Giroux
geography professor and Vermont state climatologist, University of Vermont
Date: 9/18/2014
Time: 3:30:00 PM
Location: Hardin Hall auditorium (room 107)
Abstract
The nexus between the complex, yet seemingly accessible nature of the content versus the varying preparedness of the audience in question is one of the ongoing dilemmas in communicating about science in general and, more specifically, in communicating about climate. As the Vermont state climatologist and as a professor, Dupigny-Giroux has interacted with all citizens from kindergarten- age to retirees (K-grey) in both formal and informal settings. She has worked closely with state agencies and federal partners on research topics of critical need to the state. This use-inspired, applied work has allowed her to identify best practices in communicating science. This presentation will explore her contributions, challenges and lessons learned in this arena.
Speaker's Bio
Dupigny-Giroux obtained her M.Sc. and Ph.D. degrees in climatology from McGill University in Montreal. Her work takes her across Vermont to assist colleagues in state agencies to help plan for and adapt to climate change. She is an expert in floods, droughts and severe weather and the ways in which these affect Vermont's landscape and people. She also works extensively with K-12 teachers and students, bringing the use of satellites and understanding climate to all levels of the pre-university curriculum. She is the lead editor of historical climate variability and impacts in North America, which is the first monograph dealing with the use of documentary and other ancillary records for analyzing climate variability and change. Nationally, she serves on the NOAA Science Advisory Board Climate Working Group helping to guide climate research across the U.S. She is also a contributing author to "Climate Change in the Northeast: A Sourcebook."
North American Deserts: Ecological Surprises
Speaker: Jed Sparks
professor of ecology and evolutionary biology and director of the Cornell Isotope Laboratory (COIL), Cornell University
Date: 9/24/2014
Time: 3:30:00 PM
Location: Hardin Hall auditorium (room 107)
Abstract
Over the past decade, the responses of several desert systems to localized human activities like grazing and global changes have been examined. Several ecological surprises were observed that define the future trajectory of these systems and the organisms that depend on these ecosystems for survival. Sparks will relate three case studies that have demonstrated that the future of desert ecosystems is very much in doubt and show that our understanding of these unique ecosystems -- although increasing -- is inadequate. He will talk about responses to increased carbon dioxide concentration, changing precipitation and the phenomenon of woody encroachment, and how each of these perturbations will define North American deserts into the future.
Speaker's Bio
Sparks is the director of undergraduate biology, director of the Cornell Stable Isotope Laboratory and professor of ecology and evolutionary biology at Cornell University. Sparks was an undergraduate at the University of Utah, completed his Ph.D. at Washington State University and did his postdoctoral work at the University of Colorado at Boulder. The Sparks lab focuses on the physiological ecology of plants, animals and microbes, and how this manifests in an ecosystem ecology context. The lab tends to focus on dryland systems and utilizes stable isotopes as a tool to understand ecological processes at scales from the organism to the globe. Projects in the lab are broad-ranging. They include the examination of the physiological ecology of dryland mosses and desert reptiles, global process modeling and assessment of human activities, such as natural gas extraction, and the recovery of pacific islands from invasive animals.
Long-term Agro-ecosystem Research - Sustainably Intensifying Production to Meet Future Demands for Agricultural Products
Speaker: Mark Walbridge
National Program Leader of the Water Availability and Watershed Management Natural Resources and Sustainable Agricultural Systems, Office of National Programs (USDA/ARS)
Date: 10/1/2014
Time: 3:30:00 PM
Location: Hardin Hall auditorium (room 107)
Abstract
As the 21st century unfolds, agriculture faces significant challenges, both in the U.S. and throughout the world, to: produce enough food, fiber, feed and fuel to support a global population now estimated to reach 9.7 billion by 2050, to do so without depleting our natural resources or degrading our environment, and accomplish these goals against a background of changes in climate that are expected to alter the very patterns of temperature and precipitation on which the world's food production systems depend. It's estimated that the amount of agricultural production needed over the next 35 years to meet these challenges is larger than the total amount of agricultural production over the course of human history in the past. These challenges threaten our food security and the availability of fresh water for a variety of needs. One component of effectively meeting these challenges is to improve our understanding of the long-term dynamics of agricultural sustainability.
In 2012, using existing long-term research infrastructure, the U.S. Department of Agriculture established a Long-Term Agro-ecosystem Research (LTAR) network comprised of 10 sites, adding eight additional USDA and non-USDA sites to this network in early 2014. This seminar will describe the LTAR network in detail, discuss recent progress and future plans for the LTAR network, and explore ways that the LTAR network can help agriculture meet the significant challenges it faces over the next 30-50 years.
Speaker's Bio
Since October 2006, Walbridge has served as the national program leader for the USDA/Agricultural Research Service's Water Availability & Watershed Management national research program, Natural Resources and Sustainable Agricultural Systems, Office of National Programs. He directs research at approximately 25 ARS laboratories throughout the U.S. He manages the Long-Term Agro-ecosystem Research network (LTAR), ARS's Benchmark Research Watersheds and research activities associated with the Conservation Effects Assessment Project.
From November 2008 to September 2009, he served as division chief for renewable energy, natural resources and environment in the Research, Education, and Extension Office (REEO) at the Office of the Under Secretary for Research, Education, and Economics (REE), USDA, where he coordinated relevant research and science-based activities across REE mission agencies. Before coming to ARS, Walbridge was a program director for the National Science Foundation's ecosystem studies program, professor and chair of the Department of Biology at West Virginia University and assistant/associate professor of biology/environmental science & policy at George Mason University. He was the founding editor-in-chief of the journal Urban Ecosystems.
Walbridge holds bachelor's and master's degrees in biology from West Virginia University and a Ph.D. in botany from the University of North Carolina. His research career focused on the ecology and biogeochemistry of freshwater wetland and forest ecosystems, with particular interest in the cycling of phosphorus and associated elements. He has published more than 25 papers in peer-reviewed literature.
Evaluating the Effect of Uncertainty in Selected Soil Parameters on Crop Yield Using a Crop Model: How Does This Relate to Crop Yield Productions Due to Climate Change?
Speaker: Consuelo (Ceci) Romero
research assistant professor, UNL School of Natural Resources
Date: 10/8/2014
Time: 3:30:00 PM
Location: Hardin Hall auditorium (room 107)
Abstract
Crop models have become powerful tools to estimate crop yields. However, many gaps concerning the lack of biophysical data to successfully run a model still need to be filled. Soil data is one such gap, and little effort has been put forth to estimate the uncertainty generated due to soil data. Romero will show the results of an uncertainty analysis for the soil component of the Peanut-CROPGRO v4.5 model to evaluate yield outputs. Her strategy involved generating equally probable soil profiles by slightly changing values in selected soil parameter within a range of possible true values. Romero will also explain the uncertainty found as equivalent changes in crop yield take place due to projected changes in temperature, precipitation and CO2.
Speaker's Bio
Romero earned a bachelor's degree in biology and a master's degree in soil science from La Molina National Agricultural University in Lima, Peru. She received a Ph.D. in production ecology from Wageningen University in the Netherlands. She completed her postdoctoral work at the University of Florida in water use in urban areas. She is currently a research assistant professor at UNL's School of Natural Resources, where her projects involve the analysis of anomalous climate conditions and their impacts on crop production in the continental U.S., increasing water use efficiency of crop systems through the use of simulation models in the U.S. and the Horn of Africa countries, and modeling soil erosion in the Colombian Andes.
Eco-evolutionary Disturbance Regimes and the Conservation of Pattern and Process in Great Plains Ecosystems
Speaker: Dirac Twidwell
assistant professor of range ecology, UNL Department of Agronomy & Horticulture
Date: 10/15/2014
Time: 3:30:00 PM
Location: Hardin Hall auditorium (room 107)
Abstract
Human behavior has rapidly evolved from fire-promoting to aggressively attempting to minimize its magnitude and variability. Today, nearly every region in the world enforces policies and laws that dictate when humans can ignite fires for the purposes of conserving fire dependent ecosystem services. This globally observed shift in human behavior is an example of unprecedented global environmental change that we demonstrate can meet or surpass the effect of plant species invasions on fire regimes. In this seminar, Twidwell will show multiple case studies that demonstrate that the eco-evolutionary range of variability (ROV) in fire behavior is critical to understanding plant and animal distributions and responses to fire.
Speaker's Bio
Twidwell recently joined UNL's Department of Agronomy and Horticulture. Twidwell's research program emphasizes cross-disciplinary collaborations to determine how novel changes in disturbance regimes and land use change the resilience and transformability of social-ecological systems. His research demonstrates that many undesirable sources of novelty in social-ecological systems (e.g. increasing wildfire disasters, broad-scale plant invasions) are the result of modern-day human decision-making and land management. Twidwell is currently developing projects to elucidate the impacts of novelty on a diverse suite of ecosystem services -- such as the conservation of endemic biodiversity and rare species, energy exploitation of terrestrial ecosystems, livestock production and the capacity to protect human life from wildfire disasters.
Linking Water Quality to a Changing Climate in Agricultural Landscapes: Implications of the 2012 Drought and 2013 Spring Floods
Speaker: Amy Burgin
assistant professor of aquatic ecology and limnology, UNL School of Natural Resources
Date: 10/22/2014
Time: 3:30:00 PM
Location: Hardin Hall auditorium (room 107)
Abstract
Modern agriculture is inextricably linked to declining surface water quality, which creates ecological and economic problems on local and continental scales. Agriculture is the primary source of reactive nitrogen (N) loading to aquatic ecosystems and combines with hydrology to control landscape N runoff. Future N loading, however, will also be determined by how these factors interact with climate change. Given the implications for water quality, it is critical to understand how intensive landscape management, hydrologic modification and a changing climate will interact. Drought-to-flood transitions, often referred to as "weather whiplash," can increase N loading to rivers. Specifically, the 2012 drought created N-enriched soil that combined with heavy spring rains in 2013, which caused regional flooding, efficient flushing of soil N and subsequent record-high surface water nitrate (NO3-) concentrations. In the Midwestern United States, as in many important agricultural regions, climate change is predicted to increase the frequency and severity of growing-season drought and more extreme spring rainfall events. Understanding feedbacks between climate change and agricultural practices is critical to the continued viability of agroecosystems and our ability to predict impacts to downstream ecosystems.
Speaker's Bio
Burgin has a B.A. in biology and environmental science from Coe College and a Ph.D. in zoology and ecology from Michigan State University. After earning her Ph.D., Burgin moved to the Cary Institute of Ecosystem Studies in New York to complete postdoctoral work with Peter Groffman. Her project there focused on using sensors to measure environmental variables in riparian wetlands. Burgin was an assistant professor at Wright State University in Dayton, Ohio before joining UNL's School of Natural Resources in 2011.
Investigating Ecosystems Through a New Lens: Opportunities and Challenges Using Cosmic-ray Neutron Detectors
Speaker: Trenton Franz
assistant professor of hydrogeophysics, UNL School of Natural Resources
Date: 11/5/2014
Time: 3:30:00 PM
Location: Hardin Hall auditorium (room 107)
Abstract
The recently developed cosmic-ray neutron method for measuring the mass exchange of hydrogen over a horizontal footprint of hectometers and a depth of decimeters is an exciting new tool to investigate how ecosystem scale water, energy, and biogeochemical cycles function. While the probe was originally developed for measurements of soil moisture, recent work has shown the potential to quantify smaller pools of hydrogen inside the support volume such as biomass. Here I will present a general overview of the cosmic-ray neutron method, highlight some recent work from various ecosystems around the globe, and discuss future opportunities to better understand ecosystem scale water, energy, and biogeochemical cycles. In particular, one exciting opportunity is the potential for mobile surveys from a vehicle or low flying aircraft. The mobile surveys offer a critical new tool for helping better manage water resources in agroecosystems given the rising demand for food.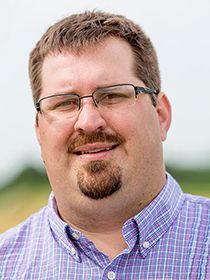 Speaker's Bio
Franz was born in Fort Collins, Colorado. After high school, he attended the University of Wyoming in order to play football, where he helped lead the Cowboys to a 24-21 victory over UCLA in the 2004 Las Vegas Bowl. Franz graduated from the University of Wyoming in 2004 with a BS in Civil Engineering and 2005 with a MS. In September 2005, Franz started at Princeton University where he completed an MS in Civil and Environmental Engineering in 2007 and a Ph.D. in 2011. The field work for Franz's dissertation, "Characterizing Dryland Surface Hydrological Dynamics Using Ecohydrological Modeling and Geophysical Observations," was completed over six different trips to central Kenya where he worked closely with the Laikipia Maasai. In December 2010, Franz went to the University of Arizona to work on the COSMOS project as a postdoc. As a postdoc, he visited 35 different states installing cosmic-ray neutron probes. In September 2013, Franz joined the University of Nebraska-Lincoln faculty as an assistant professor of hydrogeophysics in the School of Natural Resources.
CANCELED: Health at the Human-animal-environment Interface
Speaker: Elizabeth (Liz) VanWormer
adjunct faculty, UNL School of Natural Resources
Date: 11/12/2014
Time: 3:30:00 PM
Location: Hardin Hall auditorium (room 107)
Abstract
As human activities rapidly reshape landscapes, climate and species interactions, understanding the ecology and epidemiology of zoonotic diseases is critical for protecting human and animal health. Originally described in terrestrial environments, Toxoplasma gondii, a globally distributed zoonotic parasite, is emerging as an important pathogen in aquatic systems. Toxoplasma gondii has been linked to widespread marine mammal infection and severe waterborne disease outbreaks in humans in temperate and tropical ecosystems. The impact of T. gondii has been particularly significant in threatened California sea otters, which serve as sentinels for disease threats to people and animals sharing coastal environments. As wild and domestic felids are the only known hosts capable of shedding extremely hardy T. gondii oocysts into the environment, infection of marine mammals suggests land-to-sea pathogen transmission. High-risk marine sites for T. gondii infection in sea otters have been identified, but parasite burden in the terrestrial environment is not well characterized.
VanWormer will share research on contributions of wild and domestic felids to terrestrial parasite loading and human influences on movement of T. gondii from land to sea in the coastal California landscape. The research team used a One Health approach, which emphasizes the importance of diverse disciplinary tools and perspectives to understand health challenges at the human-animal-environment interface.
Speaker's Bio
As an epidemiologist, VanWormer focuses on diverse health issues at the interface of humans, animals (both domestic and wild) and the environment in the United States and abroad. After earning her undergraduate and veterinary degrees from Michigan State University and Ph.D. from UC Davis, she spent three years living and working on One Health projects in Tanzania.
Implications of the Nebraska Spatial Data Infrastructure (NESDI) to the Public, Local, State, and Federal Government
Speaker: Nathan Watermeier
State GIS Coordinator, Office of the Chief Information Officer, State of Nebraska GIS Council/NITC
Date: 11/19/2014
Time: 3:30:00 PM
Location: Hardin Hall Auditorium (room 107)
Abstract
The availability and demand for geospatial data and maps are becoming an increasing commodity among the public and government business. A geospatial data framework called the Nebraska Spatial Data Infrastructure provides a roadmap for enhancing key data layers that are core to their intended use but also how they relate to other data sets in the state. There are creators of geospatial data at several levels of government and due to implications of policy, funding, and general knowledge gaps this can limit the ability for an up-to-date and accurate framework to exist. You will be informed about current efforts that help guide policy, data accuracy needs and promote data sharing through partnerships to ensure access to quality geospatial datasets for governmental business needs and the public. Specific updates will be provided through priority data sets involving imagery, elevation, land records, street centerlines, addressing, and geodetic/survey control.
Speaker's Bio
Nathan provides administrative support for the Nebraska Information Technology Commission GIS Council and provides leadership for planning, program management, and developing standards for operational and technical policies. He manages the Office of the CIO GIS Shared Services unit providing guidance to the state's enterprise-wide GIS operations. He has been involved with geospatial technologies for over 22 years in academia, state government and private industry. The majority of his career was spent at The Ohio State University as Program Director for the Ohio Geospatial Program for agriculture and natural resources.
Monitoring Invasive Vegetation Species in Western Rivers and Wetlands Using High-resolution Airborne Remote Sensing
Speaker: Christopher Neale
professor and Director of Research, Water for Food Institute
Date: 12/2/2014
Time: 3:30:00 PM
Location: Hardin Hall auditorium (room 107)
Abstract
This presentation will describe the use of high-resolution airborne multispectral imagery and LiDAR data to map and monitor river corridors and wetland systems in the western United States with particular emphasis on identifying invasive species such as Salt Cedar, Russian olive and Phragmites. Multiple examples of projects and results will be described including the mapping of larger rivers such as the middle Rio Grande, New Mexico and desert Rivers such as the Mojave River, California and Canyon de Chelly, Arizona. The use of this technology to map wetland systems within the Great Salt Lake ecosystem will be covered along with the methodology being used for classification and identification of habitat types for the purpose of monitoring wetland mitigation bank resources.
Speaker's Bio
Neale oversees the Water for Food Institute's research efforts, engaging University of Nebraska faculty in new projects and initiating other partnerships to help address the critical water for food challenges facing our world. He also holds an academic appointment in the University of Nebraska-Lincoln's Department of Biological Systems Engineering and a research appointment in the UNL School of Natural Resources Center for Advanced Land Management Information Technologies (CALMIT).
Additionally, he is president of the International Commission on Remote Sensing of the International Association of Hydrological Sciences.
Neale was previously a professor in the Irrigation Engineering Division of the Civil and Environmental Engineering Department at Utah State University, where he served as a leader in remote sensing and management of agricultural water resources since 1988. He holds a doctorate in agricultural engineering from Colorado State University.