Applied Ecology Seminars - Spring 2015
Global climate change, drought and breeding phenology in a migrant songbird
Speaker: Mary Bomberger Brown
research assistant professor, UNL School of Natural Resources
Date: 1/23/2015
Time: 2:00:00 PM
Location: 163 Hardin Hall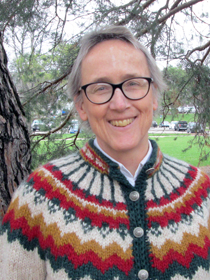 Speaker's Bio
Mary Bomberger Brown joined the Tern and Plover Conservation Partnership as Program Coordinator in 2007. The Partnership, based in the School of Natural Resources, was established in 1999 as a cooperative endeavor by the University of Nebraska, the Nebraska Game and Parks Commission, the United States Fish and Wildlife Service, the aggregate mining industry, and the Nebraska Environmental Trust.
The Partnership works with sand and gravel mining companies, real estate developers, property owners, and the public to ensure that Nebraska's Interior Least Terns (Sternula antillarum athalassos) and Piping Plovers (Charadrius melodus) are undisturbed during the nesting season. Terns and plovers are protected by the federal Endangered Species Act, the Nebraska Nongame and Endangered Species Conservation Act, and the International Migratory Bird Conservation Act. Terns are listed as endangered and plovers are listed as threatened. The Nebraska Natural Legacy Program lists both as Tier 1 At-Risk species in the state.
Bomberger Brown spent every summer from 1979 to 2006 doing field research on Cliff Swallows (Petrochelidon pyrrhonota) at the University of Nebraska's Cedar Point Biological Station in western Nebraska. She spent the rest of each year in a research faculty position at different academic institutions-four years at Princeton University, 10 years at Yale University, and 14 years at the University of Tulsa.
She and her long-time research partner, Charles R. Brown, published many articles and books during those years, sharing their findings regarding bird behavior, demographics, epidemiology, population genetics, and natural history. In 2009, they received the Elliott Coues medal from the American Ornithologists' Union for outstanding and innovative contributions to ornithological research.
Bomberger Brown received a PhD in Applied Ecology in the School of Natural Resources in 2011 and has BS (with distinction) and MS degrees from the University of Nebraska's School of Biological Sciences.
The synergy of prehistoric subsistence and habitation preferences in establishing Chagas Disease among ancient people of the Lower Pecos Canyonlands, Texas
Speaker: Karl Reinhard
professor and environmental archaeologist, UNL School of Natural Resources
Date: 1/30/2015
Time: 2:00:00 PM
Location: 163 Hardin Hall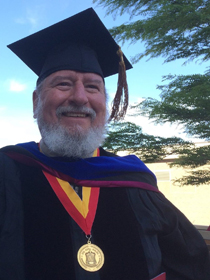 Speaker's Bio
Karl Reinhard is a professor in Forensic Science in UNL's School of Natural Resources. He is also a Fulbright Commission Senior Specialist in Botanical Archaeology and served as a Fulbrighter three times: Brazil 2001, Brazil 2005, and Peru 2007. Reinhard has been a member of the UNL staff since 1989. He served in the Department of Anthropology from 1989 to 1999 before joining the School of Natural Resources in 2000.
Since 2008, when he joined the UNL Forensic Science Degree Program, his responsibilities shifted from research to teaching. Since 1989, Reinhard served the state of Nebraska as a forensic scientist. Now, Reinhard is taking the lessons he learned at crime scenes and in the morgue to the classroom. He is teaching courses in the analysis of pollen and human remains in forensic settings.
Applying population dynamics to monitor and manage data-limited marine fisheries
Speaker: Merrill Rudd
Ph.D. student, School of Fisheries and Aquatic Sciences, University of Washington
Date: 2/6/2015
Time: 2:00:00 PM
Location: 163 Hardin Hall
Consolidation, merger, market domination and agriculture's changing face
Speaker: David A. Domina
trial lawyer, Domina Law Group
Date: 2/20/2015
Time: 2:00:00 PM
Location: Hardin Hall Auditorium (room 107)
Speaker's Bio
Dave Domina is a Nebraska lawyer. Domina's life is "all Nebraska." Birth, farm upbringing, high school, university, military service, marriage, fatherhood, admission to his profession -- all are Nebraska events for Domina.
Dave was born to Marvin and Jackie Domina in a midwife's home at Laurel and raised on a crop and livestock farm south of Coleridge, Nebraska (pop. 467), in Cedar County. Domina graduated from the University of Nebraska College of Law in 1972. Domina holds active bar admissions in Nebraska, Missouri, Michigan and New York, and has argued in courts across the United States. He served as a Judge Advocate General, or lawyer, in the United States Army, and formed his legal practice in 1975.
Farm life left Domina with deep passion for agriculture and work on the land. He has worked on cases involving agriculture from Arizona to North Dakota, and from central California to New York.
Domina is the author of published peer reviewed articles on law, economics, and agriculture. He co-authored several extensively cited examinations of markets and economics with a distinguished Auburn University economist.
Domina has made presentations to law students, lawyers, and the public on hundreds of occasions ranging from commencement speeches to industry gatherings and political events.
Video
Emerald Ash Borer: A Major Threat to Nebraska's Forests
Speaker: Mark Harrell
Forest Health Program Leader, Nebraska Forest Service
Date: 3/6/2015
Time: 2:00:00 PM
Location: 163 Hardin Hall
Speaker's Bio
Assessing the effects of a wind farm on Greater Prairie-Chickens: a mechanistic approach
Speaker: Jen Smith
postdoctoral research associate, UNL School of Natural Resources
Date: 4/3/2015
Time: 2:00:00 PM
Location: 163 Hardin Hall
Speaker's Bio
High frequency sensors for addressing local to global environmental problems
Speaker: Terry Loecke
terrestrial biogeochemist, UNL School of Natural Resources
Date: 4/17/2015
Time: 2:00:00 PM
Location: 163 Hardin Hall
Speaker's Bio
Terry Loecke's role as a Research Assistant Professor in the School of Natural Resources is as a terrestrial biogeochemist. His research focuses on the effects of environmental variability (e.g., weather, atmospheric chemistry, and soil resource heterogeneity) on carbon, nitrogen, and water cycling in natural and agricultural ecosystems.
This work aims to facilitate ecosystem managers in the decision making through the incorporation of process uncertainty and up-to-date environmental conditions into biophysical models. This research has relevance for understanding how ecosystem management effects greenhouse gas production and feedbacks on global change phenomena.
Microbial responses to environmental change: Implications for wetland restoration
Speaker: Keunyea Song
Post Doctorate, UNL Scool of Natural Resources
Other Speaker(s): Karla Jarecke, SNR Graduate Student
Date: 4/24/2015
Time: 2:00:00 PM
Location: 163 Hardin Hall
Speaker's Bio
Fragmentation effects on great plains fishes
Speaker: Keith Gido
associate professor, Kansas State University
Date: 5/1/2015
Time: 2:00:00 PM
Location: 163 Hardin Hall