Overview
Nine-Mile Prairie is a 230-acre (97-hectare) relict tallgrass prairie owned by the University of Nebraska Foundation. It is located in on the northwest edge of Lincoln, in Lancaster County. The prairie was so named because it is five miles west and four miles north of the University of Nebraska campus in downtown Lincoln.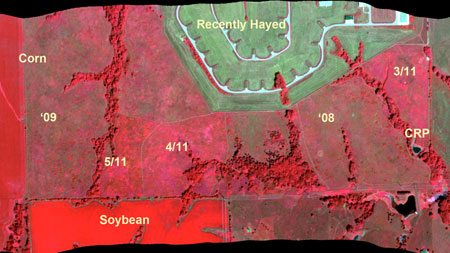 Three hundred and ninety-two vascular plant species and over 80 species of birds have been observed on the prairie. Notable species include the federally-threatened prairie white fringed orchid (Platanthera praeclara) and the rare regal fritillary butterfly (Speyeria idalia). The prairie is also used as a seed source of local genotypes of grasses and wildflowers for use in prairie restoration efforts in the region.
The Nine-Mile Prairie Management Committee, comprised of University of Nebraska - Lincoln faculty from several different departments plus resource people from several agencies and organizations, is charged with the stewardship of this biological treasure. Management consists of springtime burning on a 3-year fire-return interval (current burn plans: 2007, 2008, 2009, 2011, 2012), along with periodic haying and weed/brush control using herbicides. The prairie has not been grazed since 1968.
Location
Approximately 9 miles (14.5 km) northwest of Lincoln, Lancaster County, Nebraska, USA (40 52' 11.5" N, 96 48' 20.3" W).
Directions to Nine-Mile Prairie:
From the East - from the intersection of Interstate 80 and Highway 34 (Exit 401), take Hwy 34 west 4 miles to NW 48th Street. Take NW 48th Street south (left) 0.8 mile to W. Fletcher Avenue. Turn west (right) on W. Fletcher Avenue and proceed 1 mile to parking area.
From the South - From the intersection of W. "O" Street and NW 48th, take NW 48th Street north 4 miles to W. Fletcher Avenue. Turn west (left) on W. Fletcher Avenue and proceed 1 mile to parking area.
The gate to Nine-Mile Prairie is due south of the parking area.
Mission
Nine-Mile Prairie is preserved for teaching, research, and for nature study. It is leased to the University of Nebraska for $1.00 per year with the stipulation that the prairie be kept in its natural state and used for educational purposes.
Institutional Affiliation
Owned by the University of Nebraska Foundation (purchased in 1983) and leased to the University of Nebraska (see History of Land Ownership). The initial purchase of Nine-Mile Prairie was made possible with a generous donation by Mrs. Marguerite Hall. In October 2009, university researchers and staff together with Nine-Mile Prairie friends celebrated the 25th anniversary of Nine-Mile Prairie under University of Nebraska management. Also celebrated was the 100th anniversary of prairie ecologist John Weaver's undergraduate degree at the University of Nebraska.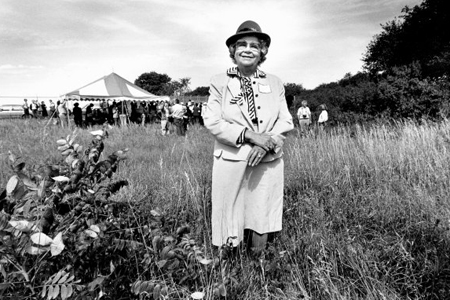 Research
Nine-Mile Prairie provides many values to the University of Nebraska - Lincoln community. As one of the largest intact tracts of tallgrass prairie left in the Midwest, it serves as a nationally important outdoor laboratory for the study of biological processes in grasslands. Nine-Mile is the longest-studied natural area in Nebraska, serving as the site of pioneering research in plant ecology by Professor John E. Weaver, the father of grassland ecology, beginning in the 1920s, and seeing decades of continued use by researchers at University of Nebraska - Lincoln and UNO.
Education
In addition to its exceptional research value, Nine-Mile Prairie also is a major educational resource for the University as well as the citizens of Nebraska. Students from a diversity of University of Nebraska - Lincoln classes visit the prairie each year for experiences ranging from plant identification to writing poetry. The Prairie is also the setting for tours and special events for the general public aimed at fostering understanding and appreciation of Nebraska's prairie heritage.
Chronology of Nine-Mile Prairie Documents
A number of research and popular articles, newspaper clippings, legislative bills and other reports, from 1930 to the present, about Nine-Mile Prairie (see Chronology of Documents).
Support Nine-Mile Prairie
Please consider supporting conservation, research and education at Nine-Mile Prairie by contributing to the Nine-Mile Prairie Excellence Fund (Fund #01105310) at the University of Nebraska Foundation.
Contacts
Dr. David Wedin (Director, Nine-Mile Prairie)
School of Natural Resources
411 Hardin Hall
University of Nebraska – Lincoln
Lincoln, Nebraska 68583-0974
402-472-9608 (voice)
402-472-2946 (fax)
email: dwedin1@unl.edu
Aerial Photographs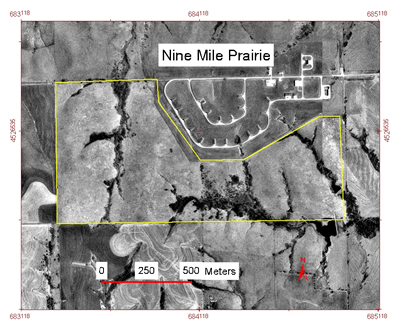 Soils Map
See Soils Map of Nine-Mile Prairie (source Lancaster County, Nebraska Soil Survey).
Relief Map (to enlarge, click on the map)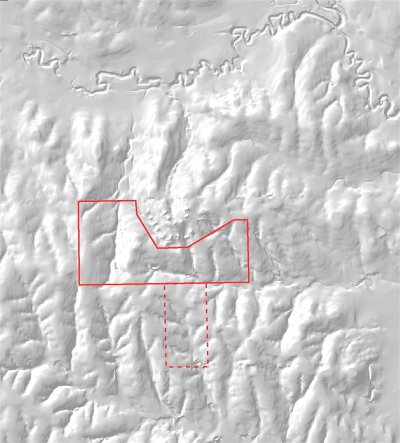 Year
Document Type
Document Citation
Download Document
1930
Research article
Steiger, T.L. 1930. Structure of prairie vegetation. Ecology 11:170-217.
Document
1934
Research article

Weaver, J.T. and T. J. Fitzpatrick. 1934.  The prairie.  Ecological Monographs 4:112-295.

Document
1936
Research article

Whelan, D.B. 1936.  Some mammals of an Eastern Nebraska prairie.  Trans. Kansas Acad. Science 39:365-366.

Document
1936
Research article

Whelan, D.B. 1936.  Coleoptera of an original prairie area in Eastern Nebraska.  Journal of the Kansas Entomological Soc. 9:111-115.

Document
1938
Research article

Whelan, D.B. 1938.  Orthoptera of an Eastern Nebraska prairie.  Journal of the Kansas Entomological Soc. 11:3-6.

Document
1939
Research article
Robertson, J.H. 1939.  A quantitative study of true-prairie vegetation after three years of extreme drought.  Ecological Monographs 9:432-492.
Document
1940
Research article
Whelan, D.B. 1940. Birds of a surviving area of original prairie land in eastern Nebraska.  Nebraska Bird Review 8:50-55.
Document
1954
Research article
Fichter, E. 1954. An ecological study of invertebrates of grassland and deciduous shrub savanna in eastern Nebraska.  American Midland Naturalist 51:321-439.
Document
1979
NU Report
Assessment of 9MP and potential for its protection by A.T. Harrison.
Document
1981
Legislative Act
Nebraska Legislative Act LB 58. Former Governor Robert B. Crosby, University of Nebraska - Lincoln biologist A.T. Harrison, and Wachiska Audubon member E. Rousek crafted this bill encouraging the Lincoln Airport Authority to preserve Nine-Mile Prairie.
Document
Document
1982
News clippings
News stories on the protection of 9MP.
Document
1983
Research article
Bomberger, Mary L., Shelly L. Sheilds, A. Tyrone Harrison and Kathleen H. Keeler. 1983. Comparison of old field succesion on a tallgrass prairie and a Nebraska Sandhills prairie. The Prairie Naturalist. 15:1 pp. 9-15.
Document
1983
Popular article
Wachiska Audobon's Ernie Rousek recounts the struggles to protect Nine Mine Prairie from the late 1970's until its purchase by University of Nebraska - Lincoln in 1983.
Document
1984
News clipping
Marguerite Hall at the dedication of NMP.  Mrs. Hall generously donated half the purchase price to the University of Nebraska Foundation.  A state historic marker honors Mrs. Hall and her late husband Neil W. Hall.  A second historic marker recognizes the early prairie research done of Dr. J.E. Weaver, and the efforts of E. Rousek and A.T. Harrison to protect 9MP (see Nebraska Historical Marker Texts).
Image
1985
Popular article
Adams, J.L. 1984.  A Prairie Classroom.  Nebraskaland Magazine
Document
1987
Research article
Kaul, R.B. and S. B. Rolfsmeier. 1987. The characteristics and phytogeographic affinities of the flora of Nine-Mile Prairie, a western tallgrass prairie in Nebraska. Transactions of the Nebraska Academy of Sciences XV:23-25.
Document
1990
SCS report
Detailed descriptions of two Soil Conservation Service (SCS) soil profiles at 9MP.  Also, the soil survey map of 9MP  (see entire soil survey).
Document
1992
Research article
Schmidt, J.M. and A. E. Antlfinger. 1992. The level of agamospermy in a Nebraska population of Spiranthes Cernua (Orchidaceae). American Journal of Botany 79:501-507.
Document
1992
Research article
Masters, R.A., K.P. Vogel, and R.B. Mitchell. 1992.  Response of Central Plains tallgrass prairies to fire, fertilizer, and atrazine. Journal of Range Management 45:291-295.
Document
1996
Research article
Mitchell, R.B., R.A. Masters, S.S. Waller, K.J. Moore, and L.J. Young. 1996. Tallgrass prairie vegetation response to spring burning dates, fertilizer, and atrazine. Journal of Range Management 49:131-136.
Document
1998
Literary essay
Robert King. 1998.  Poets on the Prairie. Weber Studies 16.1.
Document
2000
Research article
Huebschman, J.J. and T. B. Bragg. 2000.  Response of regal fritillary (Speyeria idalia) to spring burning in an eastern Nebraska tallgrass prairie, USA. Natural Areas Journal 20:386-388.
Document
2001
Postage stamp
Nine-Mile Prairie postage stamp. Release event for the 9MP postage stamp with Michael Forsberg's photo.
Document
2005
Lancaster County
Lancaster County Open Space Plan. Summary document from Lincoln/Lancaster county 2025 plan featuring 9MP.
Document
2007
Literary essay
Lisa Knopp, Nine-Mile Prairie, Michigan Quarterly Review, Summer 2007, Pages 443 - 459
Document
2008
LES plan
Location of LES powerline construction. Construction began in 2007 and will finish in summer 2008.
Document
2009
News article
Nine-Mile Prairie celebrates 25th year in University of Nebraska - Lincoln hands. News article from the Lincoln Journal Star.
Document
2009
Popular article
A brief history of John Weaver and Nine-Mile Prairie presented by David Wedin at the 25th anniversary celebration in October 2009
Document
2012
News Article
Amateur photographer from Lincoln takes home international award. Lincoln Journal-Star. July 20, 2012
Document
Land Ownership at Nine-Mile Prairie
1871 -1906 west half owned by Ira Davenport family
1906 -1914 west half various owners
1914 -1953 west half of 9MP owned by Tilman Flader family
1880 - 1884 east half owned by Burlington Missouri River RR company
1884 -1934 east half various owners
1934 –1953 east half owned by E. Frank Schramm family
1953 -1978 owned by US government
1978 -1983 owned by Airport Authority
1979 -1982 leased by E. Rousek on behalf of the Wachiska chapter of the Audubon Society
1983 – present owned by University of Nebraska Foundation
Donations to the " Nine-Mile Prairie Excellence Fund " (University of Nebraska Foundation Fund #01105310) helped purchase this 2018 Fire Mule

May 2014 Burn Crew

Smoke from the May 2014 burn.

Dave Wedin directs the Navy's Blue Angels over the Nine Mile Prairie during the "Guardians of Freedom" Air Show at nearby Lincoln Airport on September 10, 2011. Photo by Rob Branting.