Brian Fuchs
Update your profile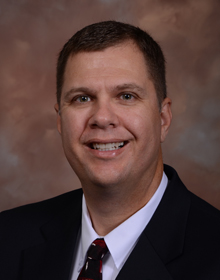 Contact Information
My Story
Publications & Presentations
Background
Expertise & Interests
Advising
Courses Taught
Outreach
Title
Climatologist
Address
824 Hardin Hall
3310 Holdrege Street
Lincoln NE
68583-0988
Phone
402-472-6775
FAX
402-472-2946
E-mail
bfuchs2@unl.edu
Vitae
Download file
e-mail, phone, by appointment
M - F 7:30 a.m - 4:30 p.m. or by appointment
Hello, My name is Brian Fuchs and I'm a climatologist for the National Drought Mitigation Center (NDMC), which is housed within the School of Natural Resources.
I first came to SNR in May 2000, working as a climatologist for the High Plains Regional Climate Center. I started working with the National Drought Mitigation Center in December 2005. My job functions are quite broad, but I am mainly working on drought-related issues. The drought-related work concentrates on research involving mitigation, risk, assessment, and reporting of drought. As a Climatologist, I work on the applied research projects for the center as well as authoring the United States Drought Monitor with several others. My work interests are climate, drought, drought impacts, drought risk and assessment and snow events.
In my time at SNR, I have been involved with three committees. I was active on the Staff Professional Development Committee for three years, and chaired this committee for one year. I was also part of the SNR Internal Communications Committee. I served on the SNR Survey Committee until 2007.
I am from Nebraska and grew up in Columbus. I graduated from UNL in 1997 with a bachelor's from the meteorology/climatology program. I received my master's in 2000 from the Department of Geosciences here at UNL with a specialization in meteorology/climatology. My wife Jeni and I were married in 1996 and have two children. Reece was born in November 2001 and Brooklyn who was born in June 2005. I enjoy spending time with my family and I am a big football fan. Other activities that keep me busy include hunting, basketball, photography and cooking.
Knutson, C. and B.Fuchs. 2016. New Tools for Assessing Drought Conditions for Rangeland Management. Rangelands 38(4):177-182 On-Line
BS - University of Nebraska-Lincoln, Meteorology/Climatology (1997)
MS - University of Nebraska-Lincoln, Geosciences (2000)
Applied Climate and Spatial Science
Professional Organizations
American Association of State Climatologists
Drought, Drought Monitoring, Drought Early Warning, Drought Assessment, Applied Climatology, Agricultural Drought, Climate Assessment, Drought Impacts
What I can speak about:
Drought Monitoring, The United States Drought Monitor, Climate, Drought Tools, Drought Indicators, Drought Impacts, Agriculture and Drought, Historical Drought, Drought Planning
When I am most available to speak:
Anytime
What target audiences I am most comfortable speaking to:
Pre-K/Elementary School
Middle/High School
College
OLLI - lifelong learning for adults 50 years and older)
General Public
Families
Technical