Marty Hamel
Update your profile

Contact Information
My Story
Publications & Presentations
Background
Interests
Grants
Advising
Courses Taught
Outreach
Title
Large River Ecology Specialist
Address
404 Hardin Hall
3310 Holdrege Street
Lincoln NE
68583-0974
Phone
402-472-3409
FAX
402-472-2946
E-mail
mhamel2@unl.edu
Vitae
Download file
M - F 8 am to 5 pm
My name is Marty Hamel and I'm a research assistant professor in the School of Natural Resources (SNR). I am a fish biologist who is largely involved in the ecology of native riverine species. My work involves understanding life history characteristics such as population dynamics, abundance and distribution, and recruitment. I am interested in exploring how dynamic rate functions vary, according to both anthropogenic and environmental influences.
Before joining the faculty here at UNL, I was a full-time staff member in SNR working as a large river ecologist. I had the opportunity to pursue my doctoral degree and I finished in December 2013. I have been with UNL since September of 2008, and prior to my employment with the university, I worked for the Nebraska Game and Parks Commission as a fish biologist on the Missouri River.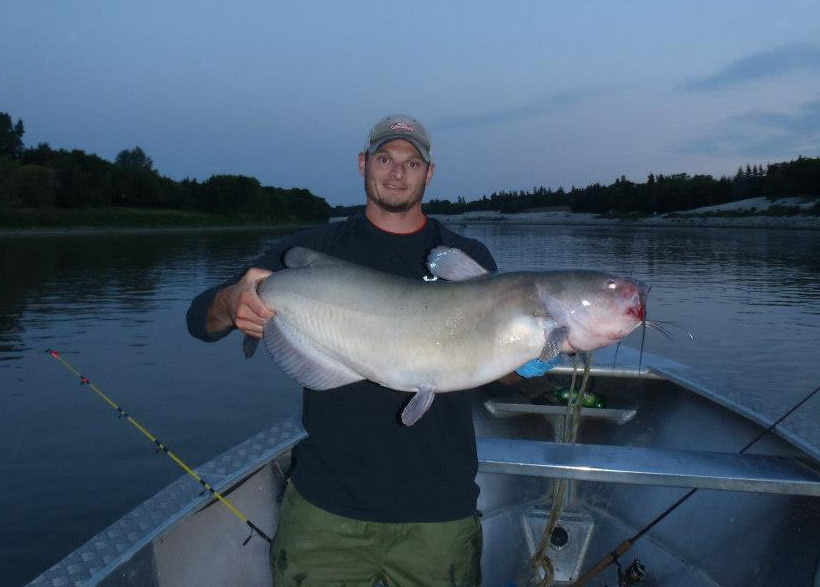 Hamel, M., Spurgeon, J., Chizinski, C., Steffensen, K., Pegg, M. A. 2016. Variability in Age Estimation Results in Ambiguity and False Understanding of Population Persistence. North American Journal of Fisheries Management. 36(3):514–522. Online
Pope, K. L., Hamel, M., Pegg, M. A., Spurgeon, J. J. 2016. The global status of freshwater fish age validation studies and a prioritization framework for future research. Reviews in Fisheries Science and Aquaculture, 23:329–345. Online
Spurgeon, J. J., Hamel, M., Pegg, M. A. 2016. Multi-scale approach to hydrological classification provides insight to flow structure in an altered river system. River Research and Applications. 32: 1841–1852. Online
Hamel, M.J., M.L. Rugg, J.J. Hammen, and M.A. Pegg. 2015. Reproductive Traits of Shovelnose Sturgeon Scaphirhynchus platorynchus (Rafinesque, 1820) in the Lower Platte River, Nebraska. Journal of Applied Ichthyology. 31. 592-602. Online
Hogberg, N.P., M.J. Hamel, and M.A. Pegg. 2015. Age-0 channel catfish Ictalurus punctatus growth related to environmental conditions in the channelized Missouri River, Nebraska. River Research and Applications. 32. 744-752. DOI: 10.1002/rra.2890. Online
Goto, D., M.J. Hamel, J.J. Hammen, M.L. Rugg, M.A. Pegg, and V.E. Forbes. 2014. Spatiotemporal variation in flow-dependent recruitment of long-lived riverine fish: Model development and evaluation. Ecological Modelling 296:79-92. Online
Hamel, M.J., M.A. Pegg, R.R. Goforth, Q.E. Phelps, K.D. Steffensen, J.J. Hammen, and M.L. Rugg. 2014. Range-wide age and growth characteristics of shovelnose sturgeon from mark-recapture data: implications for conservation and management. Canadian Journal of Fisheries and Aquatic Sciences 72:71-82.
Rugg, M.L., M.J. Hamel, M.A. Pegg, and J.J. Hammen. 2014. Validation of annuli formation in pectoral fin rays from shovelnose sturgeon in the lower Platte River, Nebraska. North American Journal of Fisheries Management 34:1028-1032. Online
Determining Scaphirhynchus Population Demographics and Dynamics: Implications for Range-Wide Management, Recovery, and Conservation
Presentation Type: Dissertation Defense
Date: 11/22/2013
Abstract: Sturgeons (Acipenseridae) have experienced world-wide declines as a result of anthropogenic effects such as over-harvest, habitat degradation, altered flow regimes, and pollution. Nearly all European and Asian sturgeon species have experienced population declines and have subsequently been classified as either threatened or endangered. North American sturgeons have experienced a similar plight in that all eight native sturgeon species are listed as endangered, threatened, or of special concern. Direct linkages between North American sturgeon declines and anthropogenic effects are difficult to assess due to scale considerations, fluctuating environmental conditions, difficulty in capture, and the interaction of all these effects. To recover, restore, or maintain abundance of these species across their range, thorough knowledge of life history characteristics or strategies, population dynamics, and population connectivity for each species is imperative. In this dissertation, I use data from local (Platte and Missouri Rivers, Nebraska) to nearly range-wide scales to describe components of Scaphirhynchus sturgeon population dynamics and demographics and assess various analyses typically used for calculation of dynamic rate functions.
BS - Upper Iowa University (2003)
MS - South Dakota State University (2006)
PhD - Univeristy of Nebraska-Lincoln, Natural Resource Sciences (2013)
Aquatic organisms in rivers and streams
Native riverine species ecology
Population dynamics of fish populations
Rate functions vary based on anthropogenic and environmental affects
Invasive Species
Currently this page only displays grants that were awarded on 1/1/2009 to the present. If a grant was awarded prior to 1/1/2009 and is still active, it will not be displayed on this page.
Grant Title
Chute Monitoring at Camp Ashland
Starting Date
9/15/2014
Ending Date
9/30/2017
Funding Level
$196,946.00
Funding Source
Nebraska Military Department
Grant Title
Shell Creek Assessment
Starting Date
5/1/2014
Ending Date
9/30/2015
Funding Level
$89,870.00
Funding Source
Nebraska Department of Environmental Quality
Grant Title
Nebraska Game and Parks Commission Missouri River Sportfish Ecology and Management (additional funding)
Starting Date
3/1/2014
Ending Date
2/28/2018
Funding Level
$923,578.00
Funding Source
Nebraska Game and Parks Commission
| | |
| --- | --- |
| Graduate Program(s) | Master of Science in Natural Resource Sciences |