Jesse Korus
Update your profile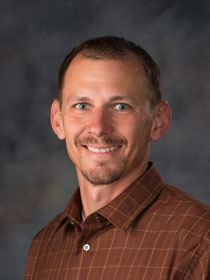 Contact Information
My Story
Publications & Presentations
Background
Interests
Grants
Advising
Courses Taught
Outreach
Title
Groundwater Hydrologist
Address
619 Hardin Hall
3310 Holdrege Street
Lincoln NE
68583-0995
Phone
402-472-7561
FAX
402-472-2946
E-mail
jkorus3@unl.edu
Vitae
Download file
M - F 8 am to 5 pm
I am a hybrid hydrogeologist/sedimentologist: I conduct interdisciplinary research in the emerging field of aquifer sedimentology. My aim is to understand the influence of subsurface heterogeneity on hydrologic system function and water resource sustainability. Heterogeneity plays a critical role in determining patterns of stream-aquifer interaction, contaminant transport, and groundwater response to land use changes, climate changes, and pumping. I use geophysical tools, field methods, and computer models to produce 3-D renderings of aquifer systems. 3-D models provide insight to the interconnections between the land surface and the subsurface. My current focus is on characterizing the High Plains/Ogallala aquifer system in areas of intensive water use and semi-arid climate, with the goal of improving the physical representation of aquifer heterogeneity in coupled groundwater/surface-water models.
Korus, J. T., Joeckel, R. M., Divine, D. P., Abraham, J. D. 2016. Three-dimensional architecture and hydrostratigraphy of cross-cutting buried valleys using airborne electromagnetics, glaciated Central Lowlands, Nebraska, USA. Sedimentology. 64:553-581. Online
Burberry, C. M., Korus, J. T., Joeckel, R. M. 2015. Post-Mississippian tectonics of the Nemaha Tectonic Zone and Mid-Continent Rift System, SE Nebraska and N Kansas. The Mountain Geologist. 52: 47-73. Online
Divine, D. P., R. M. Joeckel, J. T. Korus, P. R. Hanson and S. Lackey (2009). Eastern Nebraska Water Resources Assessment (ENWRA): Introduction to a hydrogeological study, Conservation and Survey Division, University of Nebraska, Bulletin 1 (New Series), 31 p. Online
Divine, D.P., Joeckel, R.M., Korus, J.T., Hanson, P.R., Olafsen Lackey, S., 2009, Eastern Nebraska Water Resources Assessment (ENWRA): Introduction to a Hydrogeologic Study, University of Nebraska-Lincoln, Conservation and Survey Division Bulletin 1 (New Series), 32 p. Online
2015 – Myerly-Martin Award for Outstanding Work in Sedimentology and Paleontology awarded by Department of Earth and Atmospheric Sciences, UNL
2014 – John C. Frye Memorial Award awarded by Association of American State Geologists
Professional Organizations
American Association of Petroleum Geologists
Geological Society of America
International Association of Sedimentologists
Groundwater
Aquifer characterization
Stratigraphy and sedimentology
Regional geology and hydrogeology
Geology
Hydrogeology
Sand
Wells
Paleoenvironments
Petroleum Resources
Palesols
Rivers
Rocks and Stones
Tectonics
Water quality
Groundwater Modeling
Currently this page only displays grants that were awarded on 1/1/2009 to the present. If a grant was awarded prior to 1/1/2009 and is still active, it will not be displayed on this page.
Grant Title
Nebraska GeoCloud
Starting Date
3/3/2017
Ending Date
6/30/2021
Funding Level
$264,014.00
Funding Source
Lower Platte South Natural Resource District
Grant Title
Nebraska Basin CarbonSAFE
Starting Date
3/9/2017
Ending Date
6/1/2018
Funding Level
$116,237.00
Funding Source
Battelle Memorial Institute
Grant Title
Middle Republican Hydrogeologic Framework and Groundwater Observation Network (Additional Funding)
Starting Date
5/24/2016
Ending Date
5/23/2017
Funding Level
$16,133.00
Funding Source
Middle Republican NRD
Grant Title
Middle Republican Hydrogeologic Framework and Groundwater Observation Network
Starting Date
5/24/2016
Ending Date
5/23/2017
Funding Level
$17,397.00
Funding Source
Middle Republican NRD
Grant Title
Nebraska Statemap FY 2015
Starting Date
9/15/2015
Ending Date
9/14/2016
Funding Level
$86,366.00
Funding Source
U. S. Geological Survey
Grant Title
Nebraska FY2014 Statemap Project
Starting Date
9/15/2014
Ending Date
9/14/2015
Funding Level
$65,623.00
Funding Source
US Department of the Interior - Geological Survey
Grant Title
Nebraska FY 2014 Statemap Project
Starting Date
9/15/2014
Ending Date
9/14/2015
Funding Level
$65,623.00
Funding Source
US Department of the Interior - Geological Survey
Grant Title
Preservation of Rock Cores
Starting Date
9/15/2014
Ending Date
9/14/2015
Funding Level
$20,018.00
Funding Source
US Department of Interior - Geological Survey
Grant Title
Water Leaders Academy (additional funding)
Starting Date
4/1/2012
Ending Date
3/31/2015
Funding Level
$21,302.00
Funding Source
Nebraska State Irrigation Association
Grant Title
2013-2014 Statemap
Starting Date
9/15/2013
Ending Date
9/14/2014
Funding Level
$72,636.00
Funding Source
US Department of the Interior
Grant Title
Shallow Groundwater Nitrate Verification Study
Starting Date
4/1/2011
Ending Date
12/31/2012
Funding Level
$14,705.00
Funding Source
Nebraska Department of Environmental Quality
Grant Title
Nebraska Water Resource 104B 2011
Starting Date
3/1/2011
Ending Date
2/28/2015
Funding Level
$19,000.00
Funding Source
US Department of the Interior - Geological Survey
Grant Title
Lower Platte North NRD Observation Well Program
Starting Date
8/1/2009
Ending Date
1/11/2011
Funding Level
$9,000.00
Funding Source
Lower Platte North NRD
Grant Title
Eastern Nebraska HEM Aquifier Mapping
Starting Date
7/15/2009
Ending Date
7/1/2010
Funding Level
$60,000.00
Funding Source
Lower Platte South NRD
Grant Title
Lower Salt Creek Ground Water Reservoir Modeling Project
Starting Date
4/1/2009
Ending Date
5/31/2010
Funding Level
$14,971.00
Funding Source
Lower Platte South NRD
Graduate Program(s)

Master of Science in Natural Resource Sciences

Doctor of Philosophy in Natural Resource Sciences
What I can speak about:
rocks and minerals; geologic history of Nebraska; groundwater resources of Nebraska
When I am most available to speak:
Anytime
What target audiences I am most comfortable speaking to:
Middle/High School
College
OLLI - lifelong learning for adults 50 years and older)
General Public
Technical