Don Rundquist
Update your profile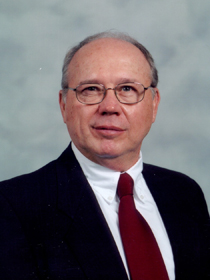 Contact Information
My Story
Publications & Presentations
Background
Interests
Grants
Advising
Courses Taught
Outreach
Title
Emeritus Remote Sensing Scientist
Address
101 Hardin Hall
3310 Holdrege Street
Lincoln NE
68583-0961
Phone
402-472-3471
FAX
402-472-2946
E-mail
drundquist1@unl.edu
Hello, I'm Don Rundquist, a professor emeritus with the faculty of geography and GIScience in the School of Natural Resources. I was the director of the Center for Advanced Land Management Information Technologies (CALMIT) from 1986 through summer of 2008, and I now serve as a research scientist with the center.
I've been involved in teaching remote sensing at the university level since the early 1970s and continue to teach the following courses: Introduction to Remote Sensing, Practical Applications of Remote Sensing in Agriculture and Natural Resources, and (occasionally) Field Techniques in Remote Sensing.
My research interests are in high resolution (spatial and spectral) remote sensing of surface waters and vegetation, field procedures and technologies, and remote sensing as it relates to agriculture. Through this type of work, our research group hopes to improve the utility of remote sensing in monitoring crops, lakes, ponds, and coastal ecosystems. I am interested in helping to confirm remote sensing as a practical tool for dealing with issues in agriculture and natural resources.
Gitelson, A.A., G. Dall Olmo, W. Moses, D. C. Rundquist, T. Barrow, T. R. Fischer, D. Gurlin, and J. Holz. 2008. A simple semi-analytical model for remote estimation of chlorophyll-a in turbid waters: Validation. Remote Sensing of Environment. 112:3582-3593. Online
Walker, S., Lund JC, Schumacher DG, Brakhage PA, McManus BC, Miller JD, Augustine MM, Carney JJ, Holland RS, Hoagland KD, Holz JC, Barrow TM, Rundquist DC, Gitelson AA. 2008. Nebraska Experience. Cyanobacterial Harmful Algal Blooms: State of the Science and Research Needs. In K. Hudnell (ed.), Advances in Experimental Medicine and Biology 619:135-148. Online
Gitelson, A. A., A. Vina, S. B. Verma, D. C. Rundquist, T. J. Arkebauer, G. Keydan, B. Leavitt, V. Ciganda, G. G. Burba, and A. E. Suyker. 2006. Relationship between gross primary production and chlorophyll content in crops: Implications for the synoptic monitoring of vegetation productivity. J. Geophys. Res., 111, D08S11, doi:10.1029/2005JD006017. Online
Dall'lmo, G., A. A. Gitelson, D.C. Rundquist, B. Leavitt, T. M. Barrow and J. C. Holz. 2005. Assessing the potential of SeaWiFS and MODIS for estimating chlorophyll concentration in turbid productive waters using red and near-infrared bands. Remote Sensing of Environment. 96(2): 176-187. Online
Dall'Olmo, G., A. A. Gitelson, and D. C. Rundquist 2003. Towards a unified approach for remote estimation of chlorophyll-a in both terrestrial vegetation and turbid productive waters, Geophys. Res. Lett., 30(18):1938, doi:10.1029/2003GL018065. Online
Gitelson, A. A., S. B. Verma, A. Vina, D. C. Rundquist, G. Keydan, B. Leavitt, T. J. Arkebauer, G. G. Burba, and A. E. Suyker. 2003. Novel technique for remote estimation of CO2 flux in maize, Geophys. Res. Lett. 30(9):1486, doi:10.1029/2002GL016543 Online
Maeder, J., S. Narumalani, J. Schalles, D. Rundquist, R. Perk, K. Hutchins, and J. Keck 2002. Classification and mapping of general coral-reef distribution using IKONOS data. Photogrammetric Engineering and Remote Sensing. 68(12):1297-1305 . Online
BS - University of Wisconsin-Whitewater, Geography (1967)
MA - University of Nebraska-Omaha, Geography (1971)
PhD - University of Nebraska-Lincoln, Geography (1977)
Applied Climate and Spatial Science
My research interests lie in the area of remote sensing. More specifically, I am interested in field spectral-measurement techniques and technologies, airborne hyperspectral systems, and satellite remote sensing; especially as those approaches relate to the status and condition of both terrestrial vegetation (crops and rangelands) and aquatic vegetation (inland and coastal wetlands). I maintain particular interest in the use of remote sensors to infer components of the water column; i.e., the quality of surface waters. I have conducted research aimed at both inland and coastal waters, the latter including remote sensing of coral features.
Currently this page only displays grants that were awarded on 1/1/2009 to the present. If a grant was awarded prior to 1/1/2009 and is still active, it will not be displayed on this page.
Grant Title
GIS Support to NE Dept of Ag
Starting Date
4/1/2012
Ending Date
3/31/2013
Funding Level
$10,000.00
Funding Source
Nebraska Department of Agriculture
Grant Title
GIS Support to Nebraska Department of Agriculture (additional funding)
Starting Date
2/1/2011
Ending Date
3/30/2012
Funding Level
$15,000.00
Funding Source
Nebraska Department of Agriculture
Grant Title
UNO-NASA Space Grant
Starting Date
9/1/2011
Ending Date
5/31/2012
Funding Level
$1,500.00
Funding Source
University of Nebraska-Omaha/National Aeronautics and Space Administration
Grant Title
GIS Support of Nebraska Department of Agriculture
Starting Date
2/1/2011
Ending Date
12/31/2011
Funding Level
$25,000.00
Funding Source
US Department of Agriculture
Grant Title
Pesticide Sensitive Crop Locater (additional funding)
Starting Date
11/1/2010
Ending Date
9/30/2012
Funding Level
$25,507.00
Funding Source
Nebraska Department of Agriculture
Grant Title
Developing a Vineyard-Suitability Model and Map for the State of Nebraska Using a Geographic Information System and Aircraft/Satellite Imagery
Starting Date
7/1/2009
Ending Date
9/30/2009
Funding Level
$5,500.00
Funding Source
University of Nebraska-Omaha
Grant Title
Developing a Vineyard-Suitability Map for Five Counties in Southeast Nebraska Using a Geographic Information System and Aircraft/Satellite Imagery
Starting Date
2/1/2008
Ending Date
12/31/2009
Funding Level
$782.00
Funding Source
National Aeronautics and Space Administration
Grant Title
Remote Sensing on the Fremont Lake System
Starting Date
5/8/2007
Ending Date
9/30/2009
Funding Level
$3,100.00
Funding Source
Nebraksa Department of Environmental Quality
Grant Title
Pesticide Sensitive Crop Locater
Starting Date
10/1/2009
Ending Date
9/30/2010
Funding Level
$23,969.00
Funding Source
Nebraska Department of Agriculture
Grant Title
NDA Geospatial Dataset Support Agreement #18-05-174
Starting Date
1/1/2010
Ending Date
3/31/2010
Funding Level
$20,000.00
Funding Source
Nebraska Department of Agriculture
Grant Title
Airborne Remote Sensing Studies for 2009 and 2010
Starting Date
4/1/2009
Ending Date
12/31/2010
Funding Level
$69,926.00
Funding Source
Nebraska Department of Environmental Quality
Grant Title
GIS Support to the Nebraska Department of Agriculture
Starting Date
7/1/2008
Ending Date
6/30/2009
Funding Level
$14,740.00
Funding Source
Nebraska Department of Agriculture
Grant Title
Remote Sensing Services in Support of the Florida A&M Environmental Cooperative Science Center
Starting Date
9/1/2006
Ending Date
8/31/2010
Funding Level
$40,000.00
Funding Source
Florida A&M University
Grant Title
NDA Geospatial Dataset Support Agreement #18-05-173
Starting Date
1/1/2010
Ending Date
6/30/2010
Funding Level
$25,000.00
Funding Source
Nebraska Department of Agriculture
Grant Title
Remote Sensing as a Tool for Enhancing Nebraska's Emerging Wine Industry
Starting Date
1/1/2010
Ending Date
6/30/2010
Funding Level
$16,510.00
Funding Source
University of Nebraska-Omaha/National Aeronautics and Space Administration