Jozsef (Joe) Szilagyi
Update your profile

Contact Information
My Story
Publications & Presentations
Background
Interests
Grants
Advising
Courses Taught
Outreach
Title
Research Hydrologist
Address
625 Hardin Hall
3310 Holdrege Street
Lincoln NE
68583-0996
Phone
402-472-9667 & 402-472-3471
FAX
402-472-2946
E-mail
jszilagyi1@unl.edu
Vitae
Download file
E-Mail
Joe Szilagyi is a research hydrologist and professor in the School of Natural Resources. He is associated with SNR's water faculty and has been at UNL since 1997.
His main research interests include the interaction of surface water and groundwater, hydrological forecasting, regional-to-continental-scale analysis of the hydrologic cycle, and the effect of climate change on it. One of his current research projects involves estimating watershed-to-continental-scale evapotranspiration (ET) by standard meteorological measurements and 1-km resolution Moderate Resolution Imaging Spectroradiometer (MODIS) daytime land surface temperature data. Recent research involving estimating riparian ET from diurnal changes in the stream-flow rate and in the groundwater level are important to the state and nation. His work helps citizens, agricultural producers and decision makers understand how groundwater and surface water communicate with each other, and how ET is distributed in space over the watershed, which helps in local and catchment-scale water management tasks and irrigation-impact studies.
He also has an example of his work in regional ET estimation with CREMAP in this website site's data section.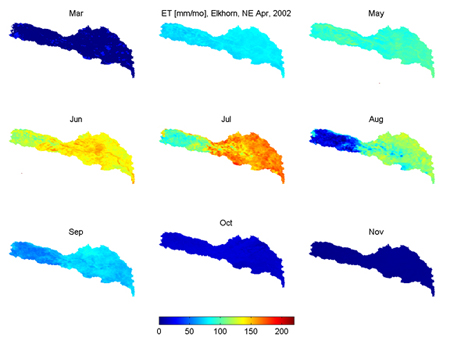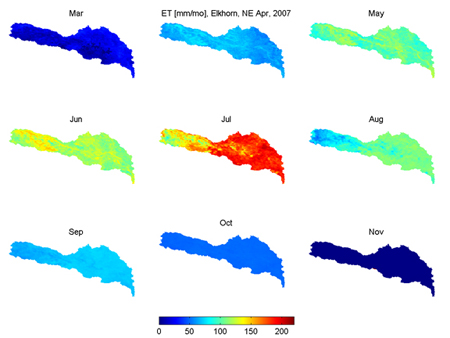 The distribution of ET over the Elkhorn watershed in a drought (2002) and in a wet (2007) year. Note how the rangelands of the Sand Hills in the western part of the watershed become much drier in a drought year than the rest, mostly irrigated soybean and corn, of the catchment. Click on images to enlarge.
Ma, N., Szilagyi, J., Niu, G.-Y., Zhang, Y., Zhang, T., Wang, B., Wu, Y. 2016. Evaporation variability of Nam Co Lake in the Tibetan Plateau and its role in recent rapid lake expansion. Journal of Hydrology. 537:27-35. Online
Szilagyi, J. 2016. Recent trends in land surface evapotranspiration across the contiguous United States. Journal of Hydrology and Environment Research, 4, 33-40. Online
Szilagyi, J., Crago, R., Qualls, R. 2016. Testing the generalized complementary relationship of evaporation with continental-scale long-term water-balance data. Journal of Hydrology, 540:914-922. Online
Wang, T., Franz, T., Yue, W., Szilagyi, J., Zlotnik, V., You, J., Shulski, M., Young, A. 2016. Feasibility analysis of using inverse modeling for estimating natural groundwater recharge from a large-scale soil moisture monitoring network. Journal of Hydrology. 533: 250-265. Online
Szilagyi, J., Harvey, F. E., Ayers, J. F., 2003 (RS-307). Regional Estimation of Base Recharge to Ground Water Using Water Balance and a Base-flow Index. Ground Water 41:504-513. Online
MS - Eotvos University, Hungary, Meteorology (1989)
MS - University of New Hampshire, Hydrology (1994)
PhD - University of California-Davis, Hydrologic Sciences (1997)
Professional Organizations
American Geophysical Union
European Geophysical Union
Linear systems in hydrology
Hydrological forecasting
Flow routing
Evaporation/ET
Watershed hydrology
Stream-aquifer interactions.
Freshwater
Surface and Groundwater
Currently this page only displays grants that were awarded on 1/1/2009 to the present. If a grant was awarded prior to 1/1/2009 and is still active, it will not be displayed on this page.
There no Grants found for this selection.
Graduate Program(s)

Master of Science in Natural Resource Sciences

Doctor of Philosophy in Natural Resource Sciences