Shashi Verma
Update your profile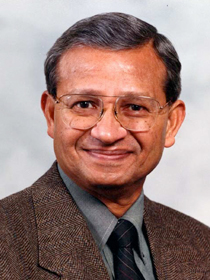 Contact Information
My Story
Publications & Presentations
Background
Interests
Grants
Advising
Courses Taught
Outreach
Title
Emeritus Micrometeorologist/Atmosphere-Biosphere Interactions Research Specialist
Address
101 Hardin Hall
3310 Holdrege Street
Lincoln NE
68583-0961
Phone
402-472-3471
FAX
402-472-2946
E-mail
sverma1@unl.edu
Hi, I'm Shashi Verma, Charles Bessey professor emeritus of natural resource sciences in the School of Natural Resources.
I'm associated with the natural resource sciences major the bio-atmospheric interactions specialization. My areas of interest include atmospheric trace gas dynamics, carbon sequestration (storage in plants, soil or other places) and micrometeorology. I've been a member of the UNL faculty since 1972.
In recent yealed a large interdisciplinary project concentrating on the measurement and analysis of carbon sequestration in agricultural ecosystems. Working with 11 faculty members from four UNL departments, we are employing micrometeorological techniques (tower flux eddy covariance systems) to measure landscape-level fluxes of (changes in) carbon, water, and energy to improve the understanding of the relevant biophysical controlling factors. Information on carbon dioxide exchange (uptake or release) is crucial in a) quantifying annual carbon sequestration, b) developing a better understanding of the components of the global carbon cycle, and c) accurately predicting future climatic conditions.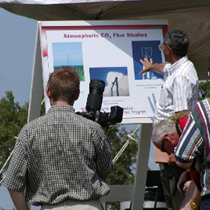 My recent research has provided a systematic determination of carbon dioxide exchange in key ecosystems, which should lead to an improved prediction of future climate. SiB2 is a comprehensive terrestrial biosphere model fully integrated in a general circulation model (GCM) and thus, has the capability of modeling and prediction at global scales.
Our measurements of mass and energy fluxes in a grassland ecosystem have provided crucial information for thorough testing and improvement of this model, which is needed to advance our understanding of important atmospheric-biospheric processes.
Arkebauer, T.J., E.A. Walter-Shea, M.A. Mesarch, A.E.Suyker, S.B. Verma. 2009. Scaling up of CO2 fluxes from leaf to canopy in maize-based agroecosystems. Agro. For. Meteo. doi: 10.1016/j.agrformet.2009.04.013 Online
Gitelson, A.A., Vina, A., Masek J.G., Verma, S. B., and A. E. Suyker. 2008. Synoptic Monitoring of Gross Primary Productivity of Maize Using Landsat Data, IEEE Geoscience and Remote Sensing Letters, 5(2) 10.1109/LGRS.2008.915598. Online
Gitelson, A. A., A. Vina, S. B. Verma, D. C. Rundquist, T. J. Arkebauer, G. Keydan, B. Leavitt, V. Ciganda, G. G. Burba, and A. E. Suyker. 2006. Relationship between gross primary production and chlorophyll content in crops: Implications for the synoptic monitoring of vegetation productivity. J. Geophys. Res., 111, D08S11, doi:10.1029/2005JD006017. Online
S.B. Verma, A. Dobermann, K.G. Cassman, D.T. Walters, J.M. Knops, T.J. Arkebauer, A.E. Suyker, G.G. Burba, B. Amos, H. Yang, D. Ginting, K.G. Hubbard, A.A. Gitelson, and E.A. Walter-Shea. 2005. Annual carbon dioxide exchange in irrigated and rainfed maize-based agroecosystems. Agricultural and Forest Meteorology, 131: 77-96 Online
Gitelson, A. A., S. B. Verma, A. Vina, D. C. Rundquist, G. Keydan, B. Leavitt, T. J. Arkebauer, G. G. Burba, and A. E. Suyker. 2003. Novel technique for remote estimation of CO2 flux in maize, Geophys. Res. Lett. 30(9):1486, doi:10.1029/2002GL016543 Online
Suyker, A.E., S.B. Verma and G.G. Burba, 2003. Interannual variability in net CO2 exchange of a native tallgrass prairie, Global Change Biology, 9:255-265. Online
Burba, G.G., Verma S.B., and J. Kim 1999. A comparative study of surface energy fluxes of three communities (phragmites australis, scirpus acutus and open water) in a prairie wetland ecosystem. Wetlands. 19:451-457 (Journal Series Number:12273) Online
Kim, J., Verma S.B., and D.P. Billesbach 1998. Seasonal Variation in Methane Emission From a Temperate Phragmites-Dominated Marsh: Effect of Growth Stage and Plant-Mediated Transport. Global Change Biology. 5:433-440 . Online
Verma S.B., P.J. Sellers, C.L. Walthall, F.G. Hall, J. Kim, and S.J. Goetz 1993. Photosynthesis and Stomatal Conductance Related to Reflectance on the Canopy Scale. Remote Sensing of Environment. 44:103-116 .
Verma S.B., J. Kim, and R.J. Clement 1992. Momentum, Water Vapor, and Carbon Dioxide Exchange at a Centrally Located Prairie Site During FIFE. Journal of Geophysical Research. 97(D17):18, 629-18, 639 . Online
Rosenberg N.J., B.L. Blad and S.B. Verma 1974. Micro-Climate, the Biological Environment. John Wiley & Sons, New York, NY. 495 pp.
BS - Ranchi University (1965)
MS - University of Colorado (1967)
PhD - Colorado State University (1971)
Applied Climate and Spatial Science
Micrometeorology
Biometeorology
Carbon Sequestration
Evapotranspiration
Atmospheric Trace Gas Dynamics
Currently this page only displays grants that were awarded on 1/1/2009 to the present. If a grant was awarded prior to 1/1/2009 and is still active, it will not be displayed on this page.
Grant Title
Mercury Deposit Network -- North Platte (additional funding)
Starting Date
7/1/2007
Ending Date
9/1/2013
Funding Level
$12,800.00
Funding Source
Nebraska Department of Environmental Quality
Grant Title
Carbon Sequestration in Dryland and Irrigated Agroecosystems (additional funding)
Starting Date
9/15/2010
Ending Date
9/14/2011
Funding Level
$99,500.00
Funding Source
US Department of Energy
Grant Title
2nd Generation BioFuels
Starting Date
9/10/2010

Principal Investigators
Shashi Verma
Co-PIs
Kenneth Cassman
Adam Liska
Timothy Arkebauer

Ending Date
9/30/2013
Funding Level
$500,000.00
Funding Source
US Department of Energy
Grant Title
Carbon Sequestration in Dryland and Irrigated Agroecosystems? Qualifications at Different Scale for Improved Prediction
Starting Date
9/15/2009
Ending Date
9/14/2010
Funding Level
$78,750.00
Funding Source
US Department of Energy
Grant Title
Carbon Sequestration in Dryland
Starting Date
9/3/2009
Ending Date
9/14/2010
Funding Level
$236,250.00
Funding Source
US Department of Energy
Grant Title
A Satellite-Based Quantification of Carbon Exchange of the Cominant Ecosystem (Maize-Soybean) in the NACP Mid-Continent Intensive (MCI) Region
Starting Date
4/1/2009
Ending Date
3/31/2010
Funding Level
$180,101.00
Funding Source
National Aeronautics and Space Administration
Grant Title
Satelite Based Carbon Exchange (Maize Soybeans)
Starting Date
4/1/2008
Ending Date
3/31/2011
Funding Level
$216,622.00
Funding Source
National Aeronautics and Space Administration/Stennis