Elizabeth (Betty) Walter-Shea
Update your profile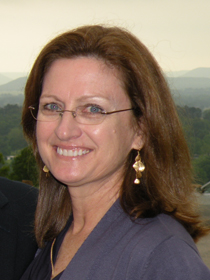 Contact Information
My Story
Publications & Presentations
Background
Expertise & Interests
Grants
Advising
Courses Taught
Outreach
Title
Environmental Biophysicist with emphasis in Remote Sensing
Address
803 Hardin Hall
3310 Holdrege Street
Lincoln NE
68583-0968
Phone
402-472-1553
FAX
402-472-2946
E-mail
ewalter-shea1@unl.edu
Vitae
Download file
Hi, I'm Betty Walter-Shea, professor in the School of Natural Resources. I've been on the University of Nebraska-Lincoln faculty since 1989 as a researcher and instructor.
My area of interest is in the study of light interactions in vegetative canopies and how this relates to plant functioning. I've also been interested in relating the light, which is reflected from vegetation, to plant status and using those relations to infer the status of plants from the reflected signal (field-based remote sensing). The light interaction in vegetation is highly dependent on the direction and quality of the light, the angle of view and the amount and display of leaf material. Critical variables are the time of day, viewing direction (relative to the sun), sky condition and the type and condition of vegetation.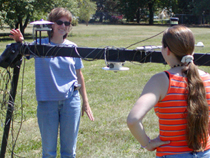 My recent research has been on the study of remote-sensing estimates of photosynthetically active radiation absorbed by maize and soybean crops as part of a carbon-sequestration (storage) program. I have been involved in several experiments in which the common goal was to understand the interactions between the vegetative surface and the atmosphere (including ultraviolet-light penetration into vegetative canopies) and their role in global environmental change.
Remotely sensed data are widely used to monitor land surfaces and provide input data for climate models. Information on the relation between remote-sensing signals and the land surface is vital in interpreting images from satellite and aircraft. The interaction of sunlight with leaves, stems and soil can be quite complex, making interpretation challenging. I bring these interests into my classes, which include NRES 208, Introduction to Applied Climate Science, NRES 408/808, Microclimate: The Biological Environment and NRES 908, Solar Radiation Interactions with the Earth's Surface.
I received my bachelor's degree from the University of Central Arkansas, my master's degree from Texas A&M University and my Ph.D. from the University of Nebraska-Lincoln.
Verma, S.B., A. Dobermann, K.G. Cassman, D.T. Walters, J.M.H. Knops, T.J. Arkebauer, A.E. Suyker, G.G. Burba, B. Amos, H. Yang, D. Ginting, K.G. Hubbard, A.A. Gitelson, and E.A. Walter-Shea. 2005. Annual carbon dioxide exchange in irrigated and rainfed maize-based agroecosystems. Agricultural and Forest Meteorology 131:77-96.
Shulski, M.D., E.A. Walter-Shea, K.G. Hubbard, G.Y. Yuen and G.L. Horst. 2004. Penetration of photosynthetically active and ultraviolet radiation into alfalfa and tall fescue canopies, Agronomy Journal 96:1562-1571.
Walter-Shea, E.A., B.L. Blad, M.A. Mesarch, C.J. Hays, D.W. Deering and T.F. Eck. 1998. Absorbed photosynthetically active radiation and sun-view geometry effects on remote sensing relationships, Remote Sensing Reviews 17:89-102.
Walter-Shea, E.A., J.L. Privette, D. Cornell, M.A. Mesarch and C.J. Hays, 1997. Relations between directional spectral vegetation indices and leaf area and absorbed radiation in alfalfa. Remote Sensing of Environment 61:162-177.
Deering, D.W., E.M. Middleton, B.L. Blad, E.A. Walter-Shea, J. Irons, C.L. Walthall and C.J. Hays, 1992. Prairie grassland bidirectional reflectances measured by different instruments at the FIFE site. Journal of Geophysical Research 97:18,887-18,904.
Walter-Shea, E.A., J.M. Norman and B.L. Blad, 1989. Leaf bidirectional reflectance and transmittance in corn and soybean. Remote Sensing of Environment. 29(2):161-174.
BS - University of Central Arkansas, Geography (1978)
MS - Texas A&M University, Geography (1981)
PhD - University of Nebraska-Lincoln, Agronomy with Agricultural Meteorology emphasis (1987)
Field-based Remote Sensing, Environmental Biophysics, Agricultural Meteorology, Bio-atmospheric Interactions
Keyword
Expert Level

10 - Top Expert
1 - Mild Interest

8

7

5
Select a keyword and see other SNR faculty and staff with this interest or expertise.
Currently this page only displays grants that were awarded on 1/1/2009 to the present. If a grant was awarded prior to 1/1/2009 and is still active, it will not be displayed on this page.
There no Grants found for this selection.
Graduate Program(s)

Master of Science in Natural Resource Sciences


including specializations in

Bio-Atmospheric Interactions
Climate Assessment & Impacts
Remote Sensing

Doctor of Philosophy in Natural Resource Sciences


including specializations in

Bio-Atmospheric Interactions
Climate Assessment & Impacts
Courses Taught in the Current Semester
Course Number
Course Title
Day
Time
Cross Listing
GEOG 408
Microclimate: The Biological Environment
MWF
1000-1050 A
AGRO/HORT/METR/NRES/WATS 408/808
GEOG 808
Microclimate: The Biological Environment
MWF
1000-1050 A
AGRO/HORT/METR/NRES/WATS 408/808
NRES 208
Applied Climate Sciences
MWF
0100-0150 P
n/a
NRES 408
Microclimate: The Biological Environment
MWF
1000-1050 A
AGRO/HORT/METR/NRES/WATS 408/808
NRES 808
Microclimate: The Biological Environment
MWF
1000-1050 A
AGRO/HORT/METR/NRES/WATS 408/808
WATS 408
Microclimate: The Biological Environment
MWF
1000-1050 A
AGRO/HORT/METR/NRES/WATS 408/808
Courses Taught
Course Number
Course Title
Fall Even Years
Fall Odd Years
Spring Even Years
Spring Odd Years
Summer Session
Cross Listing
GEOG 408
Microclimate: The Biological Environment
X
X
AGRO/GEOG/HORT/METR/NRES/WATS 408/808
GEOG 808
Microclimate: The Biological Environment
X
X
AGRO/GEOG/HORT/METR/NRES/WATS 408/808
NRES 208
Applied Climate Sciences
X
X
n/a
NRES 408
Microclimate: The Biological Environment
X
X
AGRO/GEOG/HORT/METR/NRES/WATS 408/808
NRES 808
Microclimate: The Biological Environment
X
X
AGRO/GEOG/HORT/METR/NRES/WATS 408/808
NRES 908
Solar Radiation Interactions at Earth's Surface
X
X
AGRO/HORT/METR/NRES 908
WATS 408
Microclimate: The Biological Environment
X
X
AGRO/GEOG/HORT/METR/NRES/WATS 408/808