Dave Wedin
Update your profile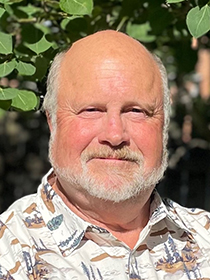 Contact Information
My Story
Publications & Presentations
Background
Interests
Grants
Advising
Courses Taught
Outreach
Title
Ecosystem Ecologist
Address
411 Hardin Hall
3310 Holdrege Street
Lincoln NE
68583-0974
Phone
402-472-9608
FAX
402-472-2946
E-mail
dwedin1@unl.edu
Vitae
Download file
Hi, I'm David Wedin, professor in plant and ecosystem ecology at the School of Natural Resources.
My research interests include grassland and savanna ecology, carbon and nitrogen cycling in terrestrial ecosystems, biodiversity and ecosystem functioning, landscape ecology and fire ecology. They also include nitrogen-use-efficiency and resource allocation in plants, and stable isotope studies of plant-soil feedbacks.
Current research projects in Nebraska include the Sandhills Biocomplexity Project, subtitled "Spatiotemporal coupling of ecological and geological dynamics in the Nebraska Sandhills," and the ecosystem consequences of ponderosa pine establishment in the Nebraska Sandhills at the planted Nebraska National Forest at Halsey.
In the biocomplexity project that I co-lead with two other researchers, 15 total co-investigators from diverse disciplines will use a $1.8 million grant from the National Science Foundation to take an integrated approach to studying the dynamics of the Nebraska Sandhills from the last few thousand years to today, particularly the interactions of water, dunes and vegetation as the grass cover is stripped or recovers. The Sandhills are a model system for biocomplexity studies, in particular studies that integrate the perspectives of ecologists and geologists to understand how ecological interactions, geomorphology (landscape structure and development) and climate interact to shape a landscape.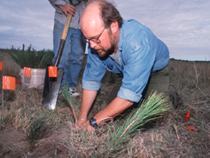 Regarding pine establishment in the Sandhills, revisiting in a mosophisticated way the notions of landscape influence on climate, near the end of the 20th century, hypotheses that changes in land cover may have significant feedbacks on climate at various scales returned to the fore in ecology and biogeochemistry. The documented site history, relatively uniform soils and age (70 years on average) of the experimental ponderosa pine plantings at NNF make them uniquely suited to address these issues in the Great Plains.
Before coming to UI was an assistant and associate professor in the Department of Botany at the University of Toronto from 1992-1998.
I chaired the Initiative in Ecological and Evolutionary Analysis Graduate Students Grant program in spring 2000.
I was a guest instructor in April 1999Interactions between Element Cycles and Ecosystems, a graduate course at Wageningen Agricultural University in The Netherlands. From 1997-2000, I was associate editor of "American Naturalist." In 1997, I was a member of the Ontario Graduate Scholarships Review Panel, and in 1996 I was a member of the Conservation and Restoration Biology Grant Review Panel of the U.S. National Science Foundation.
Msanne, J., Awada, T. N., Schacht, W., Drijber, R., Okalebo, J., Wedin, D. A., Brandle, J. R. 2017. Ecophysiological control of native invasive woody Juniperus virginiana to resource availability and stand characteristics in the semi-arid grasslands of the Nebraska Sandhills. Photosynthetica, 55: 219-230. Online
Durso, L. M., Wedin, D. A., Gilley, J. E., Miller, D., Marx, D. 2016. Assessment of Selected Antibiotic Resistances in Ungrazed Native Nebraska Prairie Soils. Journal of Environmental Quality, 45:454-462.
Fay, P. A., Wedin, D. A., NUTNET. 2015. Grassland Productivity Limited by Multiple Nutrients. Nature Plants. doi:10.1038/nplants.2015.80. Online
Eggemeyer, K.D., Awada, T., Harvey, F.E., Wedin, D., Zanner, R. and Zhou, X. 2009. Seasonal Changes in depth of water uptake for encroaching trees Juniperus virginiana and Pinus ponderosa and two dominant C4 grasses in a semi-arid grassland. Tree Physiology. 29:157-169. Online
Eggemeyer, K.D., Awada, T., Wedin, D., Harvey, F.E. and Zhou, X. 2006. Ecophysiology of two native invasive woody species and two dominant warm-season grasses in the semiarid grasslands of the Nebraska Sandhills. International Journal of Plant Sciences 167: 991-999. Online
Eggemeyer, K.D., T. Awada, D.A. Wedin, F.E. Harvey, and X. Zhou, 2006. Ecophysiology of Two Native Invasive Woody Species and Two Dominant Warm-Season Grasses in the Semi-arid Grasslands of the Nebraska Sandhills, International Journal of Plant Sciences, 167(5):991-999. Online
Craine, J.M., D.A. Wedin, F.S. Chapin and P.B. Reich 2003. Relationship between the structure of root systems and resource use for 11 North American grassland plants. Plant Ecology. 165:85-100 . Online
Crane, J.M., D.A. Wedin, and P.B. Reich 2001. The response of soil CO2 flux to changes in atmospheric CO2 nitrogen supply , and plant diversity. Global Change Biology. 7:947-953 . Online
Wedin, D.A. and D. Tilman 1996. Influence of nitrogen loading and species composition on the carbon balance of grasslands. Science. 27:1720-1723 .
BS - St. Olaf College, Biology (1981)
PhD - University of Minnesota, Ecology (1990)
1/30/15 – UNL Parents Association Recognition Award awarded by UNL Parents Association
Coordinator - Sandhills Biocomplexity Project
Various projects at the Nebraska National Forest (Halsey, NE)
Ecological studies using stable isotopes
Ecosystem science
Forest / grassland ecology
Plant-soil interactions
Carbon and nitrogen cycling
Ecohydrology
Urban Forestry
Landscape Ecology
Currently this page only displays grants that were awarded on 1/1/2009 to the present. If a grant was awarded prior to 1/1/2009 and is still active, it will not be displayed on this page.
Grant Title
Ponderosa Pine on the Edge
Starting Date
10/1/2015

Principal Investigators
Dave Wedin
Co-PIs
Dirac Twidwell, Jr.

Ending Date
9/30/2020
Funding Level
$373,900.00
Funding Source
Agricultural Research Division - McIntire Stennis
Grant Title
Effects of Compaction and Soil Moisture on American Burying Beetles
Starting Date
3/4/2015
Ending Date
12/31/2015
Funding Level
$33,372.00
Funding Source
Nebraska Department of Roads
Grant Title
Burying Beetle Occurrence Model
Starting Date
8/1/2014
Ending Date
12/31/2015
Funding Level
$74,148.00
Funding Source
Nebraska Department of Roads
Grant Title
Learning from the 2012 Niobrara Fire
Starting Date
6/5/2013
Ending Date
8/31/2015
Funding Level
$132,050.00
Funding Source
Nature Conservancy
Grant Title
Methane Uptake by Grassland Soils (additional funding)
Starting Date
4/15/2011
Ending Date
3/31/2015
Funding Level
$13,165.00
Funding Source
Colorado State University
Grant Title
Methane Uptake by Grassland Soils: Biogeochemistry, Microbial Ecology and Integrative Modeling (additional funding)
Starting Date
4/15/2011
Ending Date
3/31/2015
Funding Level
$12,871.00
Funding Source
CU
Grant Title
Methane Uptake by Grassland Soils: Biogeochemistry, Microbial Ecology and Integrative Modeling
Starting Date
4/15/2011
Ending Date
3/31/2015
Funding Level
$12,587.00
Funding Source
CU
Undergraduate Majors
Bachelor of Science in

Fisheries & Wildlife
Grassland Ecology & Management
Pre-Natural Resources

Graduate Program(s)

Master of Science in Natural Resource Sciences


including specializations in

Doctor of Philosophy in Natural Resource Sciences


including specializations in
Courses Taught
Course Number
Course Title
Fall Even Years
Fall Odd Years
Spring Even Years
Spring Odd Years
Summer Session
Cross Listing
NRES 310
Introduction to Forest Management
X
X
n/a
NRES 424
Forest Ecology
X
NRES 424/824
NRES 438
Grassland Conservation: Planning and Management
X
X
n/a
NRES 824
Forest Ecology
X
NRES 424/824
NRES 838
Grassland Conservation: Planning and Management
X
X
n/a