Dan Uden
Update your profile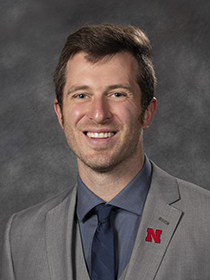 Contact Information
My Story
Publications & Presentations
Background
Interests
Grants
Advising
Courses Taught
Outreach
Title
Post-Doctoral Research Associate
Address
718 Hardin Hall
3310 Holdrege Street
Lincoln NE
68583-0987
FAX
402-472-2946
E-mail
duden2@unl.edu
By appointment
Hi, my name is Dan Uden, and I'm a post-doctoral research associate within the School of Natural Resources and the Nebraska Cooperative Fish and Wildlife Research Unit. Broadly, my research focuses on understanding the resilience of social-ecological systems to global change processes. In investigating the social-ecological causes and consequences of global change, I apply a diversity of methodologies, primarily spatial and statistical modeling techniques, but also planning tools such as scenario planning and reviews of historical accounts. My current project-based in the NU FEWS process-examines social-ecological resilience at the nexus of food, energy, water, and ecosystem services in landscapes worldwide.
Streit Krug, A., D.R. Uden, C.R. Allen, and D. Twidwell. 2017. Culturally induced range infilling of eastern redcedar: A problem in ecology, an ecological problem, or both? Ecology and Society. In press. Online
Allen, C.R., D.G. Angeler, G.S. Cumming, C. Folke, D. Twidwell and D.R. Uden. 2016. Quantifying spatial resilience. Journal of Applied Ecology 53:625-635. Online
Allen, C.R., H.E. Birge, S.L. Bartelt-Hunt, R.A. Bevans, J.L. Burnett, B.A. Cosens, X. Cai, A.S. Garmestani, I. Linkov, E.A. Scott, M.D. Solomon and D.R. Uden. 2016. Avoiding decline: Fostering resilience and sustainability in midsize cities. Sustainability 8(9):844. Online
Uden, D.R. 2016. As Far as the Eye Could Reach: Accounts of animals along the Santa Fe Trail, 1821-1880. By Phyllis S. Morgan. (review). Great Plains Research 26(2):147-148. Online
Allen, C.R., D.R. Uden, A.R. Johnson and D.G. Angeler. 2015. Spatial modeling approaches for understanding and predicting the impacts of invasive alien species on native species and ecosystems. Pest risk modelling and mapping for invasive alien species. 162-170 Online
Angeler, D.G., C.R. Allen, D.R. Uden and R.K. Johnson. 2015. Spatial scaling patterns and functional redundancies in a changing boreal lake landscape. Ecosystems 18:889-902. Online
Uden, D.R. 2015. This far-off wild land: The Upper Missouri letters of Andrew Dawson. Wischmann, L. and A.E. Dawson (review). Great Plains Quarterly 35(2):225. Online
Uden, D.R., Allen, C.R., Angeler, D.G., Corral, L., Fricke, K.A. 2015. Adaptive invasive species distribution models: A framework for modeling incipient invasions. Biological Invasions. 10:2831-2850. Online
Uden, D.R., C.R. Allen, A.A. Bishop, R. Grosse, C.F. Jorgensen, T.G. LaGrange, R.G. Stutheit and M.P. Vrtiska. 2015. Predictions of future ephemeral springtime waterbird habitat availability under global change. Ecosphere 6(11):215. Online
Uden, D.R., C.R. Allen, R.B. Mitchell, T.D. McCoy and Q. Guan. 2015. Predicted avian responses to bioenergy development scenarios in an intensive agricultural landscape. Global Change Biology Bioenergy 7:717–726. Online
Uden, D.R., M.L. Hellman, D.G. Angeler and C.R. Allen. 2014. The role of reserves and anthropogenic habitats for functional connectivity and resilience of ephemeral wetlands. Ecological Applications 24:1569-1582. Online
Allen, C.R., K.T. Nemec, K.L. Decker, D.A. Wardwell, M. Brust, D. Fogell, J.D. Hoffman, J. Hogue, A. Lotz, T. Miller, M. Pummill, L.E. Ramirez-Yanes and D.R. Uden. 2013. Predictors of regional establishment success and spread of introduced nonindigenous vertebrates. Global Ecology and Biogeography 22:889-899. Online
Stephen, B.J., N.M. Chaine, C.R. Allen, K.A. Fricke, D.M. Haak, M.L. Hellman, R.A. Kill, K.T. Nemec, K.L. Pope, N.A. Smeenk, D.R. Uden, K.M. Unstad, A.E. VanderHam and A. Wong. 2013. Fecundity of the Chinese mystery snail in a Nebraska Reservoir. Journal of Freshwater Ecology 28:439-444. Online
Uden, D.R., C.R. Allen, R.B. Mitchell, Q. Guan and T.D. McCoy. 2013. Scenarios of bioenergy development impacts on regional groundwater withdrawals. Journal of Soil and Water Conservation 68:124A-128A. Online
Uden, D.R., R.B. Mitchell, C.R. Allen, T.D. McCoy and Q. Guan. 2013. The feasibility of generating adequate biomass for year-round cellulosic ethanol production in an intensive agricultural fuelshed. 2013. Bioenergy Research 6:930-938. Online
Unstad, K.M., D.R. Uden, C.R. Allen, N.M. Chaine, D.M. Haak, D.M., R.A. Kill, K.L. Pope, B.J. Stephen and A. Wong. 2013. Survival and behavior of Chinese mystery snails (Bellamya chinensis) in response to simulation water body drawdowns and air exposure. Management of Biological Invasions 4:123-127. Online
Wong, A., C.R. Allen, N.M. Hart, D.M. Haak, K.L. Pope, N.A. Smeenk, B.J. Stephen and D.R. Uden. 2013. Enamel-based mark performance for marking Chinese mystery snail Bellamya chinensis. Management of Biological Invasions 4:231-234. Online
Chaine, N.M., C.R. Allen, K.A. Fricke, D.M. Haak, M.L. Hellman, R.A. Kill, K.T. Nemec, K.L. Pope, N.A. Smeenk, B.J. Stephen, D.R. Uden, K.M. Unstad and A.E. Vanderham. 2012. Population estimate of Chinese mystery snail (Bellamya chinensis) in a Nebraska reservoir. BioInvasion Records 1:283-287. Online
Mitchell, R.B., K.P. Vogel and D.R. Uden. 2012. The feasibility of switchgrass for biofuel production. Biofuels 3:47-59. Online
Causes and Consequences of Landcover Change in Landscapes of Nebraska, USA
Presentation Type: Dissertation Defense
Date: 1/27/2017
Abstract:

Landcover change is an important global change process with diverse direct and indirect causes and consequences within social-ecological systems. Although substantial uncertainties exist regarding the future of landcover change and its affects, the consideration of past, present, and potential future changes could be useful for learning, assessing, adjusting, and preparing.

I consider case studies of past, present, and future landcover and landcover change in selected landscapes of Nebraska, U.S.A. Specifically, I present species distribution model ensembles for 16 tree species in the Missouri River bluffs of extreme southeast Nebraska, assess functional connectivity of wetland habitats in three central Nebraska landscapes that have experienced varying degrees of human-driven landcover change over the past several centuries, and develop scenario storylines and simulations of future landcover change for the Pine Ridge of extreme northwest Nebraska. Results are useful for increasing understanding about regional landcover changes and for informing ongoing conservation activities.
AGRICULTURAL LANDUSE CHANGE IMPACTS ON BIOENERGY PROUDCTION, AVIFAUNA AND WATER USE IN NEBRASKA'S RAINWATER BASIN
Presentation Type: Thesis Defense
Date: 7/9/2012
Abstract:

Agriculture is an economically important form of landuse in the North American Great Plains. Since 19th Century European settlement, conversion of grasslands to rowcrops has increased food and bioenergy production, but has decreased wildlife habitat. Future agricultural landuse changes may be driven by alternative energy demands and regional climatic changes. Landuse change and its drivers could affect bioenergy production, wildlife populations and natural resources, and considering the potential impacts of impending changes in advance could assist with preparations for an uncertain future.

This study addressed how the conversion of marginally productive agricultural lands in the Rainwater Basin region of south-central Nebraska, U.S.A. to bioenergy switchgrass (Panicum virgatum) might impact ethanol production, grassland bird populations and agricultural groundwater withdrawals. This study also used multi-model inference to develop predictive models explaining annual variation in springtime wetland occurrence and flooded area in the Rainwater Basin.

Results suggest that cellulosic ethanol production from switchgrass and residual maize (Zea mays) stover within existing starch-based ethanol plant service areas is feasible at current feedstock yields, removal rates and bioconversion efficiencies. Throughout the Rainwater Basin, the replacement of marginally productive rowcrop fields with switchgrass could increase ethanol production, conserve groundwater and benefit grassland birds under novel future climatic conditions. However, converting Conservation Reserve Program (CRP) grasslands to switchgrass could be detrimental to grassland bird populations. Predictive wetland inundation models suggest that surrounding agricultural landuse, wetland hydric footprint shape complexity, and autumn and winter precipitation and temperature are strong drivers of springtime wetland occurrence and flooded area in the Rainwater Basin.
BA - Concordia University- Nebraska, Biology/History (2010)
MS - University of Nebraska-Lincoln, Wildlife Ecology (2012)
PhD - University of Nebraska-Lincoln, Natural Resource Sciences with a specialization in Applied Ecology (2017)
Landscape ecology
spatial ecology
historical geography
social-ecological systems
resilience
geographic information systems
networks
ecological modeling
bioenergy
water
ecosystem services
Currently this page only displays grants that were awarded on 1/1/2009 to the present. If a grant was awarded prior to 1/1/2009 and is still active, it will not be displayed on this page.
There no Grants found for this selection.