Update your profile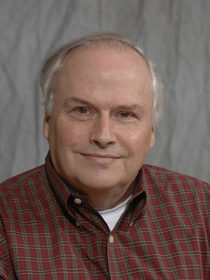 Contact Information
My Story
Publications & Presentations
Background
Expertise & Interests
Grants
Advising
Courses Taught
Outreach
Photos
Title
Shelterbelt Ecologist
Address
407 Hardin Hall
3310 Holdrege Street
Lincoln NE
68583-0974
Phone
402-472-6626
FAX
402-472-2946
E-mail
jbrandle1@unl.edu
Vitae
Download file
Hi, I'm Jim Brandle, and I'm a professor of forestry in the School of Natural Resources.
My main research emphasis is the role of woody plants in agricultural systems, particularly windbreaks and their effects on all aspects of crop production. One part has to do with how windbreaks and shelterbelts work. The other major components focus on the economic value of various forms of shelter and the role that windbreaks play in maintaining biodiversity on our farms and ranches.
Key projects involve research into the physics, or the mechanisms, of woody plant shelter and an increasing emphasis on the economic benefits of shelter, especially crop response. These studies are being pursued in cooperation with colleagues at Iowa State University and the U.S. Forest Service.
Working with the cooperators above, we will soon be releasing the second version of a crop windbreak-economics model. This sophisticated computer model is based on intensive studies of windbreak airflow dynamics and will quantify precise effects on crop yields and money saved. It can evaluate any shelter for the economic benefits to corn or soybean production in the north-central United States.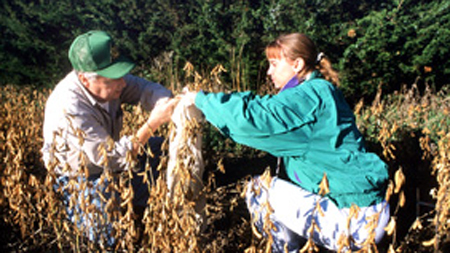 Another recent venture involves investigating the effects of windbreaks on carbon sequestration, or storage. Storing carbon helps mitigate global warming. My colleagues and I are looking not only into how much carbon field windbreaks store, but also how much fossil fuel is saved because that area is taken out of production, and not plowed and cultivated. In addition, other types of windbreaks provide savings from reduced home heating and cooling costs and from reduced snow removal costs.
Brandle, J.R., L. Hodges, X, Zhou (2004) Windbreaks in North American agricultural systems. Agroforestry Systems 61:65-78.
Hodges, L., M.N. Suratman, J.R. Brandle, and K.G. Hubbard (2004) Growth and yield of snap beans as affected by wind protection and microclimate changes due to shelterbelts and planting dates. HortScience 39:996-1004.
Josiah, S.J., R. St-Pierre, H. Brott, and J.R. Brandle (2004) Productive conservation: Diversifying farm enterprises by producing specialty woody products in agroforestry systems. Journal Sustainable Agriculture 23:93-108.
Zhou, X.H., J.R. Brandle, C.W. Mize, and E.S. Mize (2004) Three-dimensional aerodynamic structure of a tree shelterbelt: Definition, characterization and working models. Agroforestry Systems (In press).
Brandle, J., X.H. Zhou, and L. Hodges, (2003) Agroforestry for enhancing water use efficiency. Encyclopedia of Water Science 19-21.
Hou, Q.J., J.R. Brandle, M.M. Schoenberger (2003) Root-prunning alters soil moisture at the windbreak/crop interface. Agroforestry Systems 57:137-147.
Takle, E.S., J.R. Brandle, R.A. Schmidt, and R. Garcia, I.V. Litvina, W.J. Massman, X.H. Zhou, G. Doyle, C.W Rice (2003) High-frequency pressure variation in the vicinity of a surface CO2 flux chamber. Agricultural and Forest Meteorology 114:245-250.
Beecher, N.A., R.J. Johnson, J.R. Brandle, R.M. Case, and L.J. Young,. 2002. Agroecology of birds in organic and non-organic farmland. Conservation Biology 16:1620-1631.
Brandle, J., X. Zhou, and L. Hodges. 2002. How windbreaks work,. EC-02-1763
Zhou, X.H., J.R. Brandle, E.S. Takle, C.W. Mize. 2002. Estimation of the 3-dimensional aerodynamic structure of a green ash (Fraxinus pennsylvanica Marsh.) shelterbelt. Agricultural and Forest Meteorology 111:93-108.
Easterling, W.E., J.R. Brandle, Q. Guo, C.J Hays, and D.S. Guertin. 2001. Simulating the impact of human land use change on forest composition in Great Plains agroecosystems with the Seedscape model. Ecological Modeling 140 (1-2):163-176.
Brandle, J. and L. Hodges. 2000. Field windbreaks. EC-00-1778.
Stange, C., J. Wilson, J. Brandle, and M. Kuhns. 1998. Windbreak renovation. EC-98-1777.
Brandle, J.R. and H.D. Nickerson. 1996. Windbreaks for snow management. EC-96-1770.
Stange, C. and J.R. Brandle. 1996. Windbreak management. EC-96-1768.
Quam, V.C., L. Johnson, B. Wight, and J.R. Brandle. 1994. Windbreaks for livestock operations. EC-91-1766.
Wight, B., T.K. Boes, and J.R. Brandle. 1993. Windbreaks for rural living. EC-91-1767.
Johnson, R.J., M.M. Beck and J.R. Brandle. 1992. Windbreaks and wildlife. EC-91-1771.
Quam, V.C., J. Gardner, J.R. Brandle and T.K. Boes. 1992. Windbreaks in sustainable agricultural systems. EC-91-1772.
Boehner, P., J.R. Brandle and S. Finch. 1991. Windbreak establishment. EC-91-1764.
BS - University of Tennessee, Botany (1966)
MS - University of Missouri, Forestry (1970)
PhD - University of Missouri, Forestry (1974)
Agroforestry, Shelterbelts, Ecology, Crop Response to Shelter, Microclimate in woody plant shelter, Shelterbelt Structure and Function, Agroecology, Biological Control, Biological diversity, Forest and grassland ecology, Forestry, Organic agriculture, Sustainable agriculture and societies, Trees, Windbreaks, Bio-atmospheric interactions
Currently this page only displays grants that were awarded on 1/1/2009 to the present. If a grant was awarded prior to 1/1/2009 and is still active, it will not be displayed on this page.
Grant Title
Temperate Agroforestry in GHG Mitigation on Agricultural Lands: Accounting and Methodologies for Carbon and Indirect Benefits
Starting Date
8/1/2011
Ending Date
7/31/2015
Funding Level
$50,000.00
Funding Source
US Department of Agriculture
Grant Title
Agriculture and Peri-urban Development: Synergism for the Future
Starting Date
3/1/2009
Ending Date
9/30/2010
Funding Level
$25,563.00
Funding Source
McIntire-Stennis
Undergraduate Majors
Bachelor of Science in

Fisheries & Wildlife
Pre-Forestry

Graduate Program(s)

Master of Science in Natural Resource Sciences


including specializations in

Doctor of Philosophy in Natural Resource Sciences


including specializations in
Courses Taught in the Current Semester
Course Number
Course Title
Day
Time
Cross Listing
NRES 103
Introduction to Agriculture, and Natural Resource Systems
T
0200-0250 P
AGRI 103
NRES 103
Introduction to Agriculture, and Natural Resource Systems
W
1000-1050 A
AGRI 103
NRES 103
Introduction to Agriculture, and Natural Resource Systems
R
0100-0150 P
AGRI 103
NRES 103
Introduction to Agriculture, and Natural Resource Systems
F
0200-0250 P
AGRI 103
NRES 310
Introduction to Forest Management Lab
R
0200-0450 P
None
NRES 310
Introduction to Forest Management
TR
1230-0145 P
None
NRES 310
Introduction to Forest Management Lab
R
0200-0450 P
None
NRES 310
Introduction to Forest Management
TR
1230-0145 P
None
NRES 310
Introduction to Forest Management Lab
R
0200-0450 P
None
NRES 310
Introduction to Forest Management
TR
1230-0145 P
None
NRES 849
Woody Plant Growth and Development
TBA
TBA
HORT, BIOS
NRES 849
Woody Plant Growth & Development
ARR
ARR
BIOS/HORT 849
NRES 849
Woody Plant Growth and Development
ARR
ARR
BIOS/HORT 849
NRES 849
Woody Plant Growth and Development
ARR
ARR
BIOS/HORT 849
NRES 849
Woody Plant Growth and Development
MF
0130-0245 P
BIOS/HORT 849
NRES 849
Woody Plant Growth and Development
ARR
ARR
BIOS/HORT 849
Courses Taught
Course Number
Course Title
Fall Even Years
Fall Odd Years
Spring Even Years
Spring Odd Years
Summer Session
Cross Listing
NRES 417
Agroforestry Systems in Sustainable Ag
X
X
HORT 418/818, NRES 817
NRES 817
Agroforestry Systems in Sustainable Ag
X
X
HORT 418/818, NRES 417
NRES 849
Woody Plant Growth and Development
X
BIOS/HORT 849