Andy Suyker
Update your profile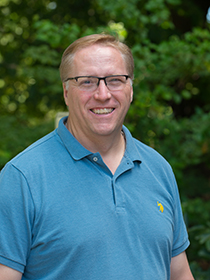 Contact Information
My Story
Publications & Presentations
Background
Expertise & Interests
Grants
Advising
Courses Taught
Outreach
Title
Micrometeorologist
Address
806 Hardin Hall
3310 Holdrege Street
Lincoln NE
68583-0968
Phone
402-472-2168
FAX
402-472-2946
E-mail
asuyker1@unl.edu
Vitae
Download file
Hi, I'm Andy Suyker, research professor of micrometeorology in the School of Natural Resources.
My research interests include the exchanges of carbon dioxide (CO2) and water vapor in key agricultural and natural ecosystems. My work has quantified the seasonal and inter-annual variability of net ecosystem CO2 exchange and evapotranspiration, in irrigated and rain-fed maize-soybean cropping systems. I regularly collaborate with scientists in other disciplines at UNL and other institutions, to advance our knowledge of the carbon and water cycles and global climate change.
My appointment is 100% within SNR: 60% research and 40% scholarly service. I conduct research on the exchange of carbon dioxide, water vapor, and energy as part of the Carbon Sequestration Program (CSP) at three research sites at the Agricultural Research and Development Center in Mead, Nebraska.
My scholarly service work has provided me an opportunity to present our information on measured CO2 and water vapor fluxes at our study sites in Nebraska to a national archive. In response to individual requests, I provide data to scientists locally, nationally and internationally, for a variety of research applications related to the global carbon cycle and climate change.
In the fall semester I regularly present an instrument demonstration lecture on micrometerological instrumentation in NRES 408/808 "Microclimate: The Biological Environment." In addition, I serve as the faculty advisor for the UNL Club Hockey Team.
Applied Climate and Spatial Science
Climate Change
Carbon Flux
Keyword
Expert Level

10 - Top Expert
1 - Mild Interest

9

8

8
Select a keyword and see other SNR faculty and staff with this interest or expertise.
Currently this page only displays grants that were awarded on 1/1/2009 to the present. If a grant was awarded prior to 1/1/2009 and is still active, it will not be displayed on this page.
Grant Title
Great Plains Agroecosystems Carbon Flux
Starting Date
9/1/2016
Ending Date
8/31/2020
Funding Level
$40,000.00
Funding Source
USDA - ARS
Grant Title
Carbon Flux from Great Plains Agroecosystems Associated with the ARS LTAR Network (Additional Funding)
Starting Date
2/19/2016
Ending Date
8/31/2020
Funding Level
$100,000.00
Funding Source
USDA-ARS
Grant Title
Carbon Flux from Great Plains Agroecosystems Associated with the ARS LTAR Network
Starting Date
9/1/2015
Ending Date
8/31/2020
Funding Level
$80,000.00
Funding Source
U. S. Department of Agriculture - Agricultural Research Service
Grant Title
Long-Term Maize-Based Agro-Ecosystem Core Sites as Part of the AmeriFlux Management Project Network (additional funds)
Starting Date
3/9/2014
Ending Date
9/30/2016
Funding Level
$112,399.00
Funding Source
University of California-Berkeley National Lab
Grant Title
Long-Term Maize-Based Agro-Ecosystem Core Sites as Part of the AmeriFlux Management Project Network
Starting Date
3/9/2014
Ending Date
9/30/2016
Funding Level
$112,399.00
Funding Source
University of California-Berkeley National Lab
Grant Title
Mercury Deposit Network
Starting Date
10/1/2013
Ending Date
9/30/2018
Funding Level
$32,000.00
Funding Source
Nebraska Department of Environmental Quality
Grant Title
Great Lakes Evaporation
Starting Date
5/1/2011
Ending Date
8/31/2011
Funding Level
$29,992.00
Funding Source
University of Michigan
Grant Title
Carbon Sequestration in Dryland and Irrigated Agroecosystems? Qualifications at Different Scale for Improved Prediction
Starting Date
9/15/2009
Ending Date
9/14/2010
Funding Level
$78,750.00
Funding Source
US Department of Energy
Grant Title
Carbon Sequestration in Dryland
Starting Date
9/3/2009
Ending Date
9/14/2010
Funding Level
$236,250.00
Funding Source
US Department of Energy
Grant Title
A Satellite-Based Quantification of Carbon Exchange of the Cominant Ecosystem (Maize-Soybean) in the NACP Mid-Continent Intensive (MCI) Region
Starting Date
4/1/2009
Ending Date
3/31/2010
Funding Level
$180,101.00
Funding Source
National Aeronautics and Space Administration
Grant Title
Satelite Based Carbon Exchange (Maize Soybeans)
Starting Date
4/1/2008
Ending Date
3/31/2011
Funding Level
$216,622.00
Funding Source
National Aeronautics and Space Administration/Stennis
Graduate Program(s)

Master of Science in Natural Resource Sciences


including specializations in

Bio-Atmospheric Interactions

Doctor of Philosophy in Natural Resource Sciences


including specializations in

Bio-Atmospheric Interactions
Courses Taught
Course Number
Course Title
Fall Even Years
Fall Odd Years
Spring Even Years
Spring Odd Years
Summer Session
Cross Listing
GEOG 408
Microclimate: The Biological Environment
X
X
AGRO/GEOG/HORT/METR/NRES/WATS 408/808
GEOG 808
Microclimate: The Biological Environment
X
X
AGRO/GEOG/HORT/METR/NRES/WATS 408/808
NRES 408
Microclimate: The Biological Environment
X
X
AGRO/GEOG/HORT/METR/NRES/WATS 408/808
NRES 808
Microclimate: The Biological Environment
X
X
AGRO/GEOG/HORT/METR/NRES/WATS 408/808
WATS 408
Microclimate: The Biological Environment
X
X
AGRO/GEOG/HORT/METR/NRES/WATS 408/808