Trenton Franz
Update your profile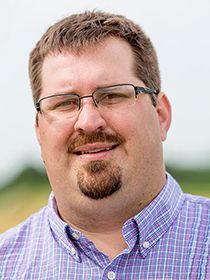 Contact Information
My Story
Publications & Presentations
Background
Interests
Grants
Advising
Courses Taught
Outreach
Title
Hydrogeophysicist
Address
303 Hardin Hall
3310 Holdrege Street
Lincoln NE
68583-0973
Phone
402-472-8718
FAX
402-472-2946
E-mail
tfranz2@unl.edu
Vitae
Download file
tfranz2@unl.edu
n/a
Avery, W., Finkenbiner, C., Franz, T., Wang, T., Nguy-Robertson, A., Munoz-Arriola, F., Suyker, A., Arkebauer, T. 2016. Incorporation of globally available datasets into the cosmic-ray neutron probe method for estimating field scale soil water content. Hydrology and Earth System Sciences, 20,:3859-3872.
Franz, T., Wahbi, A., Vreugdenhil, M., Weltin, G., Heng, L., Oismueller, M., Straub, P., Dercon, G., Desilets, D. 2016. Using Cosmic-ray Neutron Probes to Monitor Landscape Scale Soil Water Content in Mixed Land Use Agricultural Systems.
King, E. G., Franz, T. 2016. Combining ecohydrologic and transition probability-based modeling to simulate hillslope-scale vegetation dynamics in a semi-arid rangeland.
Schreiner-McGraw, A. P., Vivoni, E. R., Mascaro, G., Franz, T. 2016. Closing the Water Balance with Cosmic-ray Soil Moisture Measurements and Assessing Their Spatial Variability within Two Semiarid Watersheds.
Wang, T., Franz, T., Yue, W., Szilagyi, J., Zlotnik, V., You, J., Shulski, M., Young, A. 2016. Feasibility analysis of using inverse modeling for estimating natural groundwater recharge from a large-scale soil moisture monitoring network.
Wonkka, C., Twidwell Jr, D., Franz, T., Taylor Jr., C. A., Rogers, W. E. 2016. Persistence of a Severe Drought Increases Desertification but not Woody Dieback in Semiarid Savanna.
Woodbury, B., Eigenberg, R., Franz, T. (2016). Development of non-collinear arrays for use near wastewater holding ponds.
Yue, W., Wang, T., Franz, T., Chen, X.-H. 2016. Spatiotemporal patterns of watertable fluctuations and evapotranspiration induced by riparian vegetation in a semi-arid area.
Franz, T. E., T. Wang, W. Avery, C. Finkenbiner, and L. Brocca (2015), Combined analysis of soil moisture measurements from roving and fixed cosmic ray neutron probes for multiscale real-time monitoring, Geophys. Res. Lett., 42, doi:10.1002/ 2015GL063963.
Ecosystem Scale Measurements of Water Using Cosmic-ray Neutrons
Presentation Type: Oral Presentation
Date: 3/29/2013
Abstract: The recently developed cosmic-ray method for measuring soil moisture over a horizontal footprint of hectometers and the depth of decimeters is currently being implemented in the COsmic-ray Soil Moisture Observing System (COSMOS). Currently 60 probes are operational in the continental USA with future expansion consisting of a network with 500 probes. The probe measures cosmic-ray neutrons that are generated within air and soil and are moderated mainly by hydrogen atoms in soil water, and emitted to the atmosphere where they form a well-mixed reservoir of neutrons whose density is inversely correlated with soil moisture. Here I will present a general overview of the COSMOS project and cosmic-ray method for measuring soil moisture. In addition I will present some recent work on quantifying other pools of hydrogen inside the probe support volume, most notably biomass, and a summary of mobile measurements used to quantify basin-scale soil moisture patterns. Given the new scale of observations and ability to quantify various pools of hydrogen, this measurement technique is an exciting advance with clear implications in hydrology, ecology, terrestrial hydrometerology, agronomy, and remote sensing. http://www.cuahsi.org/CyberSeminarDetails.aspx?id=56
Full Citation:
Applied Climate and Spatial Science
Professional Organizations
Hydrogeophysics
Hydrology
Ecohydrology
Evapotranspiration
Water
Geospatial Applications
Currently this page only displays grants that were awarded on 1/1/2009 to the present. If a grant was awarded prior to 1/1/2009 and is still active, it will not be displayed on this page.
Grant Title
Long-Term Maize-Based Agro-Ecosystem Core Sites as Part of the AmeriFlux Management Project Network (additional funds)
Starting Date
2/17/2017
Ending Date
9/30/2020
Funding Level
$93,000.00
Funding Source
UC-Berkeley National Lab
Grant Title
IUSE: Fostering Undergraduate Students Disciplinary Learning and Water Literacy
Starting Date
8/1/2016
Ending Date
7/31/2019
Funding Level
$299,018.00
Funding Source
National Science Foundation
Grant Title
Long-Term Maize-Based Agro-Ecosystem Core Sites as Part of the AmeriFlux Management Project Network (additional funds)
Starting Date
3/9/2014
Ending Date
9/30/2016
Funding Level
$112,399.00
Funding Source
University of California-Berkeley National Lab
Grant Title
Extension Graduate Assistantship (Smith Lever)
Starting Date
8/24/2015
Ending Date
7/31/2016
Funding Level
$18,000.00
Funding Source
Smith Lever Funds
Grant Title
Can Improving Predictions of Soil Oxygen Dynamics Increase Understanding of Greenhouse Gas Hotspots and Hot Moments
Starting Date
6/1/2015
Ending Date
5/31/2018
Funding Level
$445,429.00
Funding Source
National Science Foundation
Grant Title
Long-Term Maize-Based Agro-Ecosystem Core Sites as Part of the AmeriFlux Management Project Network
Starting Date
3/9/2014
Ending Date
9/30/2016
Funding Level
$112,399.00
Funding Source
University of California-Berkeley National Lab
Grant Title
Advancing the Cosmic-Ray Method
Starting Date
9/5/2014
Ending Date
9/4/2015
Funding Level
$50,000.00
Funding Source
Department of Defense - Army - Cold Regions Research and Engineering Laboratory
Graduate Program(s)

Master of Science in Natural Resource Sciences


including specializations in

Applied Ecology
Geographic Information Systems
Remote Sensing

Doctor of Philosophy in Natural Resource Sciences


including specializations in
Courses Taught
Course Number
Course Title
Fall Even Years
Fall Odd Years
Spring Even Years
Spring Odd Years
Summer Session
Cross Listing
NRES 453
Hydrology
X
X
NRES 453/853
NRES 498
Special Topics: Hydrology
X
CIVE/NRES 353/853, NRES 498
NRES 853
Hydrology
X
X
NRES 453/853