Steve Comfort
Update your profile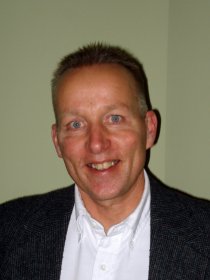 Contact Information
My Story
Publications & Presentations
Background
Interests
Grants
Advising
Courses Taught
Outreach
Title
Soil Environmental Chemist
Address
205 Kiesselbach Crop Research Laboratory
1870 North 37th Street
Lincoln NE
68583-0915
Phone
402-472-1502 & Lab 472-6540
FAX
402-472-7904
E-mail
scomfort1@unl.edu
Vitae
Download file
Hi, I'm Steve Comfort, a soil environmental chemist and professor in the School of Natural Resources (SNR).
I am associated with the water, geology, soils faculties in SNR and coordinate the Environmental Restoration Science major at UNL.
My interests are in understanding the fate and transport of organic chemicals in the environment and devising remediation strategies for contaminated soil and water.
Accidental spills and discharges of farm chemicals and industrial solvents take place each year. When these events occur, normally beneficial chemicals become sources of contamination for ground and surface water. Although the soil-water environment has an enormous potential to naturally attenuate (adsorb, degrade) these foreign substances, this capacity can be exceeded when chemicals are deliberately or inadvertently released to localized areas. To combat these point sources of contamination, our research attempts to devise treatments that can remove these contaminants or alter their chemical structure so that natural attenuation can proceed. Examples of our work include both field-scale treatment of pesticide-contaminated soils and the use of chemical oxidants to treat contaminated groundwater.
Our recent efforts are focusing on developing techniques to remove volatile organic compounds from low permeable zones in aquifers.
My primary teaching responsibility is devoted to teaching an undergraduate coutitled "Soils, Environment and Water Quality." This course is now being offered online for distance education. In the past, I have taught a graduate-level course titled 'Soil Environmental Chemistry." It involves outreach activities which provide in-depth training on the fate of chemicals in soils and groundwater - to individuals associated with pesticide application or installation of septic systems - in the state of Nebraska.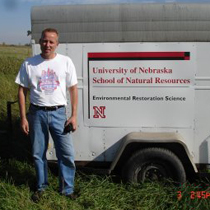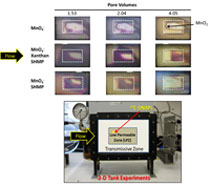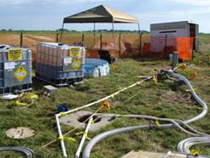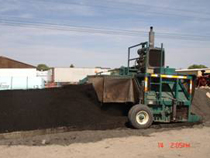 Environmental Restoration Science Program (Major)
Student Project
Lindy Rauscher, an environmental restoration science major, worked with environmental chemist Steve Comfort and his graduate students on an award-winning UCARE project, investigating the use of permanganate to remediate PAH-contaminated water.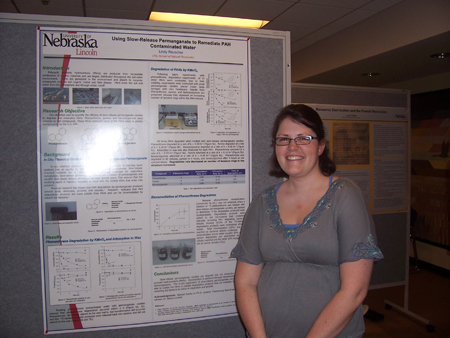 The video below follows Mandi Conway, an SNR undergraduate in Environmental Restoration Science, as she and graduate students help with a clean-up site in Cozad, Nebraska. Dr. Steve Comfort, ERS faculty, explains how the program gives students the skills to repair environmental damage.
Alumni Profiles
What can you do with a degree in Environmental Restoration Science? Recent graduate John Dinneen works for an environmental remediation company in Wisconsin and was recently in Sargent, Nebraska to work to remove harmful chemicals at a gas station site.
Slow-release Oxidant Candles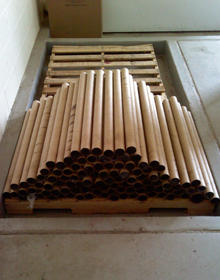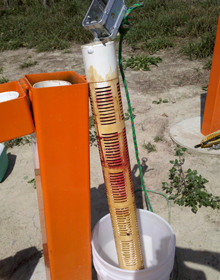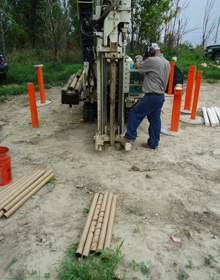 EPA Clean-Up Technology Webinar (03-21-2016)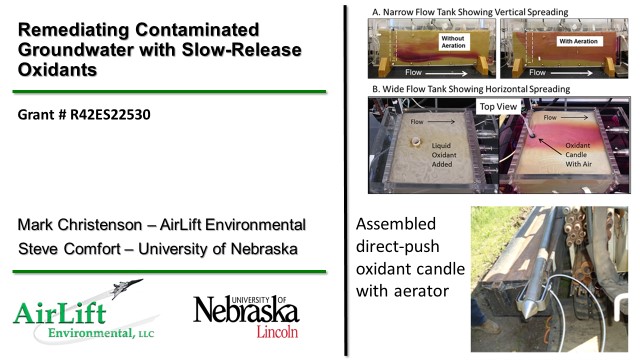 Christenson, M., Kambhu, A., Reece, J., Comfort, S., Brunner, L. 2016. A five-year performance review of field-scale, slow-release permanganate candles with recommendations for second-generation improvements. Chemosphere. 150:239-247. Online
Boparai, H.K., P.J. Shea, S.D. Comfort, and T.A. Machacek. 2008. Sequencing zerovalent iron treatment with carbon amendments to remediate agrichemical-contaminated soil. Water, Air and Soil Pollution.193:189-196. Online
Boparai, H.K., S.D. Comfort, P.J. Shea, and J.E. Szecsody. 2008. Remediating explosive-contaminated groundwater by in situ redox manipulation (ISRM) of aquifer sediments. Chemosphere 71:933-941. Online
Onanong, S. S.D. Comfort, P.D. Burrow, and P.J. Shea. 2007. Using gas-phase molecular descriptors to predict dechlorination rates of chloroalkanes by zerovalent iron. Environ. Sci. Technol.41:1200-1205. Online
Adam, M.A., S.D. Comfort, D.D. Snow, D. Cassada, M.C. Morley, and W. Clayton. 2006. Evaluating ozone as a remedial treatment for removing RDX from unsaturated soils. Journal of Environmental Engineering.132:1580-1588. Online
Boparai, H.K., P.J. Shea, S.D. Comfort, and D.D. Snow. 2006. Dechlorinating chloroacetanilide herbicides by dithionite-treated aquifer sediment and surface soil. Environ. Sci. Technol. 40:3043-3049. Online
Onanong, S., P.D. Burrow, S.D. Comfort, and P.J. Shea. 2006. Electron capture detector response and dissociative electron attachment cross sections in chloroalkanes and chloroalkenes. J. Phys. Chem. A 110:4363-4368. Online
Adam, M.L., S.D. Comfort, T.C. Zhang, and M.C. Morley. 2005. Evaluating Biodegradation as a Primary and Secondary Treatment for Removing RDX (Hexahydro-1,3,5-trinitro-1,3,5-triazine) from a Perched Aquifer. Bioremediation Journal 9:9-19. Online
Comfort, S.D. 2005. Remediating RDX and HMX Contaminated Soil and Water. In M. Fingerman and R. Nagabhushanam (eds) Bioremediation of Aquatic and Terrestrial EcoSystems. Science Publishers, Inc. Enfield, NH p. 263-310. Online
Park, J., S.D. Comfort, P.J. Shea, and J.S. Kim. 2005. Increasing Fe0-mediated HMX destruction in highly contaminated soil with didecyldimethylammonium bromide surfactant. Environ. Sci. Technol. 39:9683-9688. Online
Comfort, S.D., P.J. Shea, T.A. Machacek, and T. Satapanajaru. 2003. Pilot-scale treatment of RDX-contaminated soil with zerovalent iron. Journal of Environmental Quality. 32(5):1717-25. Online
BS - University of Wisconsin-Madison, Soil Science and Agricultural-Extension Education (1981)
MS - University of Minnesota, Soil Science (1984)
PhD - University of Wisconsin-Madison, Soil Science (1988)
Soil and Water Chemistry
Organic Chemicals
Fate and Transport of Remediation of Contaminated Soil and Water
Restoration
Environmental Restoration
Environmental Soil Analysis
Currently this page only displays grants that were awarded on 1/1/2009 to the present. If a grant was awarded prior to 1/1/2009 and is still active, it will not be displayed on this page.
Grant Title
Predicitng the zone of influence of direct-push oxidant candles with aerators
Starting Date
7/1/2015
Ending Date
6/30/2017
Funding Level
$12,000.00
Funding Source
Agricultural Research Division Graduate Research Assistant Support
Grant Title
Testing of Direct-Push Candles
Starting Date
8/1/2014
Ending Date
10/31/2015
Funding Level
$32,243.00
Funding Source
Air Lift Environmental LLC
Grant Title
STTR: Improving the Treatment of Contaminated Aquifers by Developing Direct Push Slowp Release Oxidant Candles with Pneumatic Circulators
Starting Date
9/12/2013
Ending Date
8/31/2014
Funding Level
$49,450.00
Funding Source
Air Lift Environmental LLC
Grant Title
Cozad Contaminated Groundwater
Starting Date
10/22/2013
Ending Date
10/21/2018
Funding Level
$12,500.00
Funding Source
City of Cozad
Grant Title
Nebraska Water Resource 104B 2011
Starting Date
3/1/2011
Ending Date
2/28/2015
Funding Level
$12,000.00
Funding Source
US Department of the Interior - Geological Survey
Undergraduate Majors
Bachelor of Science in

Environmental Restoration Science

Graduate Program(s)

Master of Science in Natural Resource Sciences

Doctor of Philosophy in Natural Resource Sciences
Courses Taught
Course Number
Course Title
Fall Even Years
Fall Odd Years
Spring Even Years
Spring Odd Years
Summer Session
Cross Listing
NRES 361
Soils, Environment and Water Quality
X
X
AGRO/GEOL/NRES/SOIL/WATS 361
NRES 451
Soil Environmental Chemistry
X
X
ENVE 451/851
NRES 851
Soil Environmental Chemistry
X
ENVE 451/851
NRES 996A
Research in Soils
X
X
X
X
AGRO 996A
WATS 361
Soils, Environment and Water Quality
X
X
AGRO/GEOL/NRES/SOIL/WATS 361