Erica Stuber
Update your profile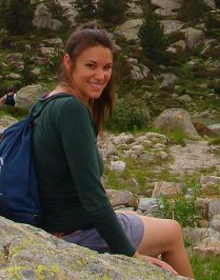 Contact Information
My Story
Publications & Presentations
Background
Interests
Grants
Advising
Courses Taught
Outreach
Title
Spatial Ecologist
Address
508 Hardin Hall
3310 Holdrege Street
Lincoln NE
68583-0995
Phone
402-472-3471
FAX
402-472-2946
E-mail
estuber2@unl.edu
Vitae
Download file
I've always felt a strong affinity for nature, and particularly wildlife. While working for a wildlife rehabilitation center I saw first-hand the unfortunate results of various accidental human-wildlife conflicts. Initially, I got into research as a way to collect information that could potentially inform applied management or conservation decisions, as a pre-emptive measure to reduce conflict. I was happily distracted by fundamental research regarding physiological and genetic underpinnings of animal behavior, particularly biological clocks and migration behavior throughout my B.S. and M.S. work at Penn State Univ., and consistent individual differences in behavior and behavioral plasticity during my Ph.D. with the Max Planck Institute for Ornithology in Germany. Along the way I've discovered a passion for understanding how and why animals make space-use decisions and the implications of climate or anthropogenic change on behavioral decisions.
Broadly speaking, my research interests revolve around understanding how and why animals behave as they do. What genetic, physiological, or environmental mechanisms underlie animals' behavior? Why do individuals/populations/species differ in their behavior? What are the consequences of behavioral decisions?
My current research focuses on the spatial ecology of birds with the goal of investigating how birds inform habitat use decisions and predicting how climate, or land-use change will alter species' distributions.
Fontaine, J., C.F. Jorgensen, E. Stuber, Lutz F. Gruber, A. Bishop, J. Lusk, E. Zach, and K.L. Decker. 2017. Species distribution models in wildlife planning: agricultural policy and wildlife management in the Great Plains. Wildlife Society Bulletin – in press.
Stuber, E., Baumgartner, C., Dingemanse, N. J., Kempenaers, B., Mueller, J. C. 2016. Genetic Correlates of Individual Differences in Sleep Behavior of Free-Living Great Tits (Parus major). G3. 6; 599-607. Online
Zink, R. M., & E. F. Stuber. 2016. No relationship between brain size and risk of being shot in hunted birds: a response to Moller and Erritzoe. Biology Letters, in press
Stuber, E., Dingemanse, N.J., Kempenaers, B., Mueller, J.C. 2015. Sources of intraspecific variation in sleep behaviour of wild great tits. Animal Behaviour. 106:201 - 221. Online
Stuber, E., Mathot, K. J., Kempenaers, B., Dingemanse, N. J., Mueller, J. C. 2015. Sex-specific association between sleep and basal metabolic rate in great tits. Animal Behaviour. 109:15 - 22. Online
Currently this page only displays grants that were awarded on 1/1/2009 to the present. If a grant was awarded prior to 1/1/2009 and is still active, it will not be displayed on this page.
Grant Title
Wild Clocks Conference
Starting Date
10/16/2018
Ending Date
10/18/2018
Funding Level
$800.00
Funding Source
IANR - Travel Grant
Grant Title
Ecological Systems Mapping for Habitat Assessment and Species Management Conservation
Starting Date
7/31/2017
Ending Date
3/20/2020
Funding Level
$48,000.00
Funding Source
Nebraska Game and Park Commission