Devarati Bhattacharya
Update your profile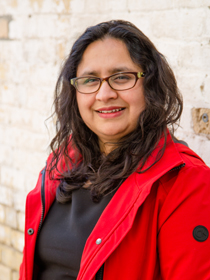 Contact Information
My Story
Publications & Presentations
Background
Interests
Grants
Advising
Courses Taught
Outreach
Title
K-16 STEM Education Postdoctoral Fellow
Address
518 Hardin Hall
3310 Holdrege Street
Lincoln NE
68583-0995
Phone
507-210-7131
FAX
402-472-2946
E-mail
devarati@unl.edu
Vitae
Download file
n/a
Liu, S., Roehrig, G.H., Bhattacharya, D., & Varma, K. (2015). In-Service teachers' attitudes, knowledge and classroom teaching of Global Climate Change. Science Educator, 24(1).
BS - Kurukshetra University, Kurukshetra, India, Biology (1998)
MS - Gurukul Kangri University , Haridwar, UA, India, Environmental Science (2000)
PhD - University of Minnesota, Curriculum and Instruction - Science Education (2016)
Currently this page only displays grants that were awarded on 1/1/2009 to the present. If a grant was awarded prior to 1/1/2009 and is still active, it will not be displayed on this page.
There no Grants found for this selection.