Update your profile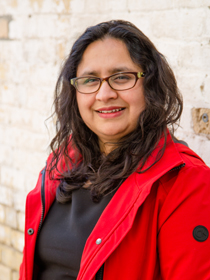 Contact Information
My Story
Publications & Presentations
Background
Interests
Grants
Advising
Courses Taught
Outreach
Title
K-16 STEM Education Postdoctoral Fellow
Address
518 South Hardin Hall
3310 Holdrege Street
Lincoln NE
68583-0995
Phone
507-210-7131
FAX
402-472-2946
E-mail
devarati@unl.edu
Vitae
Download file
n/a
Bhattacharya, D., Carroll-Steward, K., Sutter, M., Chandler, M., Forbes, C. (in press). Climate literacy: Insights from research on K-16 climate education. Green Schools Catalyst Quarterly.
Liu, S., Roehrig, G.H., Bhattacharya, D., & Varma, K. (2015). In-Service teachers' attitudes, knowledge and classroom teaching of Global Climate Change. Science Educator, 24(1). Online
Baumfalk, B., Bhattacharya, D., Vo, T., Forbes, C., Schwarz, C., Zangori, L. (in press). Impact of Model-Based Science Curriculum and Instruction on Elementary Students' Explanations for the Hydrosphere. Journal of Research in Science Teaching.
Cisterna, D., Ingram, E., Bhattacharya, D., Roy, R., Forbes, C. (in press). Decoding the corn field: Building students' ideas about plant inheritance and variation. Science and Children.
Forbes, C., Chandler, M. C., Bhattacharya, D., Vo, T., Griffin, J. (2018). Secondary students' model-based reasoning about Earth systems: Practice, epistemology, and conceptual understanding.. London:.
BS - Kurukshetra University, Kurukshetra, India, Biology (1998)
MS - Gurukul Kangri University , Haridwar, UA, India, Environmental Science (2000)
PhD - University of Minnesota, Curriculum and Instruction - Science Education (2016)
Currently this page only displays grants that were awarded on 1/1/2009 to the present. If a grant was awarded prior to 1/1/2009 and is still active, it will not be displayed on this page.
There no Grants found for this selection.