Update your profile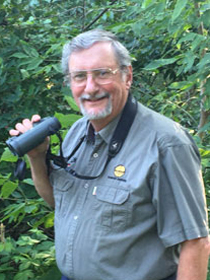 Contact Information
My Story
Publications & Presentations
Background
Interests
Grants
Advising
Courses Taught
Outreach
Title
Conservation Biologist / Animal Ecologist
Address
507 South Hardin Hall
3310 Holdrege Street
Lincoln NE
68583-0995
Phone
612-590-4215
FAX
402-472-2946
E-mail
rzink2@unl.edu
Vitae
Download file
I am an avian evolutionary biologist. My interests include species concepts and speciation, phylogeography, molecular evolution, biogeography, the evolution of Darwin's finches, the evolution of migration, and conservation genetics.
Barrowclough GF, Cracraft J, Klicka J, Zink RM (2016) How Many Kinds of Birds Are There and Why Does It Matter? PLoS ONE 11(11): e0166307. Online
Zink, R. M., & E. F. Stuber. 2016. No relationship between brain size and risk of being shot in hunted birds: a response to Moller and Erritzoe. Biology Letters, 13(5). Online
McKay, B. D. and R. M. Zink. 2015. Sisyphean evolution in Darwin's finches. Biological Reviews 90:689-698. Online
Hung, C.-M., Shaner, P. J. L., Zink, R. M., Liu, W. C., Chu, T. C., Huang, W. S., & Li, S. H. 2014. Drastic population fluctuations explain the rapid extinction of the passenger pigeon. Proceedings of the National Academy of Sciences 111:10636-10641. Online
Zink, R. M. 2014. Homage to Hutchinson, and the role of ecology in lineage divergence and speciation. J. Biogeography 41:999-1006. Online
Zink, R.M., Groth, J. G., Vázquez-Miranda, H., & Barrowclough, G.F. 2014. Phylogeography of the California gnatcatcher (Polioptila californica) using multilocus DNA sequences and ecological niche modeling: implications for conservation. Auk 130:449-458. Online
Hung, C.-M., S. V. Drovetski, & R. M. Zink. 2013. Multilocus coalescence analyses support a mtdna-based phylogeographic history for a widespread Palearctic passerine bird, Sitta europaea. Evolution 66-9: 2850-2864. Online
Arnold, T. W. & R. M. Zink. 2011. Structural collision mortality does not affect long-term avian population trends. PlosOne PLoS ONE 6(9): e24708. doi:10.1371/journal.pone.0024708 Online
Zink, R. M. 2011. The evolution of avian migration. Biol. J. Linnaean Society. 104:237-250. Online
McKay, B. D. and R. M. Zink. 2010. The causes of mitochondrial DNA gene tree paraphyly in birds. Molecular Phylogenetics and Evolution 54: 647-650. Online
Zink, R. M. & G. F. Barrowclough. 2008. Mitochondrial DNA under siege in avian phylogeography. Molecular Ecology 17:2107-2121. Online
Zink, R. M. 2004. The role of subspecies in obscuring biological diversity and misleading conservation policy. Proc. Roy. Soc. Lond. B. 271:561-564. Online
BS - University of Minnesota (1977)
PhD - University of California-Berkeley (1983)
species concepts and speciation
phylogeography
molecular evolution
biogeography
the evolution of Darwin's finches
the evolution of migration
conservation genetics
Currently this page only displays grants that were awarded on 1/1/2009 to the present. If a grant was awarded prior to 1/1/2009 and is still active, it will not be displayed on this page.
Grant Title
Nebraska Wildlife (Additional Funding)
Starting Date
9/23/2019
Ending Date
5/31/2020
Funding Level
$8,080.00
Funding Source
Nebraska Games and Parks Commission
Grant Title
Nebraska Wildlife (Additional Funding)
Starting Date
4/25/2018
Ending Date
5/31/2019
Funding Level
$14,495.00
Funding Source
Nebraska Games and Parks Commission
Grant Title
Nebraska Wildlife
Starting Date
9/1/2016
Ending Date
8/31/2018
Funding Level
$234,846.00
Funding Source
Nebraska Game and Parks Commission
Graduate Program(s)

Master of Science in Natural Resource Sciences


including specializations in

Doctor of Philosophy in Natural Resource Sciences


including specializations in
Courses Taught
Course Number
Course Title
Fall Even Years
Fall Odd Years
Spring Even Years
Spring Odd Years
Summer Session
Cross Listing
NRES 210
Applied Ornithology
X
X
None