Robert (Bob) Diffendal
Update your profile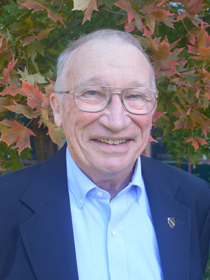 Contact Information
My Story
Publications & Presentations
Background
Interests
Grants
Advising
Courses Taught
Outreach
Title
Emeritus - Research Geologist
Address
605 Hardin Hall
3310 Holdrege Street
Lincoln NE
68583-0996
Phone
402-472-7546 & 402-472-5618
FAX
402-472-2946
E-mail
rdiffendal1@unl.edu
Vitae
Download file
E-Mail or Phone
Bob Diffendal is a geologist and professor emeritus in the School of Natural Resources.
While he formally retired in September of 2003, he remains quite active in the School and University, particularly in writing and public speaking about Earth science.
He sees many benefits to a career in geology: "This discipline gets you outside, looking at a major component of natural resources," he said. "If you stop and consider, almost everything in this building is constructed out of stuff that people dug out of the ground and transformed. In terms of our civilization, it's extremely important that people are trained to go out and find resources that all of us can use in our daily lives."
He added that it's also essential for practicing geologists to have a general understanding of other natural sciences, as well as a background in humanities and social science. They need to be able to write, to speak to groups of people and to understand what goes on in government agencies.
How it all began
Bob's interest in geology started early in life. When he was 10 years old, growing up in Hagerstown, MD, Bob and his friends used to pass the Porter Chemical Company, a maker of children's science sets, on their way to school. After school, they scavenged in the dump behind the factory for items discarded by the plant manager. One day Bob found a pile of mineral specimens and took them home. He bought a book on mineral identification and from then on he knew he wanted to be a geologist.
After high school, Bob attended Franklin and Marshall College in Lancaster, PA. It was around then that a stroke of what Bob calls "luck", a life-changing casual encounter, occurred. As a senior in college, walking through a field to show the chair of his department the site that he had mapped for his thesis project, the chair asked Bob about his plans after graduation. Bob said he planned to get a certificate and become a high school teacher. The professor said, "No, you don't want to do that. You want to go to graduate school." Bob wonders how his life would have turned out if that conversation hadn't happened.
Bob had read an article on paleontology by Al Fagerstrom at Nebraska, so he applied here. He received his M.S. degree at the University of Nebraska in 1964 and started work on his Ph.D. In 1966, he had a chance to teach geology at a college in Illinois, and took the job while continuing to work on his doctorate. While there, he met his wife Anne and they married in 1967.
The college in Illinois closed in 1970, and Bob took a job at Doane College in Crete, NE, completing his Ph.D. in December 1971. Bob was awarded tenure at Doane in 1974 and was science division chair and associate academic dean there in the late 1970s.
In 1975, Bob asked Ray Burchett if there was any summer work at the Conservation Survey Division (CSD), which is now part of the School of Natural Resources. Ray said he needed someone to prepare geologic maps. Bob assumed the mapping would be in southeast Nebraska where he had studied the stratigraphy and paleontology for his M.S. thesis work, but he didn't ask. After he accepted the job, Ray asked him to begin mapping in the Ogallala area, which was "not a spot I would have picked on my own," Bob said. "It's a whole different geology than the areas in southeast Nebraska that I was familiar with. I started out trained in invertebrate paleontology - animals without backbones. I went out and made maps of major parts of Nebraska that had nothing to do with little critters."
Bob kept working summers for CSD from 1975 to 1979, took a "soft money" job here from 1980 to 1981 while on leave from Doane, and then moved into a permanent CSD faculty position, earning tenure in 1986. Since coming to UNL, Bob has authored or co-authored more than 300 publications and other works.
During his active career, Bob's major research emphases were on geologic mapping of various parts of Nebraska, as well as other geological research resulting in publication of maps, articles and public educational materials. He has continued these emphases since retirement. He also continues to give talks on the geology of Nebraska and elsewhere, and to lead field trips to sites in Nebraska for people of all ages.
His specific research interests have to do with the geology of western and north-central Nebraska; Upper Paleozoic, Mesozoic and Cenozoic geology, mostly in Nebraska, and invertebrate fossils.
He has also done research on the geology of parts of China. He has had a long-standing interest in the culture, people and landscape of China and has made ten trips there over the last 35 years to teach, tour, and do research. One of the products of Bob's interest in China was creation of the Diffendal Foundation, endowing a scholarship fund for geosciences students at Sun Yat-Sen University in Guangzhou, China.
In addition to his scholarly work, Bob willingly assumed many key administrative roles over the years. He served as:
SNR coordinator on Hardin Hall, including coordinating input into and keeping people informed of progress on the School's new building
Executive Secretary of the North-Central Section of the Geological Society of America (GSA)
Associate editor and editorial board member of the Journal of Geosciences of China
a member of the GSA Annual Program Committee
Chair and organizer of the 1995 combined North-Central/South-Central Regional Meeting of GSA
President of the UNL Faculty Senate in 1988-89
Interim associate director of the Conservation Survey Division, 1990-91
First assistant director of the School of Natural Resources
Current work

In September of 2015 Bob completed and published two books about the creation of the mosaics of fossils on the floor of the rotunda of the Nebraska Capitol and about the fossils themselves. One is a coloring and activities book that provides a brief history of the project, the name, its pronunciation and some facts about each fossil animal and plant depicted, and some questions about each organism (Conservation and Survey Division, School of Natural Resources, Educational Circular EC-23).
The second is more of a history of the project (CSD Educational Circular EC-24). Professor Erwin Barbour made and sent colored drawings of many fossil plants and animals to the mosaic artist, Hildreth Meiere, who used many in her work in 1927. The book includes images of long lost Barbour colored drawings, inventory lists of images sent to Miss Meiere, pen-and-ink sketches of fossil plants and animals by Barbour, architects plans and renderings and a glossary with definitions and information about each fossil and technical term used in the text.
Bob's new book titled Great Plains Geology, which defines the Great Plains Physiographic Province, explains the general geologic development of the Great Plains and explains things about the geology, archaeology, and paleontology of 57 interesting sites from Alberta and Saskatchewan, Canada, to southern Texas, is in print by the University of Nebraska Press as part of a series of books about major Great Plains topics.
Bob's other current activities include continuing his talks for the UNL Chancellor's Speakers Bureau, preparing other manuscripts for publication, advising the public and answering their geologic questions, working as volunteer Curator of Invertebrate Paleontology at the University of Nebraska State Museum and travelling to places in the USA and to other countries with his wife, Anne.
Information on EC-23, EC-24, and Great Plains Geology is available through the School of Natural Resources at: (402) 472-3471 or by email at snrsales@unl.edu. Information on Great Plains Geology can be found on the University of Nebraska Press website.
Other current professional service activities include:
Curator of the Invertebrate Paleontology collections of the University of Nebraska State Museum
A member of the UNL Chancellor's Speaker's Bureau
Joeckel, R. M., Diffendal, R. F. Jr., 2004 (RS-1070). Geomorphic and Environmental Change Around a Large, Aging Reservoir: Lake C. W. McConaughy, Western Nebraska, USA. Environmental and Engineering Geoscience, 10: 69-90. Online
Diffendal, R.F., Jr., Diffendal, A. P., 2003. Lewis and Clark and the Geology of the Great Plains. Lincoln, NE: Conservation and Survey Division, UNL. pp. 126. Online
Diffendal, R.F., Jr., Diffendal, A.P., 2003. Lewis and Clark and the Geology of Nebraska and Parts of Adjacent States. Lincoln, NE: Conservation and Survey Division, UNL. pp. 32. Online
Diffendal, R. F. Jr., Mohlman, D. R., Corner, R. G., Harvey, F. E., Warren, K. J., Summerside, S., Pabian, R. K., Eversoll, D. A., 2002. Field Guide to the Geology of the Harlan County Lake Area, Harlan County, Nebraska, with a History of Events Leading to Construction of Harlan County Dam. Lincoln, NE: Conservation and Survey Division, UNL. pp. 61. Online
Huang, P-H, R.F. Diffendal, Jr. and M. Yang 2002. Structural and Geomorphic Evolution of Hangshan (Yellow Mountain), Anhui Province, China. TER-QUA Symposium Series. 3:109-124 . Online
Diffendal, R. F., Jr., 1999. Geology of Rock Creek Station State Historical Park. Lincoln, NE: Conservation and Survey Division, UNL. Pp. 16. Online
Peihua, H., Diffendal, R. F., Jr., Mingqin, Y., Helland, P. E., 1998 (RS-252). Mountain Evolution and Environmental Changes of Huangshan, China . Scientia Geographica Sinica 18:401-408.
Flowerday, C. A., Diffendal, R. F., Jr., editors, 1997. Geology of Niobrara State Park, Knox County, Nebraska, and Adjacent Areas, with a Brief History of the Park, Gavins Point Dam, and Lewis and Clark Lake. Lincoln, NE: Conservation and Survey Division, UNL. pp. 28.
2014 – John C. Frye Memorial Award awarded by Association of American State Geologists
Nebraska Geologic Mapping
Stratigraphy
Sedimentology
Geomorphology
Paleogeography and Paleontology
Geology of western/north-central Nebraska
Upper Paleozoic, Mesozoic and Cenozoic geology
Invertebrate fossils
Field guides
Geology of parts of China
Geology of the Great Plains
Currently this page only displays grants that were awarded on 1/1/2009 to the present. If a grant was awarded prior to 1/1/2009 and is still active, it will not be displayed on this page.
There no Grants found for this selection.
What I can speak about:
Slide Talks
Lewis and Clark and the Geology of the Great Plains/Nebraska and Adjacent States; Geologic Development of the Ogallala/High Plains Regional Aquifer Across The Great Plains; Floods, Fires, Earthquakes, Landslides and Other Natural Hazards in Nebraska and Elsewhere; Fossils from Nebraska's Ancient Seas
Hands-on Activities
Mineral and Rock Identification; Fossil Identification; Topographic and Geologic Map Reading; What is Sand?; Techniques for Collecting and Identifying Microscopic Fossils from Sediments and Sedimentary Rocks
When I am most available to speak:
Anytime
What target audiences I am most comfortable speaking to:
College
OLLI - lifelong learning for adults 50 years and older)
General Public
Families