Update your profile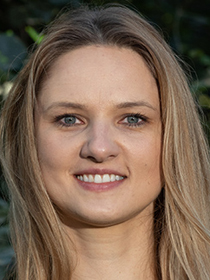 Contact Information
My Story
Publications & Presentations
Background
Interests
Grants
Advising
Courses Taught
Outreach
Title
Water Markets Analyst
Address
812 Hardin Hall
3310 Holdrege Street
Lincoln NE
68583-0988
Phone
402-472-6740
E-mail
rrimsaite@unl.edu
Vitae
Download file
Renata Rimsaite joined the University of Nebraska - Lincoln in July 2019 as a post-doctoral research associate with a specialization in natural resource and environmental economics and a focus on water markets analysis. Renata has a joint appointment between the National Drought Mitigation Center and the Daugherty Water for Food Global Institute where she analyzes the role of incentive-based water management tools, including water markets, as a potential response to the impacts of drought and climate change. Renata's dissertation research centered on the efficiency of the western U.S. water markets, including the assessment of welfare gains from transferring water rights between different sectors of the economy and the analysis of water managing institutions. Prior to joining UNL, she also analyzed forest ecosystem management policies and worked with stakeholders in different extension and outreach projects as a postdoctoral scholar at the Pennsylvania State University.
PhD - Penn State University, Agricultural, Environmental and Regional Economics (2017)
BS - Frostburg State Unviersity, Economics (2011)
BA - Mykolas Romeris University (Lithuania),, Law (2007)
Applied Climate and Spatial Science
Natural resource and environmental economics
Water resource management
Drought impact and mitigation
Ecosystem service management
Currently this page only displays grants that were awarded on 1/1/2009 to the present. If a grant was awarded prior to 1/1/2009 and is still active, it will not be displayed on this page.
There no Grants found for this selection.