Mark Burbach
Update your profile

Contact Information
My Story
Publications & Presentations
Background
Expertise & Interests
Grants
Advising
Courses Taught
Outreach
Title
Environmental Scientist
Address
512 Hardin Hall
3310 Holdrege Street
Lincoln NE
68583-0995
Phone
402-472-8210
FAX
402-472-2946
E-mail
mburbach1@unl.edu
Vitae
Download file
Hi, I'm Mark Burbach, and I'm an associate geoscientist with the School of Natural Resources. More specifically, my title is environmental scientist.
I direct the SNR human dimensions program. This program focuses on the study of how people influence the development, management and evaluation of our local and global environmental systems. We explore people's beliefs, values and attitudes and how these affect natural resource management and policy.
I also enjoy my other diverse responsibilities. I teach courses on leadership and management in government organizations with emphasis on natural resource agencies. I am currently exploring the development of a new course on the human dimensions of natural resource management.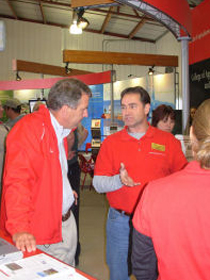 I conduct basic and applied research on human behavior and the environment. My research efforts have ranged from studying why farmers engage in conservation practices to exploring park visitor's connection to nature. I find studying why people do the things they do, particularly with regard to the natural environment, fascinating and exciting.
I also have nearly 25 years of experience leading groundwater quality and quantity investigations. I recently turned over the coordination of the SNR Statewide Groundwater Level Monitoring Program to Jesse Korus, but I still direct the overall program. In this role I have published many maps on groundwater level changes in Nebraska and given many presentations on the status of Nebraska's groundwater resources. I also manage the SNR Real-Time Groundwater Level Monitoring Program.
I have been at the University of Nebraska-Lincoln since 1989. In my scholarly service and extension roles, I have led leadership development workshops, presented research results at national conferences, and assisted Natural Resources Districts with their groundwater monitoring efforts.
Burbach, M.E., Matkin, G.S., Quinn, C.E., & Searle, T.P. (2012). The impact of preparing agriculture faculty to influence student critical thinking disposition. Journal of Agricultural Education, 53(2), 1-14.
Czap, N.V., Czap, H.J., Khachaturyan, M., Lynne, G.D., & Burbach, M.E. (2012). Walking in the shoes of others: Experimental testing of dual-interest and empathy in environmental choice. Journal of Socio-Economics, 41, 642-653.
Flores, K.L., Matkin, G.S., Burbach, M.E., Quinn, C.E., & Harding, H. (2012). Deficient critical thinking skills among college graduates: Implications for leadership. Educational Philosophy and Theory, 44, 212-230. DOI:10.1111/j.1469-5812.2010.00672.x
Brown, M.B., Burbach, M.E., Dinan, J., Held, R.J., Johnson, R.J., Jorgensen, J.G., Lackey, J., Marcus, J.F., Matkin, G.S., & Thody, C.M. (2011). Nebraska's Tern and Plover Conservation Partnership – A model for sustainable conservation of threatened and endangered species. Wader Study Group Bulletin, 118(1), 22-25.
Day, F.C., & Burbach, M.E. (2011). Telework considerations for public managers with strategies for increasing utilization. Communications of the IBIMA, 2011, 1-18. DOI: 10.5171/2011.880212.
Gambrell, K.M., Matkin, G.S., & Burbach, M.E. (2011). Cultivating leadership: The need for renovating models to higher epistemic cognition. Journal of Leadership and Organizational Studies, 18, 308-319.
Albano. J., Comfort, S.D., Zlotnik, V., Halihan, T., Burbach, M.E., Chokejaroenrat, C., Onanong, S., & Clayton, W. (2010). In situ chemical oxidation of RDX-contaminated ground water with permanganate at the Nebraska Ordnance Plant. Ground Water Monitoring & Remediation, 30(3), 96-106.
Burbach, M.E., Matkin, G.S., Gambrell, K.M., & Harding, H.E. (2010). The impact of preparing faculty in the effective use of student teams. College Student Journal, 44, 752-761.
Phipps, K.A., & Burbach, M.E. (2010). Strategic leadership in the nonprofit sector: Opportunities for research. Journal of Behavioral and Applied Management, 11, 137-154.
Quinn, C.E., & Burbach, M.E. (2010). A test of personal characteristics that influence farmer's pro-environmental behaviors. Great Plains Research, 20, 193-204.
Tang, Z., Burbach, M.E., & Wei, T. (2010). Bridging the gap between environmental planning education and practice. International Journal of Sustainable Development & Planning, 5, 430-442.
Korus, J.T., & Burbach, M.E. (2009). Analysis of aquifer depletion criteria with implications for groundwater management in Nebraska. Great Plains Research, 19, 187-200.
Quinn, C., Burbach, M.E. Matkin, G.S., & Flores, K. (2009). Critical thinking for natural resource, agricultural, and environmental ethics education. Journal of Natural Resources and Life Sciences Education, 38, 221–227.
Burbach, M.E. (2008). Emotional intelligence in professional and personal settings: An experiential learning exercise. Journal of the Academy of Business Education, 9, 98-110.
Chen, X., Burbach, M., & Cheng, C. (2008). Electrical and hydraulic vertical variability in channel sediments and its effects on streamflow depletion due to groundwater extraction. Journal of Hydrology, 352, 250-266.
Quinn, C.E., & Burbach, M.E. (2008). Personal characteristics preceding pro-environmental behaviors that improve surface water quality. Great Plains Research 18(1), 103-114.
Zlotnik, V.A., Burbach, M.E., Swinehart, J.B., Bennett, D., Fritz, S.C., Loope, D.B., & Olaguera, F. (2007). Direct push methods for aquifer characterization in dune-lake environments: The Nebraska Sand Hills. Environmental and Engineering Geosciences, 13, 205-216.
Barbuto, J.E., Jr., & Burbach, M.E. (2006). The emotional intelligence of transformational leaders: A field study. Journal of Social Psychology, 146, 51-64.
Burbach, M.E., & Joeckel, R.M. (2006). A delicate balance: Rainfall and groundwater in Nebraska during the 2000-2005 drought. Great Plains Research 16(1), 5-16.
Lunde, J. Povlacs, & Burbach, M.E. (2005). Responding with empathy. In Fritz, S.M., Povlacs Lunde, J., & Banset, E.A. (Eds.). Interpersonal Skills for Leadership (pp. 260-284). Upper Saddle River, NJ: Pearson Prentice Hall.
Burbach, M.E., Matkin, G.S., & Fritz, S.M. (2004). Teaching critical thinking in an introductory leadership course utilizing active learning strategies: A confirmatory study. College Student Journal, 38(3), 482-493.
Spalding, R.F., M.E. Exner, D.D. Snow, D.A. Cassida, M.E. Burbach, and S.J. Monson. (2003). Herbicides in Ground Water Beneath Nebraska's Management Systems Evaluation Area. Journal of Environmental Quality, 32, 92-99.
BS - University of Nebraska-Lincoln, Natural Resources (1985)
MS - University of Nebraska-Lincoln, Community & Regional Planning (1988)
PhD - University of Nebraska-Lincoln, Community & Human Resources (2004)
2014 – John C. Frye Memorial Award awarded by Association of American State Geologists
Direct Statewide Groundwater-Level Monitoring Program
Natural Resources Policy
Envrionmental Leadership Development,
Human Dimensions
Humans and the Environment
Water
Keyword
Expert Level

10 - Top Expert
1 - Mild Interest

10

8

6
Select a keyword and see other SNR faculty and staff with this interest or expertise.
Currently this page only displays grants that were awarded on 1/1/2009 to the present. If a grant was awarded prior to 1/1/2009 and is still active, it will not be displayed on this page.
Grant Title
CSD Participation as a Data Provider in the National Ground-Water Monitoring Network
Starting Date
8/15/2016
Ending Date
8/14/2017
Funding Level
$42,387.00
Funding Source
USGS
Grant Title
Nebraska Water Leaders Academy (Additional Funding)
Starting Date
1/1/2016

Principal Investigators
Mark Burbach
Co-PIs
Jones, Jessica
Matkin, Gina
Reimers-Hild, Connie

Ending Date
6/30/2017
Funding Level
$27,665.00
Funding Source
NE State Irrigation Association
Grant Title
International Symposium on Society and Resource Management (ISSRM)
Starting Date
6/22/2016
Ending Date
6/26/2016
Funding Level
$500.00
Funding Source
IANR Travel Funds
Grant Title
Nebraska Water Leaders Academy
Starting Date
4/1/2015

Principal Investigators
Mark Burbach
Co-PIs
Jessica Jones
Gina Matkin
Connie Reimers-Hild

Ending Date
3/31/2016
Funding Level
$27,165.00
Funding Source
Nebraska State Irrigation Association
Grant Title
Collaborative Conservation in the Great Plains: Opportunities and Barriers for Cross-Property Private-Lands Management
Starting Date
10/1/2014
Ending Date
9/30/2016
Funding Level
$9,996.00
Funding Source
University of Minnesota - SARE (USDA-NIFA)
Grant Title
Developing, Testing, Implementing, and Sharing a First-Year College Student Retention Instrument (additional funding)
Starting Date
7/1/2015
Ending Date
6/30/2016
Funding Level
$12,451.00
Funding Source
University of Nebraska-Lincoln - Kelly Funds
Grant Title
Water Leaders Academy (additional funding)
Starting Date
4/1/2012
Ending Date
3/31/2015
Funding Level
$21,302.00
Funding Source
Nebraska State Irrigation Association
Grant Title
2012 Assessment of Voluntary Public Access and Habitat Incentive Program
Starting Date
12/10/2012
Ending Date
6/30/2013
Funding Level
$9,547.00
Funding Source
Nebraska Game and Parks Commission
Grant Title
Water Leaders Academy
Starting Date
4/1/2012

Principal Investigators
Mark Burbach
Co-PIs
Connie Reimers-Hild
Phyllis Schoenholz

Ending Date
3/31/2013
Funding Level
$22,190.00
Funding Source
Nebraska State Irrigation Association
Grant Title
Hunter Study on OFW Effectiveness in Nebraska
Starting Date
8/10/2012
Ending Date
7/31/2015
Funding Level
$59,662.00
Funding Source
Nebraska Game and Parks Commission
Grant Title
Shallow Groundwater Nitrate Verification Study
Starting Date
4/1/2011
Ending Date
12/31/2012
Funding Level
$14,705.00
Funding Source
Nebraska Department of Environmental Quality
Graduate Program(s)

Master of Science in Natural Resource Sciences


including specializations in

Doctor of Philosophy in Natural Resource Sciences


including specializations in
Courses Taught
Course Number
Course Title
Fall Even Years
Fall Odd Years
Spring Even Years
Spring Odd Years
Summer Session
Cross Listing
GEOG 409
Human Dimensions of Natural Resources
X
X
GEOG/NRES 409
NRES 409
Human Dimensions of Natural Resources
X
X
GEOG/NRES 409
NRES 428
Leadership in Public Organizations
X
X
ALEC/NRES 428/828
NRES 828
Leadership in Public Organizations
X
X
ALEC/NRES 428/828
NRES 829
Human Dimensions of Natural Resource Management
X
X
n/a
NRES 891
Seminar in Natural Resources: Human Dimensions of Natural Resources
X
X
X
X
n/a
NRES 898
Special Topics: Academic Publishing
X
n/a