Tala Awada
Update your profile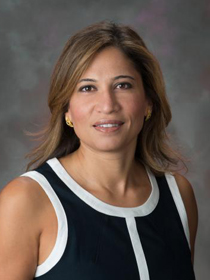 Contact Information
My Story
Publications & Presentations
Background
Expertise & Interests
Advising
Courses Taught
Outreach
Title
Associate Dean Agricultural Research Division and Associate Director Nebraska Agricultural Experiment Station
Address
807 Hardin Hall
3310 Holdrege Street
Lincoln NE
68583-0968
Phone
402-472-7088
FAX
402-472-2946
E-mail
tawada2@unl.edu
Vitae
Download file
Hi, I'm Tala Awada, professor of plant ecophysiology in the School of Natural Resources.
I teach in the areas of forest and grassland ecology and plant ecophysiology. I am particularly interested in studying the responses of plants and ecosystems to environmental stresses and climate change. Such studies are necessary to better understand and manage our ecosystems.
The main focus of my research has been on determining the ecological impacts of woody species expansion into semi-arid grasslands and riparian areas in Nebraska. I have been conducting several studies on the functional characteristics of dominant grasses, trees and shrubs in Nebraska and the Great Plains. A number of my graduate students have also been focusing on the development of broad-spectrum stress-tolerant plants. In addition to my work in Nebraska, I have been collaborating with several researchers in Greece to determine the impacts of climate change on Mediterranean pine forests.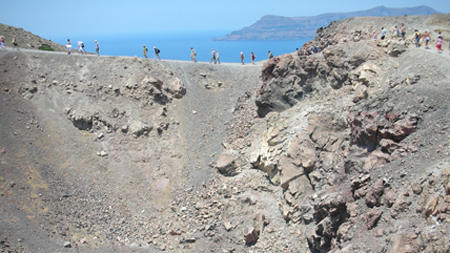 Bihmidine, S., Cao, M., Kang, M., Awada, T., Van Etten, J.L., Dunigan, D.D., and Clemente, T.E. (2014). Expression of Chlorovirus MT325 aquaglyceroporin (aqpv1) in tobacco and its role in mitigating drought stress. Planta. DOI:10.1007/s00425-014-2075-5.
Guangyong Li, John E. Froehlich, Christian Elowsky, Joseph Msanne, Andrew C. Ostosh, Chi Zhang, Tala Awada and James R. Alfano. (2014) Distinct Pseudomonas type III effectors utilize a cleavable transit peptide to target chloroplasts. The Plant Journal, 77:310-321. On-Line
Zhou, X., Schoeneberger, M.M., Brandle, J., Awada, T., Chu, J., Martin, D.L., Li, J., Li, Y., and Mize, C.W. (2014). Analyzing the uncertainties in use of forest-derived biomass equations for open-grown trees in agricultural land. Forest Science. DOI: http://dx.doi.org/10.5849/forsci.13-071.
Awada, T., El-Hage, R., Geha, M., Wedin, D.A., Huddle, J.A., Zhou, X., Msanne, J., Sudmeyer, R.A., Martin, D.L., and Brandle, J.R. (2013). Intra-annual variability and environmental controls over transpiration in a 58-year-old even-aged stand of invasive woody Juniperus virginiana L. in the Nebraska Sandhills, USA. Ecohydrology. 6: 731-740.
Bihmidine, S., Lin, J., Stone, J.M., Awada, T., Specht, J.E., Clemente, T.E. (2013). Activity of the Arabidopsis RD29A and RD29B promoter elements in soybean. Planta. 237(1):55-64.
Li, Y., Brandle, J., Awada, T., Chen, Y., Hana, J., Zhang, F., Luo. Y. (2013). Accumulation of carbon and nitrogen in the plant–soil system after afforestation of active sand dunes in China's Horqin Sandy Land. Agriculture, Ecosystems & Environment. 177: 75–84.
Chen Y., Li, Y., Awada, T., Han J., and Luo Y. (2012). Carbon sequestration in the total and light fraction soil organic matter along chronosequence in grazing exclosures in a semiarid degraded sandy site in China. Journal of Arid Land, 4:411-419
Chen, Y., Li, Y., Zhao, X., Awada, T., Shang, W., and Han, J. (2012) Effects of Grazing Exclusion on Soil Properties and on Ecosystem Carbon and Nitrogen Storage in a Sandy Rangeland of Inner Mongolia, Northern China. Environmental Management. 50(4):622-632.
Christos Bazakos, Maria E. Manioudaki, Ioannis Therios, Demetrios Voyiatzis,Dimitris Kafetzopoulos, Tala Awada, Panagiotis Kalaitzis. (2012). Comparative Transcriptome Analysis of Two Olive Cultivars in Response to NaCl-Stress. PLoS ONE. 7(8): e42931. On-Line
Li, Y.Q., Awada, T., Shang, W., Chen, Y.P., Zhou, X.H., Zuo, X.A., Wang ,S.K., Liu, X.P., and Feng, J. (2012). Mongolian pine plantations enhance soil physico-chemical properties and carbon and nitrogen capacities in semi-arid degraded sandy land in China. Applied Soil Ecology. 45: 1-9.
Msanne, J., Xu, D., Konda, A.R., Casas-Mollano, J.A., Awada, T., Cahoon, E.B., and Cerutti, H. (2012). Metabolic and gene expression changes triggered by nitrogen deprivation in photoautotrophically grown microalgae Chlamydomonas reinhardtii and Coccomyxa sp. C-169. Phytochemistry. 75:50-59. On-Line
Msanne, J., Jiusheng, L., Stone, J., and Awada, T. (2011). Characterization of abiotic stress-responsive Arabidopsis thaliana RD29A and RD29B genes and evaluation of transgenes. Planta. 234:97-107. On-Line
Zhou, X.H., Brandle, J.R., Awada, T., Schoeneberger, M.M., Martin, D.L., and Tang, Z.H. (2011). The use of forest-derived specific gravity for the conversion of volume to biomass for open-grown trees on agricultural land. Biomass and Bioenergy. 35: 1 7 21 - 17 3 1.
Bihmidine, S., Bryan, N.M., Payne, K.R., Parde, M.R., Okalebo, J.A., Cooperstein, S.E., and Awada, T. (2010) Photosynthetic performance of invasive Pinus ponderosa and Juniperus virginiana seedlings under gradual soil water depletion. Plant Biology. 12: 668 - 675.
Eggemeyer, K.D., Awada, T., Harvey, F.E., Wedin, D., Zanner, R. and Zhou, X. (2009). Seasonal Changes in depth of water uptake for encroaching trees Juniperus virginiana and Pinus ponderosa and two dominant C4 grasses in a semi-arid grassland. Tree Physiology. 29:157-169.
Zhou, X.H., Brandle, J.R., Schoeneberger, M.M. and Awada, T. (2007) Developing above-ground biomass equations for open-grown multiple-stemmed tree species: Shelterbelt grown Russian-olive. Ecological Modelling 202: 311-323.
Eggemeyer, K.D., Awada, T., Wedin, D., Harvey, F.E. and Zhou, X. 2006. Physiology of two native invasive woody species and two dominant warm-season grasses in the semiarid grasslands of the Nebraska Sandhills. International Journal of Plant Sciences 167: 991-999.
Samartzidis, C., Awada, T., Maloupa, E., Radouglou, K. and Constantinidou, H. (2005). Rose productivity and physiological responses to different substrates for soil-less culture. Scienta Horticulturae 106: 203-212.
Awada, T., Henebry, G.M., Redmann, R.E. and Sulistiyowati, H. (2004). Picea glauca dynamics and spatial pattern of seedlings regeneration along a chronosequence in the mixedwood section of the boreal forest. Annals of Forest Science 61:789-794.
Awada, T., Dunigan, D.D. and Dickman, M.B. (2003). Animal anti-apoptotic genes ameliorate the loss of turgor in water-stressed transgenic tobacco. Canadian Journal of Plant Science 83:499-506.
Awada, T., Radoglou, K., Fotelli, M. and Constantinidou, H. (2003). Ecophysiology of seedlings of three Mediterranean pine species in contrasting light regimes. Tree Physiology 23: 33-42.
Awada, T., Moser, L.E., Schacht, W.H. and Reece, P.E. (2002). Stomatal variability of native warmseason grasses from the Nebraska Sandhills. Canadian Journal of Plant Science 82: 349-355.
Awada, T. and Redmann, R.E. (2000). Acclimation to light in planted and naturally-regenerated populations of white spruce seedlings. Botany. 78: 1495-1504.
BS - Lebanese University in Beirut, Lebanon, Agricultural Engineering (1992)
MS - Mediterranean Agronomic Institute of Chania, Greece, Environmental and Renewable Resources (1995)
PhD - University of Saskatchewan, Physiological Plant Ecology (2000)
Grasslands and forest ecology, Plant ecophysiology, Leaf gas exchange, Water relations in plants, Plants and microclimate
Keyword
Expert Level

10 - Top Expert
1 - Mild Interest

10

9

9

9

9

8

8

8

7

7

6

6

6

6

6

6

6

5

3
Select a keyword and see other SNR faculty and staff with this interest or expertise.
Undergraduate Majors
Bachelor of Science in

Grassland Ecology & Management

Graduate Program(s)

Master of Science in Natural Resource Sciences


including specializations in

Applied Ecology
Bio-Atmospheric Interactions

Doctor of Philosophy in Natural Resource Sciences


including specializations in

Applied Ecology
Bio-Atmospheric Interactions
Courses Taught
Course Number
Course Title
Fall Even Years
Fall Odd Years
Spring Even Years
Spring Odd Years
Summer Session
Cross Listing
NRES 310
Introduction to Forest Management
X
X
n/a
NRES 399
Independent Research
X
X
X
X
n/a
NRES 406
Plant Ecophysiology: Theory and Practice
X
AGRO/HORT/WATS 406/806
NRES 496
Independent Study
X
X
X
X
NRES 896
NRES 806
Plant Ecophysiology: Theory and Practice
X
AGRO/HORT/WATS 406/806