Tala Awada
Update your profile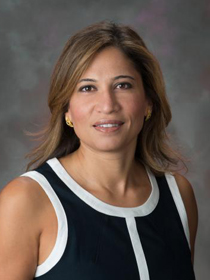 Contact Information
My Story
Publications & Presentations
Background
Interests
Grants
Advising
Courses Taught
Outreach
Title
Associate Dean Agricultural Research Division and Associate Director Nebraska Agricultural Experiment Station
Address
807 Hardin Hall
3310 Holdrege Street
Lincoln NE
68583-0968
Phone
402-472-7088
FAX
402-472-2946
E-mail
tawada2@unl.edu
Vitae
Download file
Hi, I'm Tala Awada, professor of plant ecophysiology in the School of Natural Resources.
I teach in the areas of forest and grassland ecology and plant ecophysiology. I am particularly interested in studying the responses of plants and ecosystems to environmental stresses and climate change. Such studies are necessary to better understand and manage our ecosystems.
The main focus of my research has been on determining the ecological impacts of woody species expansion into semi-arid grasslands and riparian areas in Nebraska. I have been conducting several studies on the functional characteristics of dominant grasses, trees and shrubs in Nebraska and the Great Plains. A number of my graduate students have also been focusing on the development of broad-spectrum stress-tolerant plants. In addition to my work in Nebraska, I have been collaborating with several researchers in Greece to determine the impacts of climate change on Mediterranean pine forests.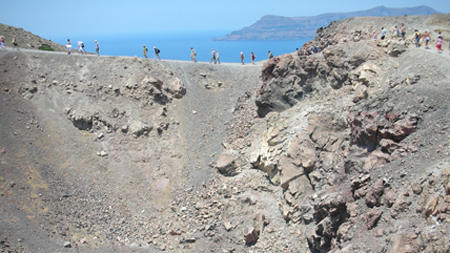 S. D. Choudhury, S. Goswami, S. Bashyam, A. Samal, T. Awada. (2017). Automated Stem Angle Determination for Temporal Plant Phenotyping Analysis. ICCV, Computer Vision Challenges in Plant Phenotyping, Venice, Italy.
Hay, W.T., Bihmidine, S., Mutlu, N., Awada, T., Weeks, D.P., Clemente, T.E., and Long, S.P. (2017). Enhancing soybean photosynthetic CO2 assimilation using a cyanobacterial membrane protein, ictB. Journal of Plant Physiology. 212:55-68. Online
Konstantinos Giannakas, Murray Fulton & Tala Awada. (2017). Hiring leaders: Inference and disagreement about the best person for the job. Palgrave Communications 3, Article number: 17. https://www.nature.com/articles/s41599-017-0019-y doi:10.1057/s41599-017-0019-y. Online
Msanne, J., Awada, T. N., Schacht, W., Drijber, R., Okalebo, J., Wedin, D. A., Brandle, J. R. 2017. Ecophysiological control of native invasive woody Juniperus virginiana to resource availability and stand characteristics in the semi-arid grasslands of the Nebraska Sandhills. Photosynthetica, 55: 219-230. Online
Quinn JE, Awada T, Trindade F, Fulginiti L, and Perrin R. (2017). Combining habitat loss and agricultural intensification improves our understanding of drivers of change in avian abundance in a North American cropland anthrome. Ecology and Evolution. 7: 803–814. doi:10.1002/ece3.2670. Online
Mykleby, P., Lenters, J., Cutrell, G., Herrman, K., Istanbulluoglu, E., Scott, D., Twine, T., Kucharic, C., Awada, T. N., Soylu, M., Dong, B. 2016. Energy and water response of a vegetated wetland to herbicide treatment of invasive Phragmites australis. Journal of Hydrology. 539:290-303. Online
Nguy-Robertson, A., Brinley-Buckley, E., Suyker, A., Awada, T. N. 2016. Determining factors that impact the calibration of consumer-grade digital cameras used for vegetation analysis. International Journal of Remote Sensing, 37(14):3365-3383. Online
Li, Y., Zhao, X., Zhang, F., Awada, T., Wang, S., Zhao, H., Zhang, T., and Li, Y. (2015). Accumulation of soil organic carbon during natural restoration of desertified grassland in China's Horqin Sandy Land. Journal of Arid Land. 7:328-340. Online
Mykleby, P.M., Awada, T., Lenters, J., Bihmidine, S., Yarina, A. and Young, S. (2015). Ecophysiological responses of invasive and native phragmites australis to temperature and nitrogen fertilization. Great Plains Research. 25:63-74.
Zhou, X., Schoeneberger, M.M., Brandle, J., Awada, T., Chu, J., Martin, D.L., Li, J., Li, Y., and Mize, C.W. (2015). Analyzing the uncertainties in use of forest-derived biomass equations for open-grown trees in agricultural land. Forest Science. 61:144-161. Online
Bihmidine, S., Cao, M., Kang, M., Awada, T., Van Etten, J.L., Dunigan, D.D., and Clemente, T.E. (2014). Expression of Chlorovirus MT325 aquaglyceroporin (aqpv1) in tobacco and its role in mitigating drought stress. Planta. 240:209-221.
Guangyong Li, John E. Froehlich, Christian Elowsky, Joseph Msanne, Andrew C. Ostosh, Chi Zhang, Tala Awada and James R. Alfano. (2014) Distinct Pseudomonas type III effectors utilize a cleavable transit peptide to target chloroplasts. The Plant Journal, 77:310-321. Online
Awada, T., El-Hage, R., Geha, M., Wedin, D.A., Huddle, J.A., Zhou, X., Msanne, J., Sudmeyer, R.A., Martin, D.L., and Brandle, J.R. (2013). Intra-annual variability and environmental controls over transpiration in a 58-year-old even-aged stand of invasive woody Juniperus virginiana L. in the Nebraska Sandhills, USA. Ecohydrology. 6: 731-740. Online
Bihmidine, S., Lin, J., Stone, J.M., Awada, T., Specht, J.E., Clemente, T.E. (2013). Activity of the Arabidopsis RD29A and RD29B promoter elements in soybean. Planta. 237(1):55-64.
Li, Y., Brandle, J., Awada, T., Chen, Y., Hana, J., Zhang, F., Luo. Y. (2013). Accumulation of carbon and nitrogen in the plant-soil system after afforestation of active sand dunes in China's Horqin Sandy Land. Agriculture, Ecosystems & Environment. 177: 75-84. Online
Chen Y., Li, Y., Awada, T., Han J., and Luo Y. (2012). Carbon sequestration in the total and light fraction soil organic matter along chronosequence in grazing exclosures in a semiarid degraded sandy site in China. Journal of Arid Land, 4:411-419 Online
Chen, Y., Li, Y., Zhao, X., Awada, T., Shang, W., and Han, J. (2012) Effects of Grazing Exclusion on Soil Properties and on Ecosystem Carbon and Nitrogen Storage in a Sandy Rangeland of Inner Mongolia, Northern China. Environmental Management. 50(4):622-632.
Christos Bazakos, Maria E. Manioudaki, Ioannis Therios, Demetrios Voyiatzis,Dimitris Kafetzopoulos, Tala Awada, Panagiotis Kalaitzis. (2012). Comparative Transcriptome Analysis of Two Olive Cultivars in Response to NaCl-Stress. PLoS ONE. 7(8): e42931. Online
Li, Y.Q., Awada, T., Shang, W., Chen, Y.P., Zhou, X.H., Zuo, X.A., Wang ,S.K., Liu, X.P., and Feng, J. (2012). Mongolian pine plantations enhance soil physico-chemical properties and carbon and nitrogen capacities in semi-arid degraded sandy land in China. Applied Soil Ecology. 45: 1-9. Online
Msanne, J., Xu, D., Konda, A.R., Casas-Mollano, J.A., Awada, T., Cahoon, E.B., and Cerutti, H. (2012). Metabolic and gene expression changes triggered by nitrogen deprivation in photoautotrophically grown microalgae Chlamydomonas reinhardtii and Coccomyxa sp. C-169. Phytochemistry. 75:50-59. Online
Bazakos, C., Manioudaki, M., Therios, I., Voyiatzis, D., Kafetzopoulos, D., Sarropoulou, E., Awada, T., and Kalaitzis, P. (2011). Gene expression analysis of olive tree (Olea europaea L.) in response to salt stress. Acta Horticulturae, 924:47-54.
Msanne, J., Jiusheng, L., Stone, J., and Awada, T. (2011). Characterization of abiotic stress-responsive Arabidopsis thaliana RD29A and RD29B genes and evaluation of transgenes. Planta. 234:97-107.
Zhou, X.H., Brandle, J.R., Awada, T., Schoeneberger, M.M., Martin, D.L., and Tang, Z.H. (2011). The use of forest-derived specific gravity for the conversion of volume to biomass for open-grown trees on agricultural land. Biomass and Bioenergy. 35: 1721-1731. Online
Bihmidine, S., Bryan, N.M., Payne, K.R., Parde, M.R., Okalebo, J.A., Cooperstein, S.E., and Awada, T. 2010. Photosynthetic performance of invasive Pinus ponderosa and Juniperus virginiana seedlings under gradual soil water depletion. Plant Biology. 12: 668 - 675. Online
Eggemeyer, K.D., Awada, T., Harvey, F.E., Wedin, D., Zanner, R. and Zhou, X. 2009. Seasonal Changes in depth of water uptake for encroaching trees Juniperus virginiana and Pinus ponderosa and two dominant C4 grasses in a semi-arid grassland. Tree Physiology. 29:157-169. Online
BS - Lebanese University in Beirut, Lebanon, Agricultural Engineering (1992)
MS - Mediterranean Agronomic Institute of Chania, Greece, Environmental and Renewable Resources (1995)
PhD - University of Saskatchewan, Physiological Plant Ecology (2000)
Applied Climate and Spatial Science
Grasslands and forest ecology
Plant ecophysiology
Leaf gas exchange
Water relations in plants
Plants and microclimate
Ecology
Agroecosystems
Riparian Ecosystems
Ecophysiology
Resilence
Biodiversity
Invasive Species
Population Dynamics
Urban Forestry
Wetland Ecosystems
Currently this page only displays grants that were awarded on 1/1/2009 to the present. If a grant was awarded prior to 1/1/2009 and is still active, it will not be displayed on this page.
Grant Title
3-D image-based Plant Phenotyping
Starting Date
10/1/2017
Ending Date
9/30/2018
Funding Level
$5,000.00
Funding Source
Iowa State University
Grant Title
Great Plains Agroecosystems Carbon Flux (Additional Funding)
Starting Date
9/25/2017
Ending Date
8/31/2020
Funding Level
$40,000.00
Funding Source
Nebraska Department of Natural Resources
Grant Title
Great Plains Agroecosystems Carbon Flux
Starting Date
9/1/2016
Ending Date
8/31/2020
Funding Level
$40,000.00
Funding Source
USDA - ARS
Grant Title
Investment in Photosynthetic Infra-red Gas Analyzers (LI-6800) to Support Interdisciplinary Teams
Starting Date
4/20/2016

Principal Investigators
Tala Awada
Co-PIs
Clemente, Thomas
Schnabi, James
Cahoon, Edgar
James Schnabl

Ending Date
7/31/2016
Funding Level
$110,700.00
Funding Source
ARD Strategic Funds
Grant Title
Carbon Flux from Great Plains Agroecosystems Associated with the ARS LTAR Network (Additional Funding)
Starting Date
2/19/2016
Ending Date
8/31/2020
Funding Level
$100,000.00
Funding Source
USDA-ARS
Grant Title
Carbon Flux from Great Plains Agroecosystems Associated with the ARS LTAR Network
Starting Date
9/1/2015
Ending Date
8/31/2020
Funding Level
$80,000.00
Funding Source
U. S. Department of Agriculture - Agricultural Research Service
Grant Title
University of Nebraska-Lincoln / Nebraska Department of Environmental Quality Water Quality Liaison (additional funding)
Starting Date
8/31/2014

Principal Investigators
Charles Hibberd
Co-PIs
Tala Awada
Susan Williams

Ending Date
9/30/2017
Funding Level
$20,771.00
Funding Source
Nebraska Department of Environmental Quality
Grant Title
Addressing Soil Property Issues
Starting Date
4/1/2014
Ending Date
9/30/2015
Funding Level
$86,034.00
Funding Source
Nebraska Department of Roads
Grant Title
NDEQ Liaison for Coordination of Water Quality Education Programming in Nebraska (additional funding)
Starting Date
11/1/2012

Principal Investigators
Charles Hibberd
Co-PIs
Tala Awada
Susan Williams

Ending Date
9/30/2017
Funding Level
$187,560.00
Funding Source
Nebraska Department of Environmental Quality
Grant Title
Role of Forbs and Shrubs in Semi-arid Grasslands of Nebraska Sandhills
Starting Date
5/1/2009
Ending Date
4/30/2010
Funding Level
$30,000.00
Funding Source
University of Nebraska-Lincoln Foundation
Undergraduate Majors
Bachelor of Science in

Grassland Ecology & Management

Graduate Program(s)

Master of Science in Natural Resource Sciences


including specializations in

Bio-Atmospheric Interactions

Doctor of Philosophy in Natural Resource Sciences


including specializations in

Bio-Atmospheric Interactions
Courses Taught
Course Number
Course Title
Fall Even Years
Fall Odd Years
Spring Even Years
Spring Odd Years
Summer Session
Cross Listing
NRES 406
Plant Ecophysiology: Theory and Practice
X
AGRO/HORT/WATS 406/806
NRES 492
Study Tours in Natural Resource Management: Greece - Sustainability, Environment & Society
n/a
NRES 496
Independent Study
X
X
X
X
NRES 896
NRES 806
Plant Ecophysiology: Theory and Practice
X
AGRO/HORT/WATS 406/806