Rick Perk
Update your profile

Contact Information
My Story
Publications & Presentations
Background
Interests
Grants
Advising
Courses Taught
Outreach
Title
Remote Sensing/GIS Specialist
Address
312 Hardin Hall
3310 Holdrege Street
Lincoln NE
68583-0973
FAX
402-472-2946
E-mail
rperk1@unl.edu
Hi, I'm Rick Perk, an assistant geoscientist with the Center for Advanced Land Management Information Technologies (CALMIT) in the School of Natural Resources.
My primary assignment is coordination of all activities associated with research missions flown by CALMIT's Hyperspectral Aerial Monitoring Program (CHAMP). Currently those responsibilities are focused on projects requiring data collected with an AISA hyperspectral imager. My research interests focus on the application of hyperspectral imagery to a wide range of wetland, aquatic and terrestrial targets.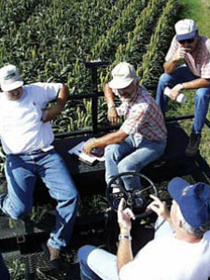 In addition to the development of the CHAMP aircraft and associated instrumentation, I am closely involved in the development of our field research platforms. The first of which, Goliath, has facilitated a marked improvement in the quality and quantity of the proximal remote sensing data collected. The newest platform, Hercules, is completed.
Past assignments at CALMIT had an outreach focus. I participated in two NASA funded projects, the Consortium for the Application of Space Data to Education (CASDE) and the America's Farm Project. CASDE was a collaborative effort among CALMIT, the Jet Propulsion Laboratory of Pasadena, California, and the Office of Internet Studies at the University of Nebraska at Omaha. Collaborators on the America's Farm project were CALMIT and the Office of Internet Studies at UNO.
The core objective of these projects was to challenge K-12 students to acquire and use technology, scientific and mathematic skills. The CASDE Project concentrated on the classroom application of NASA-provided satellite and aerial imagery. America's Farm focused on the agricultural applications of remote sensing. Many of the products produced during the course of these two projects have become popular activities in K-12 classrooms nationwide.
I've been at UNL since 1995, and I'm currently finishing a master's degree in geography.
Maeder, J., S. Narumalani, J. Schalles, D. Rundquist, R. Perk, K. Hutchins, and J. Keck 2002. Classification and mapping of general coral-reef distribution using IKONOS data. Photogrammetric Engineering and Remote Sensing. 68(12):1297-1305 . Online
BS - University of South Dakato, Science Education (1971)
Applied Climate and Spatial Science
Airborne and proximal remote sensing
Currently this page only displays grants that were awarded on 1/1/2009 to the present. If a grant was awarded prior to 1/1/2009 and is still active, it will not be displayed on this page.
Grant Title
PhenoCam Project (additional funding)
Starting Date
9/1/2015
Ending Date
1/31/2017
Funding Level
$1,000.00
Funding Source
U. S. Department of the Interior - AmericaView
Grant Title
Monitoring Phenology in the North Central Region of the United States (additional funding)
Starting Date
2/15/2015
Ending Date
8/31/2015
Funding Level
$4,850.00
Funding Source
US Department of Interior - AmericaView