Dave Gosselin
Update your profile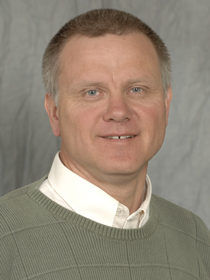 Contact Information
My Story
Publications & Presentations
Background
Interests
Grants
Advising
Courses Taught
Outreach
Title
Environmental Studies, Director
Address
150a Hardin Hall
3310 Holdrege Street
Lincoln NE
68583-0941
Phone
402-472-8919
FAX
402-472-3610
E-mail
dgosselin2@unl.edu
Vitae
Download file
E-mail
Hi, I'm Dave Gosselin, a professor of Earth science in the School of Natural Resources. I am also the sirector of UNL's environmental studies program, which currently serves more than 100 undergraduate students. Over the past 15 years, developing educational programs in the area of Earth systems science has become my passion. My work in Earth systems science education started by providing professional development opportunities for K-12 educators as the director of the Nebraska Earth Systems Education Network (NESEN). The NESEN theme is to create a community among Earth science educators and scientists. For more information on NESEN, please see our homepage at http://nesen.unl.edu. My work with K-12 educators has involved traditional classroom teaching, summer workshops, and most recently the delivery of online, distance-delivered courses, as part of the Laboratory Earth professional development series. In 1999, I received the Catalyst Award from the Nebraska Association of Teachers of Science, a group that works closely with NESEN.
The common theme among my research activities throughout my career has been geochemistry, water-rock interaction and fluid migration. Most recently, my work has emphasized understanding the occurrence of arsenic and uranium in public water supplies and trying to develop a more economic approach to dealing with this water quality issue. I have also worked to understand the relationship between groundwater and surface water. In this context, I have been involved in physical hydrogeologic investigations, groundwater-lake modeling, and the use of remote sensing to study variability in lake behavior over large geographic areas.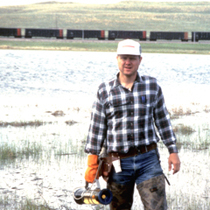 Since getting my Ph.D., my research has evolved from working in high-temperature environments to low-temperature surface and groundwater systems. My low temperature work has involved the application of major ions, rare earth elements, radiogenic isotopes, natural uranium, thorium radionuclides, and the stable isotopes of oxygen and hydrogen, to assess the history of groundwater movement through geologic materials.
My doctoral research emphasized the Archean rocks in the Black Hills of South Dakota, and focused more specifically on elemental behavior and fluid migration at mid-crustal levels. My interest in remote sensing evolved out of my work on planetary materials, and colleagues using remotely sensed planetary data sets.
Gosselin, D., Vincent, S., Boone, C., Danielson, A., Parnell, R., Pennington, D. 2016. Introduction to the special issue: Negotiating Boundaries: Effective Leadership of Interdisciplinary Environmental and Sustainability Programs. Journal Environmental Sciences and Studies. 6: 268. Online
Harvey, F.E., Ayers, J.F. and Gosselin, D.C. 2008. Ground Water Dependence of Endangered Ecosystems: An Example from Nebraska's Saline Wetlands, Journal of Ground Water. 45(6):736-752. Online
Gosselin, D.C., L.M. Klawer, R. M. Joeckel, F.E. Harvey, A.R. Reade, and K. McVey. 2006. Arsenic in Rural Public Water Supplies, Nebraska, U.S.A., Great Plains Research. 16:137-148. Online
Gosselin, D.C., V. Srihdar, F.E. Harvey and J.W. Goeke. 2006. Hydrological effects and groundwater fluctuations in interdunal environments in the Nebraska Sand Hills. Great Plains Research, 16:17-28. Online
Anumalla, S, Ramamurthy, B., Gosselin, D., and Burbach, M. 2005. Groundwater monitoring using smart sensors. Proceedings of the IEEE EIT Conference, May 22-25, 2005, Lincoln, NE. Online
Bonnstetter R.J. and D.C. Gosselin. 2004. Present Status on Earth Science Education in the USA. Proceedings of the Joint Conference (SITH2003) of The 38th Conference of Société Internationale des Techniques Hydrothermales and The 56th Annual Meeting of the Balneological Society of Japan, August, Okayama, Japan.
Gosselin, D.C., F.E. Harvey, C.D. Frost, R. Stotler, and A. Macfarlane. 2004. Strontium isotope geochemistry of ground water in the central part of the Great Plains (Dakota) aquifer. Applied Geochemistry. 19:359–377. Online
Gosselin, D.C., R.H. Levy, and R.J. Bonnstetter. 2003. Using Earth science research to develop collaboration between scientists at a research university and K-12 educators: Insights for future efforts. Journal of Geoscience Education. 51:113-120.
Gosselin, D.C. and J.L. Macklem-Hurst. 2002. Pre/Post Knowledge Assessment of an Earth Science Course for Elementary/Middle School Education Majors. Journal of Geoscience Education. 50:169-176.
Mesarch, Mark A., Steve J. Meyer and David C. Gosselin (2000, September) A flexible K-12 weather data collection and education program. Electronic Journal of Science Education [Online serial] 5(1). Online
Gosselin, D.C., S. Drda, F. E. Harvey, and J. Goeke. 1999. Hydrologic Dynamics of Two Interdunal Valleys in the Central Sand Hills Nebraska. Ground Water. 37:924-933. Online
Ayers, J. F., Chen, X-H., Gosselin, D. C., 1998 (RS-245). Behavior of Nitrate-Nitrogen Movement Around a Pumping High-Capacity Well, A Field Example. Ground Water 36:325-337. Online
Chen, X-H., Ayers, J. F. Gosselin, D. C., 1998 (RS-280). Analysis of Nitrate-Nitrogen Movement Near High-Capacity Irrigation Wells. Ground Water Monitoring and Remediation 18:148-156.
BS - College of St. Thomas, Geology (1982)
PhD - South Dakota School of Mines and Technology, Geology (1987)
2016 – Spirit of Service Award awarded by Center for Civic Engagement
9/3/2014 – Omtvedt Innovation Award for Teaching awarded by UNL-IANR
Professional Organizations
Association for Environmental Studies and Sciences

AESS seeks to strengthen teaching, research and service in environmental studies and sciences, and to improve communication across boundaries that too often divide the traditional academic disciplines.
Member of Board of Directors 2016
Groundwater Chemistry
Environmental Isotopes
Groundwater and Surface
Water Relationships
Sand Hills Hydrology
Science Education
Dakota aquifer/stratigrphy/geochemistry
Isotope hydrology for environmental tracking
Nebraska Earth Systems Education Network
Water quality
Wetlands
Currently this page only displays grants that were awarded on 1/1/2009 to the present. If a grant was awarded prior to 1/1/2009 and is still active, it will not be displayed on this page.
Grant Title
STEP Center: InTeGrate: Interdisciplinary Teaching of Geoscience for a Sustainable Future (additional funding)
Starting Date
12/1/2016
Ending Date
11/30/2017
Funding Level
$11,260.00
Funding Source
Carleton College
Grant Title
STEP Center: InTeGrate: Interdisciplinary Teaching of Geoscience for a Sustainable Future (additional funding)
Starting Date
12/1/2013
Ending Date
11/30/2015
Funding Level
$28,892.00
Funding Source
Carleton College
Grant Title
STEP Center: InTeGrate: Interdisciplinary Teaching of Geoscience for a Sustainable Future (additional funding)
Starting Date
12/1/2013
Ending Date
11/30/2016
Funding Level
$28,292.00
Funding Source
Carleton College
Grant Title
InTeGrated: Teaching Geosciences (additional funding)
Starting Date
12/1/2012
Ending Date
11/30/2013
Funding Level
$27,708.00
Funding Source
Carleton College
Grant Title
InTeGrate: Teaching Geoscience
Starting Date
12/1/2011
Ending Date
11/30/2012
Funding Level
$27,141.00
Funding Source
Carleton College
Grant Title
Connecting Youth to Science
Starting Date
8/1/2011
Ending Date
8/30/2011
Funding Level
$8,073.00
Funding Source
National Council for Science and the Environment
Grant Title
Global Climate Change Education
Starting Date
1/1/2011
Ending Date
12/31/2013
Funding Level
$349,973.00
Funding Source
National Aeronautics and Space Administration
Grant Title
Enhanced NASA Resources for Educators: Supporting Professional Development
Starting Date
9/1/2010
Ending Date
3/31/2011
Funding Level
$9,800.00
Funding Source
University of Nebraska-Omaha/National Aeronautics and Space Administration
Grant Title
Connecting Youth to Science through Experiences in Nature
Starting Date
8/1/2010
Ending Date
12/31/2011
Funding Level
$5,086.00
Funding Source
National Council for Science and the Environment
Grant Title
Earth Systems Literacy for Educators: Support for an Assistant Professor of Practice
Starting Date
8/1/2009
Ending Date
5/31/2010
Funding Level
$7,500.00
Funding Source
University of Nebraska-Omaha/National Aeronautics and Space Administration
Grant Title
Earth Systems Literacy for Educators: Professional Development
Starting Date
1/1/2009
Ending Date
12/31/2009
Funding Level
$7,500.00
Funding Source
University of Nebraska-Omaha/National Aeronautics and Space Administration
Grant Title
Earth Systems Literacy for Educators: Professional Development FY10
Starting Date
2/1/2009
Ending Date
3/1/2010
Funding Level
$7,500.00
Funding Source
University of Nebraska-Omaha/National Aeronautics and Space Administration
Grant Title
Global Climate Change Literacy for Educators: Using On-line Professional Development to Integrate Content and Pedagogy (additional funding)
Starting Date
7/1/2009
Ending Date
6/30/2011
Funding Level
$29,305.00
Funding Source
National Aeronautics and Space Administration
Grant Title
Global Climate Change Literacy for Educators: Using On-line Professional Development to Integrate Content and Pedagogy
Starting Date
7/1/2009
Ending Date
6/30/2011
Funding Level
$146,688.00
Funding Source
National Aeronautics and Space Administration
Graduate Program(s)

Master of Science in Natural Resource Sciences

Doctor of Philosophy in Natural Resource Sciences
Courses Taught
Course Number
Course Title
Fall Even Years
Fall Odd Years
Spring Even Years
Spring Odd Years
Summer Session
Cross Listing
ENVR 101
Environmental Studies Orientation
X
X
X
X
n/a
ENVR 201
Science, Systems, Environment, & Sustainability
X
X
n/a
ENVR 289
Environmental Studies: Sophomore Orientation
X
none
ENVR 319
Environmental Engagement and the Community
X
None
ENVR 489
Environmental Studies Seminar
none
ENVR 491
Environmental Studies Seminar
n/a
ENVR 495
Internship in Environmental Studies
X
X
X
X
n/a
ENVR 496
Independent Study
X
X
X
X
n/a
ENVR 497
Intern Environmental Study
X
none
ENVR 498
Independent Study
X
X
none
ENVR 499A
Environmental Studies Senior Thesis I
X
X
X
X
none
ENVR 499B
Environmental Studies Senior Thesis II
X
X
X
X
n/a
ENVR 499H
Honors: Environmental Studies Senior Thesis I and II
X
X
X
X
n/a
NRES 108
Earth's Natural Resource Systems Laboratory
X
X
n/a
NRES 108
Earth's Natural Resource Systems Laboratory
X
X
n/a
NRES 422
Laboratory Earth: Earth's Changing Systems
NRES 422/822
NRES 814
Laboratory Earth: Earth Natural Resource Systems
n/a
NRES 822
Laboratory Earth: Earth's Changing Systems
NRES 422/822