Cody Knutson
Update your profile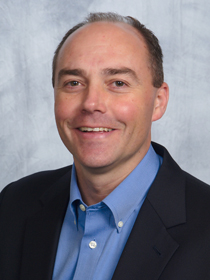 Contact Information
My Story
Publications & Presentations
Background
Expertise & Interests
Advising
Courses Taught
Outreach
Title
Water Resources Scientist
Address
821 Hardin Hall
3310 Holdrege Street
Lincoln NE
68583-0988
Phone
402-472-6718
FAX
402-472-2946
E-mail
cknutson1@unl.edu
Vitae
Download file
Hi, I'm Cody Knutson, a water resources scientist for the National Drought Mitigation Center (NDMC) and a research associate professor in the School of Natural Resources. I also serve as a faculty member with the geography program, specializing in environmental geography.
My main interests are focused on the interactions between humans and the environment. In particular, my current work is focused on helping people understand how they are vulnerable to water scarcity, drought, and climate change; and collaborating with stakeholders to develop tools and plans to reduce their risk. My main goal is to help people enhance water resources management through research, education and collaboration.
This work is carried out at the individual, community, tribe, state, national and international scale through a broad range of projects. For example, I'm currently involved in several studies to assess the climate and water information needs of farmers, ranchers, and natural resource managers in the Great Plains and Midwest. This information is being used to develop new tools and planning guides to help stakeholders better adapt and respond to climate variability. Similarly, I'm involved with the Heartland Regional Water Coordination Initiative to examine public involvement and the role of citizens in solving water problems.
I've also assisted communities, tribes and states to develop drought plans. Currently, I'm working with several pilot communities in Nebraska, Illinois and Oklahoma to develop drought plans, and a national "Drought Ready" community certification program, as well as assisting the State of Colorado in updating their plan.
I also spend a good deal of my time working on international projects. I've worked with several United Nations (i.e. FAO, ISDR, UNDP, UNESCO, UNICEF) and other organizations to research the effects of water scarcity, drought, and climate change on environmental systems and livelihoods; identify risk reduction practices; develop drought policy and planning guidance documents; and facilitate international training sessions. Most recently, I conducted a review of UNDP's Community Water Initiative - an international community action program to promote sustainable water management, and collaborated with UNICEF/UNESCO and FAO to host drought management trainings for officials from Iraq and the Middle East/Central Asia, respectively.
Outreach is an important component of my work. Therefore, I give many presentations throughout the year, help organize and present educational workshops, and write materials for our website. I also advise graduate students in the School of Natural Resources and geography program who are conducting water management and drought-related research, and teach periodically on topics related to the human dimensions of natural resources management and environmental geography.
I've worked intermittently as a staff member at the NDMC since 1997 and was promoted to a faculty position in December 2004. I received bachelor's and master's degrees in geological engineering from the South Dakota School of Mines of Technology, specializing in water resources. At UNL, I also received a master's degree in anthropology and a doctorate in geography. I believe the combination of physical and social science perspectives provides a necessary base for understanding the interactions between people, and the water resources upon which they depend.
Carlton,J.S., A.S. Mase, C.L. Knutson, M.C.Lemos, T.Haigh, D.P.Haigh, L.S.Prokopy. 2016 The effects of extreme drought on climate change beliefs, risk perceptions, and adaptation attitudes. Clim Change 135(2): 211-226. doi:10.1007/s10584-015-1561-5 On-Line
Knutson, C. and B.Fuchs. 2016. New Tools for Assessing Drought Conditions for Rangeland Management. Rangelands 38(4):177-182 On-Line
Knutson, C.L. and D.A. Wilhite (in press), New Developments and Opportunities for Drought Risk Reduction in Asia, In Global Change and Sustainable Development: Asia-Pacific Perspectives, ed. P.K. Low, Cambridge University Press: Cambridge, England
Ryu, J.H., M.D. Svoboda, J.D. Lenters, T. Tadesse, and C.L. Knutson (2010) Finding Potential Extents for ENSO-Driven Hydrologic Drought Forecasts in the United States, Climatic Change, 101(3-4): 575-597
UNDP (2010) The Community Water Initiative: Fostering Water Security and Climate Change Mitigation and Adaptation, (C.L. Knutson, Lead Author), United Nations Development Program, GEF Small Grants Program, New York, NY, 34+ pp.
UNISDR/NDMC (2009) Drought Risk Reduction Practices: Contributing to the Implementation of the Hyogo Framework for Action – Second Edition, (C.L. Knutson, Collaborating Author), United Nations secretariat for the International Strategy for Disaster Reduction (UN/ISDR): Geneva, Switzerland, 194+vi pp.
FOA/NDMC (2008) The Near East Drought Planning Manual: Guidelines for Drought Mitigation and Preparedness Planning, C. L. Knutson (Lead Author), Food and Agriculture Organization of the United Nations Near East Regional Office and the National Drought Mitigation Center, USA. FAO: Rome, Italy, 52+iv pp.
Knutson, C.L., (2008) Adaptation to Water Stress in the Great Plains. Water Resources IMPACT, Vol. 10(4), pp18-21
Knutson, C.L., (2008) Feature: The role of water conservation in drought planning. Journal of Soil and Water Conservation, 63(5)
Knutson, C.L., S. Jones, M.E. Sittler, M. Higgins, M.D. Svoboda, D.R. Kluck, and D.A. Wilhite (2008) Development of a Low Flow Early Warning System for the NOAA National Weather Service, USA, Stream Ecology and Low Flows, Special Issue of the International Journal of Ecological Economics and Statistics, Vol. 12(F08), pp.44-57
T. Tadesse, M. Haile, G. Senay, B. D. Wardlow, and C. L. Knutson (2008) The need for integration of drought monitoring tools for proactive food security management in sub-Saharan Africa, Natural Resources Forum, 32:4, pp. 303-316
Knutson, C.L., M.J. Hayes, and M.D. Svoboda (2007) Case Study of Tribal Drought Planning: The Hualapai Tribe. Natural Hazards Review, Vol. 8(4), pp. 125-131
Wilhite, D.A., M.J. Hayes, and C.L. Knutson (2005) Drought Preparedness Planning: Building Institutional Capacity. D.A. Wilhite (ed.), Drought and Water Crises: Science, Technology, and Management Issues. CRC Press: Boca Raton, FL
BS - South Dakota School of Mines of Technology, Geological Engineering (1993)
MS - South Dakota School of Mines of Technology, Geological Engineering (Water Resources) (1996)
MA - University of Nebraska-Lincoln, Applied/Ecological Anthropology (1997)
PhD - University of Nebraska-Lincoln, Environmental Geography (2004)
Applied Climate and Spatial Science
Environmental geography; water scarcity, drought, and climate change; environmental perceptions and collaborative planning; stakeholder engagement and capacity building; international development
Keyword
Expert Level

10 - Top Expert
1 - Mild Interest

10

10

7

7

7

7
Select a keyword and see other SNR faculty and staff with this interest or expertise.
Graduate Program(s)

Master of Arts in Geography

Master of Science in Natural Resource Sciences


including specializations in

Doctor of Philosophy in Geography

Doctor of Philosophy in Natural Resource Sciences


including specializations in