Duane Eversoll
Update your profile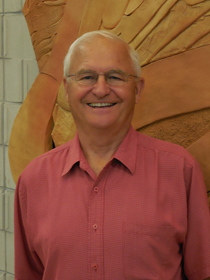 Contact Information
My Story
Publications & Presentations
Background
Interests
Grants
Advising
Courses Taught
Outreach
Title
Emeritus Research Geologist
Address
610 Hardin Hall
3310 Holdrege Street
Lincoln NE
68583-0996
FAX
402-472-2946
E-mail
deversoll2@unl.edu
Hi, Im Duane Eversoll, and I am a retired research geologist and professor emeritus in the School of Natural Resources Survey Unit. My work in geology has multiple applications. In Nebraska, I provide expertise to citizens and companies in locating private water wells and encourage designs that meet legal requirements that protect groundwater aquifers.
My current research involves evaluating landslides in Nebraska. Work in this area culminates in reports and maps depicting landslide-prone areas throughout Nebraska. I work with the Nebraska Department of Roads and Counties that are affected by roadway landslides on or near their right-of-ways. I also advise and educate rural and urban residents about landslide-prone areas that may impact their homes or businesses. Mitigation to either avoid or prevent natural hazards such as landslides is provided to all clientele.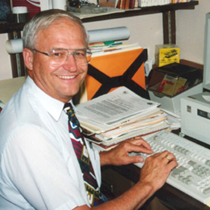 In addition to these projects, I provide geological education throughout the state. For example, I have led geological seminars and field trips for numerous organizations and groups. Among other benefits, they provide continuing education credits required by the Nebraska Department of Human Health Services and the Nebraska Water Well Contractors Licensing Board and the Nebraska On Site Waste Water Association, which disseminates information to the general public and their members.
I'm currently working on a "Nebraska Landslides" publication, which should be available in 2010. Another project involves reports and maps for five southwestern Nebraska counties, an area I mapped with the U.S. Geological Survey resulting in the "Geological Bedrock Maps of the McCook 1:250,00 Quadrangle."
I am involved with the National Association of State Boards of Geology (ASBOG). I served on their board from 2000-2005, as President in 2004 and as Chair of the Strategic Planning Committee, 2008-present. I also am treasurer of the ASBOG Foundation. I am a Fellow in the Geological Society Of America (GSA) and represent ASBOG in GSA's Associates Group.I also am a member of the Association of Engineering Geologists (AEG) and the Nebraska Geological Society.
Diffendal, R. F. Jr., Mohlman, D. R., Corner, R. G., Harvey, F. E., Warren, K. J., Summerside, S., Pabian, R. K., Eversoll, D. A., 2002. Field Guide to the Geology of the Harlan County Lake Area, Harlan County, Nebraska, with a History of Events Leading to Construction of Harlan County Dam. Lincoln, NE: Conservation and Survey Division, UNL. pp. 61. Online
Gosnold, W. D., Jr., Eversoll, D. A. 1982. Geothermal Resources of Nebraska. University of Nebraska.
Engineering geology
Environmental geology
Geothermal resources
Landslides
Mineral resources/identification
landslide inventory
mineral resources
geological hazards
remote sensing and GIS of landslides
Cenozoic geology and groundwater of southwestern Nebraska
geologic field trips
Currently this page only displays grants that were awarded on 1/1/2009 to the present. If a grant was awarded prior to 1/1/2009 and is still active, it will not be displayed on this page.
There no Grants found for this selection.