R.M. (Matt) Joeckel
Update your profile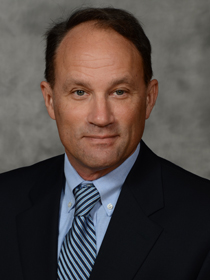 Contact Information
My Story
Publications & Presentations
Background
Expertise & Interests
Grants
Advising
Courses Taught
Outreach
Title
State Geologist and Associate Director for Conservation and Survey
Address
615 Hardin Hall
3310 Holdrege Street
Lincoln NE
68583-0996
Phone
402-472-7520
FAX
402-472-2946
E-mail
rjoeckel3@unl.edu
Vitae
Download file
I am Matt Joeckel, research geologist, state geologist and associate director for the Conservation and Survey Division in the School of Natural Resources. I began working at UNL in 2000.
The majority of my university appointment is in the Conservation and Survey Division (CSD), Nebraska's geological, geographic, water and soil survey. I am pleased to hold a joint appointment in the Department of Earth & Atmospheric Sciences, where I teach (or have taught) GEOL 100 Introduction to Geology, GEOL 101 Physical Geology, GEOL 110 Geological Natural Hazards, and GEOL 450/850 Surficial Processes. In 2010, I became a Fellow of the Geological Society of America. In 2011, I was selected to serve as Curator of Geology in the University of Nebraska State Museum.
My main areas of expertise are sedimentology, the study of sediments and their environments of deposition; and stratigraphy, the study of rock and sediment layers; environmental geology (including groundwater); mineral resources; terrestrial paleoecology and paleoclimatology; and geomorphology. I am also interested in soil formation processes and soil-landscape-parent material relationships.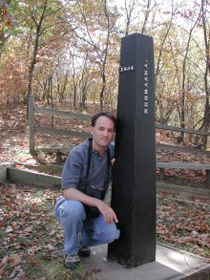 In mapping and analyzing surficial geology, I promote an understanding of how Nebraska's current landscape originated and how people interact with that landscape and the geologic materials underneath it. My research on bedrock helps determine where mineral (e.g., clay and limestone) and groundwater resources can be found, and also illuminates the origins of those resources.
Much of my stratigraphic research has focused on Paleozoic and Mesozoic rocks. Recent projects include studies of Pennsylvanian cyclothems in Midcontinent USA; geochemistry, mineralogy, and sequence stratigraphy of the Dakota Formation, a secondary aquifer in north-central and eastern Nebraska; stable-isotope chemostratigraphy and lithostratigraphy of the Cedar Mountain Formation (Cretaceous) in Utah, which yields important dinosaur fossils; and the examination ancient soils and land surfaces from the perspectives of stratigraphy and climate change.
I began research projects on Neogene strata in western Nebraska, particularly the Ash Hollow Member of the Ogallala Group, which is a major part of the High Plains Aquifer. With others, I am reconstructing the depositional history and paleoclimatic implications of stream and lake sediments in those strata. I cooperate with personnel from the Kansas Geological Survey, Iowa Geological Survey Bureau, the Utah Geological Survey, and others on projects that deal with region-wide stratigraphic problems, and the calibration of worldwide geologic events and time scales.
In the areas of geomorphology and environmental geology, I have also researched acid rock drainage and the neoformation of minerals in acid weathering environments. I and my co-authors have found several minerals hitherto undescribed from the state, and in some cases, the entire Great Plains region. I am involved in collaborative research on the origin and behavior of eolian dust, eolian erosion and its impact on landforms, loess stratigraphy, and loess pseudokarst. I have examined the historical evolution of channels and patterns of sedimentation in the eastern Platte River. I also have examined soil formation on modern landscapes, including the evolution of saline and alkaline wetlands.
I am currently a participant in the Eastern Nebraska Water Resources Assessment (ENWRA), which has the long-term goal of an improved understanding of groundwater and groundwater-surface water interactions in eastern Nebraska. I have yearly geologic mapping projects funded through the U.S. Geological Survey's (USGS) STATEMAP geologic mapping program. I also compile a yearly inventory of mineral resource operations in Nebraska for USGS, as well as provide service to the mineral industry of Nebraska. This form of applied scholarship can range from helping producers locate economic quantities of minerals and environmentally sound ways of extracting them to helping them settle disagreements regarding the nature, quality and application of mineral products. My recent efforts have assisted the development of niobium, rare-earth, and limestone deposits in southeastern Nebraska. I also field questions from the public regarding groundwater, rocks, minerals, soils, earthquakes and geologic hazards.
Joeckel, R.M., Wally, K.D., Ang Clement, B. J., Hanson, P.R., Dillon, J.S., and Wilson, S.K., 2011, Low-temperature acidic weathering of sulfidic shales and neoformation of aluminum-bearing minerals, Eastern Nebraska, USA, Catena, v. 85, p. 253-266.
Ludvigson, G.A., Joeckel, R.M., Gonzalez, L.A., Gulbranson, E.L., Rasbury, E.T., Hunt, G.J., Kirkland, J.I., and Madsen, S., 2010, Correlation of Aptian-Albian Carbon Isotope Excursions in Continental Strata of the Cretaceous Foreland Basin of eastern Utah. Journal of Sedimentary Research, v. 80, p. 955-974.
Ludvigson, G.A., Witzke, B.J., Joeckel, R.M., Ravn, R.L., Phillips, P.L., Gonzalez, L.A., Brenner, R.L., 2010. New insights on the sequence stratigraphic architecture of the Dakota Formation in Kansas-Nebraska-Iowa from a decade of sponsored research activity. Kansas Geological Survey Current Research in Earth Sciences, Bulletin 25, part 2. p. 1-35. On-Line
Joeckel, R.M., 2008, Enigmatic structures in an Upper Pennsylvanian (Stephanian/Kasimovian) marine limestone. Palaios, v. 23, p. 833-847.
Joeckel, R.M., and Henebry, G.M., 2008, Channel and Island Change in the Lower Platte River, Eastern Nebraska, USA: 1855-2005. Geomorphology, v. 102, p. 407-418
Joeckel, R.M., Loope, H.M., Wally, K.D., and Hellerich, J.E., 2007, Late Cenozoic geomorphology of a bedrock-dominated landscape adjacent to the laurentide glacial limit, Southeastern Nebraska, USA. Zeitschrift fur Geomorphologie, v. 51, p. 469-486.
Joeckel, R.M., Nicklen, B.L., and Carlson, M.P., 2007, Low-accommodation, eustasy-dominated, coarse-clastic sediment apron alongside a basement uplift, Pennsylvanian of Midcontinent North America. Sedimentary Geology, v. 197, p. 165-187.
Joeckel, R.M., Wally, K.D., Fischbein, S.A., and Hanson, P.R., 2007, Sulfate mineral paragenesis in Pennsylvanian rocks and the occurrence of slavikite in Nebraska. Great Plains Research, v. 17, p. 17-34.
Mason, J.A., Joeckel, R.M., and Bettis, E.A., 2007, Middle to Late Pleistocene loess record in eastern Nebraska, USA, and implications for the unique record of Oxygen Isotope Stage 2. Quaternary Science Reviews, v. 26, p. 773-792.
Phillips, P.L., Ludvigson, G.A., Joeckel, R.M., Gonzalez, L.A., Brenner, R.L., and Witzke, B.J., 2007, Sequence stratigraphic controls on synsedimentary cementation and preservation of dinosaur tracks: Examples from the lower Cretaceous (upper Albian) Dakota Formation, Southeastern Nebraska, U.S.A. Palaeogeography, Palaeoclimatology, Palaeoecology, v. 246, p. 367-389.
Gosselin, D.C., Klawer, L.M., Joeckel, R.M., Harvey, F.E., and Warren,K. J., 2006, Arsenic in rural public water supplies, Nebraska, USA. Great Plains Research, v. 16, p. 137-148.
Greene, R.S.B., Joeckel, R.M., and Mason, J.A., 2006, Dry-saline lakebeds as potential source areas of aeolian dust: studies from the central Great Plains of USA and SE Australia. Regolith 2006: Consolidation and Dispersion of Ideas. Proceedings of the CRC LEME Regolith Symposium, November 2006, Hahndorf Resort, South Australia.
Grocke, D.R., Ludvigson, G.A., Witzke, B.L. Robinson, S.A., Joeckel, R.M., Ufnar, D. F., Ravn, R.L., 2006, Recognizing the Albian-Cenomanian (OAE1d) sequence boundary using plant carbon isotopes: Dakota Formation, Western Interior Basin, USA. Geology, v. 34, p. 193-196.
BS - University of Nebraska-Lincoln, Geology (1985)
MS - University of Nebraska-Lincoln, Geology (1988)
PhD - University of Iowa, Geology (1993)
2014 – John C. Frye Memorial Award awarded by Association of American State Geologists
Regional sedimentology and stratigraphy (particularly Paleozoic and Mesozoic)
Environmental geology, Mineral resources and identification
Clays and clay minerals
Weathering processes and products
Pedology (soil genesis) and paleopedology (ancient soils)
Geologic mapping
Vertebrate paleontology
Geomorphology and landscape evolution
Mineral resources,
Sedimentary petrology
Extension and outreach
Science education
Land use/land cover
Paleoenvironments
Rocks and Stones
Geographic Information Systems/GIS
Tectonics
Fossils
Mapping, Cartography
Petroleum Resources
Keyword
Expert Level

10 - Top Expert
1 - Mild Interest

10

9

9

8

8

8

7

6

6

6

6

6
Select a keyword and see other SNR faculty and staff with this interest or expertise.
Currently this page only displays grants that were awarded on 1/1/2009 to the present. If a grant was awarded prior to 1/1/2009 and is still active, it will not be displayed on this page.
Grant Title
Geologic Mapping Missouri NRR
Starting Date
9/15/2016
Ending Date
12/31/2017
Funding Level
$98,549.00
Funding Source
National Parks Service
Grant Title
Nebraska State Map 16-17 (Additional Funding)
Starting Date
9/15/2016
Ending Date
9/14/2017
Funding Level
$44,140.00
Funding Source
USGS
Grant Title
CSD Participation as a Data Provider in the National Ground-Water Monitoring Network
Starting Date
8/15/2016
Ending Date
8/14/2017
Funding Level
$42,387.00
Funding Source
USGS
Grant Title
Nebraska Statemap FY 2015
Starting Date
9/15/2015
Ending Date
9/14/2016
Funding Level
$86,366.00
Funding Source
U. S. Geological Survey
Grant Title
Nebraska FY2014 Statemap Project
Starting Date
9/15/2014
Ending Date
9/14/2015
Funding Level
$65,623.00
Funding Source
US Department of the Interior - Geological Survey
Grant Title
Lower Big Blue Well Monitoring Installation Supervision
Starting Date
11/1/2014
Ending Date
11/1/2015
Funding Level
$3,300.00
Funding Source
Lower Big Blue NRD
Grant Title
Nebraska FY 2014 Statemap Project
Starting Date
9/15/2014
Ending Date
9/14/2015
Funding Level
$65,623.00
Funding Source
US Department of the Interior - Geological Survey
Grant Title
Water Leaders Academy (additional funding)
Starting Date
4/1/2012
Ending Date
3/31/2015
Funding Level
$21,302.00
Funding Source
Nebraska State Irrigation Association
Grant Title
2013-2014 Statemap
Starting Date
9/15/2013
Ending Date
9/14/2014
Funding Level
$72,636.00
Funding Source
US Department of the Interior
Grant Title
Nebraska State Map 11-12 (Additional Funding)
Starting Date
7/1/2011
Ending Date
6/30/2012
Funding Level
$71,017.00
Funding Source
US Department of Agriculture
Grant Title
The Effect of a Transition from Prairie to Forest Ecosystems
Starting Date
10/1/2010
Ending Date
9/30/2011
Funding Level
$20,000.00
Funding Source
US Department of Agriculture - Natural Resources Conservation Service
Grant Title
Nebraska State Map 2010-11 (additional funding)
Starting Date
5/15/2010
Ending Date
5/14/2011
Funding Level
$75,854.00
Funding Source
US Department of the Interior - Geological Survey
Grant Title
Mc-Stennis FY 09
Starting Date
1/1/2009
Ending Date
9/30/2009
Funding Level
$6,904.00
Funding Source
McIntire-Stennis
Grant Title
Global Gateway Facility Association 2010
Starting Date
1/1/2010
Ending Date
12/17/2010
Funding Level
$5,800.00
Funding Source
University of Nebraska-Lincoln Foundation
Grant Title
Eastern Nebraska HEM Aquifier Mapping
Starting Date
7/15/2009
Ending Date
7/1/2010
Funding Level
$60,000.00
Funding Source
Lower Platte South NRD
Grant Title
Eastern Nebraska Water Resources Assessment Study, Ashland, Firth, and Oakland Bulletins
Starting Date
7/1/2009
Ending Date
7/1/2011
Funding Level
$84,500.00
Funding Source
Lower Platte North NRD
Grant Title
Nebraska State Map 2009-10
Starting Date
5/1/2009
Ending Date
4/30/2010
Funding Level
$82,156.00
Funding Source
US Department of the Interior - Geological Survey
Grant Title
Eastern Nebraska Water Resources Assessment
Starting Date
8/1/2008
Ending Date
7/1/2010
Funding Level
$17,080.00
Funding Source
Lower Platte North NRD
Graduate Program(s)

Master of Science in Natural Resource Sciences

Doctor of Philosophy in Natural Resource Sciences