Steve Sibray
Update your profile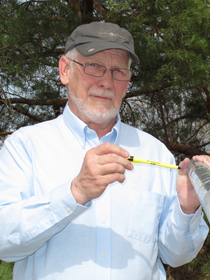 Contact Information
My Story
Publications & Presentations
Background
Interests
Grants
Advising
Courses Taught
Outreach
Hello, I'm Steven Sibray, and I'm an associate geoscientist and hydrogeologist (groundwater geologist) at the University of Nebraska Panhandle Research and Extension Center in Scottsbluff.
My recent research projects have focused on the study of groundwater, particularly in the Panhandle aquifers. For example, of late I have collaborated with the U.S. Geological Survey and the North Platte Natural Resources District, to study the chemistry and age of groundwater in the Pumpkin Creek valley.
Having reliable, efficient groundwater monitoring systems is critical for effective research and conservation plans. My experience with groundwater systems has allowed me to help several natural resource districts establish important groundwater-monitoring networks, which will assist conservationists, land users and researchers.
My role in these projects has been to acquire geophysical data and interpret the subsurfgeology. This is valuable because it helps researchers, policy makers and water industry people better understand the groundwater geology of a given area.
I often share my knowledge of Nebraska's groundwater with the public, so they can better understand the distribution and quality of the state's underground water supply.
I began working at UNL in 1989 as an assistant research hydrogeologist.
Steele, G., J. Cannia, and S. Sibray 2002. Ground-water quality and age in Pumpkin Creek Valley, western Nebraska. Geological Society of America. 34(6):97 . Online
Harvey, F. E., Sibrary, S. S., 2001 (RS-293). Delineating Ground Water Recharge from Leaking Irrigation Canals Using Water Chemistry and Isotopes. Ground Water 39(3):14. Online
BS - University of Calirfornia - Davis, Geology
MS - University of New Mexico, Geology
Groundwater geology
Drinking water
Hydrogeology
Irrigation
Water development
Currently this page only displays grants that were awarded on 1/1/2009 to the present. If a grant was awarded prior to 1/1/2009 and is still active, it will not be displayed on this page.
Grant Title
Hydrogeologic Framework Studies of Portions of the Niobrara River
Starting Date
11/18/2016
Ending Date
6/30/2017
Funding Level
$22,000.00
Funding Source
Nebraska Department of Natural Resources