Jerry Ayers
Update your profile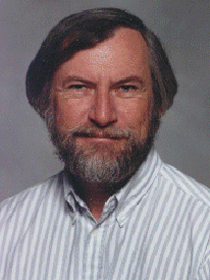 Contact Information
My Story
Publications & Presentations
Background
Interests
Grants
Advising
Courses Taught
Outreach
Title
Emeritus Research Hydrogeologist
Address
101 Hardin Hall
3310 Holdrege Street
Lincoln NE
68583-0961
Phone
402-472-3471
FAX
402-472-2946
E-mail
jayers1@unl.edu
Hi, I'm Jerry Ayers, I'm a hydrogeologist and professor emeritus of water science in the School of Natural Resources. I'm associated with the water science major and the hydrologic sciences graduate specialization.
Presently, my two main research interests are the groundwater geology of saline wetlands north and west of Lincoln and computer modeling of the regional groundwater system of central Box Butte County, where the local natural resources district is coping with significant groundwater-level declines.
Another key project has been developing analytical strategies for understanding water quality data gathered from large-capacity irrigation wells. This is a plentiful and inexpensive source of data, particularly on nitrate contamination, but coming from a mixture of groundwater from various levels in the aquifer, so the information requires sophisticated analysis to determine the exact source and nature of contamination.
Other projects include developing a statewide recharge map with colleagues Joe Szilagyi and Ed Harvey, the application of geophysical methods to various environmental studies, and development of natural resources databases.
A key outreach effort has been the development of computer programs in Earth science. These are available for downloading from the Conservation and Survey Division's web site.
I received my bachelor's from California State University in 1972 and my master's and doctorate from Washington State University in 1976 and 1980, respectively.
Harvey, F.E., Ayers, J.F. and Gosselin, D.C. 2008. Ground Water Dependence of Endangered Ecosystems: An Example from Nebraska's Saline Wetlands, Journal of Ground Water. 45(6):736-752. Online
Chen, X.H., J. Goeke, J.F. Ayers and S. Summerside. 2003. The observation well network design for pumping tests in unconfined aquifers. Journal of the American Water Resources Association. 39:17-32. Online
Szilagyi, J., Harvey, F. E., Ayers, J. F., 2003 (RS-307). Regional Estimation of Base Recharge to Ground Water Using Water Balance and a Base-flow Index. Ground Water 41:504-513. Online
Ayers, J.F. 2000. Seismic Refraction Analysis of Multiple Dipping Interfaces-Revisited. Journal of Environmental and Engineering Geophysics. 5:1-5 .
Ayers, J. F., Chen, X-H., Gosselin, D. C., 1998 (RS-245). Behavior of Nitrate-Nitrogen Movement Around a Pumping High-Capacity Well, A Field Example. Ground Water 36:325-337. Online
Chen, X-H., Ayers, J. F. Gosselin, D. C., 1998 (RS-280). Analysis of Nitrate-Nitrogen Movement Near High-Capacity Irrigation Wells. Ground Water Monitoring and Remediation 18:148-156.
Environmental Geophysics
Groundwater modeling
Groundwater flow
Contaminant groundwater geology and transport
Groundwater chemistry
Hydrogeology
Saline Wetlands
Regional Groundwater
Currently this page only displays grants that were awarded on 1/1/2009 to the present. If a grant was awarded prior to 1/1/2009 and is still active, it will not be displayed on this page.
There no Grants found for this selection.