Drew Tyre
Update your profile

Contact Information
My Story
Publications & Presentations
Background
Interests
Grants
Advising
Courses Taught
Outreach
Title
SNR Teaching Coordinator
Address
416 Hardin Hall
3310 Holdrege Street
Lincoln NE
68583-0974
Phone
402-472-4054
FAX
402-472-2946
E-mail
atyre2@unl.edu
Vitae
Download file
E-Mail
Hi, I'm Andrew (Drew) Tyre, professor of wildlife ecology and human dimensions in the School of Natural Resources. I arrived at UNL in 2003.
My main area of interest revolves around helping people to make good wildlife management decisions, especially when very little is known about the wildlife population. We often know particularly little about threatened and endangered species, and we must make many decisions about such species. I like to try and frame these problems to identify "robust" decisions that ensure good outcomes, even when we use inaccurate information.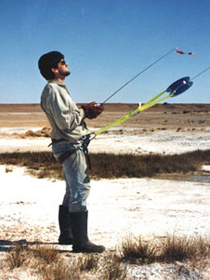 Right now, I'm working on using very simple, "prototype" models of habitat and population dynamics, to guide decisions about habitat management for Interior Least Terns, Piping Plovers, and other threatened and endangered species. I build these models together with small groups of managers and stakeholders to directly incorporate their objectives into the modeling process. By involving the decision makers in the process of predicting the consequences of their decisions, they accept the recommendations emerging from the decision support process much more readily.
Cohen, J. B., Hecht, A., Robinson, K. F., Osnas, E. E., Tyre, A. J., Davis, C., Kocek, A., Maslo, B., Melvin, S. M. 2016. To exclose nests or not: structured decision making for the conservation of a threatened species. Ecosphere, 7(10). Online
Hiller, T. L., Mcfadden-Hiller, J. E., Jenkins, S. R., Belant, J. L., Tyre, R. 2015. Demography, prey abundance, and management affect number of cougar mortalities associated with livestock conflicts. The Journal of Wildlife Management. 79(6):978–988. Online
BS - University of Alberta, Zoology (1991)
MS - Simon Fraser University, Behavioral Ecology (1994)
PhD - University of Adelaide, Spatial Population Ecology (1999)
2006 – Junior Faculty Award for Research Excellence awarded by Institute of Agriculture and Natural Resources, UNL
Professional Organizations
Ecological Society of America
Society for Conservation Biology
The Wildlife Society
Statistical ecology
Simulation modeling
Population dynamics/ecology
Ecosystem ecology/resilience
Wildlife ecology/habitat
Structured Decision Making
Parapatric boundaries
Optimal monitoring strategies
Decision making under uncertainty
Problem based learning, mathematics in ecology
Adaptive Management
Population Dynamics, Distribution
Biodiversity
Endangered Species
Game, Wildlife
Invasive Species
Resilience
Wildlife Damage Management
Currently this page only displays grants that were awarded on 1/1/2009 to the present. If a grant was awarded prior to 1/1/2009 and is still active, it will not be displayed on this page.
Grant Title
Structured Decision Making
Starting Date
5/26/2016
Ending Date
12/31/2016
Funding Level
$8,909.00
Funding Source
DJ Case and Associates
Grant Title
Global Analysis of Plant and Animal Demography
Starting Date
6/22/2016
Ending Date
6/24/2016
Funding Level
$800.00
Funding Source
IANR Travel Funds
Grant Title
Mule Deer Population Model
Starting Date
7/15/2012
Ending Date
6/30/2013
Funding Level
$25,000.00
Funding Source
Nebraska Game and Parks Commission
Grant Title
IGERT: Resilience and Adaptive Governance in Stressed Watersheds (additional funding)
Starting Date
7/18/2012
Ending Date
7/31/2013
Funding Level
$646,993.00
Funding Source
National Science Foundation
Grant Title
Developing a Stochastic Population Reconstruction Method for Cougar Populations in Oregon
Starting Date
10/3/2011
Ending Date
7/31/2012
Funding Level
$40,650.00
Funding Source
Oregon Department of Fish and Wildlife
Grant Title
IGERT: Resilience and Adaptive Governance in Stressed Watersheds (additional funding)
Starting Date
7/14/2011
Ending Date
7/31/2012
Funding Level
$650,212.00
Funding Source
National Science Foundation
Grant Title
Salmonid Benefits Project
Starting Date
5/16/2011
Ending Date
9/30/2011
Funding Level
$15,113.00
Funding Source
PNNL
Grant Title
Assessing Completing Research Hypothesis in an Adaptive Management Process
Starting Date
7/1/2010
Ending Date
4/30/2011
Funding Level
$24,798.00
Funding Source
Platte River Recovery Implement
Grant Title
IGERT: Resilience and Adaptive Governance in Stressed Watersheds (additional funding)
Starting Date
6/22/2010
Ending Date
7/31/2011
Funding Level
$649,126.00
Funding Source
National Science Foundation
Grant Title
U.S. Geologic Service Missouri River Adapative Management (additional funding)
Starting Date
4/1/2009
Ending Date
4/30/2011
Funding Level
$163,754.00
Funding Source
US Department of the Interior - Geological Survey
Grant Title
IGERT: Resilience and Adaptive Governance in Stressed Watersheds
Starting Date
8/15/2009
Ending Date
8/14/2014
Funding Level
$2,966,035.00
Funding Source
National Science Foundation
Grant Title
IGERT: Resilience and Adaptive Governance in Stressed Watersheds
Starting Date
8/15/2009
Ending Date
8/14/2014
Funding Level
$2,966,035.00
Funding Source
National Science Foundation
Grant Title
Quantifying Uncertainity in Missouri River Adaptive Management Processes
Starting Date
4/1/2009

Principal Investigators
Drew Tyre
Co-PIs
Erkan Istanbulluoglu

Ending Date
12/31/2009
Funding Level
$247,104.00
Funding Source
US Department of the Interior - Geological Survey - USACE
Grant Title
Analysis of Survey Data of Staging Sandhill Crane Along the Platte River, NE
Starting Date
1/1/2010
Ending Date
12/31/2012
Funding Level
$46,686.00
Funding Source
Whooping Crane Maintenance Fund
Undergraduate Majors
Bachelor of Science in
Graduate Program(s)

Master of Science in Natural Resource Sciences


including specializations in

Adaptive Management
Applied Ecology

Doctor of Philosophy in Natural Resource Sciences


including specializations in

Adaptive Management
Applied Ecology
Courses Taught
Course Number
Course Title
Fall Even Years
Fall Odd Years
Spring Even Years
Spring Odd Years
Summer Session
Cross Listing
NRES 101
Natural Resources Orientation
X
X
None
NRES 222
Ecology Laboratory
X
X
X
X
BIOS/NRES 222
NRES 450
Biology of Wildlife Populations
X
X
BIOS/NRES 450/850
NRES 803
Ecological Statistics
X
NRES/STAT 803
NRES 850
Biology of Wildlife Populations
X
X
BIOS/NRES 450/850
NRES 898
Special Topics - Ecological Statistics
X
n/a