Steve Hu
Update your profile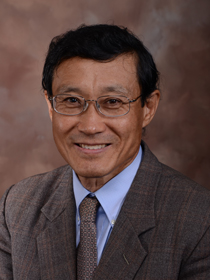 Contact Information
My Story
Publications & Presentations
Background
Expertise & Interests
Grants
Advising
Courses Taught
Outreach
Title
Agricultural Climatologist
Address
707 Hardin Hall
3310 Holdrege Street
Lincoln NE
68583-0987
Phone
402-472-6642
FAX
402-472-2946
E-mail
qhu2@unl.edu
Vitae
Download file
Hi, I'm Qi Hu, an applied climate science faculty member in the School of Natural Resources and also in the Department of Earth & Atmospheric Sciences.
Trained in atmospheric science, my research has long been motivated by my fascination with interactions and feedbacks in the multifaceted Earth climate systems, as well as the socioeconomic impacts of climate. Some of these interactions and feedback loops have been the focus of my recent research. I have been analyzing and understanding physical processes, and interactions that influence warm season precipitation variation, at interannual to multidecadal timescales. Some of my recent efforts include investigation of the interannual summer rainfall variation in the central U.S. and the "land memory" effect on the North American summer monsoon. Results of these studies have revealed new causes of these interannual variations and also disclosed additional roles of the El Nino/Southern Oscillation (ENSO) and the Atlantic Multidecadal Oscillation (AMO), in development of these variations. The significance of these findings is their application in improving our ability to predict precipitation at seasonal, interannual and longer timescales.
In addition, I have also continued the research I engaged in during the early years of my career. This includes the radiation-convection interaction in development of intraseasonal oscillations in the tropical atmosphere, and modeling of regional and global climate in the present and future.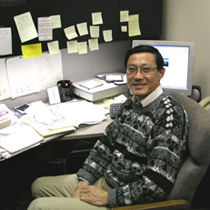 I am open-minded in research, and actively seeking new developments in the interstices of disciplines. I have been working closely with a group of economists and psychologists - in efforts to understand the decision-making behavior of agricultural producers - to address the question of why climate predictions and information are not more effectively used in farming decisions, despite the investment by the climate community in improving these predictions.
These studies have led to the conclusion that the climate prediction and information are not "ready-to-use products." They need to be further interpreted and understood in specific decision-making environments. Building this knowledge and experience is the goal of my climate extension. A virtual decision-making environment has been developed on the web to help educate and train decision-makers to build experience and confidence, to effectively use predictions in farming decision-making. Additionally, I have worked with agronomists, animal scientists and hydrologists, and am involved in a wide range of interdisciplinary research that has produced some exciting results.
While doing research and extension, I also enjoy teaching in the Department of Geosciences. The classes I am currently teaching include the General Circulation of the Atmosphere, Physical Climatology, and Global Climate Change. A new course, Numerical Weather Prediction, will be developed and added to my teaching portfolio in the near future.
As always, I welcome your suggesti comments and ideas.
Veres, M.C., and Q. Hu, 2013: AMO-forced regional processes affecting summertime precipitation variations in the Central United States. J. Climate, 26, 276-290. On-Line
Guo, H., Q. Hu, Q. Zhang, and S. Feng, 2012: Effects of the Three Gorges Dam on Yangtze River flow and river interaction with the Poyang Lake, China: 2003-2008. J. Hydrology, v. 416-417, 19-27. On-Line
Hu, Q., and S. Feng, 2012: AMO- and ENSO-driven summertime circulation and precipitation variations in North America. J. Climate, 25, 6477-6495. On-Line
Hu, Q., S. Feng, and R.J. Oglesby, 2011: Variations in North American summer precipitation driven by the Atlantic Multidecadal Oscillation. J. Climate, 24, 5555-5570. On-Line
PytlikZillig, L.M., Q. Hu, K.G. Hubbard, and G.D. Lynne, 2010: Improving farmers' perception and use of climate predictions in farming decisions: A transition model. J. Appl. Meteor. Clim. 49, 1333-1340.. On-Line
Hu, Q., and S. Feng, 2008: Variation of the North American summer monsoon regimes and the Atlantic Multidecadal Oscillation. J. Climate, 21, 2371-2383. On-Line
Hu, Q., Z.N. Liang, and M.W. Hoffman, 2008: Detecting source regions of wave activities in the tropical atmosphere by applying beamforming to interpolated data grids. J. Atmos. Oceanic Tech., 26, 270-280. On-Line
Hu, Q., S. Feng, H. Guo, and T. Jiang, 2007: Interactions of the Yangtze River flow and the hydrologic processes of the Poyang Lake, China. J. Hydrology, 347, 90-100. On-Line
Hu, Q., A. Weiss, S. Feng, and P.S. Baenziger, 2006: Earlier winter wheat heading dates and warmer spring in the Great Plains of the United States. Agri. Forest Meteorol. 135, 284-290. On-Line
Hu, Q., and S. Feng, 2004: Why has the land memory changed? J. Climate, 17, 3236-3243. On-Line
BS - Lanzhou University, China, Meteorology (1982)
MS - Colorado State University, Atmospheric Science (1986)
PhD - Colorado State University, Atmospheric Science (1992)
Regional and Global Climate Variations, Convection in the Atmosphere, Atmospheric Circulation and Modeling, Human Dimensions in Global Change, Regional and Global Water Cycle
Keyword
Expert Level

10 - Top Expert
1 - Mild Interest

9

8
Select a keyword and see other SNR faculty and staff with this interest or expertise.
Currently this page only displays grants that were awarded on 1/1/2009 to the present. If a grant was awarded prior to 1/1/2009 and is still active, it will not be displayed on this page.
Grant Title
Quantifying the Relative Roles of Local versus Remote Effects on North American Summertime Drought
Starting Date
12/20/2013
Ending Date
11/5/2014
Funding Level
$124,750.00
Funding Source
National Aeronautics and Space Administration
Grant Title
Changes in Snowfall/Precipitation Ratio in the Contiguous United States
Starting Date
3/15/2012
Ending Date
7/15/2012
Funding Level
$24,922.00
Funding Source
Environmental Protection Agency
Grant Title
Precipitation Dataset Northern Hemisphere (additional funding)
Starting Date
8/1/2012
Ending Date
7/31/2013
Funding Level
$179,502.00
Funding Source
National Oceanic and Atmospheric Administration
Grant Title
Understanding and Predicting Tropical and North Atlantic SST Forcing on Variations in Warm Season Precipitation over North America (additional funding)
Starting Date
8/1/2011
Ending Date
7/31/2012
Funding Level
$100,000.00
Funding Source
National Oceanic and Atmospheric Administration/CPO
Grant Title
Precipitation Dataset Northern Hemisphere (additional funding)
Starting Date
8/1/2010
Ending Date
7/31/2012
Funding Level
$84,999.00
Funding Source
National Oceanic and Atmospheric Administration
Grant Title
Megadrought-Local vs Remote Causal Factors for Medieval North America
Starting Date
5/1/2011
Ending Date
4/30/2014
Funding Level
$469,398.00
Funding Source
National Science Foundation
Grant Title
Development of a Northern Hemisphere Gridded Precipitation Dataset Spanning the Past Half Millennium
Starting Date
8/1/2010
Ending Date
7/31/2011
Funding Level
$165,000.00
Funding Source
National Oceanic and Atmospheric Administration
Grant Title
National Oceanic and Atmospheric Administration Warm Season Precipatation over North America
Starting Date
8/1/2009
Ending Date
7/31/2011
Funding Level
$97,000.00
Funding Source
National Oceanic and Atmospheric Administration
Grant Title
Understanding and Predicting Tropical and North Atlantic SST Forcing on Variations in Warm Season Precipitation over North America
Starting Date
5/1/2009
Ending Date
4/30/2012
Funding Level
$95,000.00
Funding Source
National Oceanic and Atmospheric Administration/CPO
Graduate Program(s)

Master of Science in Natural Resource Sciences


including specializations in

Climate Assessment & Impacts

Doctor of Philosophy in Natural Resource Sciences


including specializations in

Climate Assessment & Impacts
Courses Taught
Course Number
Course Title
Fall Even Years
Fall Odd Years
Spring Even Years
Spring Odd Years
Summer Session
Cross Listing
NRES 467
Global Climate Change
X
METR/NRES 467/867
NRES 867
Global Climate Change
X
METR/NRES 467/867