Mark Svoboda
Update your profile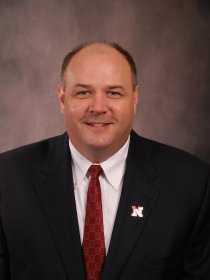 Contact Information
My Story
Publications & Presentations
Background
Expertise & Interests
Advising
Courses Taught
Outreach
Title
National Drought Mitigation Center, Director
Address
815 Hardin Hall
3310 Holdrege Street
Lincoln NE
68583-0988
Phone
402-472-8238
FAX
402-472-2946
E-mail
msvoboda2@unl.edu
Vitae
Download file
Mark Svoboda, climatologist, is the monitoring program area leader for the National Drought Mitigation Center (NDMC), which is based in the School of Natural Resources. He has been with the NDMC since it was established in 1995, and has been one of the U.S. Drought Monitor authors since it was established in 1999. Svoboda serves on the National Integrated Drought Information System (NIDIS) implementation team and co-chairs the NIDIS portal development team. As of January 2010, Svoboda was serving on the American Meteorological Society's applied climate committee for a three-year term and is helping lead the effort on updating AMS's Statement on Drought.
Before joining the NDMC in June 1995, Svoboda worked for two years with the Midwest National Technical Center of the USDA-Soil Conservation Service in Lincoln as a GIS/climate specialist. He served as regional coordinator for the center's Global Positioning Systems program, and worked extensively on agro-climatic modeling.
Education
M.A. in 1992 in geography with remote sensing, climatology, and GIS specialization from the University of Nebraska-Lincoln. Thesis examined the relationships between AVHRR satellite imagery and vegetative response to rainfall, using the normalized difference vegetation index.
B.S. in 1989 in geography with a specialization in climatology and a minor in meteorology-climatology.
Essays on Decision Support for Drought Migitgation Planning: A Tale of Three Tools
Presentation Type: Dissertation Defense
Date: 4/18/2016
Abstract:

The fact that droughts cover all scales, both temporally and spatially, requires an approach that is diverse and flexible. Just as there is no one definition of drought, there is no one prescribed way of planning or monitoring drought. Optimally, the best strategy calls for a multi-pronged approach aimed at dealing with droughts well in advance of their onset. The basic premise of a drought risk management approach is to plan and prepare for droughts given they are a normal part of most climate regimes and regions around the world. Such an approach is much preferred to a reactive, crisis-based approach that only deals with drought after the fact.

The foundation of a drought plan can be thought of as consisting of three "pillars": drought monitoring and early warning, impacts and vulnerability/risk assessment and planning. This dissertation is separated into three papers that address portions of all of these pillars.

The first is the development of an evaluation method to analyze and grade state drought planning efforts in the United States. The second paper focuses on the development of a Drought Ready Communities program aimed at developing a guide and resource for drought risk management at the community scale. Finally, understanding one's drought history, or climatology, is essential toward helping better understand where and when droughts and subsequent impacts have occurred, allowing for both the anticipation of what impacts may occur when droughts of various magnitudes return as well as serving as a preparation tool for the reduction or risk from a decision support role in drought mitigation planning. Knowing the frequency and magnitude (a function of severity and duration) of various degrees should be an essential part of the planning process.

These three papers and concepts are meant to work not only as stand-alone decision support tools, but also together as part of an overarching umbrella of drought mitigation strategies.
BS - University of Nebraska-Lincoln, Geography with a specialization in climatology and a minor in meteorology-climatology (1989)
MS - University of Nebraska-Lincoln, Geography with remote sensing, climatology, and GIS specialization (1992)
PhD - University of Nebraska-Lincoln, Natural Resource Sciences (2016)
Applied Climate and Spatial Science
Climatology, Drought, Water management, Impacts, Drought Early Warning Information Systems, Drought Monitoring