Craig Allen
Update your profile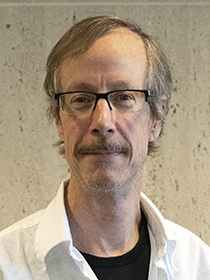 Contact Information
My Story
Publications & Presentations
Background
Interests
Grants
Advising
Courses Taught
Outreach
Title
Leader of the U.S. Geological Survey - Nebraska Cooperative Fish and Wildlife Unit
Address
423 Hardin Hall
3310 Holdrege Street
Lincoln NE
68583-0984
Phone
402-472-0229
FAX
402-472-2722
E-mail
callen3@unl.edu
Hi, my name is Craig Allen, and I am the leader of the U.S. Geological Survey - Nebraska Cooperative Fish and Wildlife Unit.

Prior to coming to UNL in July 2004, I was leader (2002 - 2004) and assistant leader (1998-2001) of the South Carolina Cooperative Fish and Wildlife Research Unit at Clemson University. I held a non-tenure track faculty position in the zoology department at the University of Florida before that.

I grew up in Madison, Wisconsin, but was born in Berkeley, California. I spent three years in Southhampton and Oxford in England; and Katwijk Aan Zee in the Netherlands. For a period in Wisconsin, I ran a chimney sweeping company with two partners, but I try to keep away from roofs today.

Professionally, I am most interested in understanding the links between land use or land cover change, biological invasions and extinctions. I conduct both applied and theoretical research on the impacts and predictions of invasions, and hope to continue a focus on invasive species in Nebraska, using empirical, experimental and spatial tools. I am also interested in how invasions can affect the resilience of ecosystems and other complex systems. I also sit on the Board of Directors for the Resilience Alliance.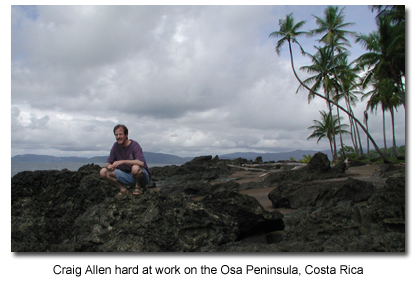 On a personal note, I am married to my wife Patty who I met during biology class in Green Bay a we have a son. After 14 years in the South, Patty and I are not so eager to shovel snow, but we are happy to be back in the Midwest. We enjoy travel and the outdoors.
Allen, C., Angeler, D. 2016. Biological invasions, ecological resilience and adaptive governance. Journal of Environmental Management. 183:399-407. Online
Allen, C., Angeler, D., Twidwell Jr, D. 2016. Quantifying spatial resilience. Journal of Applied Ecology. 53:625-635. Online
Angeler, D., Allen, C. 2016. Management applications of discontinuity theory. Journal of Applied Ecology. 53:688-698. Online
Angeler, D., and Allen, C. 2016. Quantifying resilience. Journal of Applied Ecology. 53: 617-624. Online
Birge, H. E., Garmestani, A. S., Allen, C., Pope, K. L. 2016. Adaptive management for ecosystem services. Journal of Environmental Management, 183:343-352. Online
Burnett, J. L., Allen, C. R., Brown, M. B., Moulton, M. P., Roberts, C. P. 2016. Range expansion by Passer montanus in North America. Biological Invasions. 19:5-9. Online
Hodbod, J., Barreteau, O., Magda, D., Allen, C. 2016. Managing adaptively for multifunctionality in agricultural systems. Journal of Environmental Management. 183:379-388. Online
Green, O., Garmestani, A., Gunderson, L., Allen, C., Ruhl, J., Arnold, C., Graham, N., Cosens, B., Angeler, D., Chaffin, B., Hollling, C. 2015. Barriers and bridges to the integration of social-ecological resilience and law. Frontiers in Ecology and the Environment. 13:332-337. Online
Uden, D.R., Allen, C.R., Angeler, D.G., Corral, L., Fricke, K.A. 2015. Adaptive invasive species distribution models: A framework for modeling incipient invasions. Biological Invasions. 10:2831-2850. Online
Allen, C.R., J.J. Fontaine, K.L. Pope and A.S. Garmestani. 2011. Adaptive management for a turbulent future. J. Environmental Management 92:1339-1345. Online
Gunderson, L., C. R. Allen and C. S. Holling. 2009. Foundations of Resilience. Island Press, New York, NY. pp. 311
Allen, C. R. 2006. Predictors of introduction success in the South Florida avifauna. Biological Invasin. 8:491-500. Online
Allen, C. R., A. Garmestani, T. Havlicek, P. Marquet, G. D. Peterson, C. Restrepo, C. Stow, and B. Weeks. 2006. Patterns in body mass distributions: sifting among alternative competing hypotheses. Ecology Letters 9: 630-643. Online
Holling, C. S., and C. R. Allen. 2002. Adaptive inference for distinguishing credible from incredible patterns in nature. Ecosystems 5:319-328. Online
Allen, C. R., L. G. Pearlstine, and W. M. Kitchens. 2001. Modeling viable mammal populations in gap analyses. Biological Conservation 99:135-144. Online
Zettler, J. A., T. P. Spira, and C. R. Allen. 2001. Ant-seed mutualisms: can fire ants sour the relationship? Biological Conservation 101:249-253. Online
Allen, C. R., E. A. Forys, and C. S. Holling. 1999. Body mass patterns predict invasions and extinctions in transforming landscapes. Ecosystems 2:114-121. Online
Peterson, G., C. R. Allen, and C. S. Holling. 1998. Ecological resilience, biodiversity and scale. Ecosystems 1:6-18. Online
Allen, C. R., Stephen Demarais, and R. Scott Lutz. 1997. Effects of red imported fire ants on recruitment of white-tailed deer fawns. Journal of Wildlife Management 61:911-916. Online
BS - University of Wisconsin - Green Bay, Biology (1989)
MS - Texas Tech University, Wildlife Science (1993)
PhD - University of Florida, Wildlife Ecology (1997)
Adaptive Management
Biological invasions
Spatial ecology
Resilience of the ecosystem
Fish and Wildlife research unit/graduate education
Ecology
Ecosystems ecology/resilience
Invasive species/invasion ecology
Currently this page only displays grants that were awarded on 1/1/2009 to the present. If a grant was awarded prior to 1/1/2009 and is still active, it will not be displayed on this page.
Grant Title
Dynamics and trade-offs among social, economic, and ecological components of resilience in working agricultural landscapes
Starting Date
9/12/2016

Principal Investigators
Craig Allen
Co-PIs
Munoz-Arriola, Francisco
Nancy Shank
Reed, Chrisiane

Ending Date
8/30/2018
Funding Level
$37,000.00
Funding Source
ARD Stategic Fund
Grant Title
Role of Bats in Controlling Agricultural Pests
Starting Date
9/1/2016
Ending Date
5/31/2018
Funding Level
$11,528.00
Funding Source
University of Minnesota - SARE
Grant Title
Aquatic Nuisance Species (Additional Funding)
Starting Date
6/22/2015
Ending Date
6/30/2019
Funding Level
$52,400.00
Funding Source
US Fish and Wildlife Service
Grant Title
Rain Water Basin Science Coordinator
Starting Date
4/15/2016
Ending Date
4/15/2019
Funding Level
$153,750.00
Funding Source
Nebraska Game and Parks Commission
Grant Title
Wetland Condition Assessment 2016
Starting Date
1/1/2015
Ending Date
8/31/2018
Funding Level
$178,744.00
Funding Source
Nebraska Game and Parks Commission
Grant Title
2016 Wetland Assessment
Starting Date
8/1/2015
Ending Date
12/31/2017
Funding Level
$69,541.00
Funding Source
Nebraska Game and Parks Commission
Grant Title
Establishing a Monitoring Network to Assess Distribution, Population Trends, and Habitat Use of Bats in Nebraska
Starting Date
8/1/2015
Ending Date
7/31/2018
Funding Level
$118,116.00
Funding Source
Nebraska Game and Parks Commission
Grant Title
Global Change, Vulnerability and Resilience: Management Options for an Uncertain Future
Starting Date
9/25/2015

Principal Investigators
Craig Allen
Co-PIs
Dirac Twidwell

Ending Date
9/25/2019
Funding Level
$728,122.00
Funding Source
U. S. Department of Defense - Strategic Environmental Research and Development Program
Grant Title
River Otter Population Study (additional funding)
Starting Date
4/1/2014
Ending Date
2/28/2016
Funding Level
$60,000.00
Funding Source
Nebraska Game and Parks Commission
Grant Title
Nebraska Aquatic Nuisance Species Mangement Plan
Starting Date
6/22/2015
Ending Date
6/30/2019
Funding Level
$25,315.00
Funding Source
US Department of the Interior - Fish and Wildlife Service
Grant Title
Bat Movements Across Transforming Landscapes (additional funding)
Starting Date
4/2/2015
Ending Date
6/30/2015
Funding Level
$38,715.00
Funding Source
Nebraska Environmental Trust
Grant Title
Developing a Network for Invasive Species Outreach and Monitoring (additional funding)
Starting Date
4/2/2015
Ending Date
6/30/2016
Funding Level
$60,456.00
Funding Source
Nebraska Environmental Trust
Grant Title
Impacts of Agricultural Toxicants on Amphibians in the Rainwater Basin in Central Nebraska
Starting Date
10/1/2014
Ending Date
12/31/2016
Funding Level
$119,971.00
Funding Source
Nebraska Game and Parks Commission
Grant Title
Northern Long-Eared Bats in Nebraska
Starting Date
3/1/2015
Ending Date
12/31/2016
Funding Level
$208,478.00
Funding Source
Nebraska Department of Roads
Grant Title
Monitoring, Mapping, Risk Assessment and Management of Invasive Species in Nebraska (additional funding)
Starting Date
1/1/2015
Ending Date
12/31/2019
Funding Level
$350,000.00
Funding Source
US Department of the Interior - Fish and Wildlife Service
Grant Title
Nebraska Cooperative Fish & Wildlife Research Unit (additional funding)
Starting Date
7/1/2014
Ending Date
6/30/2015
Funding Level
$50,000.00
Funding Source
Nebraska Game and Parks Commission
Grant Title
Soil Eco Knowledge and Conservation Reserve Progam Management
Starting Date
9/1/2013
Ending Date
8/31/2016
Funding Level
$10,000.00
Funding Source
University of Minnesota - SARE
Grant Title
Aquatic Nuisance Species (additional funding)
Starting Date
10/12/2011
Ending Date
12/31/2015
Funding Level
$24,875.00
Funding Source
US Department of the Interior - Fish and Wildlife Service
Grant Title
Nebraska Game and Parks Commission Wind and Wildlife Project
Starting Date
8/21/2014
Ending Date
7/31/2016
Funding Level
$142,894.00
Funding Source
Nebraska Game and Parks Commission
Grant Title
Building Better Soils for Birds
Starting Date
2/1/2014
Ending Date
1/31/2017
Funding Level
$150,644.00
Funding Source
Nebraska Game and Parks Commission
Grant Title
Network Invasive Species Monitoring (additional funding)
Starting Date
4/3/2014

Principal Investigators
Craig Allen
Co-PIs
Karie Decker

Ending Date
6/30/2015
Funding Level
$62,456.00
Funding Source
Nebraska Environmental Trust
Grant Title
Bat Movement and Landscapes (additional funding)
Starting Date
4/3/2014
Ending Date
6/30/2015
Funding Level
$43,067.00
Funding Source
Nebraska Environmental Trust
Grant Title
Bat Migration in Eastern Nebraska
Starting Date
3/3/2014
Ending Date
12/31/2015
Funding Level
$40,000.00
Funding Source
Nebraska Game and Parks Commission
Grant Title
River Otter Populations
Starting Date
4/1/2014
Ending Date
2/28/2015
Funding Level
$60,000.00
Funding Source
Nebraska Game and Parks Commission
Grant Title
Aquatic Nuisance Species (additional funding)
Starting Date
10/12/2013
Ending Date
12/31/2015
Funding Level
$24,286.00
Funding Source
US Department of the Interior - Fish and Wildlife Service
Grant Title
IGERT: Resilience and Adaptive Governance in Stressed Watersheds (additional funding)
Starting Date
8/13/2013

Principal Investigators
Craig Allen
Co-PIs
Sherilyn Fritz
Ashok Samal
Alan Tomkins

Ending Date
7/31/2014
Funding Level
$649,860.00
Funding Source
National Science Foundation
Grant Title
IGERT: Resilience and Adaptive Governance in Stressed Watersheds (additional funding)
Starting Date
8/13/2013

Principal Investigators
Craig Allen
Co-PIs
Sherilyn Fritz
Ashok Samal
Alan Tomkins

Ending Date
7/31/2014
Funding Level
$649,860.00
Funding Source
National Science Foundation
Grant Title
Network Invasive Species Monitoring
Starting Date
5/3/2013
Ending Date
6/30/2014
Funding Level
$76,056.00
Funding Source
Nebraska Environmental Trust
Grant Title
Bat Movements Across Transforming Landscapes
Starting Date
5/1/2013
Ending Date
4/30/2016
Funding Level
$162,715.00
Funding Source
Nebraska Environmental Trust
Grant Title
Understanding and Managing for Resilience in the Face of Global Change (additional funding)
Starting Date
3/19/2013
Ending Date
12/31/2015
Funding Level
$30,400.00
Funding Source
US Department of Interior - Geological Survey
Grant Title
Generation of Novelty in Complex Systems
Starting Date
1/1/2013
Ending Date
12/31/2013
Funding Level
$25,000.00
Funding Source
McDonnell Foundation
Grant Title
IGERT: Resilience and Adaptive Governance in Stressed Watersheds (additional funding)
Starting Date
7/18/2012
Ending Date
7/31/2013
Funding Level
$646,993.00
Funding Source
National Science Foundation
Grant Title
Managing for Resilience
Starting Date
8/1/2012
Ending Date
7/31/2013
Funding Level
$40,000.00
Funding Source
US Department of Interior - Geological Survey
Grant Title
Implementation of Nebraska Aquatic Nuisance Species Management Plan (additional funds)
Starting Date
10/12/2011
Ending Date
12/31/2015
Funding Level
$22,395.00
Funding Source
US Department of the Interior - Fish and Wildlife Service
Grant Title
Higher Diversity CRP Planting
Starting Date
4/1/2011
Ending Date
12/31/2013
Funding Level
$26,000.00
Funding Source
Nebraska Game and Parks Commission
Grant Title
Aquatic Nuisance Species
Starting Date
10/12/2011
Ending Date
12/31/2015
Funding Level
$7,466.00
Funding Source
US Department of the Interior - Fish and Wildlife Service
Grant Title
US Geological Survey Missouri River Mitigation (additional funding)
Starting Date
7/1/2009
Ending Date
3/31/2014
Funding Level
$258,491.00
Funding Source
US Department of the Interior
Grant Title
NE Science Partnership with the Great Plains Landscape Conservation Coop
Starting Date
3/29/2011
Ending Date
9/30/2012
Funding Level
$28,000.00
Funding Source
Nebraska Game and Parks Commission
Grant Title
Aquatic Invasive Species Prevention Program (additional funding)
Starting Date
4/1/2011
Ending Date
6/30/2012
Funding Level
$12,000.00
Funding Source
Nebraska Environmental Trust
Grant Title
IGERT: Resilience and Adaptive Governance in Stressed Watersheds (additional funding)
Starting Date
7/14/2011
Ending Date
7/31/2012
Funding Level
$650,212.00
Funding Source
National Science Foundation
Grant Title
Rain Water Basin Joint Venture
Starting Date
6/21/2011
Ending Date
6/21/2014
Funding Level
$150,000.00
Funding Source
Nebraska Game and Parks Commission
Grant Title
Nebraska Water Pollution Control (additional funding)
Starting Date
4/1/2011
Ending Date
5/31/2014
Funding Level
$96,000.00
Funding Source
Nebraska Game and Parks Commission
Grant Title
Aquatic Invasive Species Prevention
Starting Date
4/21/2011
Ending Date
6/30/2012
Funding Level
$100,000.00
Funding Source
Nebraska Environmental Trust
Grant Title
Monitoring, Mapping, Risk Assessment and Management of Invasive Species in Nebraska (additional funding)
Starting Date
1/1/2011
Ending Date
12/31/2011
Funding Level
$51,794.00
Funding Source
Nebraska Game and Parks Commission
Grant Title
Wind and Wildlife Project
Starting Date
3/1/2011
Ending Date
2/28/2014
Funding Level
$394,360.00
Funding Source
Nebraska Game and Parks Commission
Grant Title
River Otter Home Range (additional funding)
Starting Date
5/1/2006
Ending Date
12/31/2010
Funding Level
$3,100.00
Funding Source
Nebraska Game and Parks Commission
Grant Title
Scenarios of Climate Change and Land Use Change in Biological Invasions
Starting Date
8/1/2010
Ending Date
7/31/2012
Funding Level
$30,000.00
Funding Source
US Department of Agriculture
Grant Title
Nebraska Wetland Conditions Assessment (additional funding)
Starting Date
4/1/2010
Ending Date
5/31/2014
Funding Level
$338,250.00
Funding Source
Nebraska Game and Parks Commission
Grant Title
IGERT: Resilience and Adaptive Governance in Stressed Watersheds (additional funding)
Starting Date
6/22/2010
Ending Date
7/31/2011
Funding Level
$649,126.00
Funding Source
National Science Foundation
Grant Title
NNLP: Research Inventory and Monitoring
Starting Date
5/1/2010
Ending Date
7/30/2012
Funding Level
$150,000.00
Funding Source
Nebraska Game and Parks Commission
Grant Title
Southeast Prairies BUL
Starting Date
7/1/2010
Ending Date
6/30/2013
Funding Level
$11,300.00
Funding Source
Nebraska Game and Parks Commission
Grant Title
U.S. Geologic Service Missouri River Adapative Management (additional funding)
Starting Date
4/1/2009
Ending Date
4/30/2011
Funding Level
$163,754.00
Funding Source
US Department of the Interior - Geological Survey
Grant Title
River Otter Home Range and Habitats Use Pilot Study (additional funding)
Starting Date
5/1/2010
Ending Date
12/31/2010
Funding Level
$9,000.00
Funding Source
Nebraska Game and Parks Commission
Grant Title
Missouri River Mitigation
Starting Date
4/1/2010
Ending Date
3/31/2011
Funding Level
$129,245.00
Funding Source
US Department of the Interior - Geological Survey
Grant Title
IGERT: Resilience and Adaptive Governance in Stressed Watersheds
Starting Date
8/15/2009
Ending Date
8/14/2014
Funding Level
$2,966,035.00
Funding Source
National Science Foundation
Grant Title
Missouri River Mitigation: Implementation of Amphibian Monitoring and Adaptive Management for Wetland Restoration Evaluation
Starting Date
4/1/2009
Ending Date
3/31/2014
Funding Level
$556,603.00
Funding Source
US Department of the Interior - Geological Survey - USACE
Grant Title
Adaptive Management of Prairie Remnants for Legacy Goals
Starting Date
3/1/2009
Ending Date
2/28/2010
Funding Level
$20,000.00
Funding Source
US Department of the Interior - Geological Survey
Grant Title
Southeast Prairies BUL and Sandstone Prairies BUL Research
Starting Date
5/15/2008
Ending Date
6/30/2010
Funding Level
$49,478.00
Funding Source
Nebraska Game and Parks Commission
Grant Title
Assessing Local and Regional Variability in Productivity and Fidelity of Grassland Birds on National Park Service Units in the Great Plains
Starting Date
6/1/2007
Ending Date
9/30/2010
Funding Level
$95,572.00
Funding Source
US Department of Interior - Geological Survey
Grant Title
River Otter Habitat Pilot Study
Starting Date
5/1/2006
Ending Date
12/31/2009
Funding Level
$22,000.00
Funding Source
Nebraska Game and Parks Commission
Grant Title
Adaptive Management for Nebraska Legacy Program Goals
Starting Date
9/1/2009
Ending Date
7/31/2012
Funding Level
$200,000.00
Funding Source
Nebraska Game and Parks Commission
Grant Title
River Otter Habitat Pilot Study
Starting Date
5/1/2006
Ending Date
12/31/2010
Funding Level
$22,000.00
Funding Source
Nebraska Game and Parks Commission
Grant Title
Monitoring, Mapping, Risk Assessment and Management of Invasive Species in Nebraska
Starting Date
1/1/2010
Ending Date
12/31/2014
Funding Level
$350,000.00
Funding Source
Nebraska Game and Parks Commission
Graduate Program(s)

Master of Science in Natural Resource Sciences


including specializations in

Adaptive Management
Applied Ecology

Doctor of Philosophy in Natural Resource Sciences


including specializations in

Adaptive Management
Applied Ecology
Courses Taught
Course Number
Course Title
Fall Even Years
Fall Odd Years
Spring Even Years
Spring Odd Years
Summer Session
Cross Listing
NRES 810
Landscape Ecology
X
HORT 812, NRES 810
NRES 896
Independent Study
X
X
X
X
X
NRES 496
NRES 898
Special Topics in Natural Resources: Resilience Working Agricultural Landscapes
X
n/a
NRES 898
Special Topics: Foundations of Resilience
n/a
NRES 996
Research Other Than Thesis
X
X
X
X
X
n/a