Mark Kuzila
Update your profile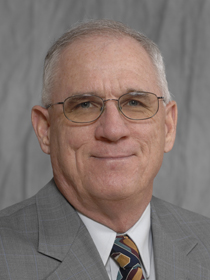 Contact Information
My Story
Publications & Presentations
Background
Expertise & Interests
Advising
Courses Taught
Outreach
Title
Emeritus Soil Scientist
Address
101 Hardin Hall
3310 Holdrege Street
Lincoln NE
68583-0961
FAX
402-472-2946
E-mail
mkuzila1@unl.edu
Vitae
Download file
Hi, I'm Mark Kuzila, professor emeritus of soil science in the School of Natural Resources. My professional expertise and research interests are in soil survey and soil science. I spent 11 years in administration and am the former director of the School of Natural Resources. I was a soil scientist for the Conservation and Survey Division in the School of Natural Resources. I taught Earth's Natural Resources Systems, NRES 108, and Great Plains Field Pedology, NRES 477/877. I also taught Soil Evaluation, NRES 279. NRES 279 is the class associated with the UNL Soil Judging Team. The Soil Judging Team competes every fall semester.
My research involves the study of soil genesis and morphology. In basic terms, I examine soils and landscapes to discover why soils are what they are and where they are on the landscape; I also study soil management and investigate how we live on and how we can best use the soils that we have. Because we all live on the land and interact with soils every day in ways we often don't realize, a better understanding of the land and the soil, and how we use it, will benefit us all.

Prior to working in university administration, I spent 24 years working with the Nebraska Cooperative Soil Survey Program. I've also been involved in many workshops and presentations on soils in general and the application of soils information for many uses, including natural resource management, home site evaluation and on-site wastewater treatment. In addition, I've been the author of numerous soil maps, including a 1:1,000,000-scale general soil map of Nebraska.
Stolpe, N.B. and M.S. Kuzila. 2002. Relative mobility of atrazine, 2, 4-D and dicamba in volcanic soils of south-central Chile. Soil Science. 167(5):338-345.
Mason, J.A., and M.S. Kuzila. 2000. Episodic Holocene loess deposition in central Nebraska. Quaternary International. 163:394-403.
Stolpe, N.B., M.S. Kuzila, and P.J. Shea. 1998. Importance of taxonomic variability in using soil maps to predict pesticide mobility. Soil Sci. 163(5): 394-403.
Kuzila, M.S. and Lewis, D.T. 1993. Properties and genesis of loessial soils across a south central Nebraska basin. Soil Sci. Soc. Am. J. 57:155_161.
BS - Kansas State University, Agronomy with Soils emphasis (1973)
MS - Kansas State University, Agronomy with Soils emphasis (1976)
PhD - University of Nebraska-Lincoln, Agronomy with Soils emphasis (1988)
Nebraska Soils, Clays, environmental soil analysis, Landscape evolution/structure, Paleosols, Soils, Waste management, Wetlands, Home Site Planning, Nonpoint-source contamination
Keyword
Expert Level

10 - Top Expert
1 - Mild Interest

9

8

8
Select a keyword and see other SNR faculty and staff with this interest or expertise.
Courses Taught
Course Number
Course Title
Fall Even Years
Fall Odd Years
Spring Even Years
Spring Odd Years
Summer Session
Cross Listing
GEOG 467
Great Plains Field Pedology
X
X
AGRO 477/877, GEOG/NRES 467/867
GEOG 867
Great Plains Field Pedology
X
X
AGRO 477/877, GEOG/NRES 467/867
What I can speak about:
How soils form, soil maps, and using soils information.
When I am most available to speak:
Contact me to schedule a time.
What target audiences I am most comfortable speaking to:
Pre-K/Elementary School
Middle/High School
College
OLLI - lifelong learning for adults 50 years and older)
General Public
Technical