Karina Schoengold
Update your profile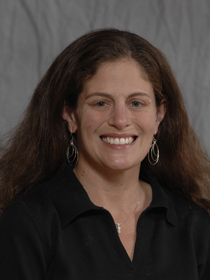 Contact Information
My Story
Publications & Presentations
Background
Interests
Grants
Advising
Courses Taught
Outreach
Title
Environmental and Resource Economist
Address
307A Filley Hall
1625 Arbor Drive
Lincoln NE
68583-0922
Phone
402-472-2304
FAX
402-472-2946
E-mail
kschoengold2@unl.edu
Vitae
Download file
E-Mail
Hi, I'm Karina Schoengold, associate professor of natural resources and environmental economics, with a joint appointment in the Department of Agricultural Economics and the School of Natural Resources. I am also affiliated with the UNL Water Center, and I have been at UNL since August 2005. My main interests are environmental and natural resources economics, water resource economics, natural resource pricing, technology adoption, irrigation technology options and agricultural economics.
My research projects have included water pricing, climate risks, and technology choices. Using data from the Great Plains states, I am examining how recent weather events (e.g., floods and droughts) affect the adoption of conservation tillage practices. I plan to incorporate the measurement of the impact of government programs like disaster payments, subsidized crop insurance and conservation programs like EQIP into the analysis. I'm also investigating groundwater extraction in Mexico. Pursued jointly with the InterAmerican Development Bank, the University of California, and the Instituto Nacional de Ecologia (INE) in Mexico City, this research examines the relationship between the price of electricity and groundwater consumption, irrigation technology and crop choice.
I'm also researching equity considerations in water pricing. This research considers various ways of pricing water (or other natural resources), such as average cost, marginal cost and block-rate pricing. When users of that resource have a mix of economic characteristics and their demand for that resource is variable, there are tradeoffs between equity and economic efficiency in the resource allocation.
Sun, S., Sesmero, J., Schoengold, K. 2016. Estimating Production Inefficiency of Alternative Cost-Sharing Arrangements: a case study in groundwater pumping decisions. Agricultural Economics. 47:117-127. Online
Azzam, A., G. Nene, and K. Schoengold (2014) "Hog Industry Structure and the Stringency of Environmental Regulation", Canadian Journal of Agricultural Economics, Online
Schoengold, K. and D. L. Sunding (2014) The Impact of Water Price Uncertainty on the Adoption of Precision Irrigation Systems.¯ Agricultural Economics 45(6): 729-743, Online
Schoengold, K. and D. Zilberman (2014). The Economics of Tiered Pricing and Cost Functions: Are Equity, Cost Recovery, and Economic Efficiency Compatible Goals?¯, Water Resources and Economics, 7: 18. Online
Schoengold, K., Y. Ding, and R. Headlee (2014) The Impact of Ad hoc Disaster and Crop Insurance Programs on the Use of Risk Reducing Conservation Tillage Practices¯, American Journal of Agricultural Economics Online
Schoengold, K., P. Shrestha, and M. Eiswerth (2013) The Joint Impact of Drought Conditions and Media Coverage on the Colorado Rafting Industry.¯ Journal of Natural Resources Policy Research. 5(2-3): 183-198.
Zhang, Z. and K. Schoengold (2011), Carbon Emissions Control Policies in China's Power Generation Sector.¯ China Agricultural Economic Review 3(3). Online
Ding, Y., K. Schoengold, and T. Tadesse, 2009. The Impact of Weather Extremes on Agricultural Production Methods: Does drought increase adoption of conservation tillage practices? Journal of Agricultural and Resource Economics, 34(3):395-411. Online
Karina Schoengold and David Zilberman. (2007). The Economics of Water, Irrigation and Development, Handbook of Agricultural Economics: vol. 3, Online
Schoengold, K., D. L. Sunding, and G. Moreno (2006), "Price elasticity reconsidered: Panel estimation of an agricultural water demand function", Water Resources Research, 42, W09411, doi:10.1029/2005WR004096. Online
Karina Schoengold and David Zilberman. 2005. The Use of Pricing and Markets for Water Allocation. Canadian Water Resources Journal 30(1): 47-54. Online
BS - University of Wisconsin, Mathematics and Economics (1998)
MS - University of California-Berkeley, Agricultural and Resource Economics (2001)
PhD - University of California-Berkeley, Agricultural and Resource Economics (2005)
Environmental and natural resource economics
Water resource economics
Water pricing
Irrigation technology choice
Currently this page only displays grants that were awarded on 1/1/2009 to the present. If a grant was awarded prior to 1/1/2009 and is still active, it will not be displayed on this page.
Grant Title
Nebraska Water Resource 104B 2012 (additional funding)
Starting Date
2/28/2012

Principal Investigators
Suat Irmak
Co-PIs
David Admiraal
Karina Schoengold
Steven Ress

Ending Date
2/28/2013
Funding Level
$92,335.00
Funding Source
US Department of the Interior - Geological Survey
Undergraduate Majors
Bachelor of Science in

Natural Resources & Environmental Economics

Graduate Program(s)

Master of Science in Natural Resource Sciences

Doctor of Philosophy in Natural Resource Sciences
Courses Taught
Course Number
Course Title
Fall Even Years
Fall Odd Years
Spring Even Years
Spring Odd Years
Summer Session
Cross Listing
NRES 323
Natural Resources Policy
X
X
n/a