Mark Pegg
Update your profile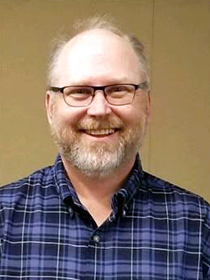 Contact Information
My Story
Publications & Presentations
Background
Interests
Grants
Advising
Courses Taught
Outreach
Title
Fisheries Ecologist
Address
402 Hardin Hall
3310 Holdrege Street
Lincoln NE
68583-0974
Phone
402-472-6824
FAX
402-472-2946
E-mail
mpegg2@unl.edu
Vitae
Download file
e-mail
By appointment
Hi, I'm Mark Pegg, fisheries ecologist and associate professor in the School of Natural Resources. I'm associated with the undergraduate major in fisheries and wildlife and the graduate specializations in aquatic ecology and wildlife ecology.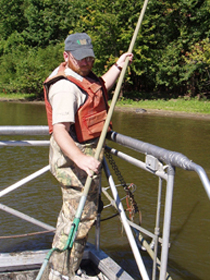 Most of my career has been dedicated to working on fisheries and aquatic ecosystem issues. These interests have generally led me to conduct research centered on the ecology of flowing systems, fisheries management, the impacts of aquatic nuisance species and restoration ecology. I've been at UNL since August 2005.
Specifically, I am interested in aquatic community responses in time and space to environmental conditions such as hydrology, habitat availability and water quality; aspects of fish-population dynamics like survival, age and growth and angler exploitation; how aquatic nuisance species influence ecosystems; and most recently, assessing river-restoration techniques.
Eder, B. L., Pegg, M. A., Mestl, G. E. 2016. Modeling Effects of Length Limit Regulations on Riverine Populations of Channel Catfish. North American Journal of Fisheries Management. 36(1):140–146.
Eder, B., Mestl, G., Pegg, M. 2016. Temporal Trends of Channel Catfish Population Characteristics in the Missouri River, Nebraska. The American Midland Naturalist, 176(1):106–118.
Eder, B., Pegg, M., Mestl, G. 2016. A new approach to quantifying setline angler effort and catch. Journal of Applied Ichthyology, 32(3):491–494.
Hamel, M., Spurgeon, J., Chizinski, C., Steffensen, K., Pegg, M. A. 2016. Variability in Age Estimation Results in Ambiguity and False Understanding of Population Persistence. North American Journal of Fisheries Management. 36(3):514–522.
Hogberg, N. P., Pegg, M. A. 2016. Assessment of fish floodplain use during an extreme flood event in a large, regulated river. Hydrobiologia. 765(1):27–41.
Hogberg, N. P., Pegg, M. A. 2016. Flathead catfish Pylodictis olivaris diet composition during extreme flow events in a large river. Journal of Freshwater Ecology. 1–11.
Pope, K. L., Hamel, M., Pegg, M. A., Spurgeon, J. J. 2016. The global status of freshwater fish age validation studies and a prioritization framework for future research. Reviews in Fisheries Science and Aquaculture, 23:329–345.
Pope, K. L., Pegg, M. A., Cole, N. W., Siddons, S. F., Fedele, A. D., Harmon, B. S., Ruskamp, R. L., Turner, D. R., Uerling, C. C. 2016. Fishing for ecosystem services. Journal of environmental management. 183:408-417.
Siddons, S. F., Pegg, M. A., Hogberg, N. P., Klein, G. M. 2016. Age, Growth, and Mortality of a Trophy Channel Catfish Population in Manitoba, Canada. North American Journal of Fisheries Management, 36(6):1368–1374.
Spurgeon, J. J., Hamel, M., Pegg, M. A. 2016. Multi-scale approach to hydrological classification provides insight to flow structure in an altered river system.
Spurgeon, J. J., Pegg, M. A. 2016. Juvenile growth of a macrohabitat generalist tied to hydrological character of large-river system. Freshwater Biology.
Spurgeon, J. J., Stewart, N. T., Pegg, M. A., Pope, K. L., Porath, M. T. 2016. Using standardized fishery data to inform rehabilitation efforts. Lake and Reservoir Management. 32(1):41–50.
Turek, K. C., Pegg, M. A., Pope, K. L., Schainost, S. 2016. Potential population and assemblage influences of non-native trout on native nongame fish in Nebraska headwater streams. Ecology of Freshwater Fish. 25(1):99–108.
BS - Iowa State University, Fish and Wildlife Biology (1992)
MS - Tennessee Technological University, Biology (1994)
PhD - Iowa State University, Fisheries Biology (2000)
2017 – Award of Excellence awarded by Nebraska Chapter of the American Fisheries Society
1/30/15 – UNL Parents Association Recognition Award awarded by UNL Parents Association
3/5/2014 – Senior Faculty Teaching Excellence Award awarded by Holling Family Award Program for Teaching Excellence
Fisheries ecology/management
River ecology
Aquatic nuisance species
River restoration
Currently this page only displays grants that were awarded on 1/1/2009 to the present. If a grant was awarded prior to 1/1/2009 and is still active, it will not be displayed on this page.
Grant Title
Platte River Tributaries
Starting Date
8/1/2016
Ending Date
7/31/2017
Funding Level
$21,603.00
Funding Source
Nebraska Game and Parks Commission
Grant Title
Wahoo Creek Fish and Aquatic Macroinvertebrate Assessment
Starting Date
7/11/2016
Ending Date
9/30/2016
Funding Level
$27,456.00
Funding Source
Nebraska Department of Environmental Quality
Grant Title
Red River Telemetry
Starting Date
4/25/2016
Ending Date
3/31/2017
Funding Level
$43,600.00
Funding Source
Manitoba Fisheries Enhancement Fund
Grant Title
Preliminary Assessment of Movements of Channel Catfish in the Red River Using Passive Telemetry
Starting Date
8/17/2015
Ending Date
3/31/2016
Funding Level
$8,113.00
Funding Source
Manitoba Fisheries Enhancement Fund
Grant Title
Channel Catfish Movements in the Lower Red River
Starting Date
6/15/2015
Ending Date
3/31/2016
Funding Level
$16,161.00
Funding Source
Manitoba Fisheries Enhancement Fund
Grant Title
The Effects of Alum and Fish Restoration on Water Quality in the Fremont Lake, NE (additional extension funding)
Starting Date
5/1/2014
Ending Date
6/30/2015
Funding Level
$31,009.00
Funding Source
Nebraska Department of Environmental Quality
Grant Title
Chute Monitoring at Camp Ashland
Starting Date
9/15/2014
Ending Date
9/30/2017
Funding Level
$196,946.00
Funding Source
Nebraska Military Department
Grant Title
Fremont Continuation
Starting Date
4/1/2014
Ending Date
5/31/2015
Funding Level
$26,400.00
Funding Source
Nebraska Game and Parks Commission
Grant Title
Shell Creek Assessment
Starting Date
5/1/2014
Ending Date
9/30/2015
Funding Level
$89,870.00
Funding Source
Nebraska Department of Environmental Quality
Grant Title
Nebraska Game and Parks Commission Missouri River Sportfish Ecology and Management (additional funding)
Starting Date
3/1/2014
Ending Date
2/28/2018
Funding Level
$923,578.00
Funding Source
Nebraska Game and Parks Commission
Grant Title
Red River Bibliography
Starting Date
2/1/2014
Ending Date
8/31/2014
Funding Level
$21,850.00
Funding Source
Manitoba Fisheries Enhancement Fund
Grant Title
Implications for Connectivity and Movement of Iotic Great Plains Fishes in the Face of Climate Change
Starting Date
8/1/2013
Ending Date
7/31/2014
Funding Level
$101,850.00
Funding Source
US Department of the Interior - Fish and Wildlife Service
Grant Title
Fremont Water Quality (additional funding)
Starting Date
4/13/2012
Ending Date
6/30/2015
Funding Level
$23,700.00
Funding Source
Nebraksa Department of Environmental Quality
Grant Title
Influence of Trout Stockings on Tier I/II Fishes
Starting Date
5/1/2012
Ending Date
4/30/2014
Funding Level
$114,576.00
Funding Source
Nebraska Game and Parks Commission
Grant Title
Fremont Water Quality
Starting Date
4/6/2012
Ending Date
6/30/2014
Funding Level
$240,448.00
Funding Source
Nebraksa Department of Environmental Quality
Grant Title
Influence of Trout Stockings on Tier I/II Fishes
Starting Date
5/1/2011
Ending Date
4/30/2012
Funding Level
$32,000.00
Funding Source
Nebraska Game and Parks Commission
Grant Title
Nebraska Game and Parks Commission Niobrara River Flows (additional funding)
Starting Date
7/1/2009
Ending Date
6/30/2012
Funding Level
$52,500.00
Funding Source
Nebraska Game and Parks Commission
Grant Title
Developing Environmental Flows in the Niobrara River for Fish and Wildlife
Starting Date
7/1/2009
Ending Date
6/30/2012
Funding Level
$726,754.00
Funding Source
Nebraska Game and Parks Commission
Grant Title
Missouri River Sportfish Ecology and Management
Starting Date
3/1/2009
Ending Date
2/28/2014
Funding Level
$401,210.00
Funding Source
Nebraska Game and Parks Commission
Grant Title
Platte River Catfish Population Dynamics
Starting Date
1/1/2009
Ending Date
12/31/2009
Funding Level
$33,000.00
Funding Source
Nebraska Game and Parks Commission
Grant Title
Platte River Catfish Population Dynamics
Starting Date
1/1/2007
Ending Date
12/31/2014
Funding Level
$356,767.00
Funding Source
Nebraska Game and Parks Commission
Undergraduate Majors
Bachelor of Science in
Graduate Program(s)

Master of Science in Natural Resource Sciences


including specializations in

Doctor of Philosophy in Natural Resource Sciences


including specializations in
Courses Taught
Course Number
Course Title
Fall Even Years
Fall Odd Years
Spring Even Years
Spring Odd Years
Summer Session
Cross Listing
NRES 163
Oh My Cod: Exploring Aquatic Ecology Careers
X
X
n/a
NRES 463
Fisheries Science
X
X
NRES 463/863
NRES 863
Fisheries Science
X
X
NRES 463/863
NRES 965
Managed Aquatic Systems
X
None