Mark Pegg
Update your profile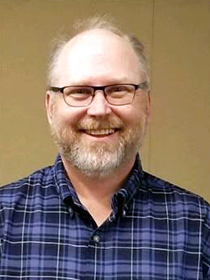 Contact Information
My Story
Publications & Presentations
Background
Expertise & Interests
Advising
Courses Taught
Outreach
Title
Fisheries Ecologist
Address
402 Hardin Hall
3310 Holdrege Street
Lincoln NE
68583-0974
Phone
402-472-6824
FAX
402-472-2946
E-mail
mpegg2@unl.edu
Vitae
Download file
e-mail
By appointment
Hi, I'm Mark Pegg, fisheries ecologist and associate professor in the School of Natural Resources. I'm associated with the undergraduate major in fisheries and wildlife and the graduate specializations in aquatic ecology and wildlife ecology.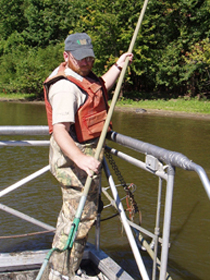 Most of my career has been dedicated to working on fisheries and aquatic ecosystem issues. These interests have generally led me to conduct research centered on the ecology of flowing systems, fisheries management, the impacts of aquatic nuisance species and restoration ecology. I've been at UNL since August 2005.
Specifically, I am interested in aquatic community responses in time and space to environmental conditions such as hydrology, habitat availability and water quality; aspects of fish-population dynamics like survival, age and growth and angler exploitation; how aquatic nuisance species influence ecosystems; and most recently, assessing river-restoration techniques.
See vita for updated and more complete list of publications.
BS - Iowa State University, Fish and Wildlife Biology (1992)
MS - Tennessee Technological University, Biology (1994)
PhD - Iowa State University, Fisheries Biology (2000)
1/30/15 – UNL Parents Association Recognition Award awarded by UNL Parents Association
3/5/2014 – Senior Faculty Teaching Excellence Award awarded by Holling Family Award Program for Teaching Excellence
Fisheries ecology/management, River ecology, Aquatic nuisance species, River restoration
Undergraduate Majors
Bachelor of Science in
Graduate Program(s)

Master of Science in Natural Resource Sciences


including specializations in

Doctor of Philosophy in Natural Resource Sciences


including specializations in
Courses Taught
Course Number
Course Title
Fall Even Years
Fall Odd Years
Spring Even Years
Spring Odd Years
Summer Session
Cross Listing
NRES 163
Oh My Cod: Exploring Aquatic Ecology Careers
X
X
n/a
NRES 463
Fisheries Science
X
X
NRES 463/863
NRES 863
Fisheries Science
X
X
NRES 463/863
NRES 965
Managed Aquatic Systems
X
None