Robert Oglesby
Update your profile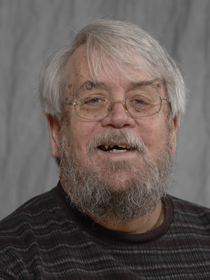 Contact Information
My Story
Publications & Presentations
Background
Interests
Grants
Advising
Courses Taught
Outreach
Title
Climatologist
Address
221 Bessey Hall
Lincoln NE
68588-0340
Phone
402-472-1507
E-mail
roglesby2@unl.edu
Hi, I'm Robert J. (Bob) Oglesby, and I'm a professor of climate modeling in the School of Natural Resources with a joint appointment in the Department of Earth and Atmospheric Sciences. My research interests are many and broad. They are highly interdisciplinary and focused on understanding important physical processes of climate. Much of my work is aimed at understanding the controls on drought, a phenomenon that is constantly in the minds of all who live in the Great Plains, and other semi-arid regions around the globe. I do this by evaluating and understanding land surface-atmosphere interactions, with particular applications to climate prediction (especially precipitation) on seasonal and longer scales. Other broad-based research interests include the effects of changes in land use patterns (especially due to agriculture practices) on climate; sensitivity of climate to global changes in carbon dioxide and other greenhouse gases; and the effects of tropical deforestation on climate, all of which have potentially profound implications for society.
I perform this research by using cutting-edge global and regional climate models to help understand the complex web of physical processes that maintain the present-day climate - how it has changed in the past, and most importantly, how it may change in the future - due to natural and human factors.
I came to the University of Nebraska-Lincoln in 2006 from a position with NASA, where I had been the senior scientist for the Global Hydrology and Climate Center of the Marshall Space Flight Center since 2001. Prior to that, I was a faculty member in the Department of Earth and Atmospheric Sciences at Purdue University for nearly 10 years. I've taught on the undergraduate and graduate levels in climate studies, atmospheric dynamics, oceanography and other related fields.
While my teaching responsibilities are technically only in the DepartmenEarth and Atmospheric Sciences, I design my courses to appeal to interested students campus-wide. My seminal undergraduate course is "The Climate System," a rigorous but approachable development of how the present-day climate is maintained, how it was different in the past, and importantly, how it may change in the future. A graduate-only version, "Theory of Climate," covers much of the same material but at a higher and more thorough level. I also teach graduate classes: "Climate Modeling," a hands-on, practical course, in which students learn how to use cutting-edge global and regional climate models to address real problems in climate and climate change, as well as "Paleoclimates," in which we use past climate changes as a guide to what may happen in the future.
Okalebo, J., Oglesby, R. J., Feng, S., Hubbard, K., Kilic, A., Hayes, M. J., Hayes, C. 2016. An Evaluation of the Community Land Model (Version 3.5) and Noah Land Surface Models for Temperature and Precipitation Over Nebraska (Central Great Plains): Implications for Agriculture in Simulations of Future Climate Change and Adaptation. Climate Change Adaptation, Resilience and Hazards, 21-34. Online
Feng, S., Ho, C.-h., Hu, Q., Oglesby, R. J., Jeong, S.-J., Kim, B.-M. 2012. Evaluating observed and projected future climate changes for the Arctic using the Koppen-Trewartha climate classification. Climate dynamics. 38:1359-1373. Online
Oglesby, R. J., Feng, S., Hu, Q. 2012. The role of the Atlantic Multidecadal Oscillation on Medieval drought in North America: synthesizing results from proxy data and climate models. Global and Planetary Change. 84:56-65. Online
Hu, Q., S. Feng, and R.J. Oglesby, 2011: Variations in North American summer precipitation driven by the Atlantic Multidecadal Oscillation. J. Climate, 24, 5555-5570. Online
Feng S., R.J. Oglesby, C. Rowe, D. Loope and Q. Hu, 2008. Atlantic and Pacific SST influences on Medieval drought in North America simulated by the Community Atmospheric Model. J. Geophys. Res. 113, D11101, doi:10.1029/2007JD009347.
BS - University of California-Davis,, Physical Geography (1985)
MS - Yale University, Geophysical Fluid Dynamics (1987)
PhD - Yale University, Geophysical Fluid Dynamics (1990)
Applied Climate and Spatial Science
Currently this page only displays grants that were awarded on 1/1/2009 to the present. If a grant was awarded prior to 1/1/2009 and is still active, it will not be displayed on this page.
Grant Title
Quantifying the Relative Roles of Local versus Remote Effects on North American Summertime Drought
Starting Date
12/20/2013
Ending Date
11/5/2014
Funding Level
$124,750.00
Funding Source
National Aeronautics and Space Administration
Grant Title
Precipitation Dataset Northern Hemisphere (additional funding)
Starting Date
8/1/2012
Ending Date
7/31/2013
Funding Level
$179,502.00
Funding Source
National Oceanic and Atmospheric Administration
Grant Title
Understanding and Predicting Tropical and North Atlantic SST Forcing on Variations in Warm Season Precipitation over North America (additional funding)
Starting Date
8/1/2011
Ending Date
7/31/2012
Funding Level
$100,000.00
Funding Source
National Oceanic and Atmospheric Administration/CPO
Grant Title
Precipitation Dataset Northern Hemisphere (additional funding)
Starting Date
8/1/2010
Ending Date
7/31/2012
Funding Level
$84,999.00
Funding Source
National Oceanic and Atmospheric Administration
Grant Title
Megadrought-Local vs Remote Causal Factors for Medieval North America
Starting Date
5/1/2011
Ending Date
4/30/2014
Funding Level
$469,398.00
Funding Source
National Science Foundation
Grant Title
Global Climate Change Education
Starting Date
1/1/2011
Ending Date
12/31/2013
Funding Level
$349,973.00
Funding Source
National Aeronautics and Space Administration
Grant Title
Development of a Northern Hemisphere Gridded Precipitation Dataset Spanning the Past Half Millennium
Starting Date
8/1/2010
Ending Date
7/31/2011
Funding Level
$165,000.00
Funding Source
National Oceanic and Atmospheric Administration
Grant Title
National Oceanic and Atmospheric Administration Warm Season Precipatation over North America
Starting Date
8/1/2009
Ending Date
7/31/2011
Funding Level
$97,000.00
Funding Source
National Oceanic and Atmospheric Administration
Grant Title
Understanding and Predicting Tropical and North Atlantic SST Forcing on Variations in Warm Season Precipitation over North America
Starting Date
5/1/2009
Ending Date
4/30/2012
Funding Level
$95,000.00
Funding Source
National Oceanic and Atmospheric Administration/CPO
Graduate Program(s)

Master of Science in Natural Resource Sciences

Doctor of Philosophy in Natural Resource Sciences