Steven Thomas
Update your profile

Contact Information
My Story
Publications & Presentations
Background
Interests
Grants
Advising
Courses Taught
Outreach
Title
Environmental Science Mission Area Leader
Address
403 Hardin Hall
3310 Holdrege Street
Lincoln NE
68583-0974
Phone
402-613-0043
FAX
402-472-2946
E-mail
sthomas5@unl.edu
Vitae
Download file
email, phone
Hi, I'm Steven Thomas, a river/stream ecologist with the School of Natural Resources.
Simply put, I'm interested in understanding how the properties of one location impact the ecological properties of another. The flow of water links upstream and downstream habitats, and longitudinal connection is a fundamental, though often ignored, aspect of ecology.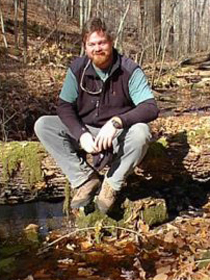 My research combines ecology and hydrology to address nutrients in streams, microbiological activity, and organic matter production, transport and processing.
These interests have led me to research topics such as organic particle dynamics in stream ecosystems, in-stream nitrogen removal and transport; hydrology, remote sensing and thermal heterogeneity in floodplain river ecosystems; flow paths and the formation of biogeochemical hotspots; and other areas.
My research is nested within the broader intellectual pursuit of understanding landscape integration at the watershed scale.
I came to UNL as an assistant professor of stream ecology in January 2006. Previously, I've been a postdoctoral fellow at Cornell University and formerly a research hydrologist in the private sector.
I've taught at the graduate and undergraduate levels in biology, limnology and the use of stable isotopes in ecology, among other topics.
Collins, S. M., Sparks, J. P., Thomas, S., Wheatley, S. M., Flecker, A. S. (2016). Increased Light Availability Reduces the Importance of Bacterial Carbon in Headwater Stream Food Webs. Ecosystems. 19: 396-410. Online
Collins, S. M., Thomas, S., Heatherly, T. N., MacNeill, K., Leduc, A., Lamphere, B., Reznick, D. N., Pringle, C., Flecker, A. S. 2016. Fish introductions and light modulate food web fluxes in tropical streams: a whole-ecosystem experimental approach. Ecology. 97:3154-3166. Online
Gill, B. A., Kondratieff, B. C., Casner, K. L., Encalada, A. C., Flecker, A. S., Gannon, D. G., Ghalambor, C. K., Guaysamin, J. M., Poff, N. L., Simmons, M. P., Thomas, S., Zamudio, K. R., Funk, W. C. 2016. Cryptic species diversity reveals biogeographic support for the 'mountain passes are higher in the tropics' hypothesis. Proceedings of the Royal Society B, 283(1832). Online
Lessmann, J., Guayasamin, J. M., Casner, K. L., Flecker, A. S., Funk, W. C., Ghalambor, C. K., Gill, B. A., Jacome-Negrete, I., Kondratieff, B. C., Poff, N. L., Schreckinger, J., Thomas, S., Toral-Contreras, E., Zamudio, K. R., Encalada, A. C. 2016. Freshwater vertebrate and invertebrate diversity patterns in an Andean-Amazon basin: implications for conservation efforts. Neotropical Biodiversity, 2(1):99-114. Online
Reynolds, K. N., Loecke, T. D., Burgin, A. J., Davis, C. A., Riveros - Iregui, D., Thomas, S., St Clair, M. A., Ward, A. S. 2016. Optimizing sampling strategies for riverine nitrate using high-frequency data in agricultural watersheds. Environmental Science and Technology, 50(12):6406-6414. Online
Collins, S. M., Kohler, T. J., Thomas, S., Fetzer, W. W., Flecker, A. S. 2015. The importance of terrestrial subsidies in stream food webs varies. Oikoa Synthesising ecology. 125:674-685. Online
BS - University of New Hampshire, Botany
MS - University of Wyoming
PhD - Idaho State University
2010 – Recognition of Junior Faculty for Excellence in Research awarded by Agricultural Research Division of UNL
Applied Ecology
Environmental Science
Spatial dynamics of biogeochemical cycling in ecosystems
stream ecosystems
Population Dynamics, Distribution
River and Streams
Aquatic Ecosystems
Ecohydrology
Freshwater
Resilience
Watersheds
Insect Ecology
Currently this page only displays grants that were awarded on 1/1/2009 to the present. If a grant was awarded prior to 1/1/2009 and is still active, it will not be displayed on this page.
Grant Title
The Effects of Alum and Fish Restoration on Water Quality in the Fremont Lake, NE (additional extension funding)
Starting Date
5/1/2014
Ending Date
6/30/2015
Funding Level
$31,009.00
Funding Source
Nebraska Department of Environmental Quality
Grant Title
Chlorophyll in Nebraska Lake Samples
Starting Date
1/1/2014
Ending Date
12/31/2015
Funding Level
$4,050.00
Funding Source
Nebraska Department of Environmental Quality
Grant Title
Understanding Cyanobacteria Blooms in Willow Creek Reservoir
Starting Date
8/1/2012
Ending Date
7/31/2014
Funding Level
$79,860.00
Funding Source
Lower Elkhorn NRD
Grant Title
Fremont Water Quality (additional funding)
Starting Date
4/13/2012
Ending Date
6/30/2015
Funding Level
$23,700.00
Funding Source
Nebraksa Department of Environmental Quality
Grant Title
RAPID: Using Drought-enhanced Nitrate Pulse to Understand Stream N Retention and Processing
Starting Date
10/1/2012
Ending Date
9/30/2013
Funding Level
$198,949.00
Funding Source
National Science Foundation
Grant Title
Dimensions: Stream Biodiversity: Supp. (additional funding)
Starting Date
6/6/2012
Ending Date
3/31/2016
Funding Level
$20,582.00
Funding Source
National Science Foundation
Grant Title
Fremont Water Quality
Starting Date
4/6/2012
Ending Date
6/30/2014
Funding Level
$240,448.00
Funding Source
Nebraksa Department of Environmental Quality
Grant Title
Chlorophyll in Nebraska Lake Samples
Starting Date
3/1/2012
Ending Date
12/31/2013
Funding Level
$4,013.00
Funding Source
Nebraska Department of Environmental Quality
Grant Title
FIBR: Linking Genes to Ecosystems (additional funding)
Starting Date
10/1/2010
Ending Date
9/30/2011
Funding Level
$10,000.00
Funding Source
University of California-Riverside
Grant Title
Cyanobacteria Bloom
Starting Date
3/1/2011
Ending Date
2/28/2013
Funding Level
$178,376.00
Funding Source
Nebraska Department of Environmental Quality
Grant Title
FIBR: Linking Genes to Ecosystems (additional funding)
Starting Date
10/1/2010
Ending Date
9/30/2011
Funding Level
$81,018.00
Funding Source
University of California-Riverside
Grant Title
An Integrative Traits-Based Approach to Predicting Variation in Vulnerability of Tropical and Temperate Stream Biodiversity to Climate Change (additional funding)
Starting Date
4/1/2011
Ending Date
3/31/2016
Funding Level
$290,229.00
Funding Source
National Science Foundation
Grant Title
FIBR: Linking Genes to Ecosystems (additional funding)
Starting Date
10/1/2009
Ending Date
9/30/2010
Funding Level
$126,570.00
Funding Source
University of California-Riverside
Undergraduate Majors
Bachelor of Science in
Graduate Program(s)

Master of Science in Natural Resource Sciences


including specializations in

Doctor of Philosophy in Natural Resource Sciences


including specializations in
Courses Taught
Course Number
Course Title
Fall Even Years
Fall Odd Years
Spring Even Years
Spring Odd Years
Summer Session
Cross Listing
GEOG 281
Introduction to Water Science
X
X
NRES/WATS 281
NRES 281
Introduction to Water Science
X
X
GEOG/NRES 281
NRES 459
Limnology
X
BIOS/NRES/WATS 459/859
NRES 481
Stream and River Ecology
X
X
NRES/WATS 481/881
NRES 859
Limnology
X
BIOS/NRES/WATS 459/859
NRES 881
Stream and River Ecology
X
X
NRES/WATS 481/881
WATS 281
Introduction to Water Science
X
X
GEOG/NRES 281
WATS 299
Career Experiences
X
X
X
X
n/a
WATS 459
Limnology
X
BIOS/NRES/WATS 459/859
WATS 481
Stream and River Ecology
X
X
NRES/WATS 481/881
WATS 496
Principles and Problems in Water Science
X
X
X
None
WATS 498A
Senior Project I
X
X
X
X
None
WATS 498B
Senior Project II
X
X
X
X
None
WATS 499H
Honors Thesis
X
X
X
None