Paul Hanson
Update your profile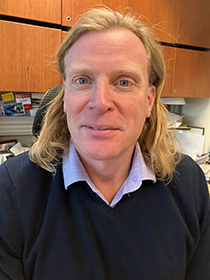 Contact Information
My Story
Publications & Presentations
Background
Interests
Grants
Advising
Courses Taught
Outreach
Title
Associate Director
Address
904 Hardin Hall
3310 Holdrege Street
Lincoln NE
68583-0989
Phone
402-472-7762
FAX
402-472-2946
E-mail
phanson2@unl.edu
Vitae
Download file
Hi, I'm Paul Hanson, and I'm the associate director of the School of Natural Resources. I am also an assistant professor in SNR. I'm associated with the geography/GIScience faculty and the geology and soils faculty.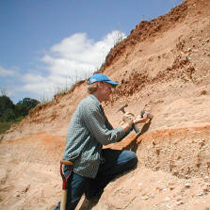 My main research interests are studying the responses of river, hillslope, and eolian (wind-deposited) systems to climate change. My research goals include studying the evolution of the Platte River system, the responses of rivers and dune systems to climate change in the recent past, and the causes for stream incision on the western Great Plains and the central Rocky Mountains.
For much of this work, I use optical dating techniques (aka "Optically Stimulated Luminescence," a relatively new dating technique that is used for recently deposited geological materials) to construct chronologies of river, dune, and hillslope sediments. These studies are important for identifying the long-term climatic conditions in Nebraska, particularly concerning the nature of drought events and changes in flood magnitudes in the region.
Other aspects of my research involve producing surficial geologic maps, and studying groundwater resources in eastern Nebraska. These kinds of studies are important to achieve a better understanding of our groundwater and other geological resources that are of economic importance in Nebraska.
I teach courses in physical geography and lead natural resource field trip courses to the Boundary Waters in Minnesota and Big Bend National Park in Texas.
Mason, J., Jacobs, P., Guley, K., Reyerson, P., Hanson, P. 2016. Parent Material Influence on Soil Response to Vegetation Change, Southeastern Minnesota, USA. Catena. 275:1-17.
Miao, X., Wang, H., Hanson, P., Mason, J., Liu, X. 2016. Using both OSL and radiocarbon dates to constrain the time of soil development. Geoderma. 261:93-100.
Divine, D.P., Joeckel, R.M., Korus, J.T., Hanson, P.R., Olafsen Lackey, S., 2009, Eastern Nebraska Water Resources Assessment (ENWRA): Introduction to a Hydrogeologic Study, University of Nebraska-Lincoln, Conservation and Survey Division Bulletin 1 (New Series), 32 p.
Hanson, P.R., Joeckel, R.M., Young, A.R., Horn, J. 2009. Late Holocene Dune Activity in the Eastern Platte River Valley, Nebraska, Geomorphology 103:555-561.
Rawling, J.E., III, Hanson, P.R., Young, A.R., Attig, J.W., 2008, Late Pleistocene dune construction in the Central Sand Plain of Wisconsin, USA, Geomorphology 100:494-505.
BA - University of Wisconsin-Milwaukee, Anthropology with an emphasis in Archaeology (1994)
MS - University of Nebraska-Lincoln, Geosciences (2003)
PhD - University of Nebraska-Lincoln, Geosciences (2005)
Applied Climate and Spatial Science
Environmental Science
Regional Cenozoic sedimentology and stratigraphy
Surficial processes
Climate change and landscape evolution
Evolution of hillslope, eolian, and fluvial systems
Quaternary geology
Quaternary geochronology
Optical dating
Soil geomorphology
Geoarchaeology
Cenozoic paleoclimatology
Sand
Geographic Information Systems/GIS
Mapping, Cartography
Currently this page only displays grants that were awarded on 1/1/2009 to the present. If a grant was awarded prior to 1/1/2009 and is still active, it will not be displayed on this page.
Grant Title
Soil Survey Information Production and Management
Starting Date
2/9/2017
Ending Date
9/30/2017
Funding Level
$55,000.00
Funding Source
Grant Title
Nebraska State Map 16-17 (Additional Funding)
Starting Date
9/15/2016
Ending Date
9/14/2017
Funding Level
$44,140.00
Funding Source
USGS
Grant Title
Digital Video Training Materials for the Soil Survey Program
Starting Date
8/29/2016
Ending Date
9/30/2017
Funding Level
$12,000.00
Funding Source
USDA - NRCS
Grant Title
Nebraska Statemap FY 2015
Starting Date
9/15/2015
Ending Date
9/14/2016
Funding Level
$86,366.00
Funding Source
U. S. Geological Survey
Grant Title
Soil Quality from Selected Areas of the United States
Starting Date
9/18/2015
Ending Date
9/30/2017
Funding Level
$215,000.00
Funding Source
U. S. Department of Agriculture - Natural Resources Conservation Service
Grant Title
Soil Survey Information Production and Management
Starting Date
9/18/2015
Ending Date
9/30/2017
Funding Level
$64,700.00
Funding Source
U. S. Department of Agriculture - National Soil Survey Center
Grant Title
Nebraska FY2014 Statemap Project
Starting Date
9/15/2014
Ending Date
9/14/2015
Funding Level
$65,623.00
Funding Source
US Department of the Interior - Geological Survey
Grant Title
Nebraska FY 2014 Statemap Project
Starting Date
9/15/2014
Ending Date
9/14/2015
Funding Level
$65,623.00
Funding Source
US Department of the Interior - Geological Survey
Grant Title
2013-2014 Statemap
Starting Date
9/15/2013
Ending Date
9/14/2014
Funding Level
$72,636.00
Funding Source
US Department of the Interior
Grant Title
2012-2013 Statemap
Starting Date
7/1/2012
Ending Date
6/30/2013
Funding Level
$69,667.00
Funding Source
US Department of Interior - Geological Survey
Grant Title
OSL Dating of Sediment Samples
Starting Date
7/1/2011
Ending Date
12/31/2012
Funding Level
$15,522.00
Funding Source
US Department of the Interior
Grant Title
Nebraska State Map 11-12 (Additional Funding)
Starting Date
7/1/2011
Ending Date
6/30/2012
Funding Level
$71,017.00
Funding Source
US Department of Agriculture
Grant Title
Subsurface Investigation for Eolin and Interdune Deposits Near Crecent Lake
Starting Date
8/1/2010
Ending Date
12/31/2011
Funding Level
$65,000.00
Funding Source
US Department of the Interior
Grant Title
Nebraska State Map 2010-11 (additional funding)
Starting Date
5/15/2010
Ending Date
5/14/2011
Funding Level
$75,854.00
Funding Source
US Department of the Interior - Geological Survey
Grant Title
Eastern Nebraska HEM Aquifier Mapping
Starting Date
7/15/2009
Ending Date
7/1/2010
Funding Level
$60,000.00
Funding Source
Lower Platte South NRD
Grant Title
Eastern Nebraska Water Resources Assessment Study, Ashland, Firth, and Oakland Bulletins
Starting Date
7/1/2009
Ending Date
7/1/2011
Funding Level
$84,500.00
Funding Source
Lower Platte North NRD
Grant Title
Collaborative Research: Linking Loess landforms and Eolian Processes
Starting Date
7/1/2009
Ending Date
6/30/2011
Funding Level
$45,730.00
Funding Source
National Science Foundation
Grant Title
REU Site: Collaborative Research: Dune Undergraduate Geomorphology and Geochronology (DUGG) Project in Wisconsin
Starting Date
6/1/2009
Ending Date
5/31/2012
Funding Level
$44,228.00
Funding Source
University of Wisconsin-Platteville
Grant Title
Nebraska State Map 2009-10
Starting Date
5/1/2009
Ending Date
4/30/2010
Funding Level
$82,156.00
Funding Source
US Department of the Interior - Geological Survey
Grant Title
Eastern Nebraska Water Resources Assessment
Starting Date
8/1/2008
Ending Date
7/1/2010
Funding Level
$17,080.00
Funding Source
Lower Platte North NRD
Undergraduate Majors
Bachelor of Science in

Environmental Restoration Science
Geography


Bachelor of Arts in
Graduate Program(s)

Master of Arts in Geography

Master of Science in Natural Resource Sciences

Doctor of Philosophy in Geography

Doctor of Philosophy in Natural Resource Sciences
Courses Taught
Course Number
Course Title
Fall Even Years
Fall Odd Years
Spring Even Years
Spring Odd Years
Summer Session
Cross Listing
GEOG 412
Introduction to Geographic Information Systems
X
X
X
X
GEOG/NRES 412/812
GEOG 491
Geography Field Tour
GEOG 491/891; NRES 491
GEOG 812
Introduction to Geographic Information Systems
X
X
X
X
GEOG/NRES 412/812
GEOG 891
Geography Field Tour
GEOG 491/891; NRES 491
GEOG 902
General Seminar
X
X
X
X
n/a
NRES 412
Introduction to Geographic Information Systems
X
X
X
X
GEOG/NRES 412/812
NRES 477
Great Plains Field Pedology
X
X
AGRO 477/877, GEOG/NRES 467/867
NRES 491
Geography Field Tour
GEOG 491/891; NRES 491
NRES 812
Introduction to Geographic Information Systems
X
X
X
X
GEOG/NRES 412/812
NRES 877
Great Plains Field Pedology
X
X
AGRO 477/877, GEOG/NRES 467/867