Kevin Pope
Update your profile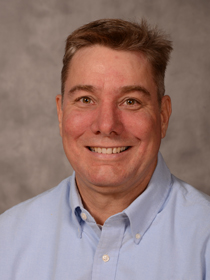 Contact Information
My Story
Publications & Presentations
Background
Interests
Grants
Advising
Courses Taught
Outreach
Title
Assistant Unit Leader of the U.S. Geological Survey - Nebraska Cooperative Fish and Wildlife Unit (Fisheries)
Address
424 Hardin Hall
3310 Holdrege Street
Lincoln NE
68583-0984
Phone
402-472-7028
FAX
402-472-2722
E-mail
kpope2@unl.edu
I'm an assistant unit leader of the U.S. Geological Survey-Nebraska Cooperative Fish and Wildlife Unit, and a professor in the School of Natural Resources.
The Nebraska Cooperative Fish and Wildlife Research Unit is a unique, collaborative relationship between the U.S. Geological Survey, the University of Nebraska, the Nebraska Game and Parks Commission, the U.S. Fish and Wildlife Service and the Wildlife Management Institute. The mission of the Unit is
to train graduate students for professional careers in natural resources research and management
to conduct research that will create new information useful for management of natural resources
to provide technical assistance to cooperators
As such, the research focus of the Unit is applied problems and issues--relevant to the wise use of natural resources--within and beyond Nebraska.
I advance the education of graduate students by teaching Quantitative Fishery Assessment (in spring of even years) and co-teaching Managed Aquatic Systems (in spring of odd years) with Dr. Mark Pegg. I also have an active research lab for masters and doctoral students and postdoctoral associates.
The goal of my research program is to increase our understanding of recreational fisheries as complex social--ecological systems. Many of my studies are initiated in response to the needs of cooperators and are designed to provide information useful in directly improving management of aquatic resources.
I've been at UNL since 2005 and I participate in the Applied Ecology Mission Area.
Birge, H. E., Garmestani, A. S., Allen, C., Pope, K. L. 2016. Adaptive management for ecosystem services. Journal of Environmental Management, 183:343-352. Online
DeBoer, J. A., Pope, K. L. 2016. Factors influencing recruitment of walleye and white bass to three distinct early ontogenetic stages. Ecology of Freshwater Fish. 25:504-517. Online
DeBoer, J. A., Weber, C. M., Dixon, T. A., Pope, K. L. 2016. The influence of a severe reservoir drawdown on springtime zooplankton and larval fish assemblages in Red Willow Reservoir, Nebraska. Journal of Freshwater Ecology. 31:131-146. Online
Pope, K. L., Chizinski, C., Wiley, C. L., Martin, D. 2016. Influence of anglers' specializations on catch, harvest, and bycatch of targeted taxa. Fisheries Research. 183:128–137. Online
Pope, K. L., Hamel, M., Pegg, M. A., Spurgeon, J. J. 2016. The global status of freshwater fish age validation studies and a prioritization framework for future research. Reviews in Fisheries Science and Aquaculture, 23:329–345. Online
Pope, K. L., Pegg, M. A., Cole, N. W., Siddons, S. F., Fedele, A. D., Harmon, B. S., Ruskamp, R. L., Turner, D. R., Uerling, C. C. 2016. Fishing for ecosystem services. Journal of environmental management. 183:408-417. Online
Spurgeon, J. J., Stewart, N. T., Pegg, M. A., Pope, K. L., Porath, M. T. 2016. Using standardized fishery data to inform rehabilitation efforts. Lake and Reservoir Management. 32(1):41–50. Online
Turek, K. C., Pegg, M. A., Pope, K. L., Schainost, S. 2016. Potential population and assemblage influences of non-native trout on native nongame fish in Nebraska headwater streams. Ecology of Freshwater Fish. 25(1):99–108. Online
BS - Texas A&M University, Wildlife and Fisheries Management (1991)
MS - Auburn Univeristy, Fisheries and Allied Aquacultures (1993)
PhD - South Dakota State University, Biological Sciences (1996)
Complexity of fishery management, with specific foci on understanding

influences of sampling approaches on fishery data
dynamics within and among fish communities and angler groups
social and ecological outcomes and consequences of management actions
Currently this page only displays grants that were awarded on 1/1/2009 to the present. If a grant was awarded prior to 1/1/2009 and is still active, it will not be displayed on this page.
Grant Title
Comprehensive Evaluation of the Nebraska Outdoor Enthusiast
Starting Date
1/1/2016
Ending Date
1/31/2019
Funding Level
$293,372.00
Funding Source
Nebraska Game and Parks Commission
Grant Title
Sutherland Rsvr 2016 Assessment
Starting Date
2/25/2016
Ending Date
1/31/2017
Funding Level
$50,274.00
Funding Source
NPPD
Grant Title
The Effects of Alum and Fish Restoration on Water Quality in the Fremont Lake, NE (additional extension funding)
Starting Date
5/1/2014
Ending Date
6/30/2015
Funding Level
$31,009.00
Funding Source
Nebraska Department of Environmental Quality
Grant Title
Fremont Continuation
Starting Date
4/1/2014
Ending Date
5/31/2015
Funding Level
$26,400.00
Funding Source
Nebraska Game and Parks Commission
Grant Title
Human Dimensions of Nebraska's Fisheries
Starting Date
1/1/2014
Ending Date
12/31/2018
Funding Level
$2,165,236.00
Funding Source
Nebraska Game and Parks Commission
Grant Title
Fremont Water Quality (additional funding)
Starting Date
4/13/2012
Ending Date
6/30/2015
Funding Level
$23,700.00
Funding Source
Nebraksa Department of Environmental Quality
Grant Title
Basses in Nebraska Reservoirs
Starting Date
7/1/2012
Ending Date
6/30/2015
Funding Level
$212,683.00
Funding Source
Nebraska Game and Parks Commission
Grant Title
Influence of Trout Stockings on Tier I/II Fishes
Starting Date
5/1/2012
Ending Date
4/30/2014
Funding Level
$114,576.00
Funding Source
Nebraska Game and Parks Commission
Grant Title
Fremont Water Quality
Starting Date
4/6/2012
Ending Date
6/30/2014
Funding Level
$240,448.00
Funding Source
Nebraksa Department of Environmental Quality
Grant Title
Recruitment of Walleye and White Bass (additional funding)
Starting Date
9/1/2011
Ending Date
8/31/2013
Funding Level
$143,519.00
Funding Source
Nebraska Game and Parks Commission
Grant Title
Influence of Trout Stockings on Tier I/II Fishes
Starting Date
5/1/2011
Ending Date
4/30/2012
Funding Level
$32,000.00
Funding Source
Nebraska Game and Parks Commission
Grant Title
Walleye/White Bass in Irrigation (additional funding)
Starting Date
9/1/2010
Ending Date
8/31/2011
Funding Level
$50,917.00
Funding Source
Nebraska Game and Parks Commission
Grant Title
Angler Behavior in Response to Management Actions on Nebraska Reservoirs
Starting Date
1/1/2009
Ending Date
12/31/2013
Funding Level
$3,147,776.00
Funding Source
Nebraska Game and Parks Commission
Graduate Program(s)

Master of Science in Natural Resource Sciences


including specializations in

Doctor of Philosophy in Natural Resource Sciences


including specializations in
Courses Taught
Course Number
Course Title
Fall Even Years
Fall Odd Years
Spring Even Years
Spring Odd Years
Summer Session
Cross Listing
NRES 871
Quantitative Fishery Assessment
X
None
NRES 965
Managed Aquatic Systems
X
None