Mary Bomberger Brown
Update your profile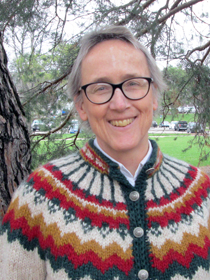 Contact Information
My Story
Publications & Presentations
Background
Expertise & Interests
Grants
Advising
Courses Taught
Outreach
Title
Program Coordinator, Tern & Plover Conservation Partnership
Address
516 Hardin Hall
3310 Holdrege Street
Lincoln NE
68583-0995
Phone
402-472-8878
FAX
402-472-2946
E-mail
mbrown9@unl.edu
Vitae
Download file
M - F 8 am to 5 pm
Mary Bomberger Brown joined the Tern and Plover Conservation Partnership as program coordinator in 2007. The Partnership, based in the School of Natural Resources, was established in 1999 as a cooperative endeavor by the University of Nebraska, the Nebraska Game and Parks Commission, the United States Fish and Wildlife Service, the aggregate mining industry, and the Nebraska Environmental Trust.
The Partnership works with sand and gravel mining companies, real estate developers, property owners, and the public to ensure that Nebraska's Interior Least Terns (Sternula antillarum athalassos) and Piping Plovers (Charadrius melodus) are undisturbed during the nesting season. Terns and plovers are protected by the federal Endangered Species Act, the Nebraska Nongame and Endangered Species Conservation Act, and the International Migratory Bird Conservation Act. Terns are listed as endangered and plovers are listed as threatened. The Nebraska Natural Legacy Project lists both as Tier 1 At-Risk species in the state.
In the Great Plains, terns and plovers prefer to nest on sparsely vegetated river sandbars. "However, with all of the changes that have taken place over the years, our rivers aren't what they once were, so there aren't as many sandbars available to the birds for nesting," Bomberger Brown said. "But there are a lot of sand and gravel mines and lakeshore housing developments in Nebraska. The birds are seeing the sand spill piles at mines and the sandy beaches at housing developments as perfectly good places to nest." This puts these two legally protected species in conflict with human activities. By anticipating the birds' behavior and human activity at mines and housing developments, the Partnership is able to deter birds from nesting in certain areas, and to steer them toward spots where they can nest safely. "There haven't been any violations of state or federal endangered species protection laws in relation to terns and plovers in Nebraska since the Partnership was founded," Bomberger Brown said. "That is something we're very proud of."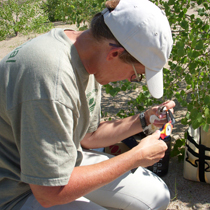 Bomberger Brown spent every summer from 1979 to 2006 doing field research on Cliff Swallows (Petrochelidon pyrrhonota) at the University of Nebraska's Cedar Point Biological Station in western Nebraska. She spent the rest of each year in a research faculty position at different academic institutions: four years at Princeton University, 10 years at Yale University, and 14 years at the University of Tulsa.
She and her long-time research partner, Charles R. Brown, published many articles and books during those years, sharing their findings regarding bird behavior, demographics, epidemiology, population genetics, and natural history. In 2009, they received the Elliott Coues medal from the American Ornithologists' Union for outstanding and innovative contributions to ornithological research.
Bomberger Brown received a Ph.D. in Applied Ecology in the School of Natural Resources in 2011. She has bachelor's (with distinction) and master's degrees from the University of Nebraska's School of Biological Sciences.
Johnsgard, P. E. Fowler, M. Forsberg, M. Bomberger Brown, D. Ebbeka, J. Loomis and P. Freeman. 2014. Game Birds of the World: A catalog of the Madison collection. School of Natural Resources, and University of Nebraska State Museum. 117 pp. On-Line
Brown, C. R. and M.B. Brown. 2013. Where has all the road kill gone? Current Biology 23: R233 – R234. On-Line
Brown, C. R., M.B. Brown and E.A. Roche. 2013. Fluctuating viability selection on morphology of cliff swallows driven by climate. Journal of Evolutionary Biology 26: 1120-1142 On-Line
Brown, M.B. 2011. Natural selection and age-related variation in morphology of a colonial bird. Ph.D. dissertation, University of Nebraska, Lincoln, NE. On-Line
Brown, M.B. and C. R. Brown. 2011. Intense natural selection on morphology of Cliff Swallows a decade later: did the population move between adaptive peaks? Auk 128: 69 – 77. On-Line
Brown, C. R. and M. B. Brown. 2000. Heritable basis for choice of group size in a colonial bird, Proceedings of the National Academy of Sciences U.S.A., 97: 14825 - 14830. On-Line
Brown, C. R. and M. B. Brown. 1998. Intense natural selection on body size and wing and tail asymmetry in Cliff Swallows during severe weather. Evolution 52: 1461 - 1475. On-Line
Brown, C. R. and M. B. Brown. 1996. Coloniality in the Cliff Swallow: the effect of group size on social behavior, University of Chicago Press, Chicago, IL 566pp.
Brown, C. R. and M. B. Brown. 1988. A new form of reproductive parasitism in Cliff Swallows. Nature 331: 66 - 68. On-Line
Natural Selection and Age-related Variation in Morphology of a Colonial Bird
Presentation Type: Dissertation Defense
Date: 4/18/2011
Abstract:

In May 1996, inclement weather led to the deaths of thousands of Cliff Swallows (Petrochelidon pyrrhonota) in Nebraska. Survivors had larger skeletons, shorter wings and tails, and less wing asymmetry than non-survivors. This population was followed for 10 years to study 1) whether natural selection events result in permanent microevolutionary changes, 2) if variation in climate affects the development of morphological traits, and 3) if morphological traits vary systematically with age.

Patterns in morphology exhibited by swallows following the selection event were studied by measuring yearling birds. Wing and middle tail lengths decreased, beak length and width increased, tarsus length was unchanged, and the amount of wing asymmetry increased. The cumulative directional change in wing, tail, and beak length was greater after the selection event than during the event. This variation was not explained by phenotypic plasticity resulting from better environmental conditions, because conditions were not significantly different before and after the event. There was no evidence opposing selection restored skeletal size or wing or tail length to that before the selection event. This continued change in morphology may represent the population shifting to a different fitness peak in the adaptive landscape.

The way variation in climatic conditions (and food resources) affects the morphological development of juvenile swallows was studied. In cooler years birds allocated less growth to wings and tails than they did in warmer years, while maintaining normal levels of skeletal growth and body mass. Changes in juvenile feather growth in response to rearing conditions persisted into the first breeding season.

The extent morphological traits vary with age across a bird's lifetime was examined. Juveniles had shorter wings and tails, lower body mass, smaller skeletal size and lower levels of fluctuating asymmetry than adults. Among adult age classes, wing and tail length increased with age and wing and tail fluctuating asymmetry decreased with age. There was no evidence for degenerative senescence in swallows, as the decline in fluctuating asymmetry suggests the oldest birds maintain high levels of phenotypic performance. This age-related variation in morphology suggests that age should be considered in future analyses of morphological variation in passerines.
BS - University of Nebraska-Lincoln, School of Biological Science, Biology (1979)
MS - University of Nebraska-Lincoln, School of Biological Science, Biology (Ornithology) (1982)
PhD - University of Nebraska-Lincoln, School of Natural Resources, Natural Resource Sciences with a specialization in Applied Ecology (2011)
8/2013 – Fellow of the American Ornithologists' Union awarded by American Ornithologists' Union
April 2013 – Outstanding Bird Conservation Award awarded by Nebraska Bird Partnership
Tern and Plover Conservation Partnership
Ornithology
Wildlife Ecology
Conservation
Birds
Keyword
Expert Level

10 - Top Expert
1 - Mild Interest

1

1

1

1

1
Select a keyword and see other SNR faculty and staff with this interest or expertise.
Currently this page only displays grants that were awarded on 1/1/2009 to the present. If a grant was awarded prior to 1/1/2009 and is still active, it will not be displayed on this page.
Grant Title
Non-Game Bird Research Assistance
Starting Date
12/1/2006
Ending Date
8/31/2017
Funding Level
$40,208.00
Funding Source
Nebraska Game and Parks Commission
Grant Title
Tern and Plover Conservation (additional funding)
Starting Date
9/15/2016
Ending Date
6/30/2019
Funding Level
$75,000.00
Funding Source
Nebraska Game and Parks Commission
Grant Title
At-Risk Bird Species Surveys, Monitoring and Research
Starting Date
4/1/2016
Ending Date
2/28/2018
Funding Level
$30,596.00
Funding Source
Nebraska Game and Parks Commission
Grant Title
Tern and Plover Conservation (additional funding)
Starting Date
4/3/2014
Ending Date
6/30/2015
Funding Level
$58,880.00
Funding Source
Nebraska Environmental Trust
Grant Title
Toward Adaptive Management Evaluating Piping Plover Management at Lake McConaughy NE
Starting Date
9/11/2013
Ending Date
12/31/2015
Funding Level
$34,509.00
Funding Source
Nebraska Game and Parks Commission
Grant Title
Tern and Plover Conservation (additional funding)
Starting Date
4/1/2013
Ending Date
6/30/2014
Funding Level
$77,577.00
Funding Source
Nebraska Environmental Trust
Grant Title
Piping Plover Management at Lake McConaughy, NE
Starting Date
3/28/2013
Ending Date
7/31/2014
Funding Level
$14,576.00
Funding Source
Nebraska Game and Parks Commission
Grant Title
Persistent Effects of Wind-Power Development on Prairie Grouse in Nebraska
Starting Date
1/29/2013
Ending Date
6/30/2016
Funding Level
$88,300.00
Funding Source
Nebraska Game and Parks Commission
Grant Title
Tern and Plover Conservation (Additional Funding)
Starting Date
7/1/2012
Ending Date
6/30/2015
Funding Level
$75,000.00
Funding Source
Nebraska Game and Parks Commission
Grant Title
Tern and Plover Conservation
Starting Date
4/25/2012
Ending Date
6/30/2013
Funding Level
$54,362.00
Funding Source
Nebraska Environmental Trust
Grant Title
Persistent Effects of Wind-Power Development on Prairie Grouse in Nebraska
Starting Date
1/19/2012
Ending Date
6/30/2016
Funding Level
$598,000.00
Funding Source
Nebraska Game and Parks Commission
Grant Title
A Common Sense Approach to Interior Least Tern and Piping Plover Conservation in Nebraska
Starting Date
3/18/2010
Ending Date
9/15/2011
Funding Level
$10,000.00
Funding Source
Nebraska Bird Partnership
Grant Title
Restoring Interior Least Tern and Piping Plover Populations by Restoring Lower Platte River Sandbar Habitat
Starting Date
3/18/2010
Ending Date
9/15/2011
Funding Level
$49,336.00
Funding Source
Nebraska Game and Parks Commission
Grant Title
Advancing Tern and Plover Common Sense Conservation (additional funding)
Starting Date
4/1/2010
Ending Date
6/30/2011
Funding Level
$70,000.00
Funding Source
Nebraska Environmental Trust
Grant Title
Advancing Tern and Plover Common Sense Conservation into the Future
Starting Date
4/17/2009
Ending Date
6/30/2010
Funding Level
$70,000.00
Funding Source
Nebraska Educational Telecommunications
Graduate Program(s)

Master of Science in Natural Resource Sciences


including specializations in
Courses Taught
Course Number
Course Title
Fall Even Years
Fall Odd Years
Spring Even Years
Spring Odd Years
Summer Session
Cross Listing
NRES 898
Special Topics: Academic Publishing
X
n/a