Ed Peters
Update your profile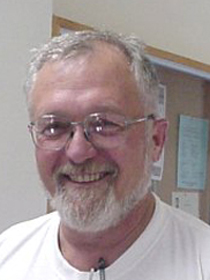 Contact Information
My Story
Publications & Presentations
Background
Expertise & Interests
Advising
Courses Taught
Outreach
Title
Emeritus Professor
Address
101 Hardin Hall
3310 Holdrege Street
Lincoln NE
68583-0961
Phone
402-472-3471
E-mail
epeters2@unl.edu
Hi, I'm Ed Peters, fisheries ecologist and professor emeritus in the School of Natural Resources.
For the las years I have studied fish and aquatic habitats, and taught courses in fisheries science, ichthyology, fisheries biology and food, agricultural and natural resources systems. In all of my courses I try to engage students in field and laboratory work that makes their reading and classroom study real and personal.
In my research, my students and I have studied a variety of fish and aquatic invertebrates all across Nebraska. In addition to examining the species in question, my projects always delve into analyses of the environments and resources these organisms require for survival. From these queries, we often explore the best methods of developing appropriate habitats for the species. Frequently, we have to balance the needs of human residents with the needs of the species we are studying.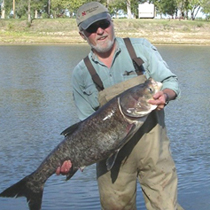 My current studies focus on the ecology and management of the endangered pallid sturgeon, shovelnose sturgeon, and associated species of both game and non-game fish species in the lower Platte River. This involves monitoring the movement of sturgeon implanted with radio transmitters, and studies on the foods they select and where and when they reproduce.
Through this project, my co-workers and I will develop management recommendations for protecting the habitat of endangered species in the lower Platte River, within the context of area resource needs for people living in the basin.
I have a bachelor's degree in conservation and biology from Wisconsin State University at Stevens P,oint and a master's degree and Ph.D. in zoology from Brigham Young University. I taught zoology, botany, ecology and evolution courses at Mount Mercy College in Cedar Rapids, Iowa before coming to the University of Nebraska in 1975.
Yu, S-L. and E.J. Peters. 2002. Diel and seasonal habitat use by red shiner. Zoological Studies. 41:229-235.
Barrow, T.M. and E.J. Peters. 2001. Movements of rainbow trout in response to dissolved oxygen and food availability in Lake Ogallala, Nebraska. Journal of Freshwater Ecology. 16(3):321-329.
Messaad, I.A., E.J. Peters, and L. Young. 2000. Thermal tolerance of red shiner after exposure to Atrazine, Terbufos and their mixtures. Bulletin of Environmental Contamination and Toxicology. 64:748-754.
Emeritus; Fish Ecology, River and Stream Fishes, Fish Management in Reservoirs, Management of River Fisheries, fish