Larkin Powell
Update your profile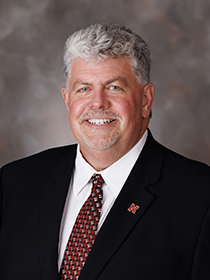 Contact Information
My Story
Publications & Presentations
Background
Expertise & Interests
Grants
Advising
Courses Taught
Outreach
Title
Director of Great Plains Cooperative Ecosystems Study Unit
Address
419 Hardin Hall
3310 Holdrege Street
Lincoln NE
68583-0974
Phone
402-472-6825
FAX
402-472-2946
E-mail
lpowell3@unl.edu
Vitae
Download file
E-Mail
Please make an appointment
Hi, I'm Larkin Powell, professor of conservation biology and animal ecology at the School of Natural Resources.
I teach courses in the school's fisheries and wildlife major, including field courses to Cedar Point Biological Station and to Namibia. I have also led student trips to the Boundary Waters Canoe Area and to Puerto Rico. I have an active research lab for master's and doctoral students and postdoctoral associates.
My areas of study attempt to explain how management of landscapes affects wildlife populations. Many of my research projects are focused on private lands or state/federal properties. I have students working on projects assessing grazing management, farm bill conservation programs, prescribed burning, and other management-related issues. I have worked on projects involving forest and grassland songbirds, upland game birds, sandhill cranes, quail-doves, waterfowl, small mammals, mesopredators, painted turtles and raptors.
I've been at UNL since 2001 and I participate in the applied ecology faculty group.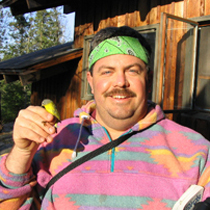 Post van der Burg, M., L. A. Powell, and A. J. Tyre. 2010. Finding the smoothest path to success: model complexity and the consideration of non-linear patterns in nest survival data. Condor 112:421-431.
Powell, L. A. 2010. Farming with wildlife: conservation and ecotourism on private lands in Namibia. Lincoln, Nebraska: Lulu Publishing. 50pp.
Powell, L. A., K. D. Powell, and T. R. Powell. 2010. Dust and mud: perspectives from Namibia. Lincoln, Nebraska: Lulu Publishing. 42pp.
Steffensen, K. D., L. A. Powell, and J. D. Koch. 2010. Assessment of Hatchery-Reared Pallid Sturgeon Survival in the Lower Missouri River. North American Journal of Fisheries Management 30:671-678.
Fricke, K. A., S. L. F. Kempema, and L. A. Powell. 2009. Small mammal ecology on private rangelands in Nebraska. Great Plains Research 19:65-72.
Hiller, T. L., L. A. Powell, T. D. McCoy, and J. J. Lusk. 2009. Long-term agricultural land-use trends in Nebraska: 1866-2007. Great Plains Research 19:225-237.
Kocer, C. J., and L. A. Powell. 2009. A field system for isoflurane anesthesia of multiple species of mesopredators. American Midland Naturalist 161(2):406-412.
Post van der Burg, M., L. A. Powell, and A. J. Tyre. 2009. Modeling parasitism rate and parasitism risk: an illustration using a colonially nesting songbird, the red-winged blackbird Agelaius phoeniceus. Journal of Avian Biology 40:263-270.
Powell, L. A. 2009. The role of learning styles in student evaluations of a problem-based learning course. Transformative Dialogues 2(3):1-15.
Powell, L. A. 2009. Using reflection documents to assess student learning. Journal of Natural Resources and Life Science Education 38:33-39.
Powell, L., S. Riley, A. Tyre, and S. Hygnstrom. 2009. The value of early experience: students know they need it, but how do they get it? The Wildlife Professional 3(4):45-47.
Powell, L.A., A.J. Tyre, S.E. Hygnstrom, D.A. Wedin, P.R. Hanson, M.S. Kuzila, and J.B. Swinehart. 2009. Wilderness serendipity: planning and assessing learning during an experiential field course.North American Colleges and Teachers of Agriculture Journal 53: 56-61.
Groepper, S. R., P. J. Gabig, M. P. Vrtiska, J. M. Gilsdorf, S. E. Hygnstrom, and L. A. Powell. 2008. Population and spatial dynamics of resident Canada geese in southeastern Nebraska. Human-wildlife Conflicts 2:271-278.
Plummer, M. V., D. G. Krementz, L. A. Powell, and N. E. Mills. 2008. Effects of habitat disturbance on survival rates of softshell turtles (Apalone spinifera) in an urban stream. Journal of Herpetology 42:555-563.
Powell, L. A. 2008. An ecologist struggles with the problem of evil: why Aldo Leopold and baby meadowlarks argue against an all-powerful God. Theology 16:96-108.
Varland, D. E., L. A. Powell, M. K. Kenney, and T. L. Fleming. 2008. Monitoring peregrine falcon use of coastal beaches in Washington, 1995-2003. Journal of Raptor Research 42:161-170.
Walker, J. A., Z. J. Cunningham, M. P. Vrtiska, S. E. Stephens and L. A. Powell. 2008. Low reproductive success of mallards in the Sandhills of Nebraska. Prairie Naturalist 40:1-15.
Fritz, S., D. Husmann, D. Reese, R. Stowell, and L. Powell. 2007. High school students' perceptions of a College of Agricultural Sciences and Natural Resources. NACTA Journal 51:44-49.
Powell, L. A. 2007. Approximating variance of demographic parameters using the delta method: a reference for avian biologists. Condor 109:950-955.
Knutson, M. L., L. A. Powell, R. K. Hines, M. Hammer-Friberg, and G. J. Niemi. 2006. An assessment of bird habitat quality using population growth rates. Condor 108:301-314.
Powell, L. A., and K. A. Hobson. 2006. Enriched feather hydrogen isotope values for Wood Thrushes sampled in Georgia, USA, during the breeding season: implications for quantifying dispersal. Canadian Journal of Zoology 84:1331-1338.
Powell, L. A., and M. L. Knutson. 2006. A productivity model for parasitized, multi-brooded songbirds. Condor 108:292-300.
Powell, L. A., J. D. Lang, D. G. Krementz, and M. J. Conroy. 2005. Use of radio-telemetry to reduce bias in nest searching. Journal of Field Ornithology 76:274-278.
Powell, L. A. 2004. A multi-state capture-recapture model using stable isotope data to enhance estimation of movement rates. Condor 106:761-767.
BS - Graceland University (1990)
MS - Iowa State University, Ecology and Evolutionary Biology (1992)
PhD - University of Georgia, Ecology (1998)
1/30/15 – UNL Parents Association Recognition Award awarded by UNL Parents Association
2008 – Teaching Award of Merit awarded by National Association of College Teachers of Agriculture
2008 – Fulbright Scholar awarded by Council for International Exchanges of Scholars
2007 – Superior Academic Advising Award awarded by College of Agricultural Sciences and Natural Resources
2004 – Holling Family Junior Faculty Award for Teaching Excellence awarded by College of Agricultural Sciences and Natural Resources, University of Nebraska
I use team-based and problem-based learning in my courses, and am interested in the pedagogy of active learning in ecology and natural resources. Research interests: wildlife population ecology, avian ecology, conservation biology, management of private lands, wildlife habitat use, decision-making.
Keyword
Expert Level

10 - Top Expert
1 - Mild Interest

9

8

6

6

6
Select a keyword and see other SNR faculty and staff with this interest or expertise.
Currently this page only displays grants that were awarded on 1/1/2009 to the present. If a grant was awarded prior to 1/1/2009 and is still active, it will not be displayed on this page.
Grant Title
CESU GRPL Leadership, Coordination, and Administrative Oversight for the Great Plains Cooperative Ecosystem Studies Unit
Starting Date
9/15/2015
Ending Date
9/30/2016
Funding Level
$17,400.00
Funding Source
National Parks Service
Grant Title
Management of Private Grazing Lands in Nebraska: Do Differences in Ranch Management and Landowner Characteristics Affect Conservation Impacts
Starting Date
9/1/2013
Ending Date
8/31/2017
Funding Level
$174,289.00
Funding Source
Nebraska Game and Parks Commission
Grant Title
Great Plains Cooperative Ecosystems Studies Unit FSA Amendment
Starting Date
6/1/2013
Ending Date
10/6/2015
Funding Level
$10,000.00
Funding Source
US Department of the Interior
Grant Title
Canid Distribution and the Potential Impacts of Energy Development in Nebraska
Starting Date
4/5/2013
Ending Date
3/31/2015
Funding Level
$147,349.00
Funding Source
Nebraska Game and Parks Commission
Grant Title
Persistent Effects of Wind-Power Development on Prairie Grouse in Nebraska
Starting Date
1/29/2013
Ending Date
6/30/2016
Funding Level
$88,300.00
Funding Source
Nebraska Game and Parks Commission
Grant Title
Administrative Support for Great Plains Cooperative Ecosystems Studies Unit
Starting Date
5/1/2012
Ending Date
10/16/2015
Funding Level
$5,000.00
Funding Source
National Parks Service/Cooperative Ecosystems Studies Unit
Grant Title
Pheasant Population and Hunters (additional funding)
Starting Date
9/1/2011
Ending Date
8/31/2015
Funding Level
$181,099.00
Funding Source
Nebraska Game and Parks Commission
Grant Title
Graduate Research Fellowship
Starting Date
8/1/2012
Ending Date
7/31/2017
Funding Level
$126,000.00
Funding Source
National Science Foundation
Grant Title
Improving Breeding Habitat for Greater-Prairie Chickens on Grazed Land in the Nebraska Sandhills (additional funding)
Starting Date
3/1/2010
Ending Date
12/31/2012
Funding Level
$15,000.00
Funding Source
Nebraska Game and Parks Commission
Grant Title
Persistent Effects of Wind-Power Development on Prairie Grouse in Nebraska
Starting Date
1/19/2012
Ending Date
6/30/2016
Funding Level
$598,000.00
Funding Source
Nebraska Game and Parks Commission
Grant Title
Pheasant Population and Hunters
Starting Date
9/1/2011
Ending Date
8/31/2012
Funding Level
$224,283.00
Funding Source
Nebraska Game and Parks Commission
Grant Title
Waterfowl Harvest Information
Starting Date
8/1/2011
Ending Date
6/30/2014
Funding Level
$91,119.00
Funding Source
Nebraska Game and Parks Commission
Grant Title
Upland Bird Management (additional funding)
Starting Date
8/8/2011
Ending Date
12/31/2012
Funding Level
$2,000.00
Funding Source
Nebraska Game and Parks Commission
Grant Title
Assessing Landscape Constraints on Habitat Management of Upland Birds (additional funding)
Starting Date
1/1/2010
Ending Date
1/31/2013
Funding Level
$90,000.00
Funding Source
Nebraska Game and Parks Commission
Grant Title
A Study of Issues Faced by Private Landowners in Namibia and the Great Plains: Critical Decisions Made to Support Grasslands
Starting Date
1/1/2009
Ending Date
12/31/2009
Funding Level
$4,500.00
Funding Source
Grassland Foundation
Grant Title
Human Dimensions of Grassland Management Decisions Made by Nambian Landowners
Starting Date
1/1/2009
Ending Date
12/31/2009
Funding Level
$63,000.00
Funding Source
URC Layman
Grant Title
Greater Prairie-Chicken Habitat SWG
Starting Date
4/1/2010
Ending Date
12/31/2012
Funding Level
$64,646.00
Funding Source
Nebraska Game and Parks Commission
Grant Title
Assessing Local and Regional Variability in Productivity and Fidelity of Grassland Birds on National Park Service Units in the Great Plains
Starting Date
6/1/2007
Ending Date
9/30/2010
Funding Level
$95,572.00
Funding Source
US Department of Interior - Geological Survey
Grant Title
Nebraska Game and Parks Commission Upland Birds Habitat Management
Starting Date
1/1/2010
Ending Date
12/31/2013
Funding Level
$153,844.00
Funding Source
Nebraska Game and Parks Commission
Undergraduate Majors
Bachelor of Science in

Environmental Studies
Fisheries & Wildlife

Graduate Program(s)

Master of Science in Natural Resource Sciences


including specializations in

Adaptive Management
Applied Ecology
Geographic Information Systems

Doctor of Philosophy in Natural Resource Sciences


including specializations in

Adaptive Management
Applied Ecology
Courses Taught
Course Number
Course Title
Fall Even Years
Fall Odd Years
Spring Even Years
Spring Odd Years
Summer Session
Cross Listing
NRES 433
Wildlife Management Techniques
X
X
NRES 433/833
NRES 433L
Wildlife Management Techniques
X
X
NRES 433L/833L
NRES 833
Wildlife Management Techniques
X
X
NRES 433/833
NRES 833L
Wildlife Management Techniques
X
X
NRES 433L/833L
NRES 880
Vertebrate Population Analysis
X
n/a