Update your profile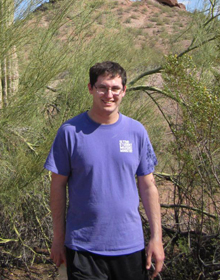 Contact Information
My Story
Publications & Presentations
Background
Interests
Grants
Courses Taught
Outreach
Title
Climatologist
Address
825 South Hardin Hall
3310 Holdrege Street
Lincoln NE
68583-0988
Phone
402-472-8165
FAX
402-472-2946
E-mail
criganti2@unl.edu
Curtis joined the National Drought Mitigation Center as a climatologist in the summer of 2016 after completing an M.S. in Earth and Atmospheric Sciences with a Meteorology/Climatology specialization in the fall of 2015. Curtis is analyzing drought trends in the United States, and is helping to investigate statistical distributions used for the Standardized Streamflow Index.
BS - University of Oklahoma, Meteorology (Math minor) (2013)
MS - University of Nebraska-Lincoln, Earth and Atmospheric Sciences (Meteorology/Climatology specialization) (2015)
Currently this page only displays grants that were awarded on 1/1/2009 to the present. If a grant was awarded prior to 1/1/2009 and is still active, it will not be displayed on this page.
There no Grants found for this selection.