Ian Ratcliffe
Update your profile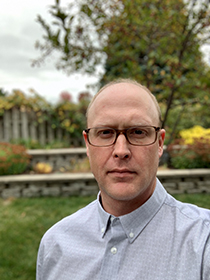 Contact Information
My Story
Publications & Presentations
Background
Interests
Grants
Courses Taught
Outreach
Title
Remote Sensing and GIS Research Specialist
Address
601 Hardin Hall
3310 Holdrege Street
Lincoln NE
68583-0982
Phone
402-472-6514
FAX
402-472-2946
E-mail
iratcliffe2@unl.edu
E-mail
M - F 8 am to 5 pm
n/a
Kilic, A., Allen, R., Trezza, R., Ratcliffe, I., Kamble, B., Robison, C. 2016. Sensitivity of Evapotranspiration Retrievals from the METRIC Processing Algorithm to Improved Radiometric Resolution of Landsat 8 Thermal data and to Calibration Bias in Landsat 7 and 8 Surface Temperature. Remote Sensing of Environment, 185,:98-209. Online
Irmak, A., R.G. Allen, J. Kjaersgaard, J. Huntington, B. Kamble, J. Trezza and I. Ratcliffe. (2012.) Operational Remote Sensing of ET and Challenges, IN-TECH, chapter 21 in Evapotranspiration - Remote Sensing and Modeling. ISBN: 978-953-307-808-3 Online
Irmak, A., I. Ratcliffe, P. Ranade, K.G. Hubbard, R.K. Singh, B. Kamble, R.G. Allen, and J. Kjaersgaard. (2011). Estimation of land surface evapotranspiration: A Satellite Remote Sensing Procedure. Great Plains Research. 21(1):73-88. Online
Irmak, A.; Ratcliffe, I.; Ranade, P.; Kamble, B.; Mutiibwa, D.; Akasheh, O. Z.; Hydrologic Information System Team(2010); Growing Season Evapotranspiration with Satellite Remote Sensing Procedure, American Geophysical Union, Fall Meeting 2010,
Dappen, P.R., I. Ratcliffe, C. Robbins and J.W. Merchant. 2008. Mapping Agricultural Land Cover for Hydrologic Modeling in the Platte River Watershed of Nebraska. Great Plains Research, 18(1): 39-52. Online
Applied Climate and Spatial Science
Remote Sensing
Geographic Information Systems (GIS)
Currently this page only displays grants that were awarded on 1/1/2009 to the present. If a grant was awarded prior to 1/1/2009 and is still active, it will not be displayed on this page.
There no Grants found for this selection.